The best way to ensure your team is more productive is to keep them organized, and Asana is a great way to do so. You can keep to-do lists, make information easy to find, and create templates to save time. You also have the ability to share your work once it's complete.
You can improve work performance by using the right tools. A lot of people make this mistake and they spend hours trying to figure out what program or email marketing service is best for them, when really all you need in order do well at work is some good old fashioned self-confidence and an introverted personality with plenty time on its hands.
Overall, investing in this tool is one of the best ways to boost your productivity. But you can take it one step further by integrating Asana with other software tools that can further benefit your team. In this article, we'll discuss the tools you should consider integrating with Asana to take your effectiveness to the next level.
Top Asana Integrations to Maximize your Productivity
In the following section, we'll outline the Asana integrations you should consider in order to maximize how well your teams work. We'll break down what they are, how they can enhance your Asana tasks and projects, and how much they cost. We'll cover the following sections:

Slack Integration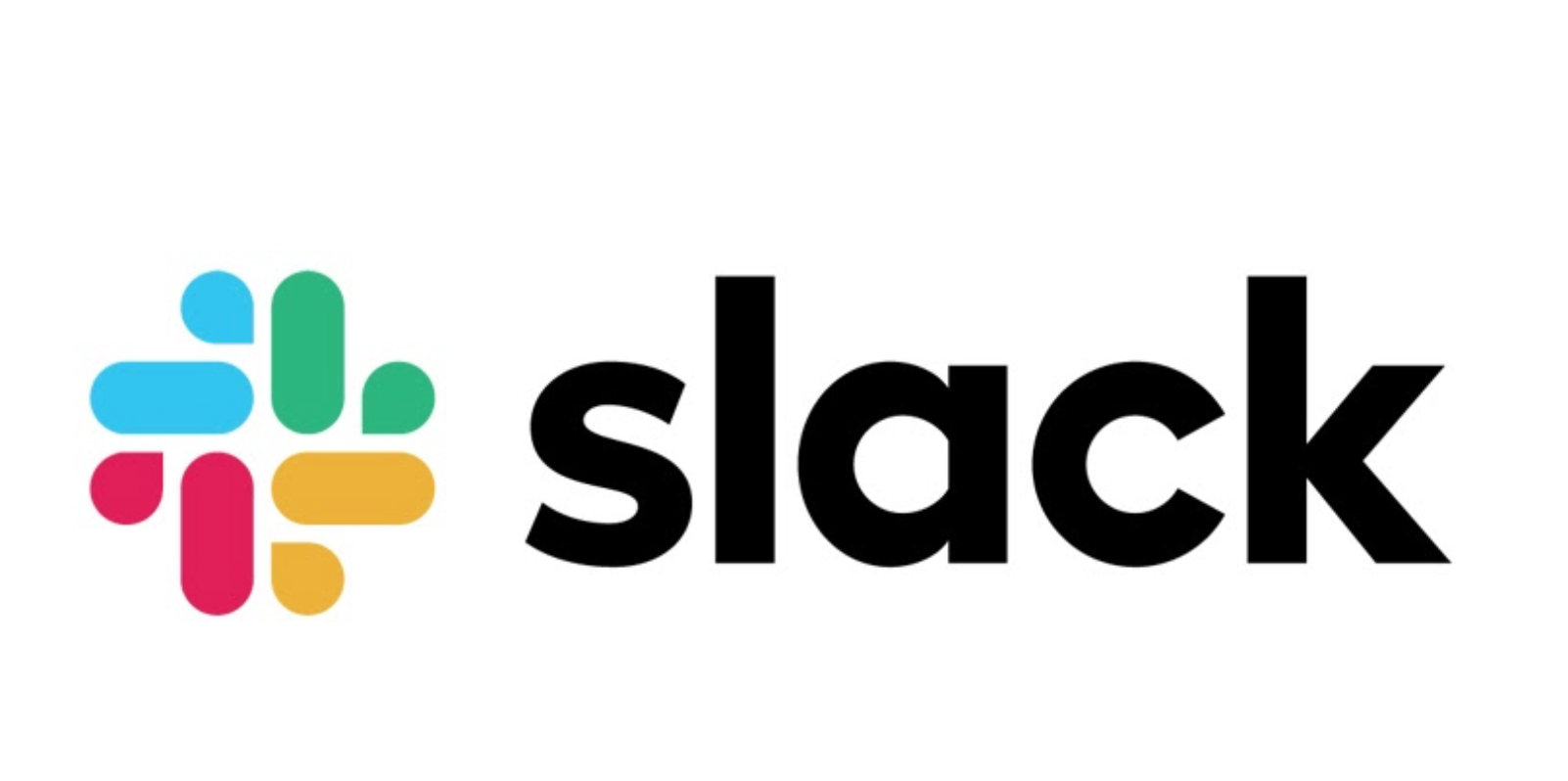 By integrating your Asana boards with your Slack workspace, you can get instant notifications when there are changes made to tasks and subtasks. With this integration, you won't need to toggle between tools for project communication purposes. Without syncing these tools, conversations in Slack about new Asana tasks may get lost in the shuffle. That's no longer the case. With just a few clicks, those Slack messages can be turned into Asana tasks.
You can add Asana as an app to your Slack interface. Here's a closer look at the benefits of a Slack and Asana integration: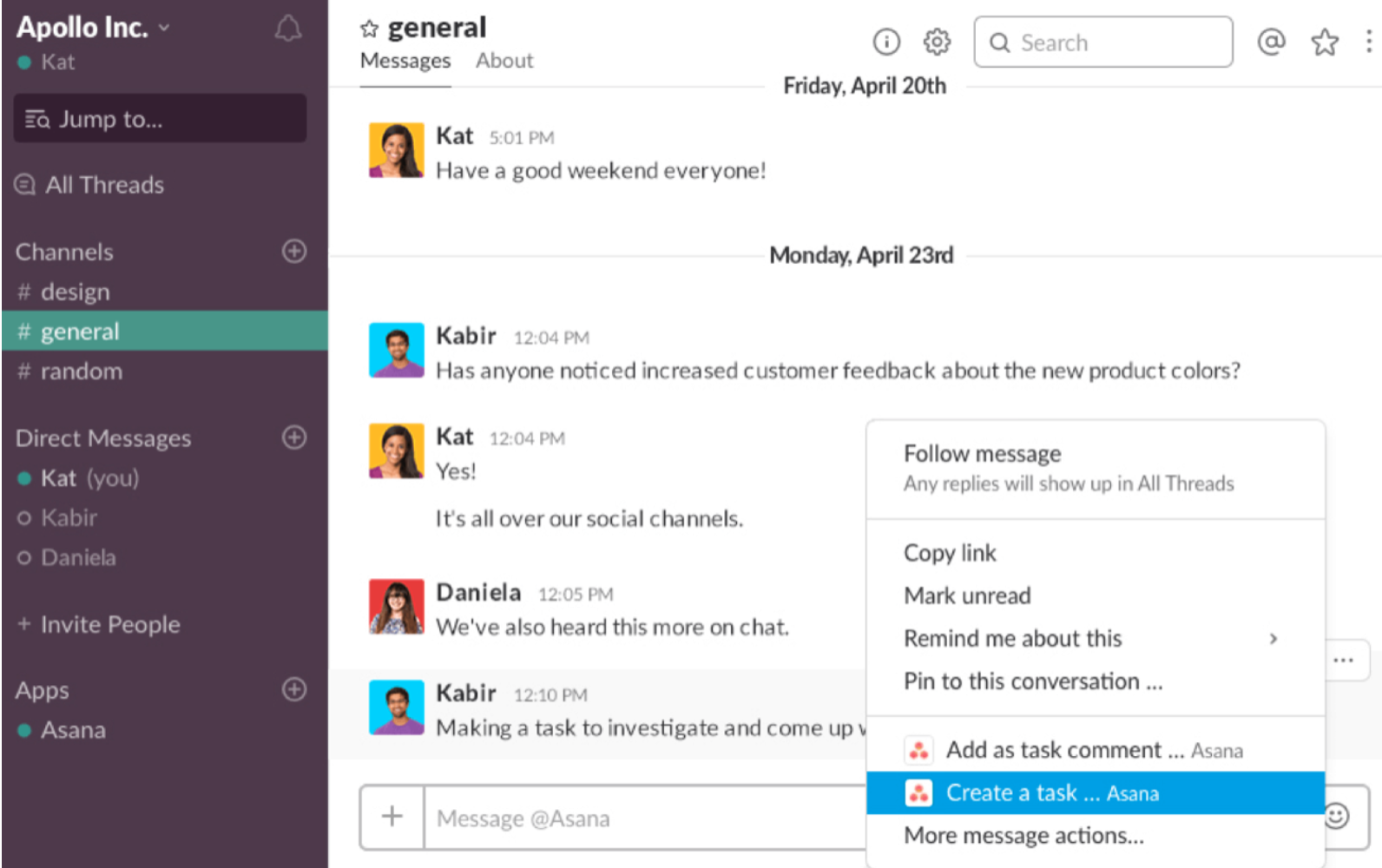 Create an Asana task right from a Slack direct message and assign it to the right team member.
Receive notifications related to new task assignments, comments, and more within the Asana section of your Slack.
Reply to Asana comments right from Slack.
Slack has a few different pricing options:
Standard — $6.67/person/month, billed annually
Plus — $12.50/person/month, billed annually
Enterprise Grid — Available on a quote-based system
Zapier Integration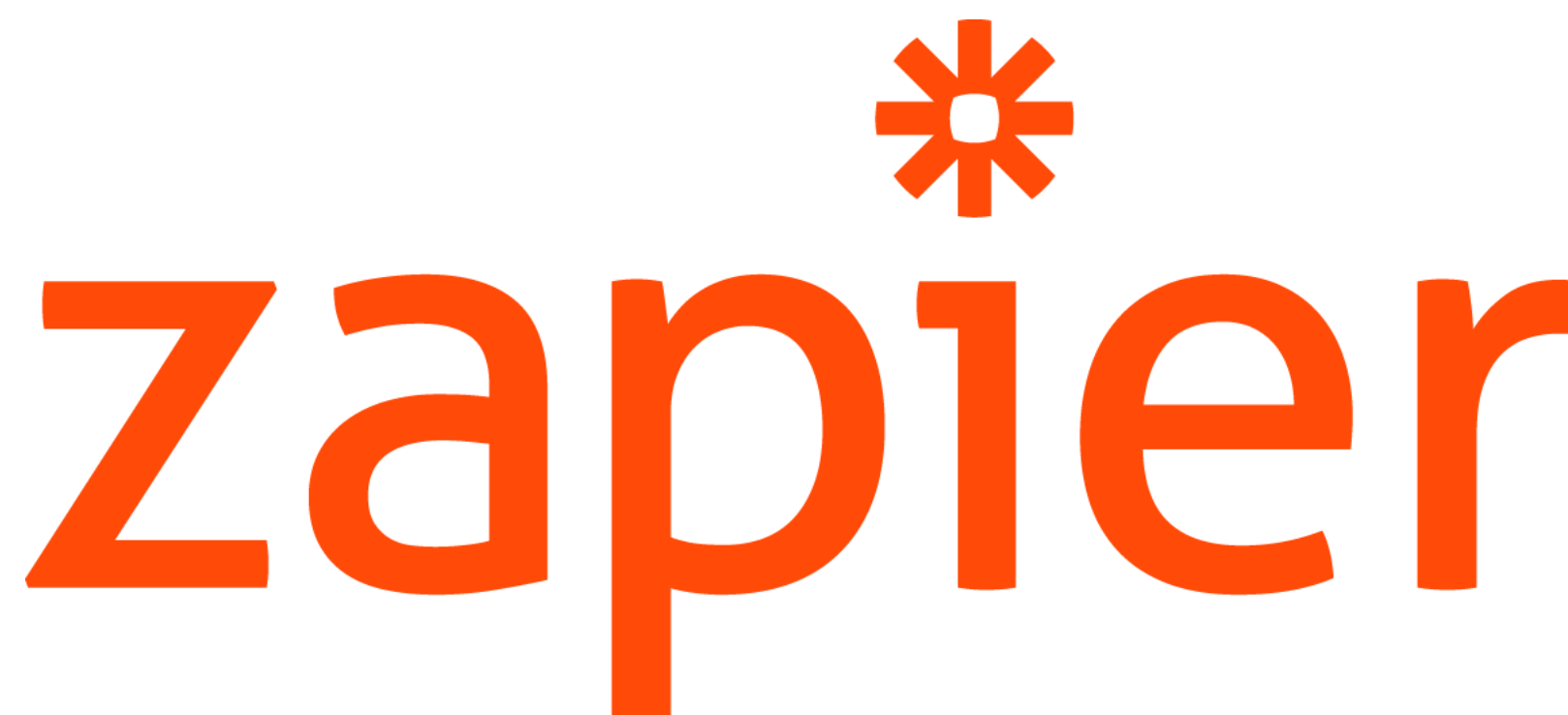 By integrating Zapier with your boards, you can connect almost any tool imaginable to Asana. Syncing these tools allows for workflow automation since you can transfer information across all the solutions on a daily basis. You can streamline all activities across different software as well.
You can use Zapier to connect your Asana to more than 1,500 applications. This integration is referred to as a "zap." A zap connects two applications together in Zapier. These zaps are comprised of a trigger and an action — when a trigger is activated in one application, the action is performed in another.
Here's a breakdown of some specific zaps you can expect from this integration: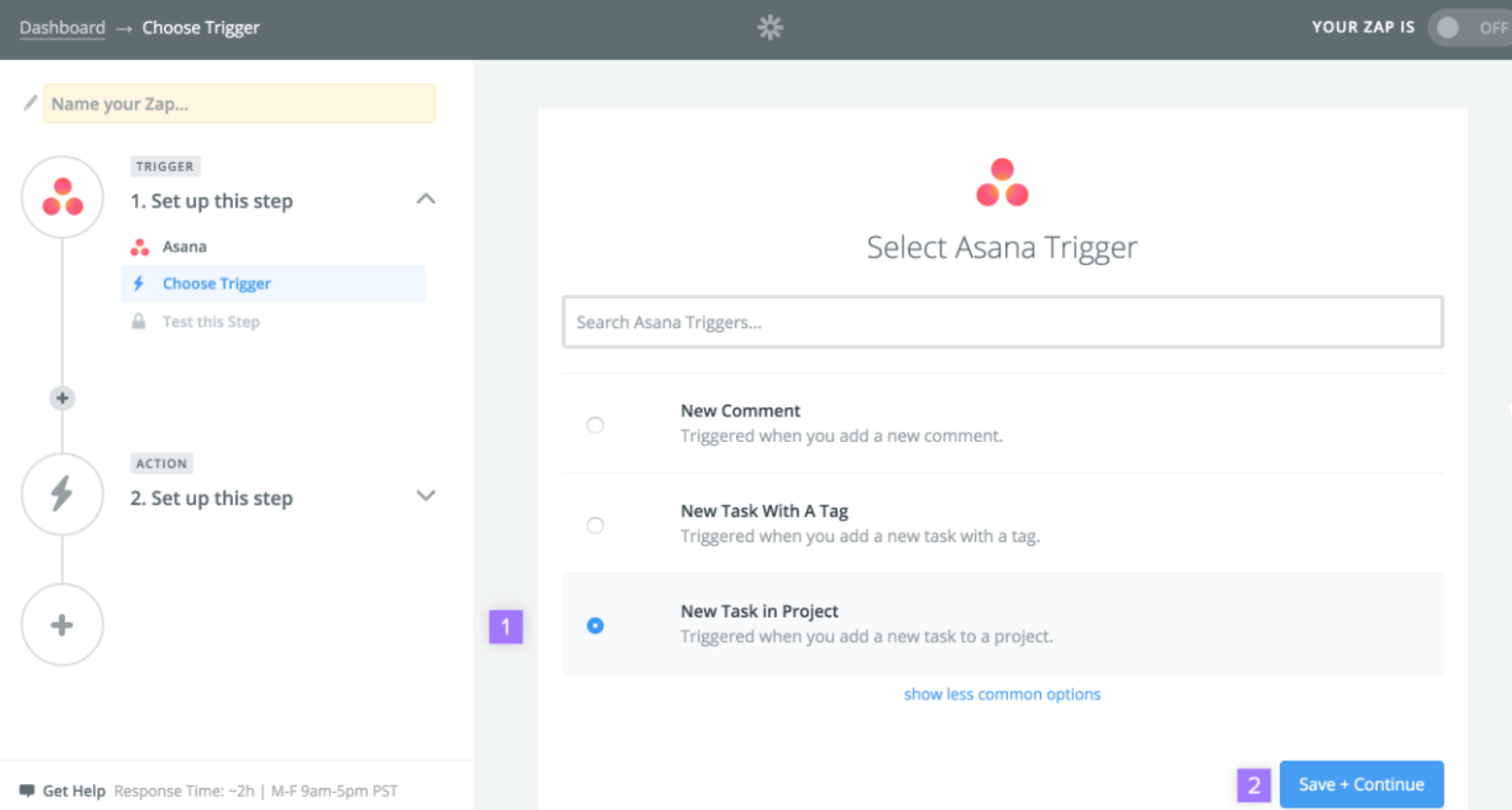 Create a zap between Asana and email software, such as Gmail, so that all incoming emails are added to Asana.
Create a zap between Asana and Google to create Google Calendar events based on Asana's due dates.
Create a zap that allows you to add Asana tasks to tools like Airtable.
Here's a breakdown of Zapier's pricing options:
Free — No charge. While the price may make it seem like an attractive deal, keep in mind that Zapier's free plan is known to have its limitations. Simply put, you will run out of zaps pretty quickly.
Starter — $19.99/month, billed annually
Professional — $49/month, billed annually
Zoom Integration

With the Zoom integration, you can link meetings to tasks. Users can also pull transcripts and recordings into Asana. This is a huge advantage if your team is having a meeting related to an ongoing project in Asana. You can add those meeting transcripts and recordings to the appropriate Asana board.
Here's a breakdown of what you can expect from this integration: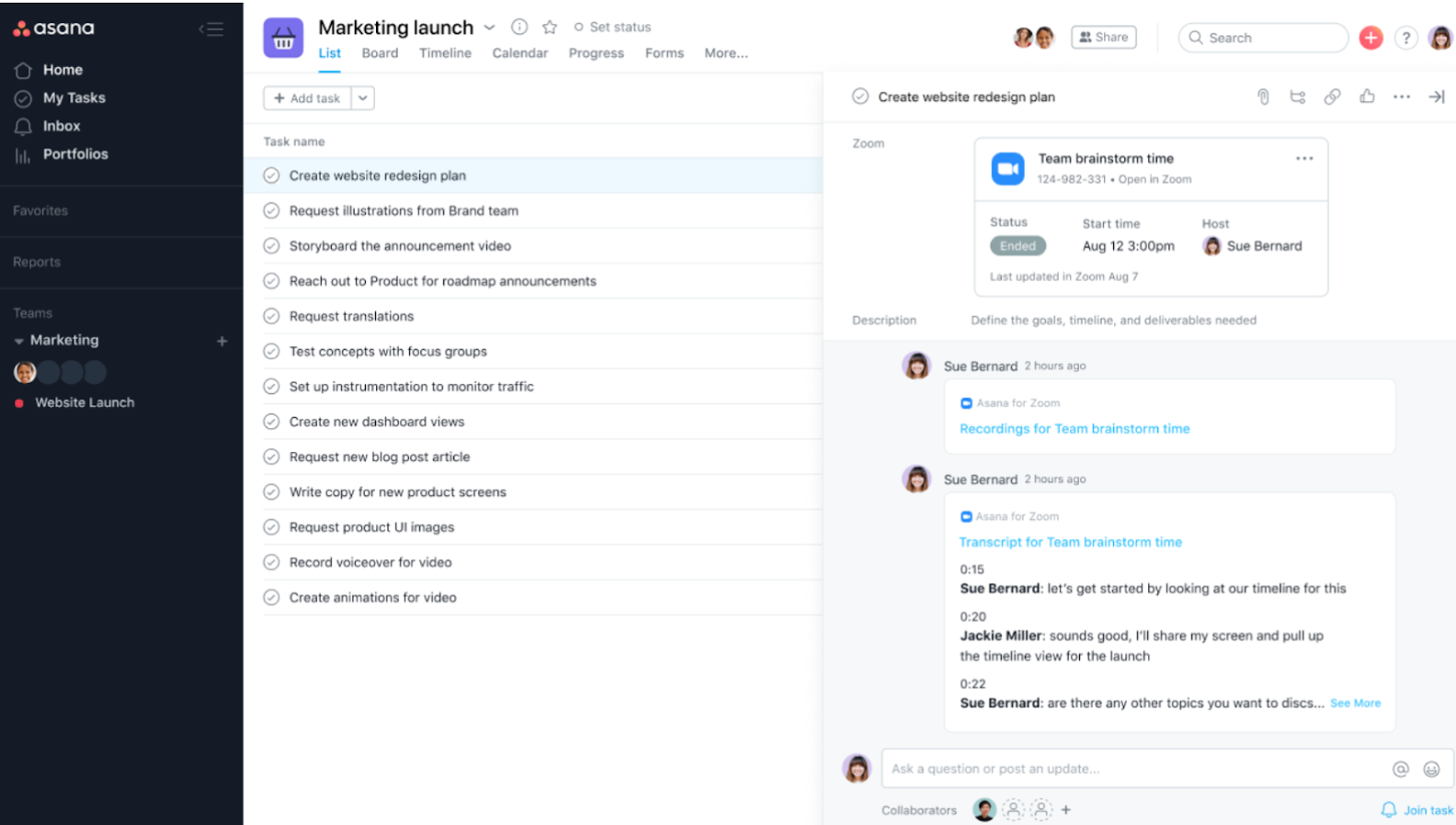 Create a Zoom meeting invite and link to it within an Asana task.
Go back and add recordings and transcripts from that meeting to the task.
Here's a pricing breakdown for Zoom Meetings:
Basic — Completely free
Pro — $149.90/year/license
Business — $199.90/year/license
Salesforce Integration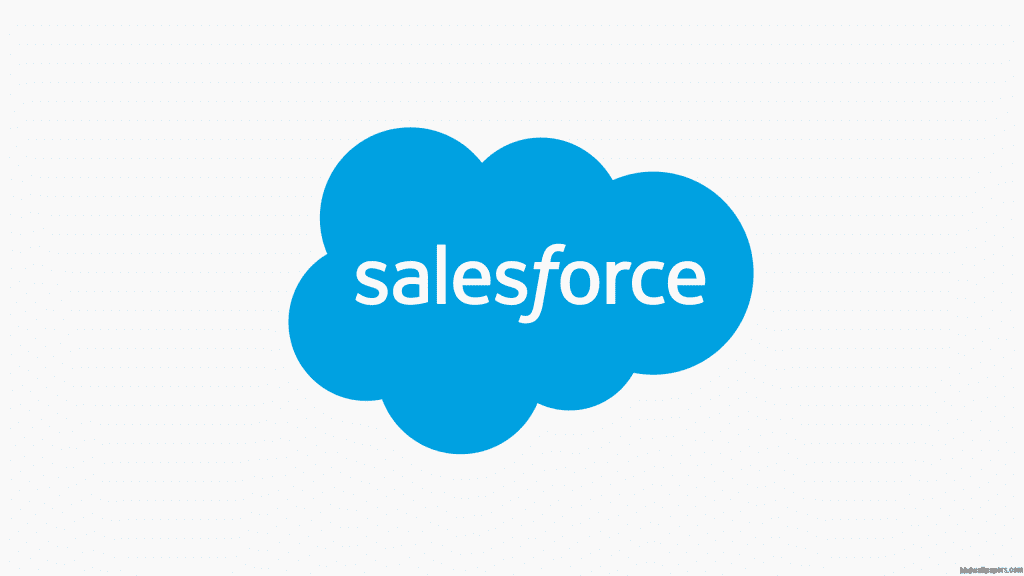 By integrating Salesforce CRM and your Asana account, you can initiate collaboration throughout the sales cycle to ensure you deliver the best customer experience possible. You can do so in the following ways: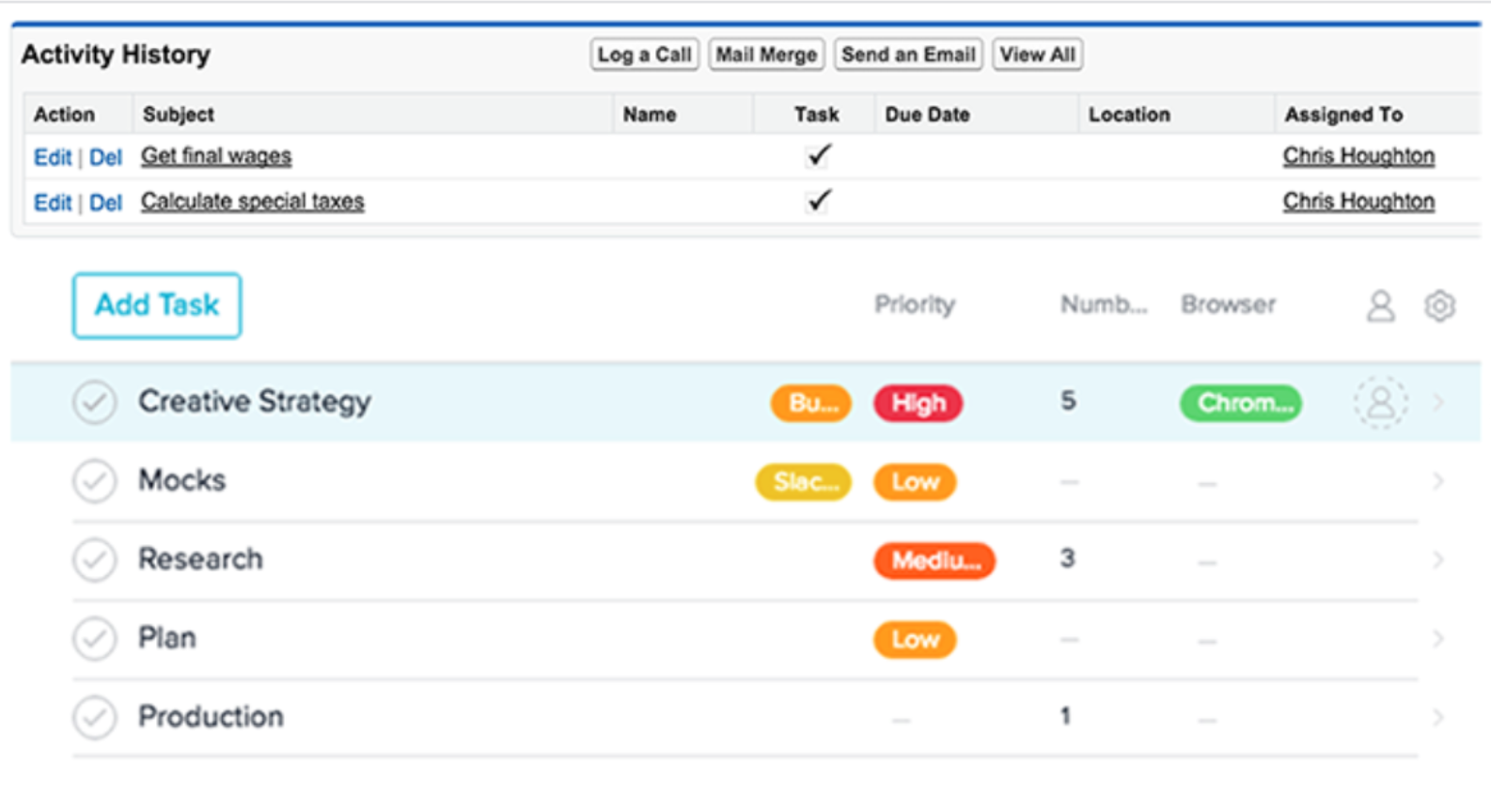 Move deals forward — Linking Salesforce and Asana can enable your sales and customer success with support to communicate directly in Asana. Both teams can share attachments and create tasks that are actionable and trackable.
Easy customer handoff — By using Salesforce Service Cloud, you can allow for easy communication between your implementation/onboarding teams and other supporting teams right within Asana. That way, customers can experience a smooth process between onboarding and becoming a full-fledged customer.
Automate sales workflows — Salesforce Process Builder can trigger the creation of Asana tasks and processes. That way, you won't miss any important steps in your sales deal cycle.
Salesforce offers more than a dozen different products. Take a look at their pricing here.
Zendesk Integration

This integration allows you to create and link Asana tasks from your Zendesk ticket view. You can add context to your support tickets, attach necessary files, and link to existing tasks. That way, you can track all the work that's necessary to close out a ticket. Syncing up Zendesk and Asana means that you can have visibility across both platforms. That way, everyone on each side of the issue is up to speed on the process with the ticket at hand.
Here are some specific benefits you can expect from this integration: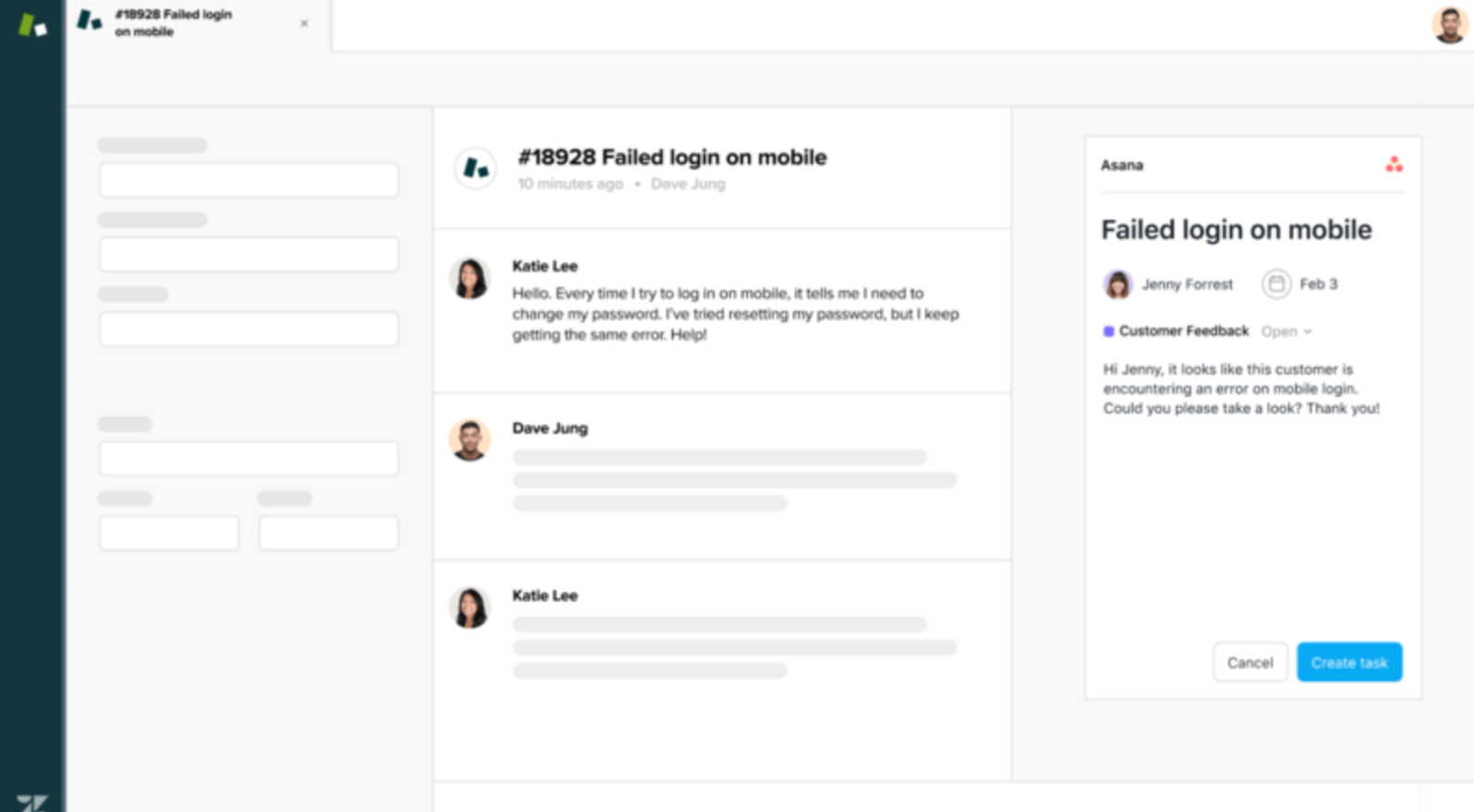 Add Zendesk tickets to Asana as tasks
Update bug tracking statuses in Asana directly from Zendesk tickets
Automatically create an Asana task when Zendesk tickets are created
Here's a breakdown of some of the pricing plans offered by Zendesk:
Suite Team — $49/agent/month, billed annually
Suite Growth — $79/agent/month, billed annually
Suite Professional — $99/agent/month, billed annually
Everhour Integration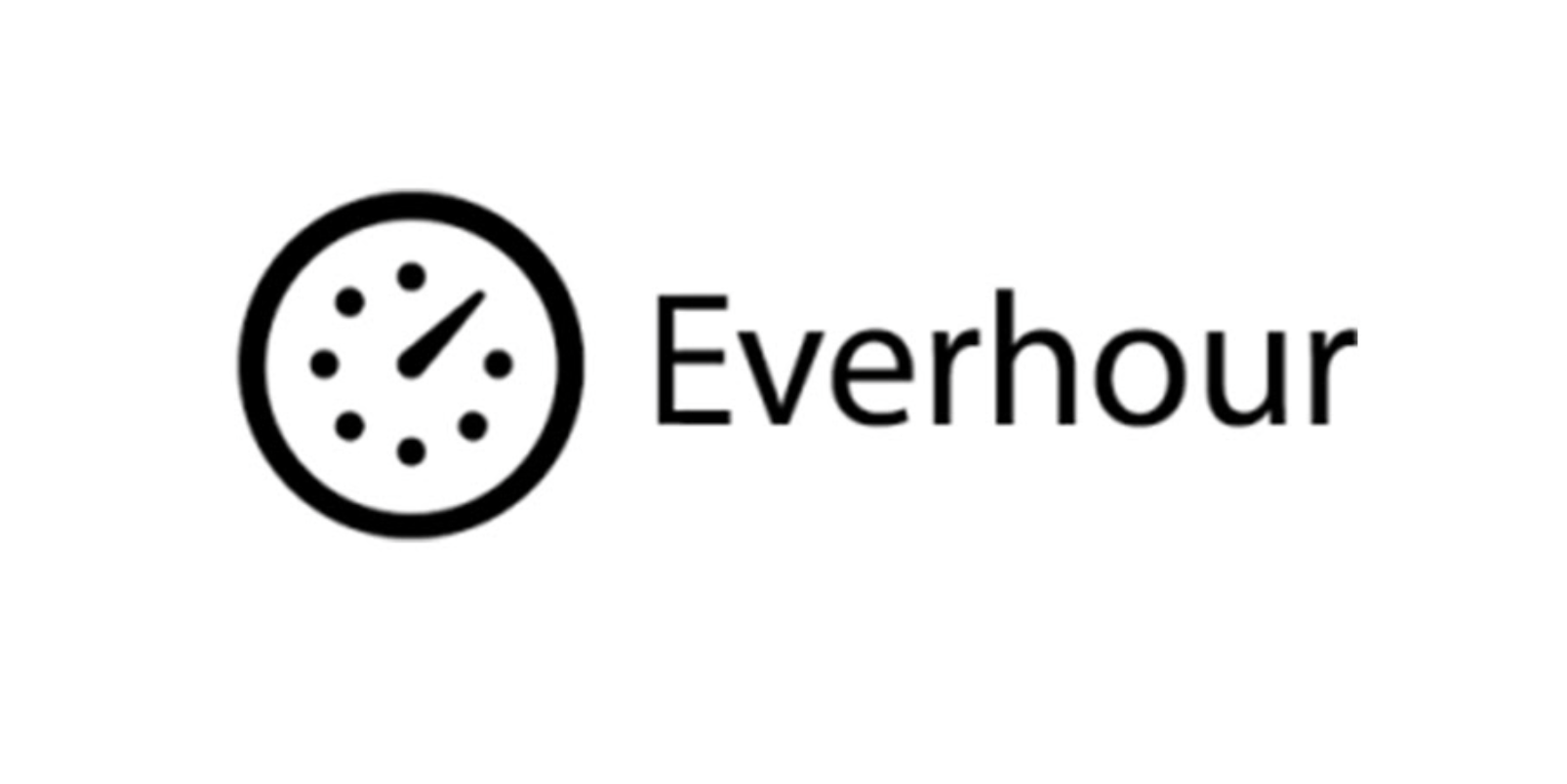 Everhour is a time tracking software solution. By integrating this tool with Asana, you can bring simple time tracking into your projects. You can time down to individual team members. Syncing these platforms not only allows you to track time, but you can also estimate tasks and set up a fixed-fee or recurring budget for those projects. This can all be done right within the Asana interface.
After you are done with the project or task, Everhour can create reports such as monthly timesheets or task breakdowns. This solution can even sync up all of your active Asana projects. That way, there is no need for manual project setup and your reports will always show the most up-to-date data.
Here's a breakdown of some specific advantages you can expect from this integration: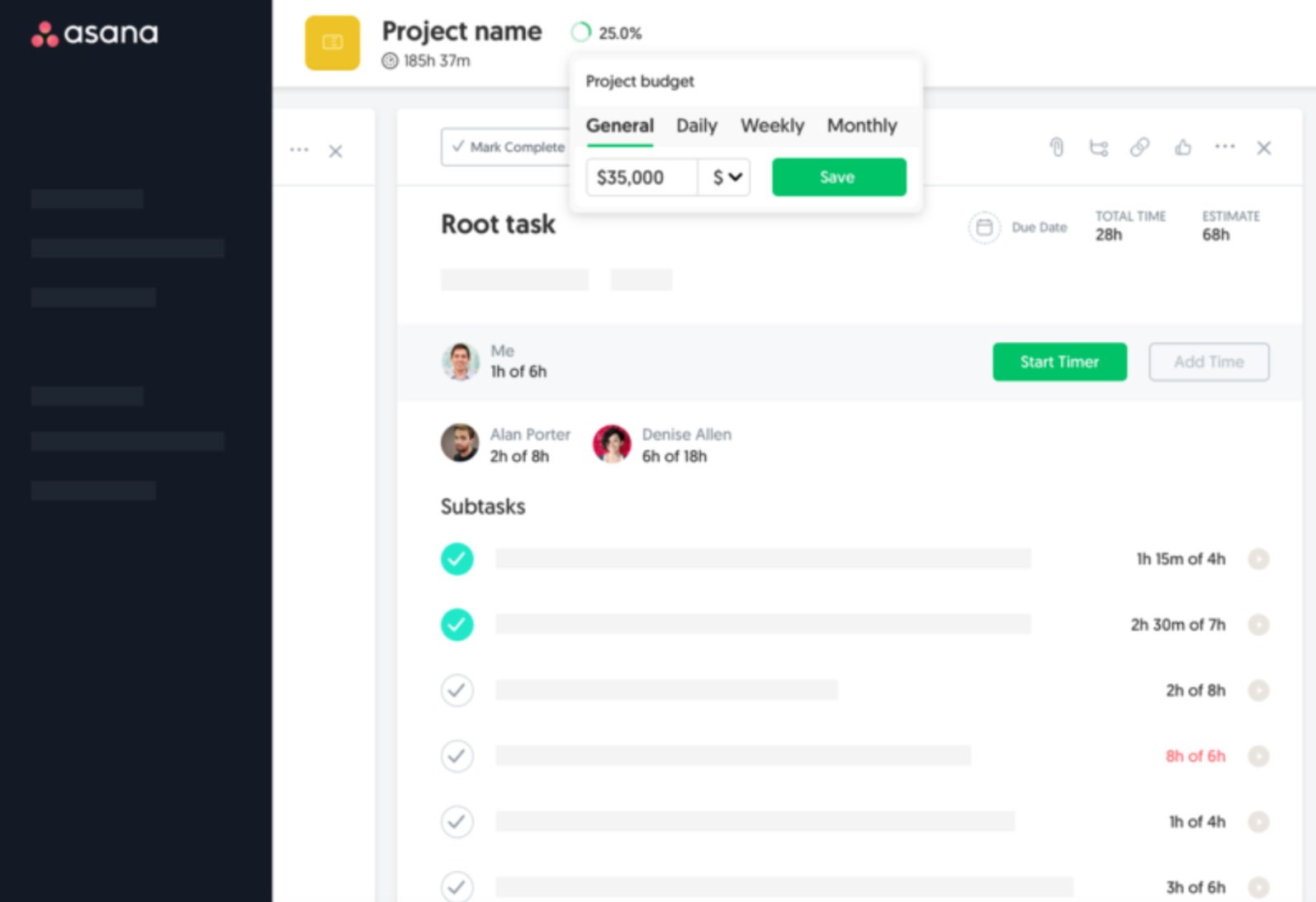 View project budget directly within Asana
Drill down that budget as far down as daily
View how much time has been spent on each project
Everhour is available at $8.50/user/month billed annually. This price is starting at 5 users.

Dropbox Integration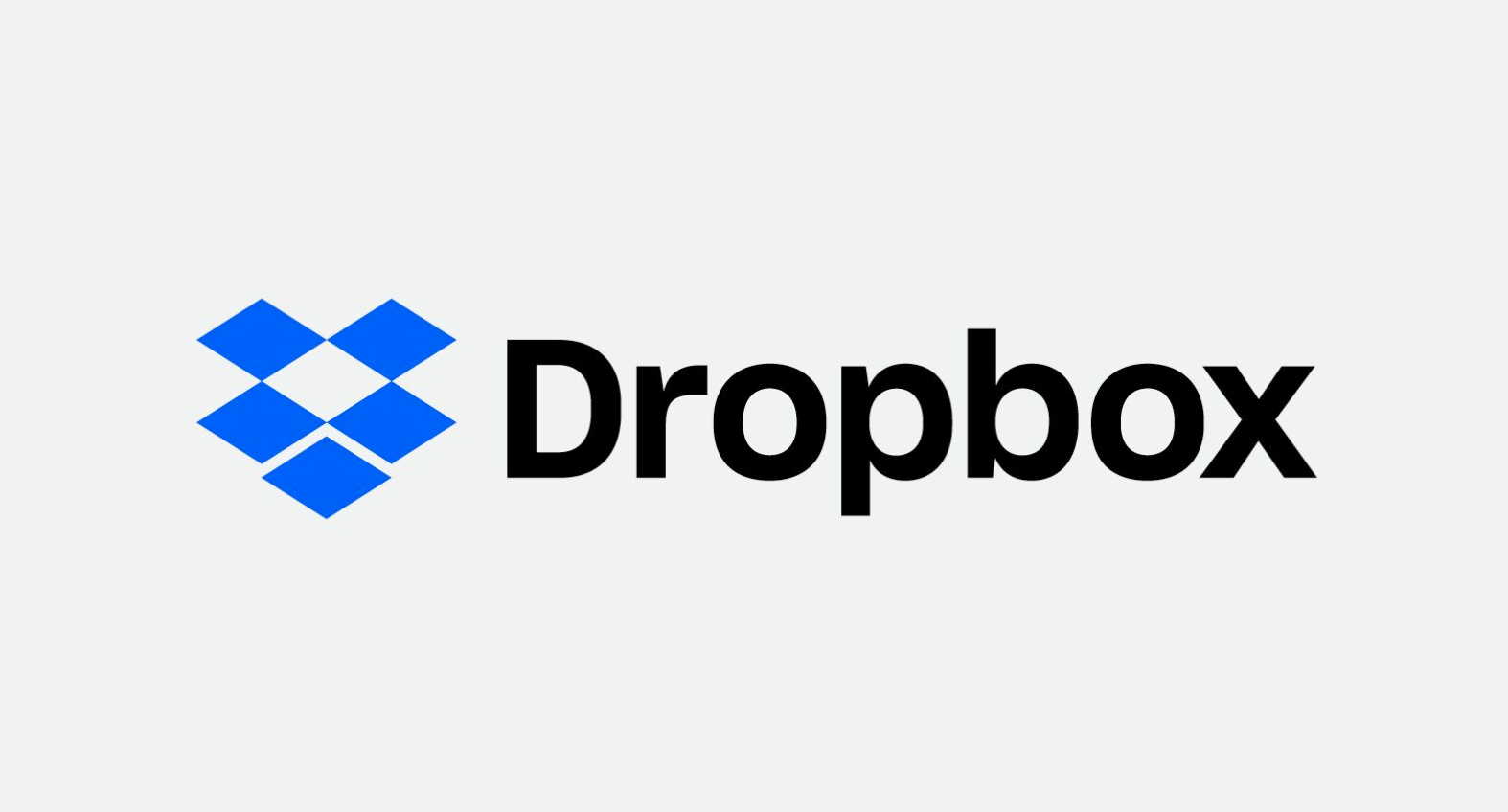 By integrating your Asana to Dropbox, you can easily attach files to your tasks. When these platforms are synced, you will find a dropdown menu when you click the "Attach File'' button in Asana. That will provide you the option to attach a file straight from your Dropbox account.
You can expect the following enhancements with the Dropbox Asana integration: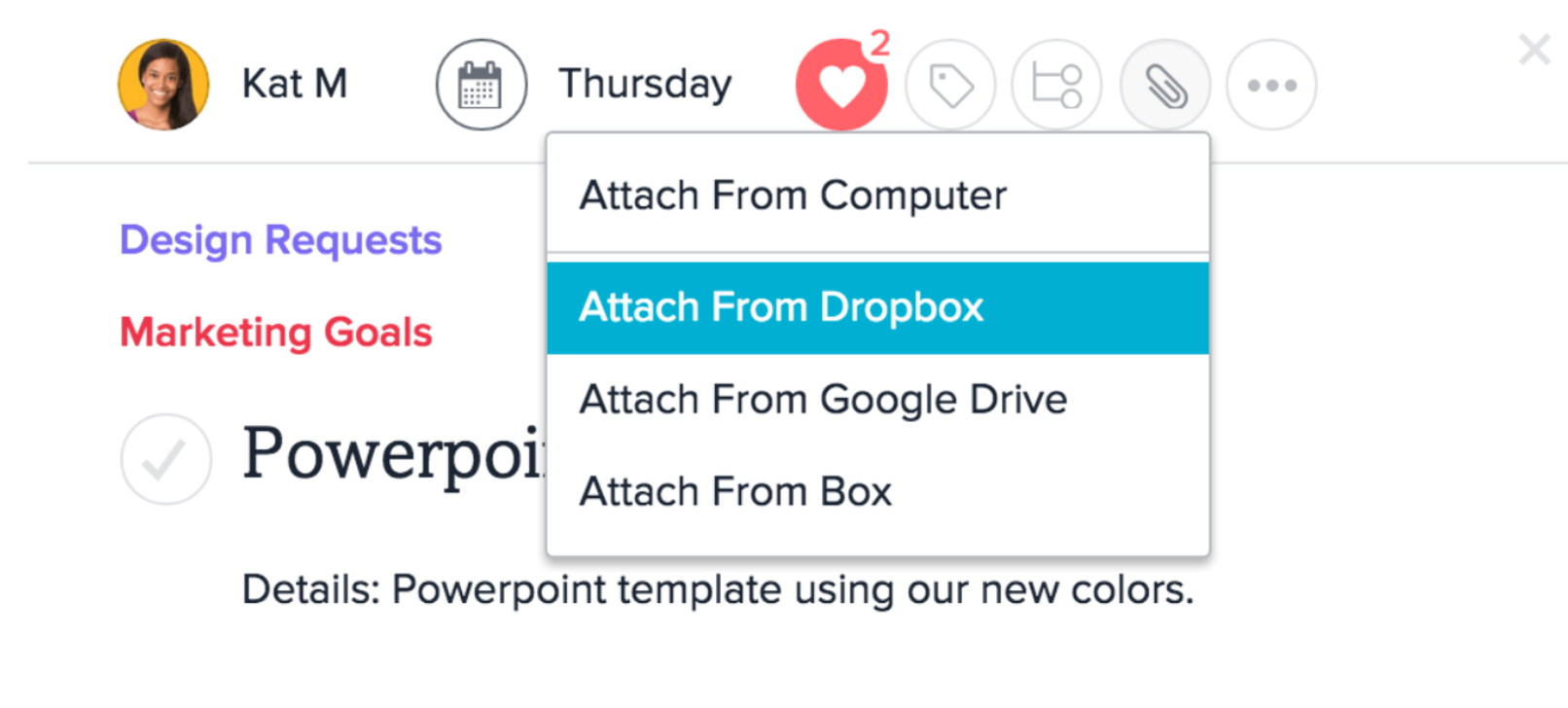 Track your work in one place — Attach relevant Dropbox files to your Asana tasks.
One-click access — Access the entirety of your Dropbox files with the click of a button.
Automatic updates — When a file is updated in Dropbox, it will automatically be updated in Asana
With this integration, updates made to Dropbox files will be automatically updated within the Asana task. That means you can track all of your work right in one place. It will also give you one-click access to Dropbox files, meaning you can browse and choose the file you want to attach to your Asana task.
Here's a breakdown of Dropbox's pricing options:
Basic — Free of charge
Plus — $9.99/month
Family — $16.99/month
Litmus Integration

This integration enables you to completely simplify your email production process while simultaneously managing projects. Linking these two platforms makes it easier for email marketers to collaborate on campaigns. Tasks in both Litmus and Asana will be seamlessly synced, meaning that both teams will have full visibility into every step of ongoing campaigns.
Here's what you can expect from the Litmus integration: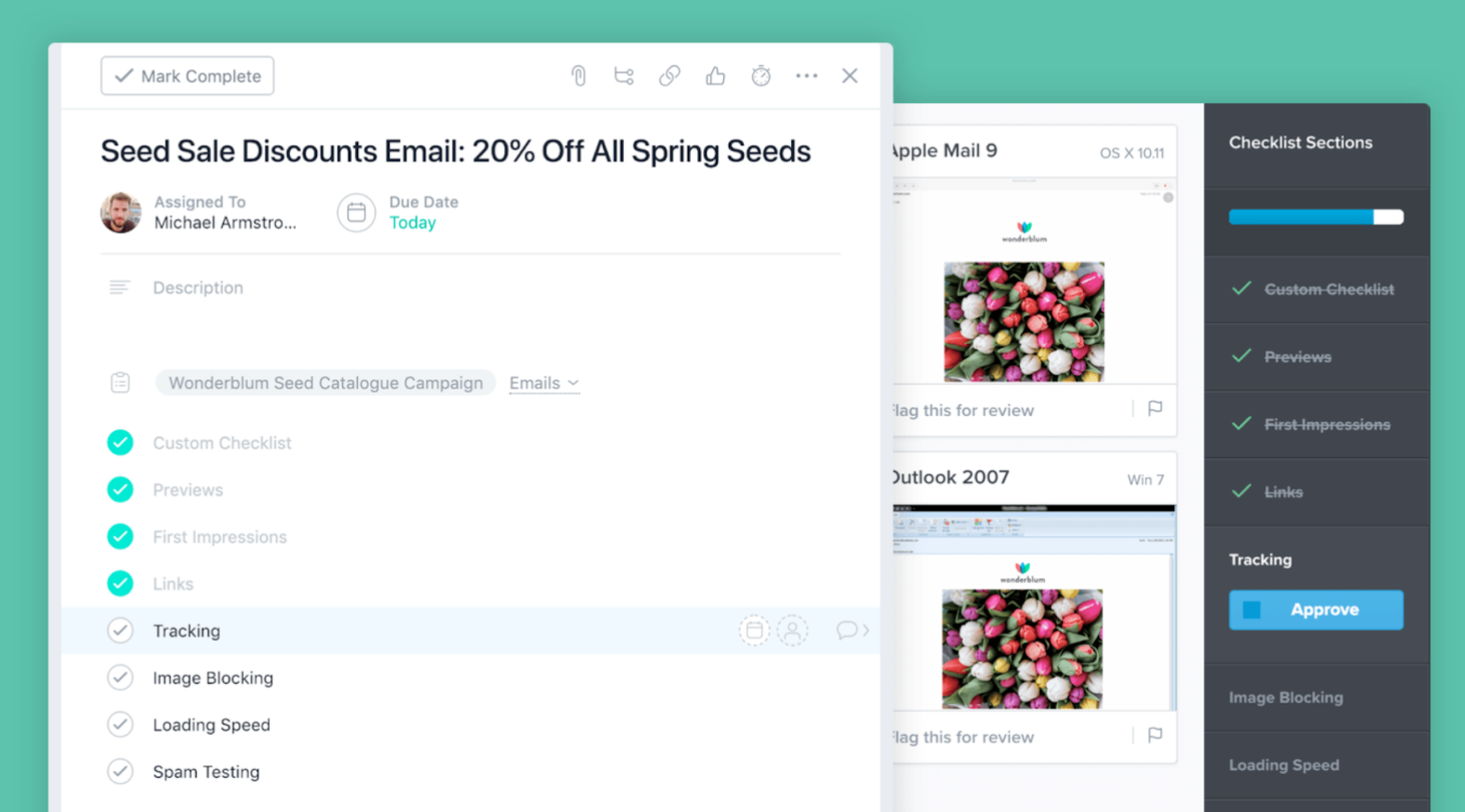 Get visibility into email campaign status — Syncing these tools can give marketing managers full visibility into every step of your email campaign process.
Streamline communication — Connecting a Litmus Checklist to an Asana project means that status updates will automatically sync on both platforms
Litmus offers two different pricing options:
Litmus Basic — $99/month
Litmus Plus — $199/month

Instabug Integration

An Instabug integration allows you to get an annotated screenshot and device details on your bug reports. Instabug can deliver you real-time insights throughout the entire mobile app lifecycle. This means mobile teams can connect with customers and accelerate their workflow.
Integrating these platforms means that your team can have all the details they need to understand every bug within each Asana task. Here's a breakdown of what to expect from syncing these tools: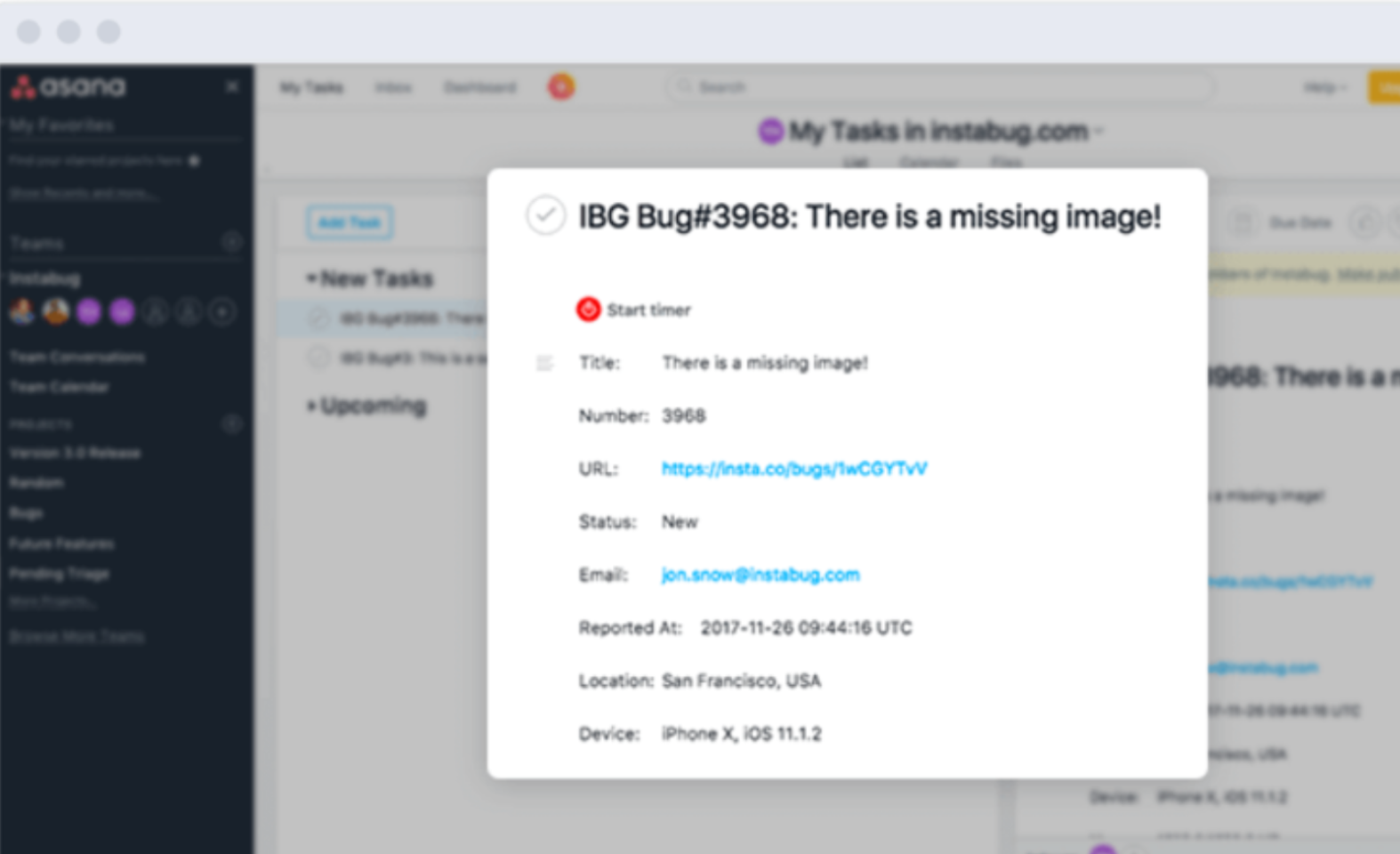 Your bugs and user feedback are converted into Asana tasks.
Get notified of progress on all ongoing bugs.
Instabug offers two different pricing options:
Basic — Starting at $124/month
Pro — Starting at $208/month
The Bottom Line: Taking Asana to the Next Level is Easy with Integrations
Asana is a great tool to add to your software stack, as it can offer your team a myriad of benefits. But why stop there? With all the integrations that Asana offers, you will find yourself being productive in ways you never previously expected. The possibilities will be nearly limitless. If you want to learn more about project management tools, take a look at our article on the state of project management.
Frequently asked questions
Asana offers more than 200 integrations on its own. These include Trello, Hubspot, Jira, Jotform, and Basecamp. But with the help of Zapier, you can sync more than 3,000 tools with Asana.
Asana offers an open API where you can build custom fields and integrations to meet your workflows.