Base CRM employees stopped by NYC last Thursday for their Sales Intelligence Roadshow in a semi-marketing, semi-informative "half-day event for forward-looking sales professionals." We've written a few times about Base; we included them in our Top 15 CRM Companies to Work For in 2017 and compared them in Insightly vs. Base. Since NYC is right in our backyard, we decided to make the trip on a muggy Thursday afternoon to -- pardon me -- touch Base.
It was a low-key event held in Midtown Manhattan. It started with a small catered lunch and networking session as registered guests arrived. The roughly 100-person audience was fairly diverse in origin and industry. Most were involved in sales, but only half were New Yorkers; I sat beside a salesperson who came on behalf of a small Cape Cod kids clothing company, and beside her was a director in corporate sales at Standard Charter. The function seemed as much geared to fostering a sense of community among Base users as to appealing towards potential clients -- particularly prospective enterprise clients.
Opener: Intro to the Science of Sales
Josh Bean
, Director of Marketing, introduced himself and welcomed attendees around 1pm. He explained the purpose of the event -- to "lay the framework of a sales process in a data-driven way" -- and yielded the mic to
Mark Stagi
, Director of Customer Success, who spoke about the role of data in sales across industries (referencing "Moneyball" and indicating his support for the Oakland A's -- a tough sell in Yankee country).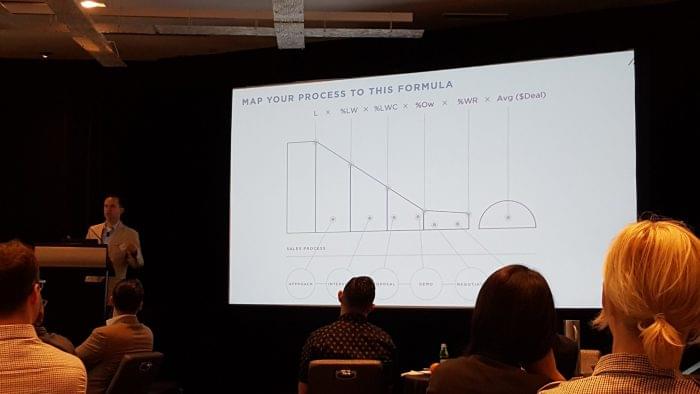 Mark noted the evolving capabilities of sales platforms to deal with big data -- in other words, deriving key data points that allow sales teams to field a scientific approach to optimizing lead qualification, assignment rules and sales rep performance, while allowing managers to set realistic benchmarks based on measurable strengths and weaknesses.
A key point of Mark's presentation was data integrity: without clean data, a data-driven approach falls apart. He offered a few tips:
1. Avoid free text fields -- A common mistake in CRMs is allowing users to enter information as they see fit. It results in misspellings and abbreviations, which can be avoided by using dropdown menus or multi-select fields.
2. Keep data standardized -- Mark used the example of 50 U.S. states that have "four hundred different entries" as 'New York' might be shortened to 'NY' or specified with 'NYC'. Wiser heads use a single format, either as known policy or by restricting entry options as mentioned earlier.
3. Completion equals reporting success -- Data integrity is key for accurate, readable reports. Managers must regularly review field completion rates for contacts, leads, and opportunities; for Base, certain extensions can help with this.
4. Use the CRM from start to finish -- Data integrity isn't only data that's entered correctly, but data entered at the right times. Entering lead and opportunity accurately at the correct stage is key to getting the most from the platform. Mark specified bad CRM habits to avoid, such as skipping stages, entering 'zero value' deals, moving deals backwards in the pipeline, adding closed deals and closing deals shortly after adding them -- all of which can lead to inaccurate CRM data.
The message Mark drilled home was that clean data improves our sales performance and processes alike. The cleaner our data, the more accurate our analysis and the more potential we have to improve our reps to the best of their ability, plug leaks in the sales funnel, and maximize win rates according to client segments.
Fireside Chat: Drew Papadeas, Frank Truglio, Josh Bean
Josh Bean returned for a fireside chat with Drew Papadeas, VP of Sales & Marketing at Dom & Tom, and Frank Truglio, CEO and Co-Founder at Paycove. Both companies use Base. Frank explained his company's product, an app for automated invoicing and pipeline management, was actually built around Base's API. Josh had interacted with Drew when the latter's company first deployed Base; they've known each other for years. Camaraderie all around.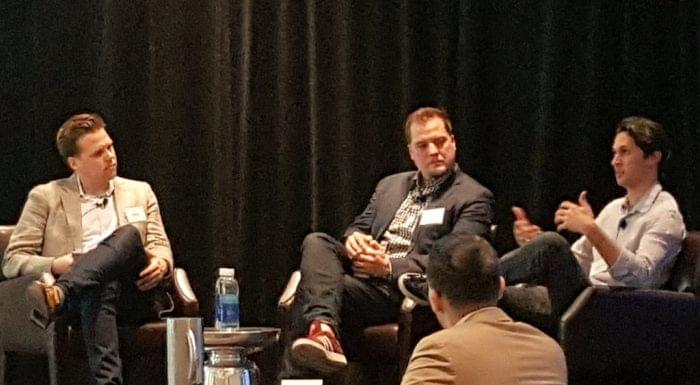 The conversation was ostensibly on how to improve CRM user adoption, but it soon veered in other directions. Nevertheless, it produced a few insightful quotes.
"As you scale a team, software needs to have a light touch -- how easy is it for someone to jump from call to call?" Drew, on qualities to look for in a CRM

"Does it achieve results, does it play well with other products, and does it free up more time." Frank, on qualities to look for in a CRM

"As many things you can do for people, please keep doing that." Drew, on his advice for sales reps

"[Show they can] get the same results doing less things." Frank, on encouraging user adoption
Making the Shift to a Data-Driven Sales Culture
Lindsey Bly
, Senior Product Marketing Manager, stepped to the lectern around 3:15pm to further build the case for why businesses should center their sales strategies around data.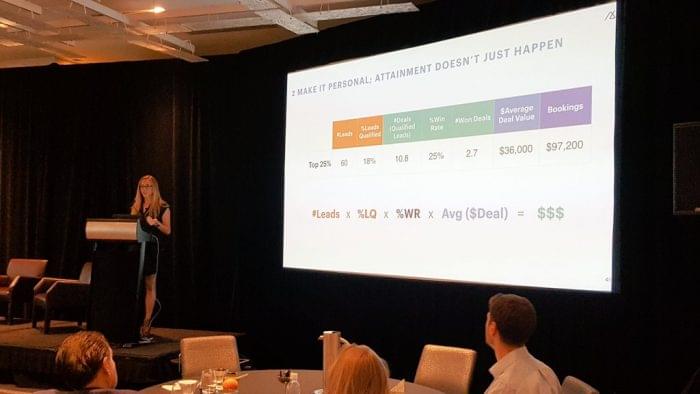 Lindsey formerly worked in sales at LinkedIn, and contextualized how the role of data could be used to bridge the 'tech chasm' she experienced in her previous role. (The chasm pertains to the tech industry and refers to the falloff in sales when you've exhausted your supply of excited tech-savvy first adopters, but haven't committed the training or resources to educate the next wave of more hesitant shoppers.) Lindsay built her case with a hypothetical sales team in which additional data revealed under-performing reps were being assigned leads in segments that didn't match their skills. When leads were assigned according to reps' historical win rates, the whole team brought in more revenue.
Lindsay then outlined steps companies can take to build a data-driven culture in their sales team.
Step 1. Use Data to Solve Problems. You need to have actionable goals in order to derive benefit from data analytics. In other words, identify metrics and what success looks like when measured by them. As Lindsey put it, "When we start analyzing data without a hypothesis, or a structured approach, it's pretty much a waste of time."
Step 2. Make it Personal; Attainment Doesn't Just Happen. Data-driven optimization in sales performance requires buy-in from sales reps. This means quantifying aspects of their performance by pipeline stage according to lead criteria (such as business size or deal value) so that reps can focus their efforts in areas to produce the most improvement. This varies per rep and should be contextualized as bringing additional value rather than facing harsh criticism.
Step 3. Make Data Accessible… But Not Too Accessible. Sales leaders must share metrics that are consistent, clear, and scalable. This may entail reaching consensus on which metrics matter most, a common way to calculate a metric, and how regularly key metrics are delivered throughout the organization so individual teams know when to expect updates. In other works, "Cadence, cadence, cadence."
Step 4. Lead From the Front. Managers must put data at the forefront of meetings and incorporate it into normal business cadence, whether for coaching, deal-based forecasting or sales initiatives. Achieving buy-in on the ground requires a prominent data-driven culture at upper levels.
Step 5. Review, Revise, Repeat. Managers and sales leaders should review their sales formula to ensure it properly accounts for changes in key metrics and sales targets to identify possible shortcomings in strategy to prepare for 'chasms' so sales teams don't miss their goals.
What's New at Base
A few attendees had filtered out by the time Josh Bean returned to the stage to close out the conference, but there was a sizable enough crowd remaining to hear a few announcements about upcoming moves at Base. Some of them were tiny (an imperceptibly-altered logo, for example), but Josh was able to send us off with news of notable updates to the Base experience.
•Contextual Search -- The in-app search function will better clarify between contacts of similar attributes. For example, contacts of the same name will be differentiated by city and state, ownership, or recently reviewed.
•Snap Marketplace -- This was actually announced a few weeks ago, but Josh reiterated that there are 35+ native integrations available in Base's marketplace, including for data integrity, invoicing, helpdesk ticketing (Zendesk in particular) and others.
•Deduplication Controls -- Base will include more features for data cleanup as well as flexible duplicate management. Users will have more rules available for data imports.
•User Onboarding -- Users will gain personalization tools to onboard new users based on role and core features.
•Firehose API -- Available in an Early Access Program, the Firehose API allows for a near real-time flow of changes to your data.
•Base Academy -- Coming May 25, Base will launch sets of online curriculum to allows users to gain certification using Base for specific purposes. The initial curriculum will focus on building a sales science foundation, scientifically measuring performance and delivering prescriptive insights.
Thus concluded the Sales Intelligence Roadshow in NYC! As I remarked elsewhere on social media, Base had great speakers, a warm atmosphere and plenty of caffeine -- they certainly knew how to cater to local New York tastes. We've been keeping an eye on Base, including them on our list of eight machine-learning CRMs moving the game forward and putting faces to the company. That all-essential human element gives us another incentive to keep paying attention.