There are a lot of solid products in the project management field to choose from. All of the options can be overwhelming at times. Basecamp is one of the most promising and user-friendly tools for remote teams to choose from, specifically because of its pricing model. Instead of charging per seat, Basecamp offers a flat monthly rate for the entire team.
In this article, we will investigate if this pricing is a worthwhile project management option for your business. We will cover the following sections:
Basecamp History
Basecamp founded in 1999 by Jason Fried, Carlos Segura, and Ernest Kim. They originally started off a web design company called 37signals. But in 2004, the trio decided to switch their focus from web design to web app development. Basecamp was the first product they built and they have gone on to create a Basecamp 2 and Basecamp 3.

Their flagship tool was followed by Backpack, Campfire, and High-rise. But in 2014, 37signals officially changed its name to Basecamp and decided to solely focus on that product. As the trio behind Basecamp collectively have quite the impressive resume, Fried, Segura, and Kim have published a number of books under the Basecamp name. Each book covers what the founders have learned from running their own business.
What Basecamp Pricing is All About
Basecamp offers two pricing plans to choose from. There's Basecamp Personal, which is the more limited option, but it's completely free of charge. This plan was designed with personal projects, students, and freelancers in mind — basically, anyone who anticipates using Basecamp for light use. With this option, you get 3 projects, 20 users, and 1 GB of storage.
As Basecamp Personal is too limiting for most businesses, the project management company offers customers Basecamp Business, which is the one we're interested in. This plan only costs $99/month for just the entire team and is virtually unlimited. This plan offers unlimited projects, unlimited users, and unlimited clients. Users can even try it for a free 30-day trial, with no credit card needed.
You can also take advantage of the following features in the Business plan:
A dedicated company HQ
Team projects so every team has its own space to collaborate
Advanced client access so you can gain control over what your clients see
Unlimited clients, so you can work with any necessary party in Basecamp
Project templates to save time
Priority support so you can access customer service as quickly as you need it
The only feature that isn't completely unlimited is its storage offering. The Basecamp Business plan offers 500GB of storage space for users. That is plenty of space for most teams but could end up being a little tight for enterprise companies running multiple complex projects.

Basecamp Features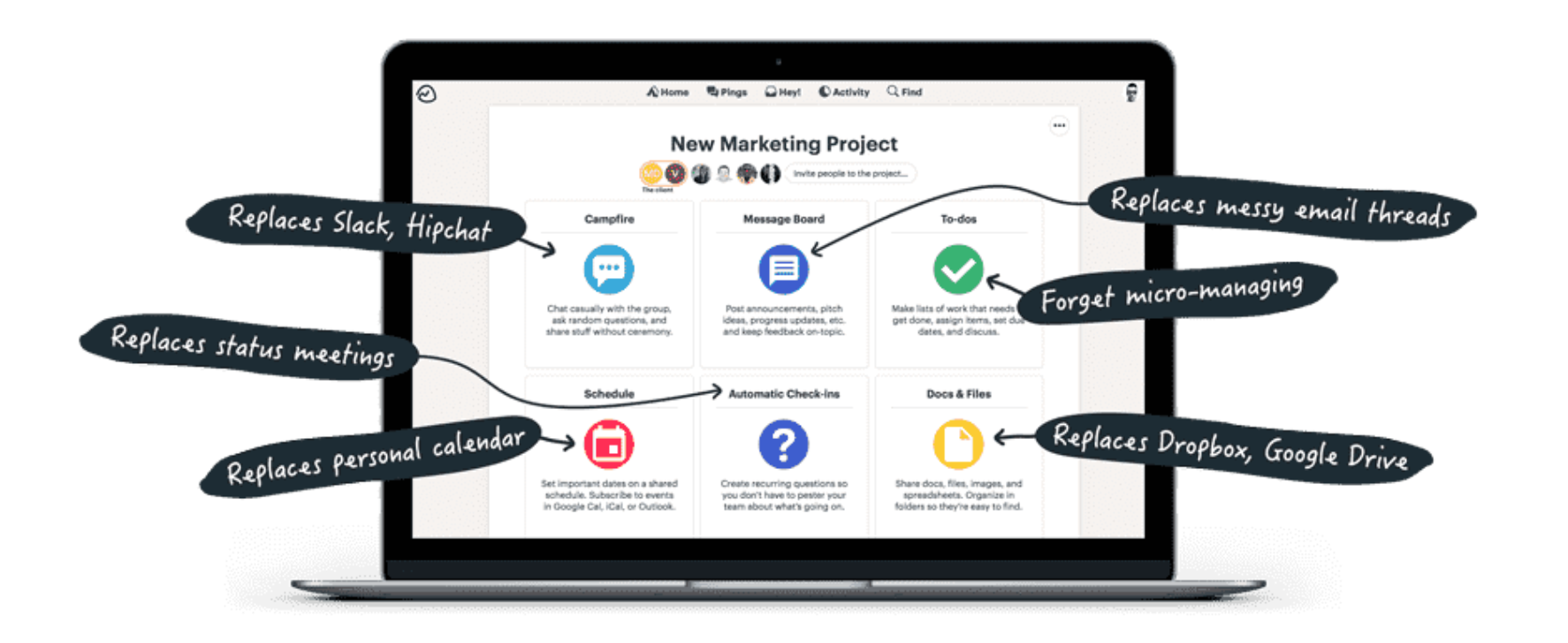 Here are some features you can expect in the Basecamp Business plan:
To-do lists — Those who use Basecamp can create to-do lists for all the work your team needs to do. You can assign to-dos to one or more people. You can also add notes and doc attachments, along with commenting directly on tasks and lists.

Message boards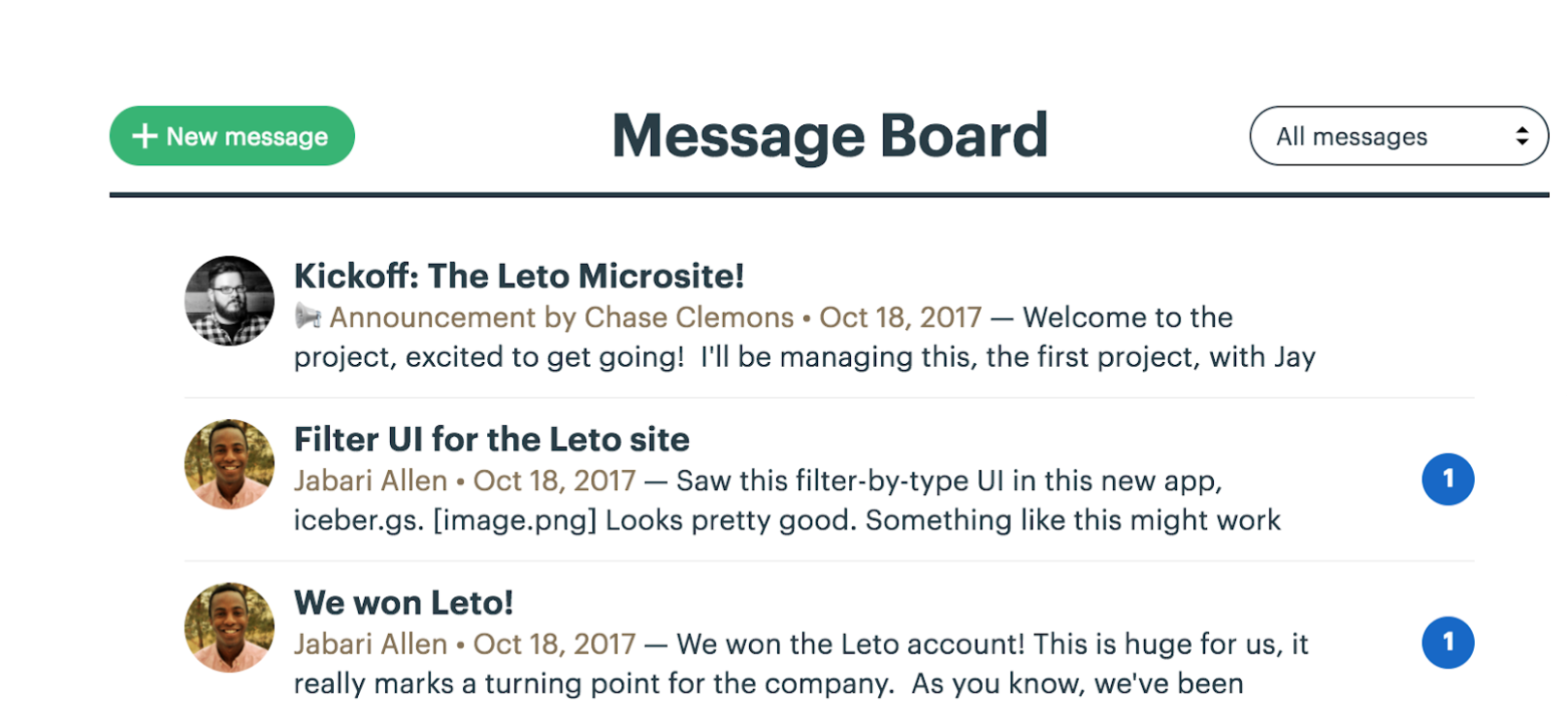 The project management solution offers message boards so you can keep a conversation on a specific topic contained to one page. That way, you can eliminate the need for emailing back and forth about project-related inquiries.
You can customize message boards with various post types, embed files into the message, and share a post with select parties. Project management tools typically offer some kind of team communication functionality, but the message board feature sets Basecamp apart from its competitors.
Schedules — Basecamp allows you to stay on track with schedules that include to-do and events with specific due dates or date ranges attached to them. You can subscribe to these schedules with an outside calendar, such as Google Calendar or Outlook, and add people so they're notified when events change.
Hill charts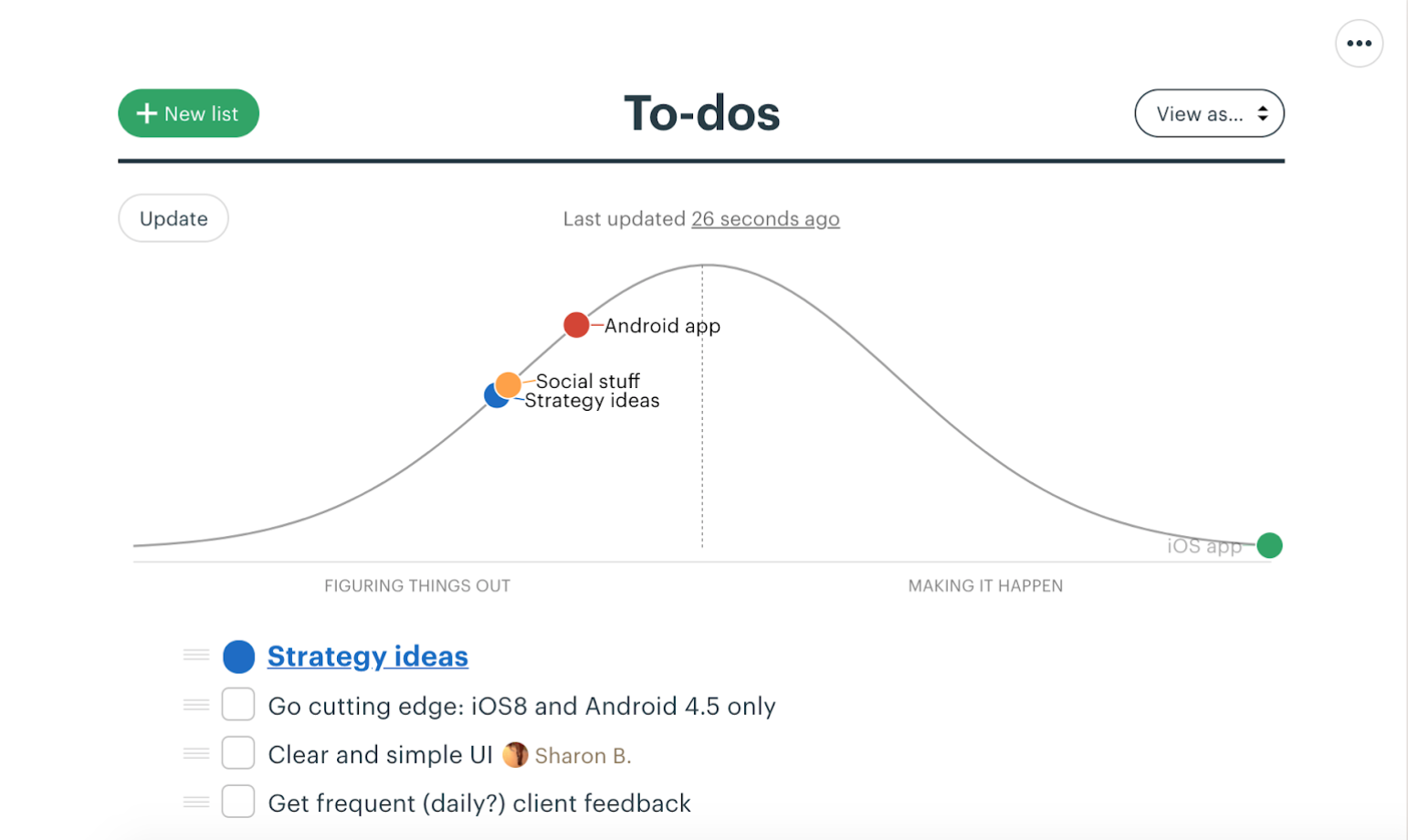 This feature is Basecamp's answer to Gantt charts. It is an exclusive feature that enables project managers to see where projects currently stand. You can see progress over time and every update, eliminating the need for daily standups.
Document and file storage — You can utilize document, image, and file sharing in each of your projects with its simple drag-and-drop functionality. Every file includes a complete version history as well. This replaces the need for a tool like Dropbox.
Group chat — Basecamp eliminates the need for a third-party messaging tool like Slack or Microsoft Teams. It has a native group chat tool called Campfires built right in. Each project has its own unique chat room that allows you to attach files, quotes, and even code samples to every message. Basecamp provides direct messaging functionality as well.
Check-in questions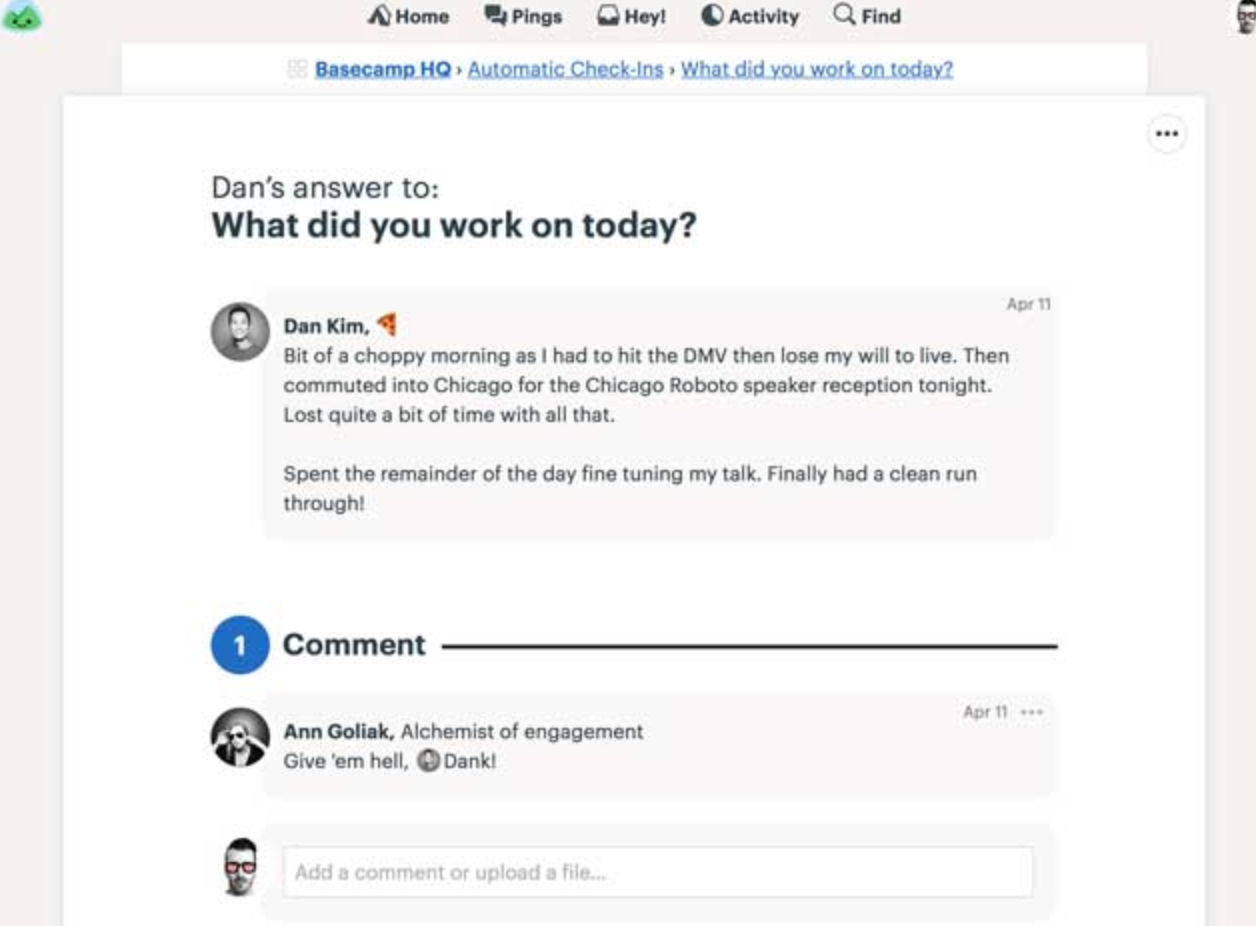 Instead of individually messaging every member of your team, Basecamp offers check-in questions. You can ask questions on a daily, weekly, or monthly basis and change the audience to the whole team or just specific people. Your team members will be able to comment directly on the thread, creating a much more organized check-in process.
Basecamp Alternatives
Here are some Basecamp alternatives to consider:
Asana

Asana helps teams orchestrate their work, from small projects to large strategic initiatives. The project management software allows you to gain power and control over your team's projects. Asana offers a few different plans that are comparable to Basecamp's unlimited plan.
Asana's Basic plan is completely free of charge for up to 15 teammates. It offers unlimited tasks, projects, messages, storage, and activity log, which is similar to Basecamp's offering. In addition to those features, Asana also has list, board, and calendar views, 100+ integrations, mobile apps for Android and iOS iPhone, and more.
Asana's free version doesn't have quite as many in-depth features as Basecamp Business does, like the check-in questions or hill charts. But the fact that Asana offers so many unlimited features for up to 15 users is quite impressive.
Who comes out on top: Asana
Trello

Trello is a visual team collaboration tool that allows teams to create a shared perspective on ongoing projects. The project management tool provides boards, lists, and cards so you can stay organized and prioritized. Trello offers a free plan ideal for individuals and teams.
This plan offers unlimited cards, members, storage and activity log space for no cost at all. As Basecamp offers this in their paid plan, Trello is the better deal when it comes to these features. However, while Trello offers some great unlimited features in its free plan, its a little limited overall.
Trello's next plan up is its Business Class option. The pricing starts at $10/user/month billed annually, and $12.50/user on a monthly basis. This option is a little more similar to Basecamp Business in the features that it offers, such as its advanced checklists, multiple views, and unlimited boards and power-ups.
Who comes out on top: This is a close call, but Basecamp Business edges out Trello. Trello's free plan is pretty limited and, for teams larger than eight or nine people, Trello Business Class ends up being more expensive than Basecamp Business.
Monday.com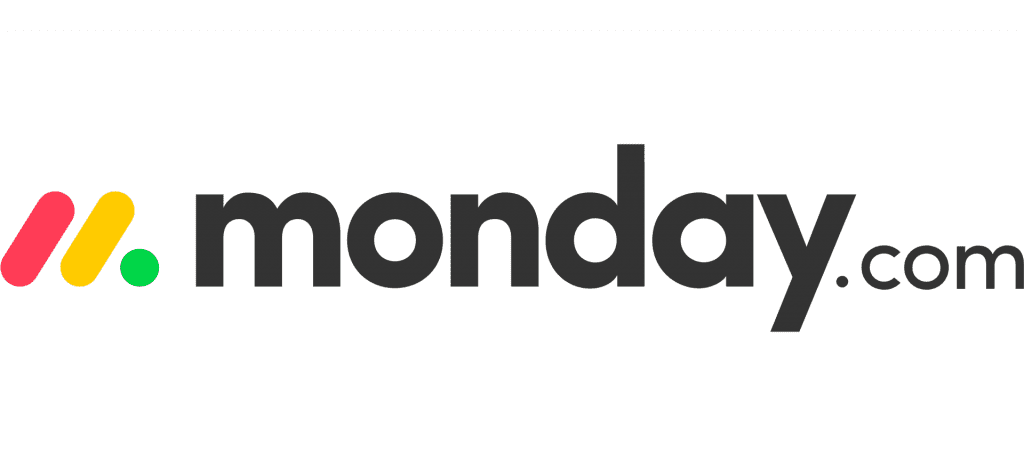 Monday.com allows teams to create workflow apps in minutes in order to better run their processes, projects, and everyday work. This can be done in a code-free user interface that can quickly adapt to meet evolving needs. The project management tool offers a free plan for up to two seats, meaning that it's not a feasible option for most teams.
The next level up is the Basic plan, which is billed at $8/user/month, billed annually or $10/user, billed monthly. This option is designed for teams that are just getting started with project management. In addition to everything in the previous plan, it offers unlimited free viewers and items, 5GB of storage, and prioritized customer support.
Monday.com's pricing page offers a useful tool that allows users to predict how much the tool will cost them, based on the size of their team and which plan they are interested in. So, for example, it would cost a team of 11-15 team members $120/month, billed annually if they were to choose the Basic plan.
Who comes out on top: Basecamp. This project management tool simply gives users more bang for their buck.
Toggl Plan

Toggl Plan is an intuitive and visually appealing project management application. It's designed to help get the job done and accommodate for changing priorities. The project management tool offers two separate plans for businesses to choose from — Team and Business. Toggl Plan Team is pretty comparable to Basecamp Business' offering.
This option costs $8/user/month, billed annually and $9/user billed monthly. Toggl Plan Team provides unlimited timelines, boards, tasks, and milestones. It also offers timeline sharing, recurring and multi-assign tasks, and file upload up to 100MB.
Who comes out on top: If you're a small team of 10 or under looking for a little more basic functionality, Toggl Plan is the way to go. It offers similar features at a very affordable price.
Workzone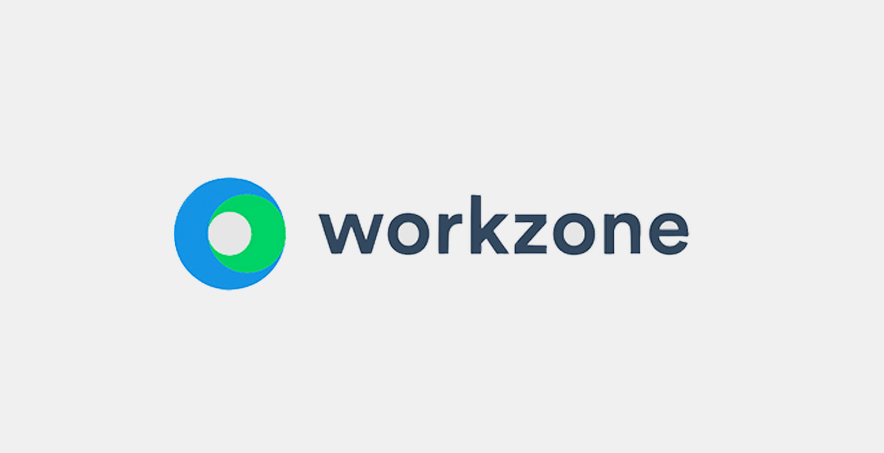 Workzone is a tool designed to unify your work and unite your team. It allows you to collaborate effectively so you can deliver projects on time and measure your team's impact. Workzone offers three different pricing plans — Team, Professional, and Enterprise.
The Team plan is designed for teams of five or more users. This plan includes unlimited project and task management, unlimited workspaces, unlimited training sessions, unlimited support, advanced reporting, and more. The Team plan comes with 100GB of storage. This option is listed at $24/user per month, but Workzone notes that this estimate is based on 15 users.
Who comes out on top: Basecamp. It's a far more price-efficient option with impressive features.
Conclusion: Is Basecamp Worth it?
Basecamp is worth it for a specific type of team. Basecamp Personal is far too limited for most teams, but the Business plan is a great option for teams of ten or more. As most project management tools tend to charge per user, a flat rate of $99/month for an entire team is a steal for bigger teams. But if your small business is less than ten people, it makes more sense to opt for another tool.
If you're looking to learn more about project management, take a look at our article on the state of project management in 2020.
Frequently asked questions
One of the biggest differences between these two is the pricing structure. Basecamp 2 offers a variety projects and storage levels at a number of different pricing tiers. Basecamp 3 offers virtually unlimited features at one, albeit higher, price point. 
The project management tool make sure your data is protected. Data is sent using HTTPS. The tool offers regularly-updated infrastructure and full redundancy for all major systems.
No, it is only available in English at the moment.