You and your team members are likely juggling multiple projects at once. All of those moving pieces can be hard to keep track of. The best way to do so is with a project management software. Clickup and Monday.com are some of the best options on the market you could pick.
In this article, we'll offer a comprehensive breakdown of both tools. We'll take a look at everything you should know from features to customer support to a final verdict on who each tool is best for. By the end, we'll ensure that you know if either Clickup or Monday.com is the best option for you and your team.
We'll cover everything you need to know in the following sections:
ClickUp vs. Monday.com: An Overview
Here's a quick introduction to each project management tool.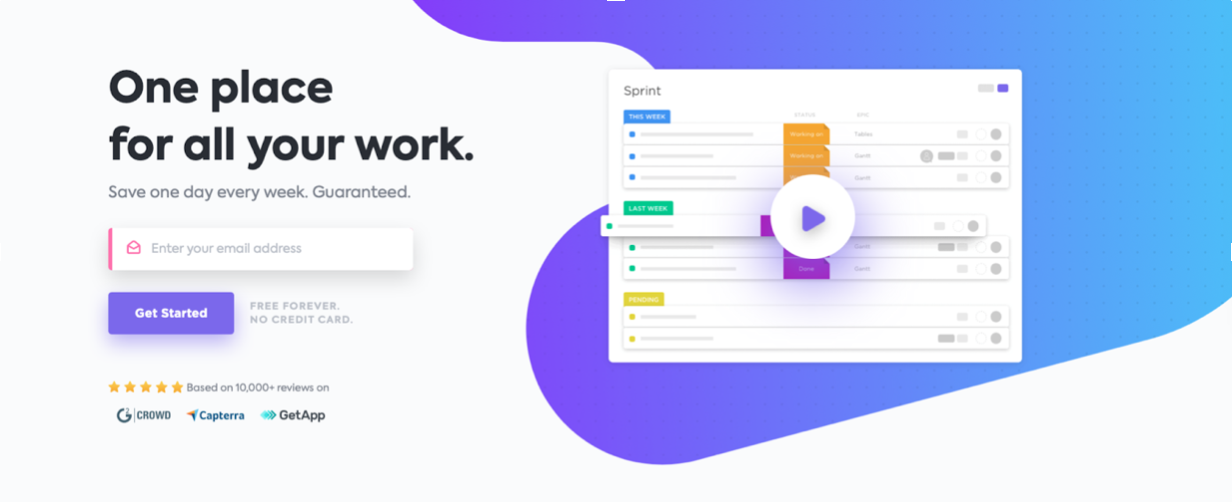 Clickup was created with the belief that productivity is broken because there are far too many separate ecosystems to keep track of. Because of that, the platform was designed to replace multiple applications.
Clickup is more than project management — it offers docs, reminders, goals, calendars, and even an inbox. With all of these functionalities at hand, teams can utilize one solution for project planning, organization, and collaboration. Clickup boasts impressive customers such as Google, Airbnb, Uber, and Nike.


Monday.com allows teams to create workflow apps in minutes to run their processes, projects, and everyday work. The product was created in 2010 as an internal tool for Wix. As of 2020, the project management tool serves more than 100,000 organizations. That same year, Monday.com won the Webby Award for Productivity in the categories of Apps, Mobile and Voice.
Users can shape the way they work with a code-free platform that shifts to quickly-changing needs. That way, teams are free from manual grunt work and connect to colleagues in a collaborative workspace. It's designed to be visual and intuitive enough so that your team doesn't require much training to get started.
Here's a quick overview of what to expect from each tool.
| | | |
| --- | --- | --- |
| | Clickup | Monday.com |
| Starting Price | Clickup offers a free plan. Their lowest paid plan starts at $5/user/month, billed annually. | Monday.com's most basic plan starts at $8/user/month, billed annually. This plan starts with a minimum of three users. |
| Notable Features | Process management, Task management, Time management, Team collaboration, Full customization | Calendar views, Gantt charts, Various automations, File sharing, Kanban boards |
Clickup vs Monday.com Features
Here's a look at how each project management tool's top features stack up against one another.
Clickup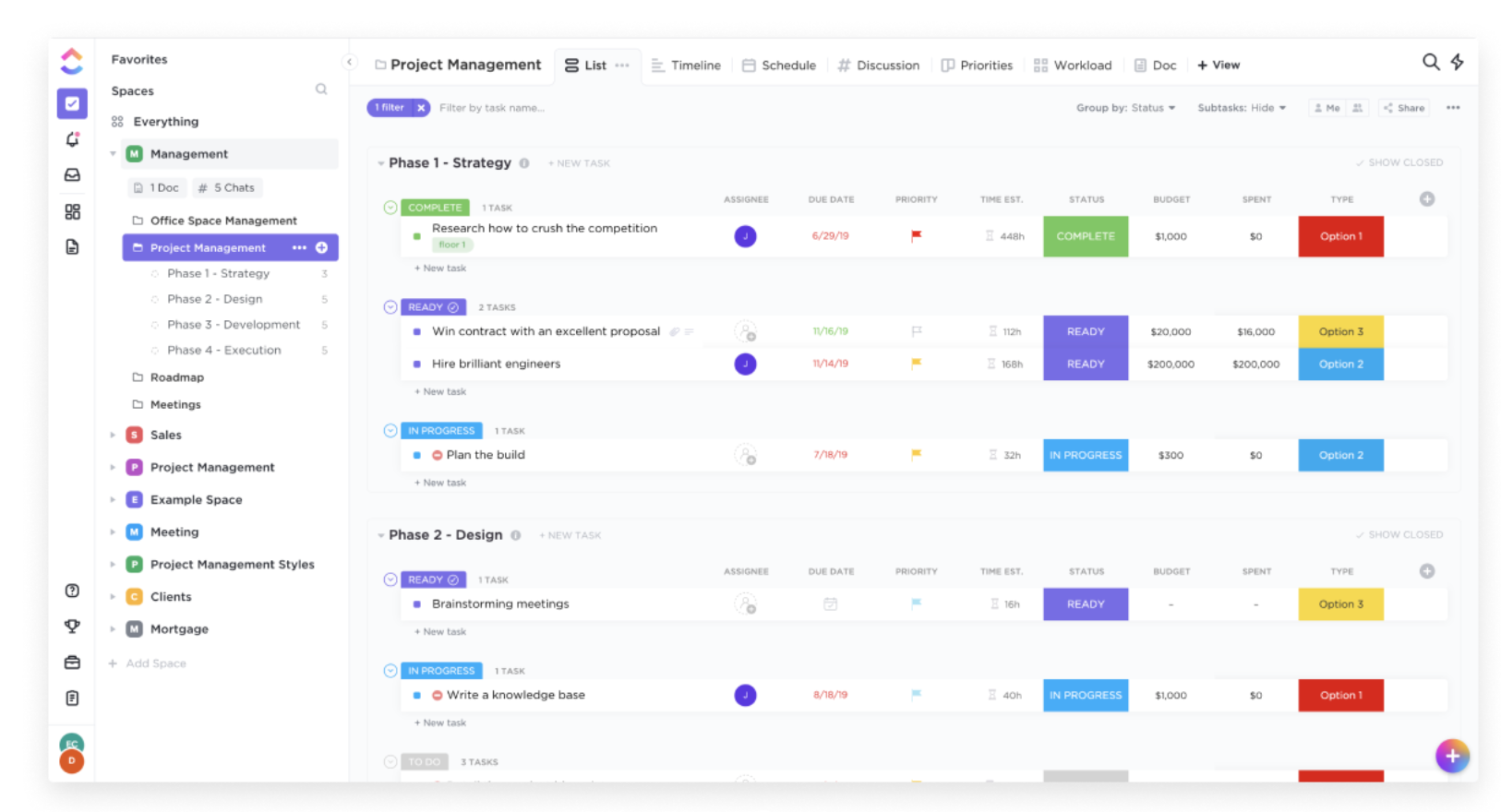 Process management — Clickup offers a suite of features to ensure all of your projects are streamlined and every necessary step to complete each task is precisely followed. Those features include custom statuses, checklists and templates, workload charts, recurring tasks, dependencies and more.
Task management — Clickup provides users with features that allow them to organize tasks and make quick changes. With the functionality within this group of features, users can shuffle tasks as the team has to pivot in order to meet changing requirements. These features include filter and search, recurring tasks, and multitask toolbar.
Time management — This project management tool makes sure that users can schedule time, manage team capacity, organize calendars, and track milestones with ease. Features like project timeline view, workload view, and time in status are included in this group of features.
Customization — Clickup allows you to customize the product so it is tailor-made to fit your large, mid-size, or small business's needs. Your team can customize privacy, features, workflows, tags and more. Customization can be drilled further down to items such as custom fields, custom statuses, and custom assignees.
Collaboration and Reporting — Your team can stay productive with the various collaboration and reporting features that Clickup offers its users. These features include collaboration detection to see what others have viewed, real-time editing and syncing, team reporting, mentions, code syntax, ability to assign comments, and more.
Monday.com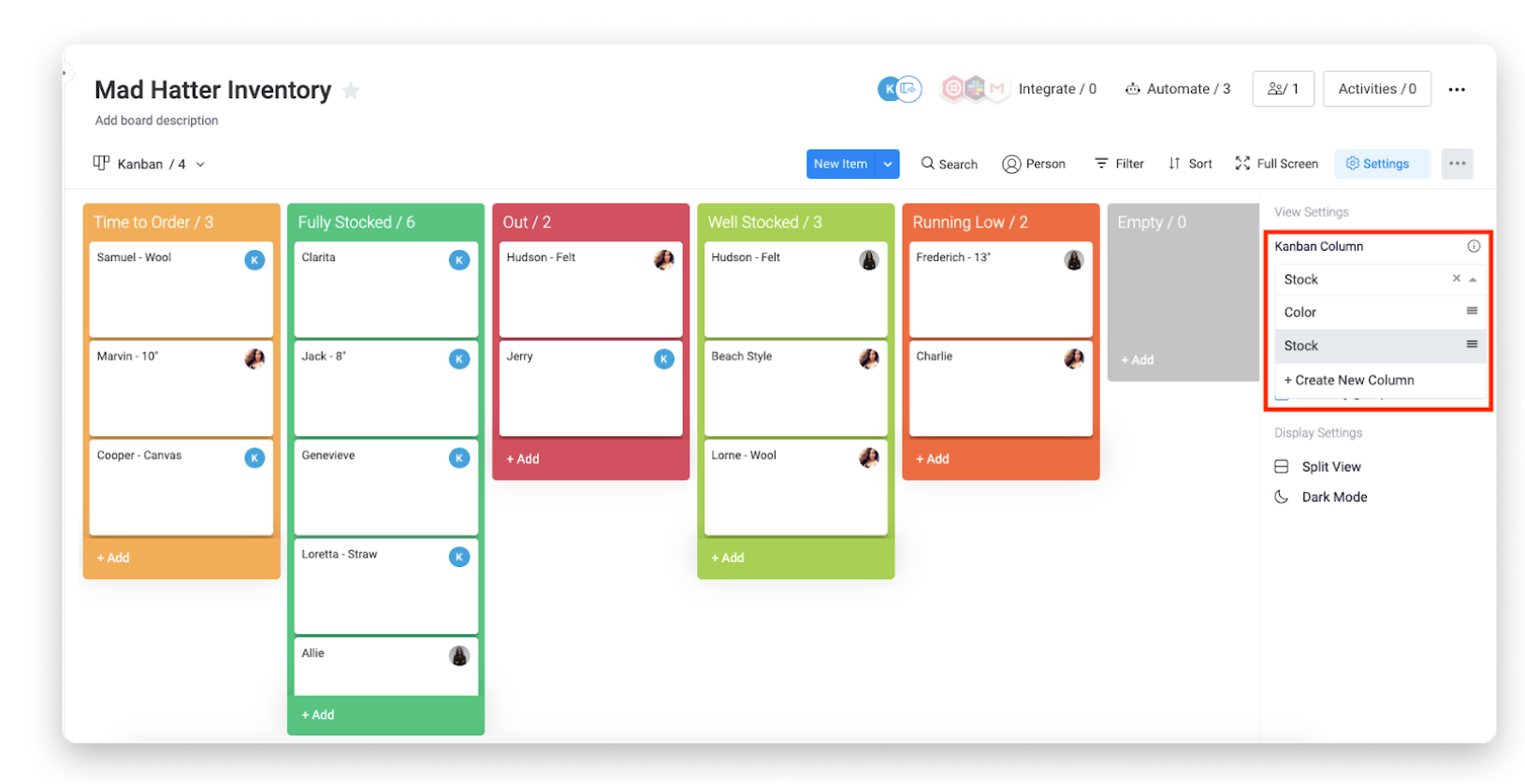 Automation — Monday.com offers a number of code-free automations so users can focus on what matters the most. You can set your preference so that emails are automatically sent when due dates arrive and receive real-time updates for when tasks are completed. Automations like this will allow you to leave unnecessarily repetitive work behind.
Dashboards — With Monday.com, you can create custom dashboards that enable you to track progress, timelines, and budgets at a glance. Users can run reports based on these dashboards that offer anything ranging from a high-level overview to a granular analysis of specific details. Access to this data allows users to collaborate across teams with ease.
Kanban — This tool allows you to create Kanban boards in order to better manage your projects. These boards can be set up in minutes so that all communications and workflows are managed in one place. As a Kanban board enables you to easily stay on top of your workflow, your team can release quality products even faster than before.
Gantt charts — Monday.com offers powerful Gantt charts so your team can easily plan, execute and track projects. With these charts, you can keep track of milestones so that no deadline is ever missed. You can even import data from Excel so your entire team can collaborate together seamlessly.
File sharing — Monday.com offers a drag-and-drop functionality that allows you to centralize all files in one platform. You can manage team and client permissions so that everything is regulated in secure cloud storage within the platform.
User Experience
A software solution is nothing without a solid user experience. Here's a comparison of Clickup and Monday.com's individual user experiences from their user reviews.
Clickup
ClickUp has a really slick user interface, and the experience is buttery smooth. The team is very receptive to their customers' feedback.
Little details are not lost on me. It is extremely user-friendly and simple to use but in order to achieve this you really have to think out what would be easier for the client to navigate the software.
ClickUp's flexibility, simplicity, and ease of use make it a leader in what's being called the 'next generation of work tools'.
As ClickUp is made to replace multiple platforms, a smooth user experience is necessary. Users wouldn't adopt the tool in place of their existing platforms if it wasn't easy to use. But as their reviews go to show, the tool lives up to its promise and it's incredibly easy to use.
Monday.com
It's clean and seamless, easy to use on both PCs, mobile apps for Androids and iOS.
Monday.com is super easy to set up and start using. And my team is able to hop on and start using it right away as it is so intuitive, we don't need any long pieces of training on how you use it
What sets Monday apart, in my opinion, is how user-friendly and how customizable it is!
Similar to Clickup, Monday.com is incredibly easy to use. Customization and lack of a learning curve are key for a project management tool, and Monday.com delivers.
Customer Support
Clickup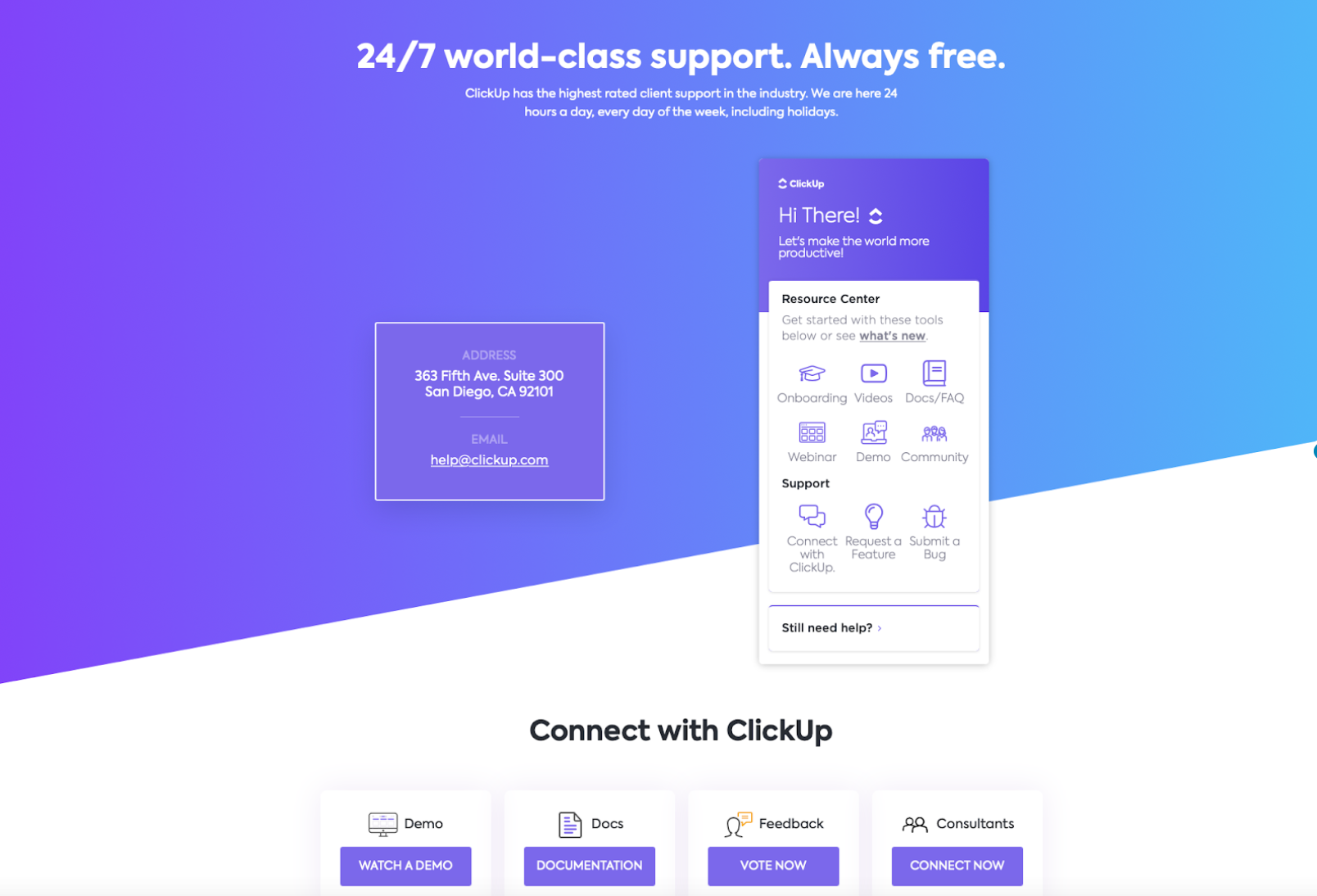 Clickup's website boasts the highest-rated client support in the industry. Their support is offered 24/7 and is available to users that belong to any pricing plan. Users can access Clickup's customer service team in a number of ways.
Their resource center offers onboarding, documents, webinar, demos, videos, and a community of Clickup users in order to troubleshoot issues on their own. But if users don't want to take the self-service route, they can reach the Clickup team through options such as live chat, the option to request a feature, and submitting a bug.
Monday.com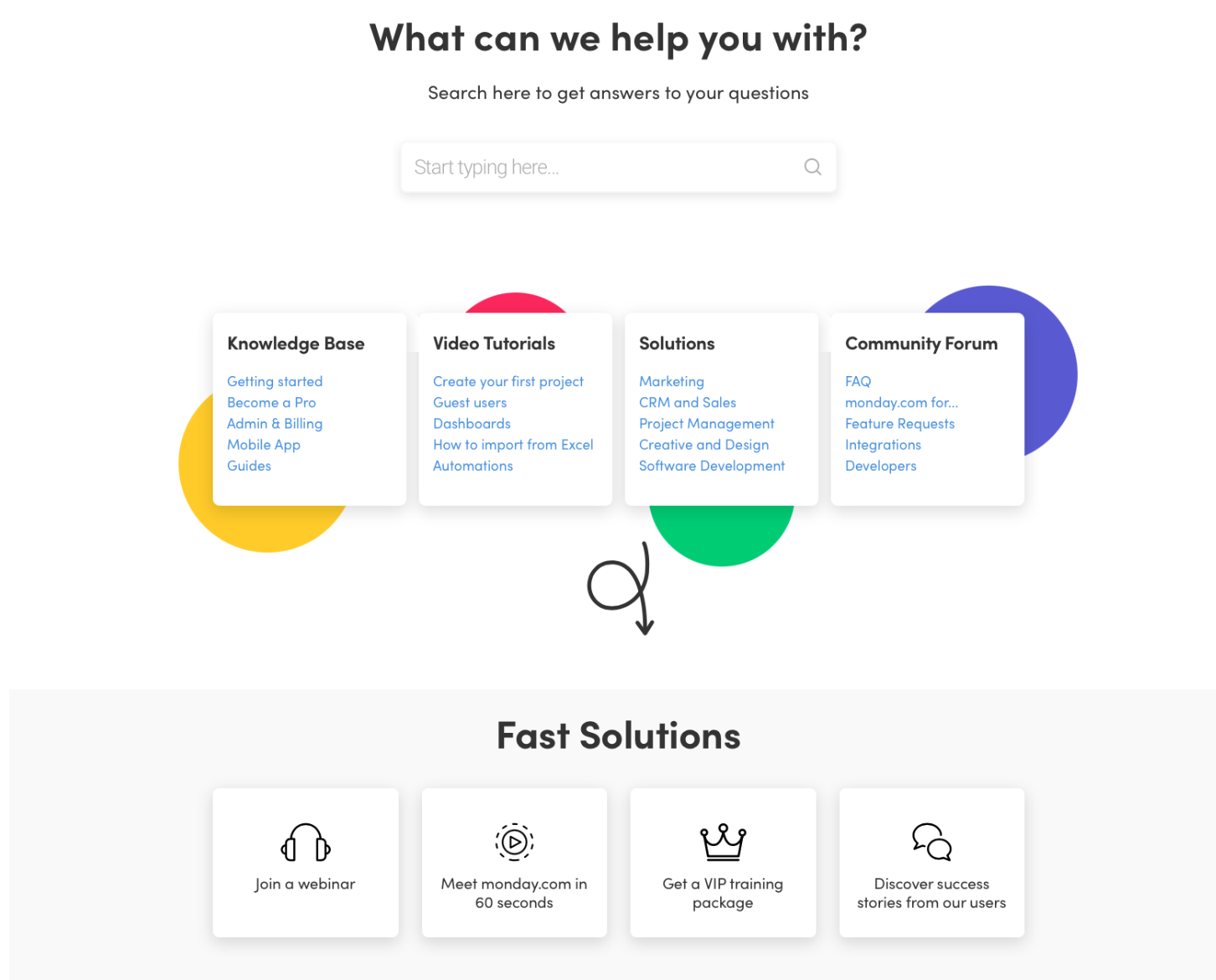 Monday.com provides a thorough customer support offering as well. Customers can navigate through their knowledge base, video tutorials, and community forum to answer their own questions. The project management tool also offers a section for specific solutions, such as marketing, sales, and project management. Users can reach out directly to the Monday.com team for support, but they do not appear to have a live chat option as Clickup does. Users have to fill out an email form in order to contact them.
Integrations
Clickup
Clickup offers more than 300 native integrations in order to boost users' productivity. Some prominent integrations include Slack so you can create and manage tasks without leaving conversations, Everhour for time tracking, Dropbox for file storage, and Google Drive to search and attach files to ClickUp tasks. The platform also provides a public API so developers can build custom integrations.
Monday.com
Monday.com provides more than 50 integrations so your team's work can be accessible all in one place. Integrations on Monday.com's site are broken out into categories such as team favorites, CRM, and marketing.
Prominent integrations include Microsoft Teams to embed project boards into team chats, Excel to import and export any sheet you'd like, and Salesforce to manage your sales pipeline. Users can easily set up integrations with a few clicks and no code required.
Pricing
While features and integrations are important in a project management tool, it's of course pertinent that the solution your team selects falls within your budget. Here's a breakdown of the pricing model for Clickup and Monday.com.
Clickup
Monday.com
Free Forever

100 MB of storage, unlimited tasks, and unlimited members.
Basic

Unlimited boards, 200+ templates, unlimited free viewers and more starting at $8/user/month, billed annually for a minimum of 3 users.
Unlimited

Everything from the previous plan plus unlimited integrations, boards, and more starting at $5/user/month, billed annually.
Standard

Everything from the previous plan plus timeline & Gantt views, guess access, automations, and more starting at $10/user/month, billed annually for a minimum of 3 users.
Business

Everything from the previous plans plus Google SSO, goal folders, and more starting at $9/user/month, billed annually.
Pro

Everything from the previous plans plus private boards, chart view, time tracking, and more starting at $16/user/month, billed annually for a minimum of 3 users.
Enterprise

Everything from the previous plans plus contract review & HIPAA, advanced permissions, and extra automations. Reach out to Clickup for a quote.
Enterprise

Everything from the previous plans plus enterprise-scale integrations and automations, tailored onboarding, premium support, and more. Reach out to Monday.com for a quote.
Which Tool is Better?
Each tool is considered a leader in the space for good reason. Both offer thorough features and integrations to make project management and team collaboration easy as possible. But Clickup edges out Monday.com for two very specific reasons. For one, Clickup offers a free plan where Monday.com does not. This is invaluable for smaller teams.
Also, it's easier to reach Clickup's support team more directly than it is Monday.com's team. Both of these tools are all about boosting a team's workflow. The ability to reach a support team quickly will absolutely make or break your team's productivity.
But both tools are absolutely a great choice for project management. For users looking to streamline their current software stack, we recommend Clickup. For those more concerned with automating mundane daily tasks, Monday.com is the way to go.
Here's a final look at the pros and cons of each tool from their users' reviews.
Clickup
| | |
| --- | --- |
| Pros | Cons |
| I love that I can organize my workspace and projects in whichever way I want. | The APP is mediocre at best. |
| The team is always putting out new updates and is very receptive to their customers' feedback. | I think the time reporting feature could use some work. |
| The features offered with the free plan are robust. | I don't like the fact that the checklist items are not visible as tasks. |
Monday.com
| | |
| --- | --- |
| Pros | Cons |
| The intuitive design and number of options for customization are great. | Monday.com has a bit of a learning curve. |
| The ability to automate different elements and link information from one board to another is great. | The app and dashboard can be a little buggy. |
| Responsive support team. | If you have multiple people working on your boards, and you're using many boards, the notifications can get a bit overwhelming. |
Frequently asked questions
Yes! Monday.com's lasts 14 days. Clickup also offers trials of their paid plans, but they do not advertise how long they last.
Yes! Clickup's is 35% and Monday.com's is 18%.