Recent project management statistics show that inadequate communication costs businesses with at least 100,000 employees over $62 million annually.

Team collaboration tools like Atlassian's Confluence improve internal communication thanks to project management features, file version control, team-wide announcements, and more.

Here, we break down Confluence pricing and features and evaluate user feedback to help you determine if it's the ideal collaboration software for your team.
What is Confluence?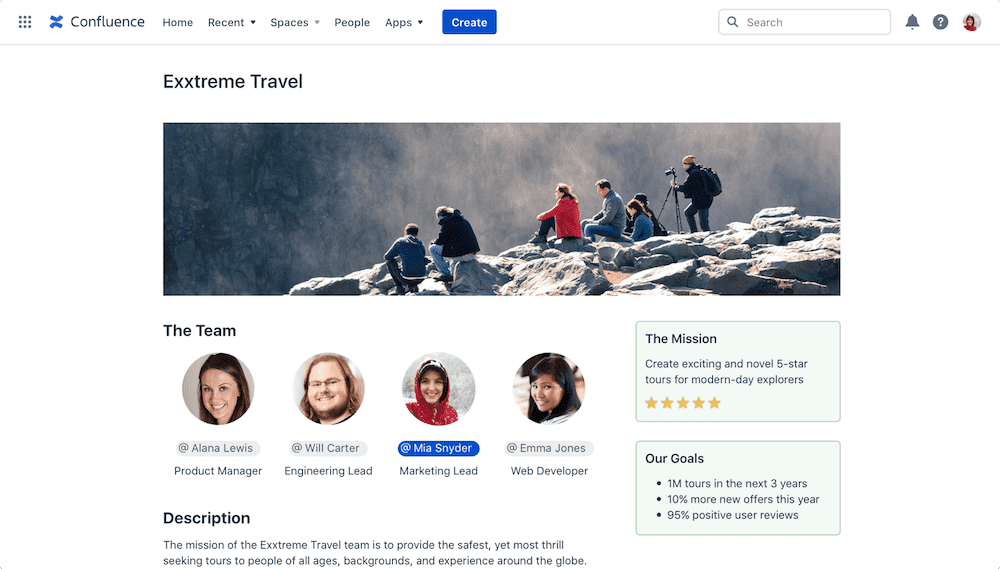 Confluence is a cloud-based team workspace with over 60,000 users worldwide.

It was created by Atlassian, the same software company behind Trello, Bitbucket, and JIRA, in 2004. Current top clients include HubSpot, The New York Times, Morningstar, LinkedIn, and Audi.

Confluence's main user base is made of up companies within the IT, financial, healthcare, and retail sectors. Given that studies on remote work benefits show roughly 80% of employees work from home a minimum of one day per week, Confluence is an especially valuable tool for companies with a large remote workforce.

Confluence is a wiki tool providing an agile and centralized single place for teams and project managers to communicate. Top features allow Confluence users to review project requirements, collaborate with one another, edit relevant files, and provide real-time feedback.
Top Confluence Features
Confluence's interface is designed around blank or template-based "pages," with each page representing a project or smaller task.
Pages can be assigned to multiple team members or an individual and can be public or private. These pages are customized by adding "macros" allowing users to add functionalities and features.

Popular macros include file attachment, blog posts, page name labels, and project status updates. Every user can decide which specific macros they'd like to add to their personal dashboard depending on their sharing, collaboration, and communication needs.
Project Templates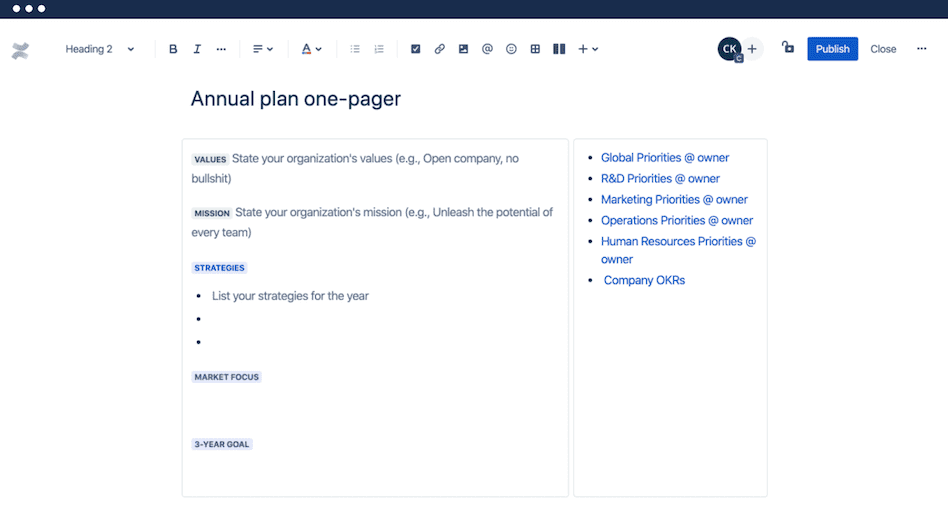 To help create a consistent project management process, Confluence provides numerous best-practice templates in addition to blank, fully customizable virtual pages.

Popular template use cases include:
Recruitment management
Employee onboarding
IT support team
HR resources
Marketing strategies
Blogging timelines
Product development
Confluence's template collection also includes pages specifically created to benefit remote teams, including:

Virtual office creation template
Remote meeting management template
Project calendar template
Meeting notes template
Team brainstorming template
90-day tasks and goal templates
Remote project management template
Project Management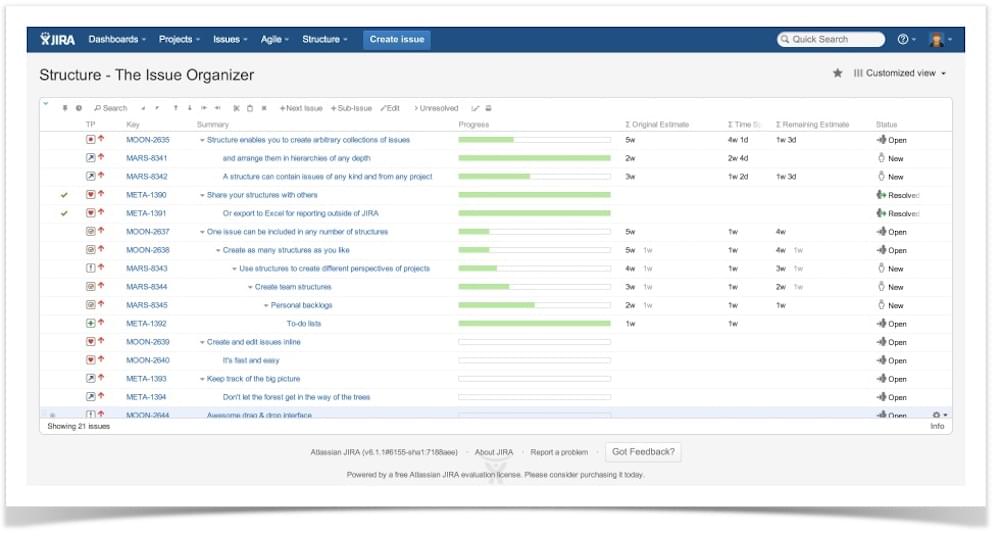 Though Confluence is much more of a team collaboration software than a project management tool, it does have some basic work management features.

In Confluence, project management features include:

Team member task/project assignment
Set task deadlines
Action items and checklists
Project roadmaps
Milestones and project objectives
Project summaries
Project status updates
Page trees to prioritize tasks
As of this writing, Confluence only allows for internal collaboration and project management, though external collaboration features are in development.
Team Communication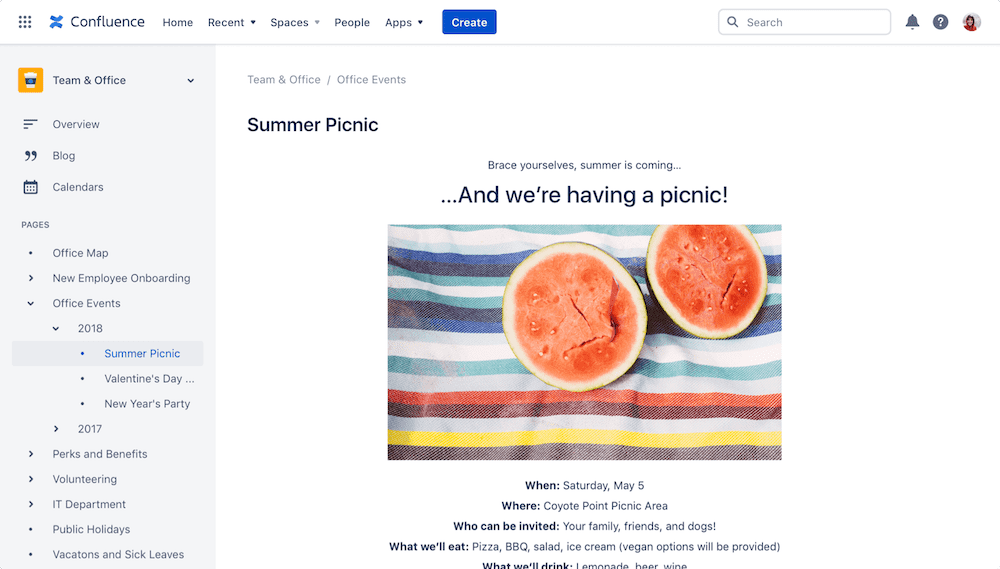 To improve communication between team members, Confluence allows team members to comment on pages, individual tasks, and uploaded files.

Users can also tag one another or make comments on a company-wide announcement page. Confluence also provides a complete audit log stored in the Confluence cloud. This way, users can better understand updates they've missed or find out why they hit a roadblock.

Note that while Confluence does not have a native chat messaging tool, it's designed for seamless integration with Hipchat, Atlassian's chat service.
File Sharing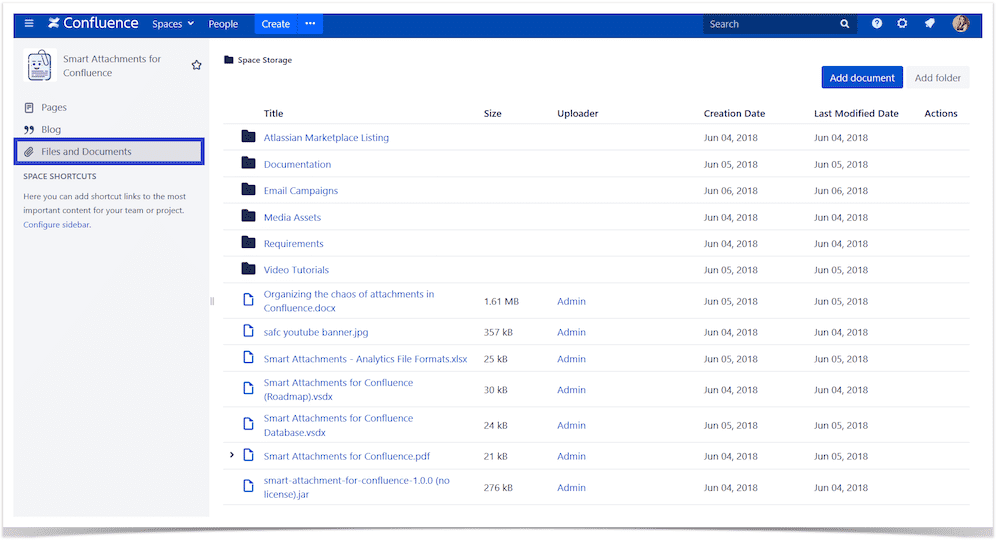 Confluence supports multiple file formats including documents, audio, and video files.

Additionally, Confluence provides macros that allow users to add content to a page or template via a drag and drop format. Uploaded files are saved in the Confluence server.

Supported file types for content management include:

JPEG and JPG
Adobe PDF
Excel spreadsheets
PowerPoint presentations
Adobe QuickTime
Adobe Flash
HTML webpages
MP3 and MP4
AVI
MPEG
Real-Time File Editing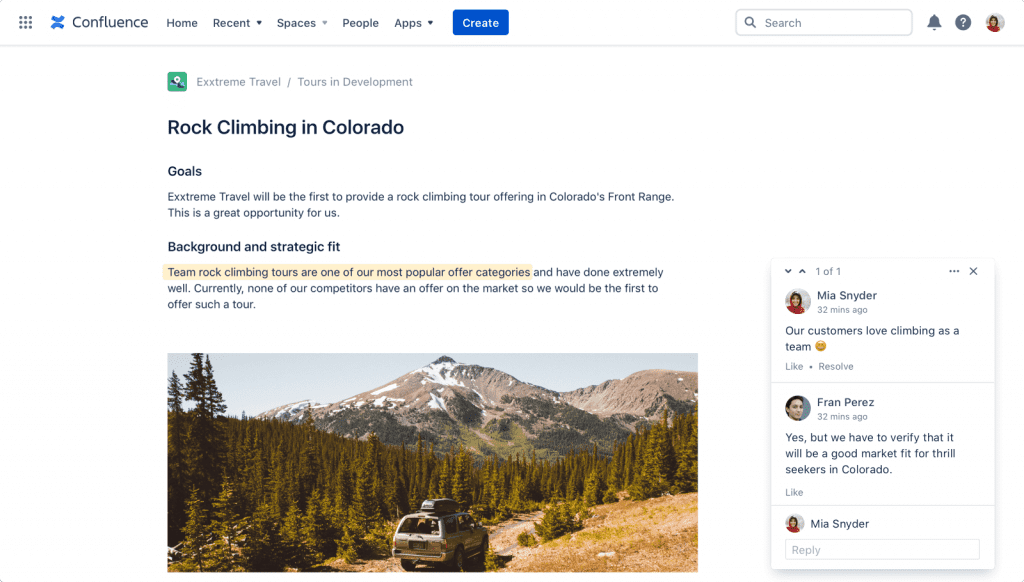 Confluence provides real-time file editing capabilities across teams and departments through an on-page feedback loop.

Users can edit any file uploaded to a specific page line-by-line, use a rich text editor, pin notes anywhere on uploaded images, and add feedback to presentations. Anyone can make comments and suggestions to uploaded files, and tag specific users in those comments.

Users can "like" comments, edit them, or mark them as "resolved."

All comments and edits are immediately updated and saved in the cloud so everyone on the team receives the changes instantly. Past file versions are automatically saved.
Software Integrations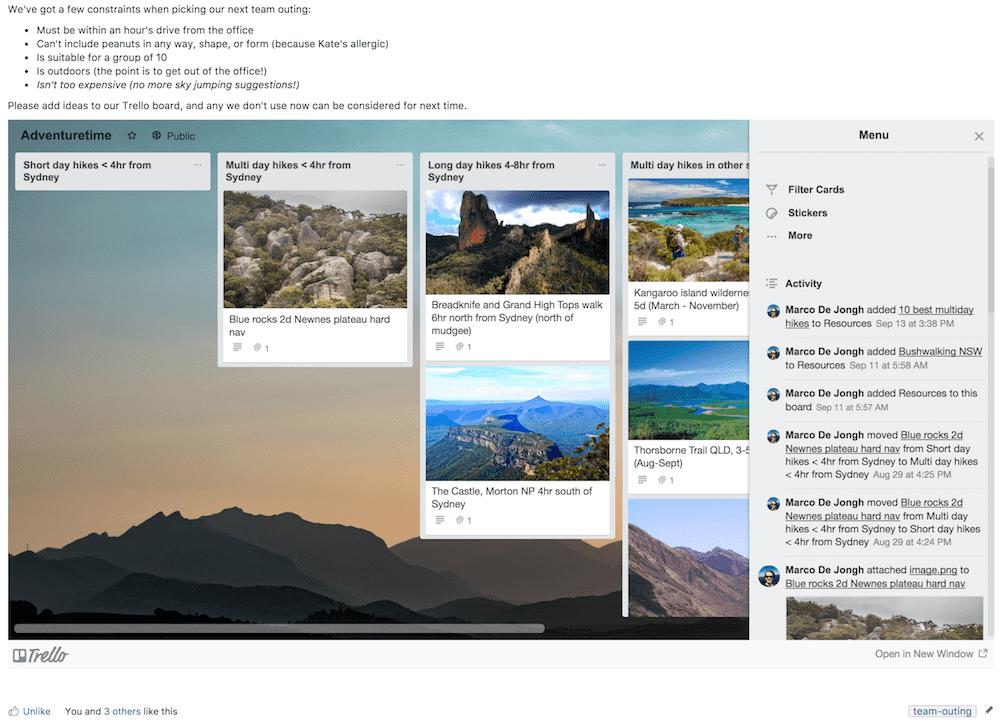 Because Confluence is one of many Atlassian tools, it integrates seamlessly with the company's project management solutions - Trello and JIRA software.

It also integrates with popular team communication and collaboration tools available in the Atlassian marketplace. These apps include:

Microsoft Office 365
G Suite
Dropbox
Zapier
Github
Slack and Slack alternatives
Google Drive
Okta
Privacy and Security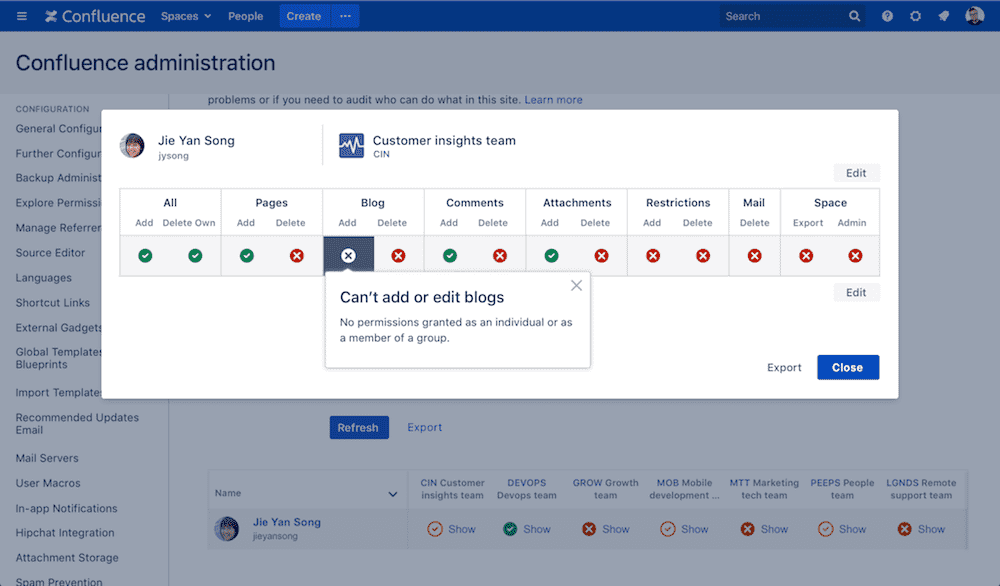 Confluence security features are managed via the Atlassian Trust Management System.

They include:

TLS and PFS data encryption
PCI DSS and SOC2 data center compliance
Access to testing reports
Single sign-on
Two-step authentication
Disaster recovery via JIRA service desk
Option for on-premise Confluence server
In addition to these security measures, Confluence provides a high level of user access control.

Confluence administrators can:

Control page permissions
Allow for anonymous users
Delete, add, or restrict users
Control edit and commenting access
Add and delete pages
Restore page history
Confluence Pros and Cons
In analyzing user feedback, the most consistent Confluence benefits discussed are the tool's abilities to prevent internal miscommunications and speed up project timelines.

The most common drawbacks referenced are challenges with user experience and limitations to setting email notification preferences.

Additional pros and cons include:
Pros
Highly customizable interface
Robust page template library
Responsive customer support and service desk
Online knowledge space for assistance
Real-time editing and comment tagging
Works with a variety of file and media types
Free plan and affordable paid options
Cons
Not HITECH and HIPAA compliant
Navigation not especially user-friendly
Slow to load
Frequent issues with data transfer
Managing user permissions unnecessarily complex
Is There a Confluence Mobile App?
Confluence offers mobile collaboration via its Android and Apple iOS apps.

Unlike mobile versions of other work management and team collaboration tools, the Confluence app provides the majority of the same features found in the desktop version. This makes it especially ideal for remote teams and companies with employees working across multiple time zones.

Confluence mobile app features include:

Personalized push notifications for mentions, pages, likes, and comments
Creating and editing pages and templates
Commenting features
Bookmarking pages to return to in desktop version
Using a search bar
File access
Viewing team and individual activity feeds
Note that, as of this writing, it is not possible to specify page types, add tables, or edit calendars in the mobile app.
Confluence Pricing and Plans
Confluence has three plans, including a free version that's ideal for small businesses or companies who want to experiment with the software before upgrading to a paid plan.

The pricing is based on a per-user basis, and users can opt to pay annually or monthly.

| | | | |
| --- | --- | --- | --- |
| Features | Free | Standard $5 per month per user | Premium $10 per month per user |
| Number of Users | 10 users | 5,000 users | 5,000 users |
| Unlimited Pages | ✓ | ✓ | ✓ |
| Macros | ✓ | ✓ | ✓ |
| Template Library | ✓ | ✓ | ✓ |
| Apps and Integrations | ✓ | ✓ | ✓ |
| Page Version Control | ✓ | ✓ | ✓ |
| Storage Space | 2 GB | 250 GB | Unlimited |
| Audit Logs | X | ✓ | ✓ |
| Page Permissions | X | ✓ | ✓ |
| Anonymous Access | X | ✓ | ✓ |
| Analytics | X | X | ✓ |
| Admin Key | X | X | ✓ |
| External Collaboration | X | X | ✓ |
| Customer Support | Community Support | 9-5 Business Week Support | 24/7 Premium Support |
Is Confluence Worth It?
Confluence pricing plans are competitive, but the software requires a heavy amount of integration with JIRA and Trello in order to provide the same level of team collaboration that other tools like Asana, Wrike, and Monday.com do.

On its own, without any macros or add-ons, Confluence is best suited for companies that are mainly looking for company-wide file storage and editing software.
It's also ideal for large and small teams seeking pre-made templates for specific projects or activities like resource management and onboarding.