Great news for anyone who has to collaborate with a team at work. HubSpot has launched a new product that takes inboxes, chatbots, and lead generation, and breaks them out of their siloes and puts them all in one unified inbox. This product is named Conversations. Conversations is comprehensive and easy to use, and it is perfect for modern organizations that interact with customers through multiple media.
What is Conversations?
Conversations is a new tool that allows team members to talk to either and both of their customers and other members of their team. Specifically, Conversations includes live chat, team email, a chatbot builder, and a universal inbox. Previously, teams may have had these tools, but have been unable to seamless integrate them with each other. When a customer sent a message to the company, that information would stay in one application, or in one person's inbox, until that team member copied and pasted (or even manually typed) relevant information. It was unlikely that for example, the useful information that the sales team collected to get the customer's business in the first place would be passed on to tech support. With Conversations, the entire team can view that information right away.
It's a Great Value - Free!
As if this weren't great enough, it's also part of all price tiers, including HubSpot CRM, the free user tier. In HubSpot accounts, any user in the account may use Conversations as long as they are included as a team member in that inbox. Free HubSpot CRM members are limited to one Conversation inbox, and higher tiers have unlimited inboxes. You must be a Sales Hub Starter/Professional User or a Service Hub Professional user to be assigned to receive incoming Conversations in your Routing Rules. To be clear, you can be assigned a Conversation, but it will not be automatically routed. It can also be used in the HubSpot mobile app, available for iOS and Android.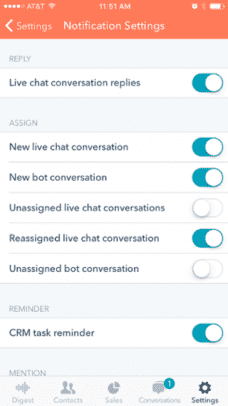 It Will Save You Time
Team members can manage their universal inbox by filtering out conversations that do not involve them, and manage them by source, date, channel, or status (open/closed). A team member may have different email aliases, but all messages will be collected in one inbox, so users won't lose any messages in the shuffle. When team members are writing messages to customers, all that valuable data that's been collected about them will be on the screen, so team members will be able to craft a more personalized message. On the other hand, if you're looking to save time, Conversations also makes use of prewritten snippets and templates.
It's All About AI
A big part of this new innovation is owed to HubSpot's 2017 acquisition of Motion AI, a cross-platform chatbot developer. The Motion AI software enables HubSpot users to create chat bots on their websites via SMS (text), Facebook Messenger, Slack, and other platforms. The Chatbot can answer the most common customer support questions, or pass on chat to a live team member for more advanced support or sales questions. Subscribers can respond to those inquiries from the Conversations inbox, or move them to productivity apps like Slack, or even answer right from their mobile device. The chatbot builder is available to all users, but has many more customizable features at the premium price levels. The chatbot widget on your web page can be made to match the look and feel of your own brand, and can even make targeted welcome messages to different segments of your audience.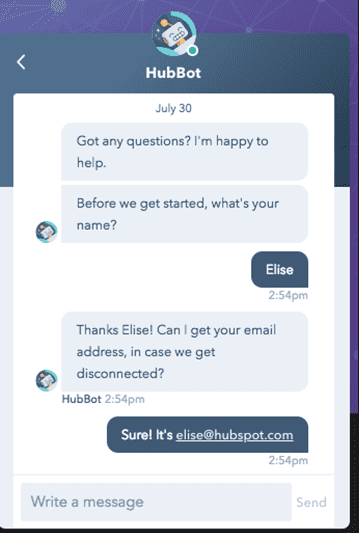 Use Conversations to Make Communication More Personal
No matter how big or small a company is, customers expect customer service to be personal. Conversations is a great tool to bring all the teams together, so that the company projects a single image about themselves. HubSpot has realized this, and they've been building up to Conversations for some time. At Inbound 2017, Dharmesh Shah, co-founder and CTO of HubSpot said: "Whether it's between two humans, or a human and a bot, one-to-one messaging is the future of communications. Messages are simpler, smarter, and truly essential for creating an amazing customer experience."