Recent project management statistics show that 90% of workplace projects require team collaboration, as opposed to individual completion.
Collaboration tools like Slack, Wrike, and Redbooth improve internal communications by offering live chat messaging, multi-author file collaboration, and even video conferencing.
But the constant notifications and team-wide communication mean it can be difficult to know the exact status of a project, who to contact for a specific need, and which tasks certain teams have been assigned.
The top free Kanban boards in 2020 increase productivity, prevent costly miscommunications and allow for faster overall project completion.
What is a Kanban Board?
The Kanban system is a work management method designed to provide real-time updates on the status of current projects and tasks.
It was originally invented by a Toyota employee to eliminate bottlenecks in workflow while providing a bird's eye view at current work in progress and projects. Today, it's one of the most popular systems for agile project management.
Unlike a more linear Gantt chart, think of the Kanban system as a series of project-specific "bulletin boards" that everyone assigned to the project can contribute to. These Kanban boards are filled with cards (think of them as sticky notes) containing essential information about different aspects of the project.
In addition to pinning files, notes, or questions on a Kanban board custom field, users provide progress updates on the tasks they are responsible for as a part of the larger project.
The Kanban method is incremental in nature, meaning that in most cases, a project cannot move forward until dependent tasks have been completed. This encourages increased employee accountability and productivity and means that when mistakes do happen, they won't jeopardize the entire project.
Furthermore, because the task board is shared and collaborated on by multiple people, project objectives remain top-of-mind, and more minor questions can be quickly cleared up through chat messaging and comments.
What are the Benefits of Kanban Tools?
Though the scrum process is one of the most popular workflow management methodologies, Kanban systems offer unique benefits that are often a better fit for agile strategies.
Unlike scrum, the Kanban process provides more flexibility and less of a rigid, highly-structured framework.
Additionally, online Kanban boards allow for much greater collaboration, especially when compared to scrum systems, which operate under a dedicated Scrum Master. Anyone with permission to view and edit a board can add comments, files, update task status, or create additional to-do lists.
The Kanban system is also generally thought to be a better fit for teams that need to carefully monitor individual task progress within larger overall progress. Kanban boards help managers and employees better pinpoint roadblocks, provide more accurate deadline estimates to clients, and prevent employees from getting overburdened.
Additional Kanban benefits include:
Flexible user roles
Visually-based project management software
Task dependencies and flexible due dates
Easy-to-make workflow changes as needed without negating previous work
Team-wide access to files and project updates
More evenly spread out the amount of work
Works with a wide variety of projects and priorities
Best Free Kanban Boards in 2020
The following free Kanban boards offer essential features like task creation/assignment, file sharing and storage, task prioritization, and commenting.
Some of these platforms may also have paid versions available that offer additional features or higher user volumes.
Trello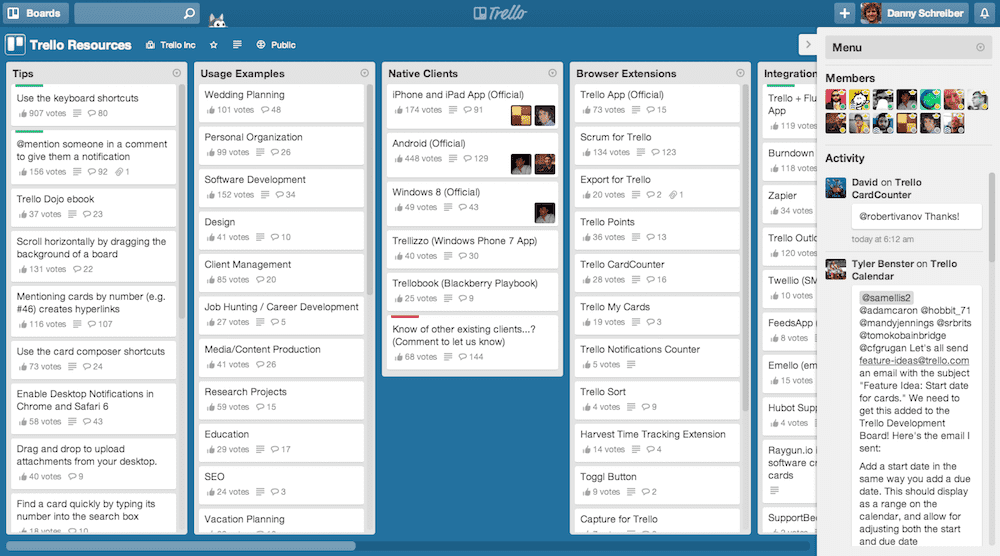 Trello is one of the most well-known Kanban software options, boasting Google, Squarespace, and Costco among its clients.
The platform offers unlimited personal boards, cards, and lists, and up to 10 team boards on its free plan. Users can add images, documents, presentations, and other files on Kanban cards, and multiple users can be assigned to cards and individual tasks.
Set due dates, add checklists, tag other users in comments, and re-prioritize tasks at any time.
Trello is perhaps best known for its automation feature, Butler. Admins can set rule-based triggers, calendar and due dates, and more through automating tasks that normally take up a lot of time.
Additional Trello features include:
KPI monitoring
Task labeling and sorting
Milestone setting
Customizable project templates
Multi-device syncing
Mobile app
Integrations (power-ups) with Evernote, Slack, Drive, Dropbox, and more
Trello has one free plan and two paid plans starting at $9.99/user per month. Additional free plan features are outlined in the table below.
| | |
| --- | --- |
| Features | Forever Free |
| Number of Team Boards | 10 |
| Number of Projects | 1 |
| File Upload Size | 10MB per file attachment |
| Task Automation | ✓ |
| Monthly Butler Command Runs | 50 per month |
| Two-factor Authentication | ✓ |
Best For:
Creating editorial calendars
Nonprofit event planning and outreach
Product development and launch
Lesson planning and homework assignment tracking in online education
Individual goal tracking and task management
Zoho Projects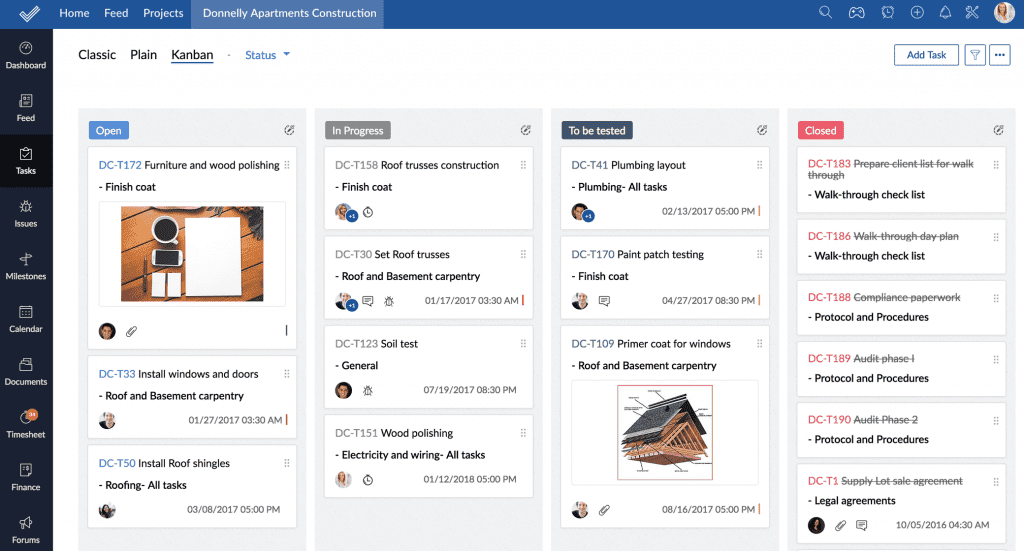 Zoho Projects is a cloud-based Kanban app used by Dell, Stanford University, and Siemens.
Its standard features include document sharing and storage, task assignment and status updates, and ranking tasks according to the current severity level.
Users can also define task relationships, log issues onto boards and cards directly from external websites, and assess current individual employee workload to prevent burnout.
But what really sets Zoho Projects apart from the competition are its social workflow management features.
In addition to commenting and tagging other users, every user has their own profile page that shows a stream of their current and upcoming activities. Users can upload files to their feeds, set personal statuses, and pin important questions to the tops of their feeds.
The Forum social feature allows for instant chat messaging and forum postings between employees, offering a higher level of collaboration than many other Kanban apps on this list. The searchable forums can also serve as wikis for internal FAQs.
Once a project is finished, team members can create a new board containing all essential information related to the project, should it need to be referred back to in the future.
Additional features include:
Subtask creation
Task automation
Time tracking and timesheets
Real-time notifications
Apple iPhone and Android app
Task prioritization
To-do list formatting
Multiple assignees per task
Integration with Slack, Zapier, GitHub, Dropbox, Gmail, and more
Milestones
Task dependencies
Zoho Projects has one free plan and four paid plans starting at $3.00/user per month. The below table outlines the additional features of the free plan.
| | |
| --- | --- |
| Features | Forever Free, 10-Day Paid Plan Free Trial |
| Number of Users | 3 |
| Number of Projects | 2 |
| Maximum File Storage | 10 MB |
| Gantt Chart View | ✓ |
Best For:
Maintaining safety and quality standards in chemical labs
Real estate agents to track listings and sales
Managing construction/building site progress and materials
Kanban Tool
Kanban Tool is a visual management solution that offers an incredibly high level of task/project detail and card customization.
It's trusted by Cisco, Xerox, Expedia, and over 25,000 additional large and small businesses worldwide, likely because it offers many unique features that other tools do not.
These include the ability to see an entire card's history, direct links for individual cards, and even board and card cloning. Users can mention each other, tag and categorize cards, and receive updates about what has been added to a board or card since the last time they accessed it.
Team members can collaborate on boards, create board subheadings, and even sort related project boards into folders. Predefined board templates let users decide between time-driven, event-driven, sales pipeline, online marketing, or product development board outlines.
Kanban Tool is a dream for the hyper-organized, as well as for companies that work on numerous projects at once.
Note that, as of this writing, file attachments of any kind are not available on the free plan.
Additional features include:
Task color-coding
Board search bar
Cumulative flow diagrams for workflow monitoring
Android and Apple iOS mobile apps
Ability to transfer or copy tasks
Zapier, Outlook, GSuite, OneDrive, DropBox, and Google Calendar integrations
Ability to set recurring tasks
Task postponement
To-do list/checklist templates
Task prioritization
Keyboard shortcuts in cards
Email notifications for comments
Kanban Tool has one paid plan and three two paid plans starting at $5.00/user per month. Additional free plan features are outlined below.
| | |
| --- | --- |
| Features | Forever Free, 14-Day Free Paid Plan Trial |
| Number of Users | 2 |
| Number of Boards | 2 |
| Task Automation | ✓ |
Best For:
Asana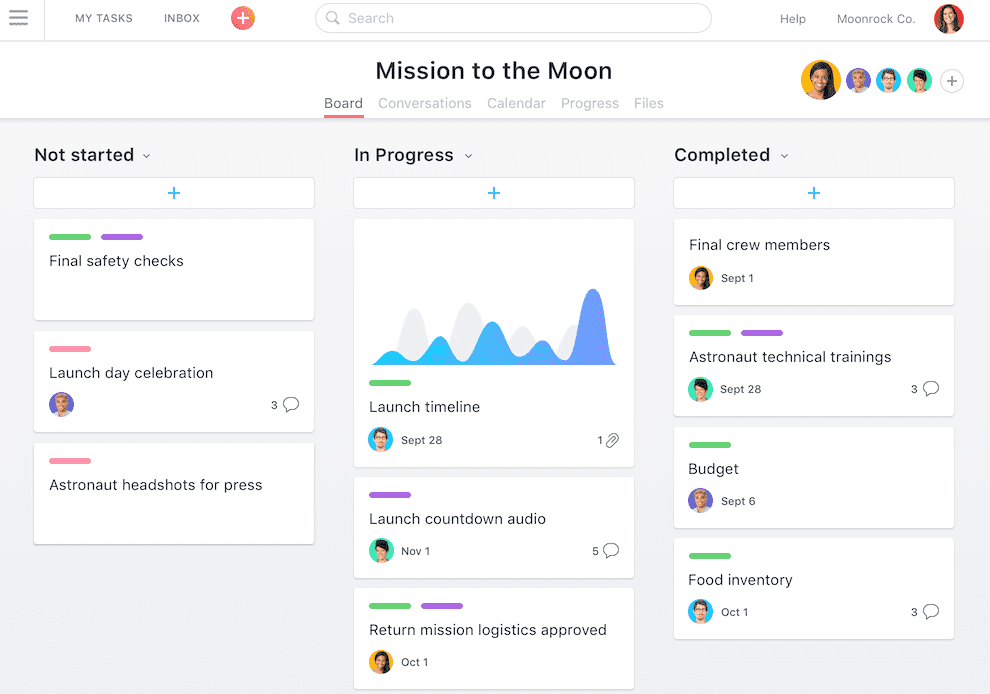 Asana is a project management and Kanban board software trusted by Nasa, The New York Times, Deloitte, and Red Bull.
Users can add unlimited cards to Kanban boards, which can be organized and filtered by deadline, priority, team, or tag. Each card also has a percentage bar header, showing how near the task is to completion.
In Asana, users can also upload task "requests," which team members can approve or deny based on their current workload.
Additional Asana features include:
Subtask creation
Over 100 app integrations
iOS and Android mobile apps
Time tracker
Gantt chart view
Milestones
Task commenting and user mentions
Task prioritization
Color-coding
File attachment
Personalized inbox
In-app and email live notifications
Muti-device synching
Note that, as of this writing, task dependencies are not available on the free plan. Additionally, multi-user task assignment is not possible in Asana.
Asana has one free plan and three paid plans from $10.99/user per month. Additional features of the free plan are below.
| | |
| --- | --- |
| Features | Forever Free, 30-Day Paid Plan Free Trial |
| Number of Teammates per Board | Up to 15 |
| Unlimited Tasks, Projects, and Activity Logs | ✓ |
| Unlimited File Storage | ✓ |
| Calendar view | ✓ |
Best For:
Lawyers who need a better case management and organization system
Nonprofit donor outreach planning
Toggl Plan
Toggl Plan is a beautifully simple project management tool that your team will actually enjoy using every day.
It comes with unlimited Kanban boards, in addition to project timelines, and team timelines. Kanban board workflows can be fully customized to match your way of work.
You can create unlimited lists (aka swimlanes) on a Kanban board. To help reduce clutter, you can hide infrequently used lists.
Creating task cards is easy and fast using just your keyboard. And reprioritizing tasks or moving them across lists is smooth with the drag and drop interface.
Task cards have everything you need to keep all the task-related information in one place. You can add detailed notes, checklists, and estimates as well as set deadlines and multiple assignees in a card.
In addition, with the Toggl Track integration, your team will also be able to track time spent on each task.
Additional features include:
Visually plan and manage tasks on the Plan timeline.
Track important dates with color-coded milestones.
Manage team workloads and availability on the team timeline.
Recurring tasks.
Real-time updates about tasks that are relevant to you.
Integrations with Slack, Google Calendar, and Github.
Toggl Plan browser extension to capture tasks from anywhere.
Toggl Plan has paid plans starting at $9 per user per month. Free plan features include:
| | |
| --- | --- |
| Number of projects | Unlimited |
| Kanban boards | Unlimited |
| Gantt Plan Timelines | Unlimited |
| Team Timelines | Unlimited |
| Milestones | Unlimited |
Best for:
Collaborative planning and project execution
Planning and managing agile software development sprints
Managing marketing campaigns
Managing work with remote teams
Managing team availability and workloads
MeisterTask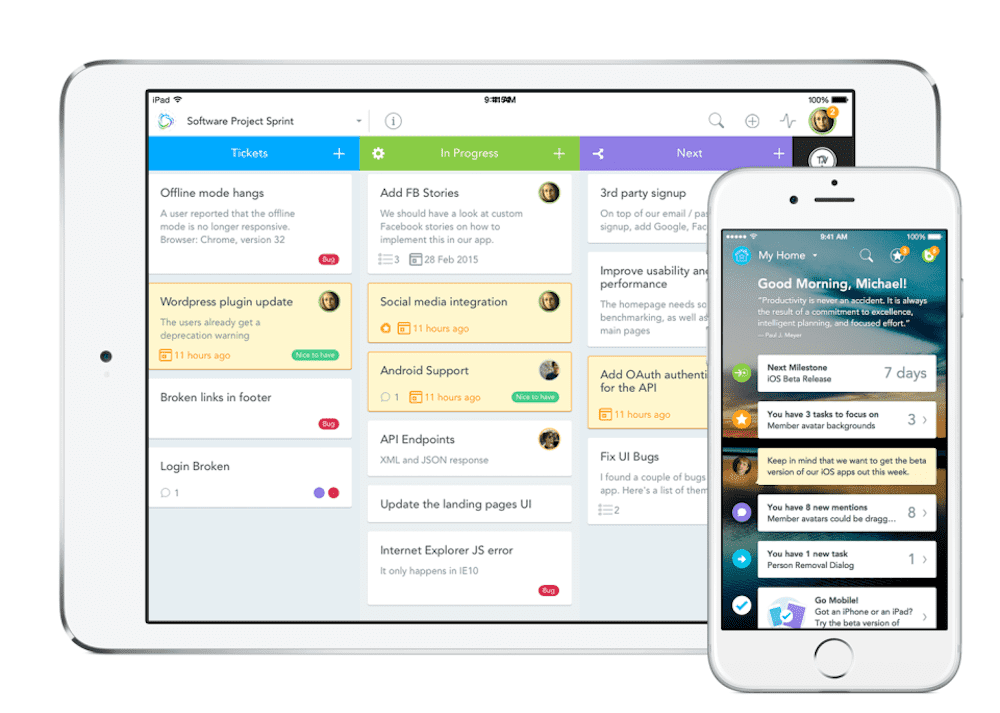 MeisterTask is a browser-based and device-agnostic free Kanban software best known for its intuitive interface and robust mobile application.
It's also an ideal option for those currently using a Kanban system that does not suit their needs, as it allows users to directly import past boards and additional data from Trello and Asana into MeisterTask.
Those who rely heavily on task relationships will appreciate that MeisterTask doesn't just allow users to set task dependencies. Users can also link tasks and cards to one another, duplicate cards to multiple boards, and block/unblock tasks in an unexpected situation.
Each team and individual user have their own dashboard icon and description, making it easy to find the board you need. Users can also sort tasks according to the deadline, project, or tags. They can also further declutter their dashboard interface by displaying tasks in "Focus" mode -- meaning that only the task they want to work on will show in the interface until it's completed.
Additional MeisterTask features include:
To-do list formatting
Slack, Teams, Dropbox, and Zendesk integrations
Task automation and recurring tasks
Task commenting and user tagging
Live in-app notifications and email notifications
Time tracking widget
Personalized inbox
Task headers
Color-coding
File attachments
Tag status update and prioritization
Custom task fields for time zone, support ticket number, or operating system
MeisterTask has one free plan and three paid plans from $8.25/month. The below table includes additional free plan features.
| | |
| --- | --- |
| Features | Forever Free |
| Number of Projects/Boards | 3 |
| Number of Tasks per Board | Unlimited |
| Attachment Size | 20 MB |
| Email Support | ✓ |
Best For:
Any team that heavily relies on mobile application use
Customer support management
Inventory and shipment management
KanbanFlow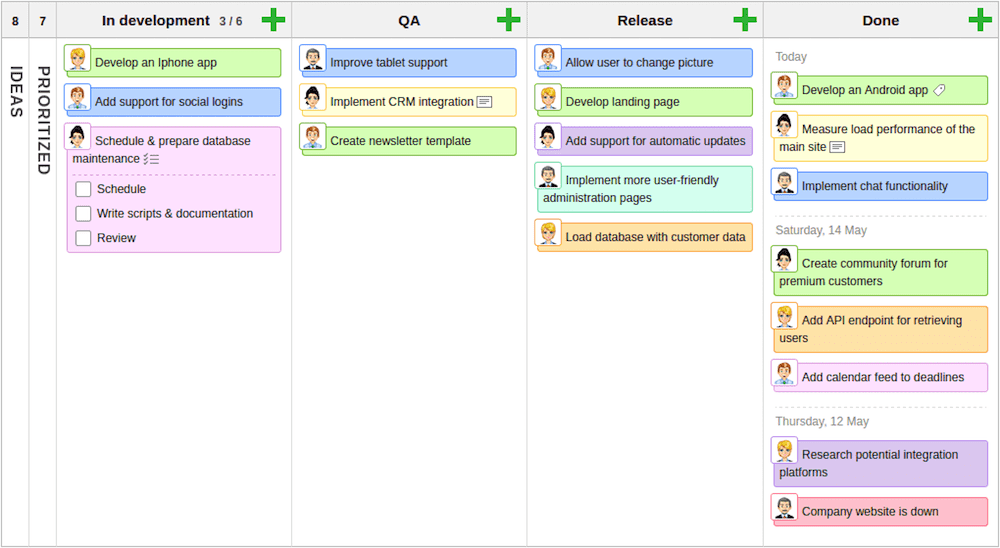 KanbanFlow is a lean workflow management tool designed to limit the number of works-in-progress and identify recurring roadblocks.
KanbanFlow's best feature is its Pomodoro and stopwatch time tracking capabilities. Users can automatically or manually log the time they spent on projects, or take advantage of the clock countdown feature to better manage their daily workflow.
KanbanFlow also provides "Time Spent" reports on tasks to allow for better time management and more accurate due date setting in the future.
Current task status, including a list of completed tasks, is displayed on every board, and tasks are color-coded for improved visual organization.
Additional KanbanFlow features include:
Task filtering
Subtask assignment
Mobile app
Calendar board view
Cycle and Lead Time analytics
REST-based API
Add tasks via email
Import/export information to Excel
Set recurring tasks
Set task relationships and task dependencies
KanbanFlow and the above features are completely free to use for unlimited users.
Note, however, that integrations and file attachments are available only in the $5.00/month paid Premium Plan.
Best For:
Backlog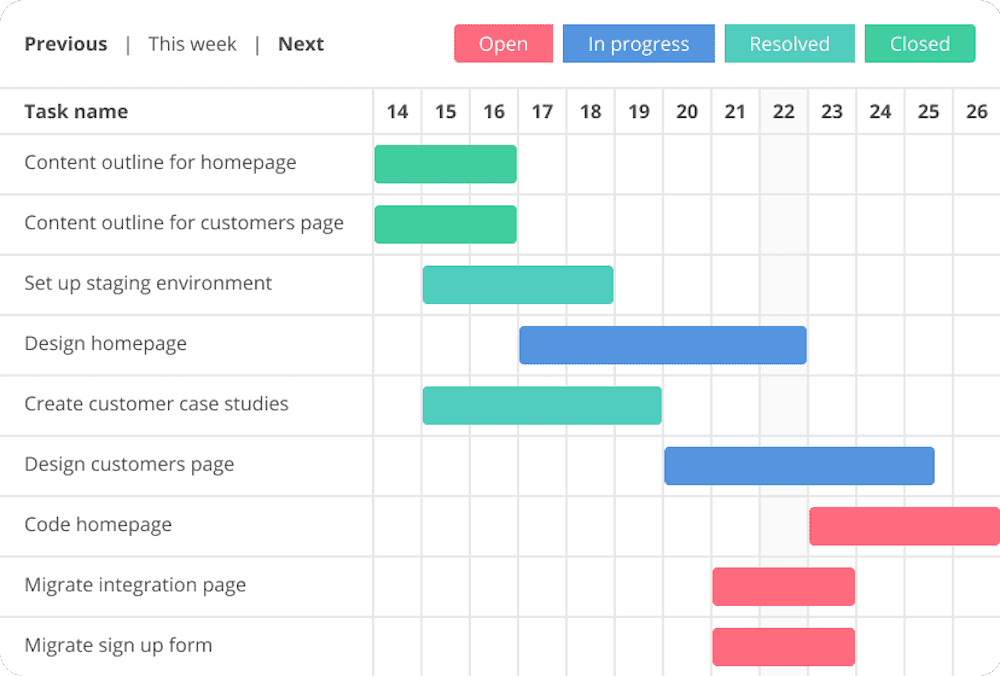 Backlog is a free Kanban software from Nulab used by Google, Sony, Abode, and more.
It's ideal for companies looking for a lightweight, user-friendly Kanban app, as well as businesses that are less focused on the project management features some platforms on this list offer.
Backlog organizes tasks according to their current status, but users can customize statuses to suit the exact needs of a project. Color-coding, task tags, and task prioritization are also available in Backlog.
Note that as of this writing, Backlog only allows one user to be assigned to a task (though multiple users can be assigned to overall projects.)
Additional Backlog features include:
Mobile app
Slack integration
Subtask creation
Board categories
Guest accounts
Instant push notifications
Milestones
Task tagging and commenting
File sharing and uploading
Multi-device syncing
Built-in Git version control
Built-in wikis
Backlog has one free plan and three paid plans starting from $35/month. The below table outlines additional free plan features.
| | |
| --- | --- |
| Features | Forever Free, 30-Day Paid Plan Free Trial |
| Number of Users | Up to 10 |
| Number of Projects | 1 per month |
| Storage Space | 1 GB |
| Add Issues Via Email | ✓ |
Best For:
Event planning and product launches
Managing the hiring process
Software developers
Inbound marketing projects
YouTrack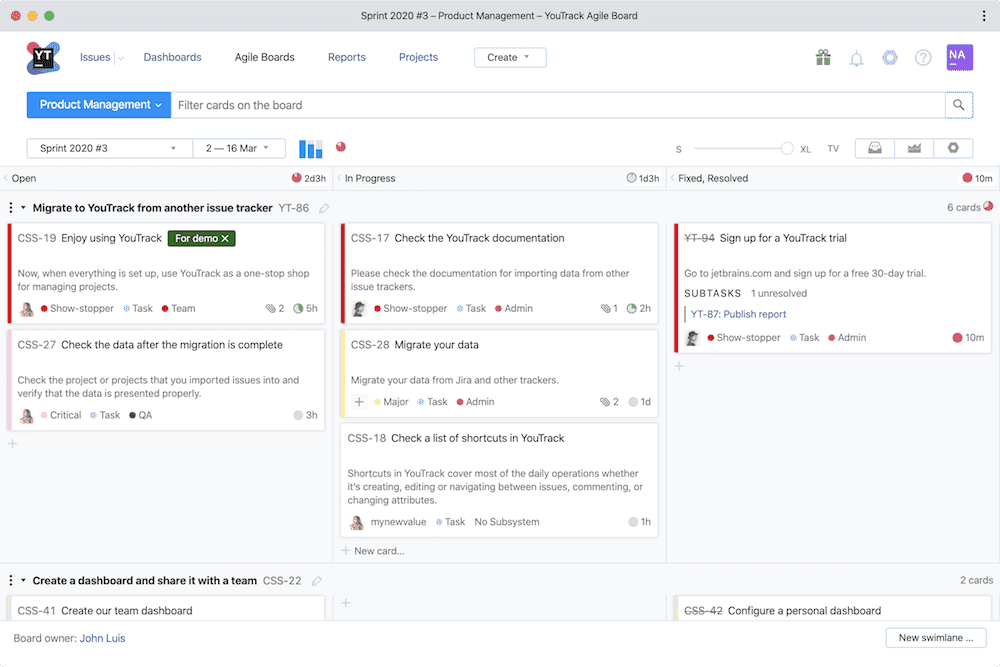 YouTrack, developed by Jet Brains, is an agile Kanban app developed primarily for IT and customer service teams to manage support tickets. Current clients include Bayer, Ferrari, Renault, and HP.
Each project board, called an "Issue" in YouTrack, is divided into rows called "Swimlanes." Users can pin and assign tasks within Swimlanes, which operate much like a to-do list and are ideal for teams with task dependencies.
Swimlanes can be organized according to priority, current project and page status, or assignees. Users can also create their own Project Stages (Backlog, Develop, Review, Test, etc.) and organize tasks by the stage in which they'll be completed.
Additional YouTrack features include:
Drag-and-drop interface
Pre-made templates
Task commenting and user mentions
Live updates and notifications
Task labeling/tagging
Private board management and board access restrictions
Ability to set a limit for the current number of simultaneous tasks
Color-coded cards
Mobile app
Analytics and reporting
Zendesk, GitLab, Github integration
YouTrack has two plans, one free plan and one paid plan from $3.67/user per month.
| | |
| --- | --- |
| Features | Free Forever, 14-Day Paid Plan Free Trial |
| Number of Users | 10 maximum |
| Storage Space | 30 GB |
| Private Projects | ✓ |
| Single Sign-On | ✓ |
Best For:
Marketers that do lead generation and tracking
Game and app developers
Content creation and marketing teams
Web designers
Teamwork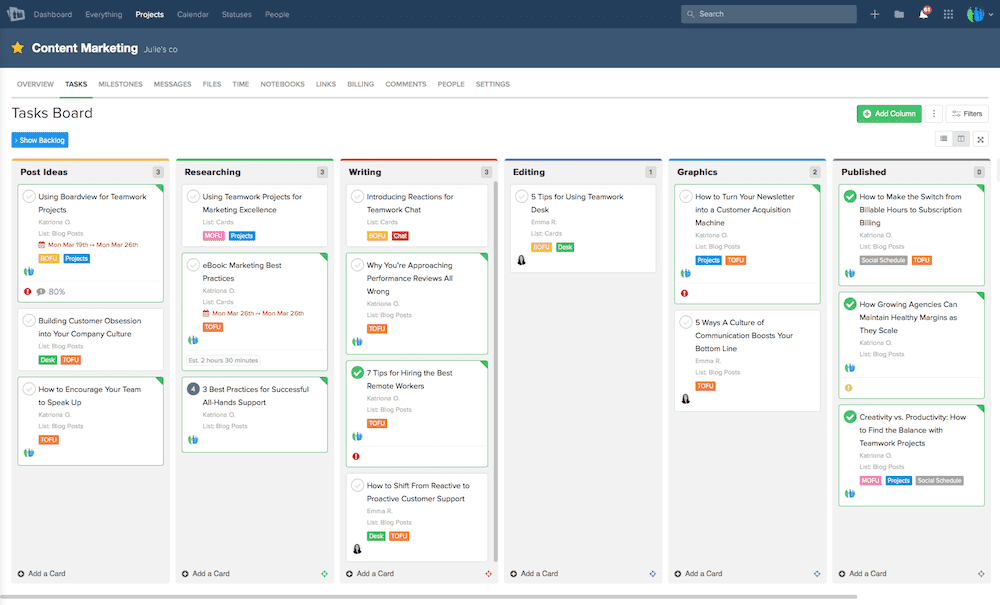 Teamwork is a web-based Kanban tool used by well-known companies like Paypal, Disney, Netflix, and Spotify.
The Portfolio Kanban view gives managers a bird's eye view of current tasks, assignees, project status, and allows for project prioritization.
Teamwork's strongest feature is its workload management tool, Workload.
Workload displays the number of current tasks per employee, as well as the overall number of tasks assigned to and completed by that employee every month. Workload's bar graph format makes tracking employee productivity and growth easier than ever, while also helping managers to ensure that projects are spread out equally among teammates.
Unlike many other Kanban tools on this list, Teamwork also has a native time tracking feature, allowing for more accurate deadlines.
Additional Teamwork features include:
Subtask creation
Mobile app
Project reporting and analytics
Project templates
Task automation
Task commenting and user tagging
Drag-and-drop interface
Milestone tracking
File sharing and storage
Gmail, Slack, Drive, Dropbox, Zapier integrations
Teamwork has one free plan and three paid plans starting at $10/month per user. Additional free plan features are outlined below.
| | |
| --- | --- |
| Features | Forever Free, Paid Plan 30-Day Free Trial |
| Number of Users | Up to 5 |
| Number of Projects | Up to 2 per month |
| Subtask Creation | ✓ |
| Project Templates | ✓ |
| Tag/Label Projects | ✓ |
| Task comments and Inbox Messaging | ✓ |
Best For:
Remote educators developing e-learning courses
Planning and managing marketing campaigns
Product development and product launches
Resource management
Clubhouse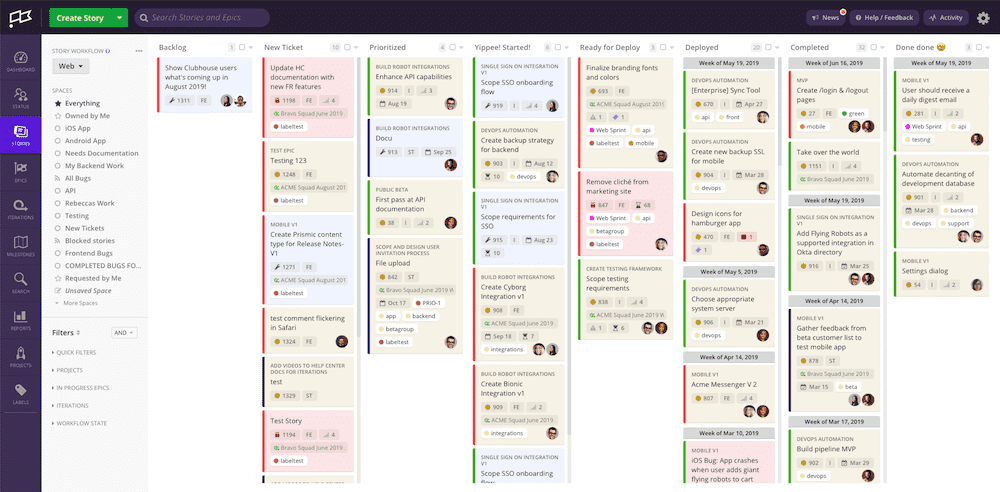 Originally designed for remote software teams, Clubhouse is a Kanban-based workflow management platform with over 20,000 active users across a variety of industries.
In Clubhouse, users either create their own "Stories" (tasks) to pin to project-wide Kanban boards or choose from numerous pre-made story templates.
Related tasks can be grouped into "Epics," assigned to teams, or followed by individual Clubhouse users. Clubhouse's "Roadmap View" shows an overall summary of current projects, their percentage of completion, the number of files attached, and the specific task in progress.
As of this writing, Clubhouse's "Write" feature, which allows for live document creation and collaboration within the Clubhouse interface, is still in beta.
Additional Clubhouse features include:
Ability to set milestones
Ability to label tasks
File sharing
Commenting and user tagging
Current user status
Drag-and-drop interface
Task and project prioritization
Workflow automation with Clubhouse Rest API
Integration with Slack, GitHub, Zapier, Dropbox, GSuite, and more
Real-time notification
Mobile application
Multi-device syncing
Task and user reporting/analytics
Clubhouse has one free plan and two paid plans starting $8.50/user per month.
Additional free plan features are outlined in the table below.
| | |
| --- | --- |
| Features | Free Plan or 14-Day Free Paid Plan Trial |
| Number of Users | 10 Maximum |
| Stories, Epics, and Milestones | ✓ |
| Reporting and Analytics | ✓ |
| App Integrations | ✓ |
| Mobile App | ✓ |
Best For:
Smaller or newer remote workforces
Companies consistently juggling simultaneous projects
Software developers
Fintech and engineering companies
Additional Team Collaboration Tools
The free Kanban boards mentioned here allow for more efficient workflows and visual representations of current and future tasks.
Open-source tools like Kanboard and Taiga are also worth taking a look at. The same goes for are paid options without a free version like Kanbanize, SwiftKanban, JIRA, Leankit, and Kanbantool.com.
However, especially if you've recently had to transition to a remote workforce, you may find you need additional collaboration and project management tools.
Our buyer's guide of the best team collaboration software will help you to learn more about the user experience, features, and pricing structures of top SaaS providers.
Frequently asked questions
The Kanban system is a work management method designed to provide real-time updates on the status of current projects and tasks.