We've always thought that Freshsales brought a unique touch to the existing CRM market. If sales is a major part of your business, and you're in the market for a solution that is as lightweight as possible, then Freshsales should be high on your list of considerations. With a strong focus on simplicity, a great user experience, and a lot of the tools your business needs located under one roof, we can see why Freshsales is a favorite choice for many businesses.
And with this strong focus on simplicity, it only makes sense that they'd go ahead and include even more features to help make our lives even easier. But with AI, built-in phone and email, and even sales pipeline management, where else could Freshsales go? Well, they just introduced an entirely new feature called Intelligent Workflows -- and it fits right at home within the sales CRM solution.
What is An Intelligent Workflow?
Well, according to Freshsales themselves, Intelligent Workflows are simply "actions triggered when predefined conditions are met." So, for example, if the "Latest Contact" of a potential lead reaches "1 Week Ago," you can setup a workflow to trigger Freshsales to then send out an automated email to that lead. (More on that here: 7 Step Guide to Creating an Email Marketing Campaign)
This way, the agent doesn't have to take time out of their day to look through every single one of their latest contact points, and manually email every each one. Instead, the Intelligent Workflow does all of that for you!
And, don't think that these Intelligent Workflows are limited to some very simple "yes or no" style actions. In reality, workflows can be built to automate some pretty complex processes that require multiple steps.
Won't That Just Make My Agents Lazy?
Quite the opposite, actually. Intelligent Workflows are an easy way to free up agent time, and boost productivity where it matters most -- in delivering the best customer experience possible.
Srivatsan Venkatesan, the Head of Product at Freshsales, explained how "repetitive tasks can be automated, which in turn helps sales teams focus on tasks that need their attention, thereby helping them be more productive."
Throughout the day agents are constantly repeating the same mundane tasks, like inputting the most recent call information, or following up on sales leads. They may not be difficult, but that's part of where the problem lies. Since these tasks are so routine and repetitive, it's easier than you think to enter into an "auto-pilot" mode.
Prevent Auto-Pilot, Boost Productivity
Since the tasks are so repetitive, agents might not be paying close attention to what we're doing -- and this isn't anything against any specific agents, it happens to all of us! I'm sure most of you reading this have driven somewhere, arrived to your destination, but completely spaced out during 90% of the car ride.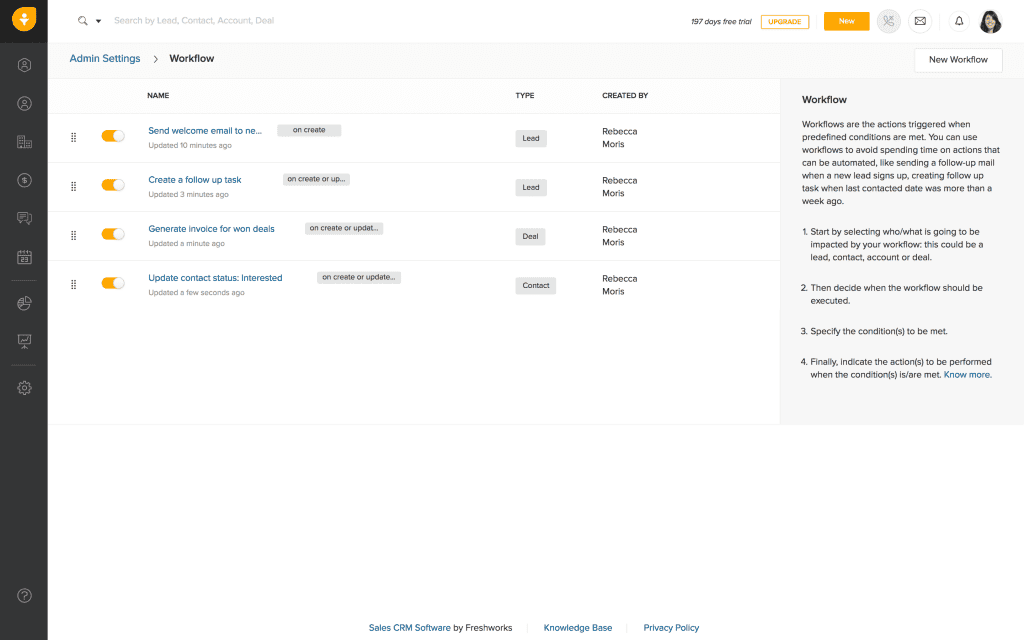 The same thing happens to sales agents, when they're tasked with juggling up to hundreds of clients and phone calls a day. After each call, agents have to follow through the same basic motions to complete that call. Without even realizing, it's very easy to input the wrong contact information into the wrong field, or to accidentally assign the wrong support request to the wrong client. And with so many open leads, it can be difficult to keep track of which specific accounts to follow up on.
So, in their quest to make a better, easier to use, and more powerful sales management tool, it only made sense that Freshsales would allow users to take advantage of this robust, yet simple feature.
So How Does It Even Work?
Now we get to the fun part. Freshsales explains that Intelligent Workflows are "like simple 'if-then' rules." If you combine different rules, different triggers, and different actions, agents can create some pretty complex processes.
"Once a user creates a workflow, the rule scans for user-defined triggers, such as a new lead being created, or a deal status being updated to 'Closed/Won.' Once a trigger has been detected, a user-defined action such as creating a follow-up task, sending a personalized welcome email…is carried out."
But that doesn't really paint a very clear picture, lets break that down a bit further:
Users can first pick what element they want to be impacted by the Workflow, this is the "target." This could be specific leads, contacts, accounts, or deals.
Users can then decide when the workflow should be executed - this would be a "time frame", like a week after the latest contact, or an instantly after a call is ended.
Then users will specify the conditions that must be met, meaning whatever will "trigger" the action to occur. As soon as a case is marked as "closed," then the action will happen.
And finally, users need to define and specify exactly what actions should be taken -- like sending out a follow up email, or modifying a record with the latest information.
And since Freshsales is all about a simple and intuitive user experience, the entire process can be setup with just some basics clicks -- no development or programming knowledge is required at all.
The Bottom Line
Freshsales is already a fairly impressive platform. With features like a built-in softphone and telephony, built-in email, AI-based lead scoring and activity capture functions, your business won't need to subscribe to 5 different services just to get it all. Freshsales is able to bring everything under one roof, yet keep it all intuitive and easy to use at the same time -- that's a pretty strong recipe for success.
So, it only made sense to us to hear that Freshsales is now including an automated workflow function. We've seen it before in other sales CRM solutions, and it without a doubt feels right at home within Freshsales. We're really curious to go hands on and play around with these Intelligent Workflows, to see exactly how effective they truly can be.