If your business is in search of the right tool to help gain a stronger grasp on the sales process, then Freshsales should definitely be on your shopping list. Freshsales has always stood out as a bit of a unique offering, with a lightweight cloud based CRM that still manages to deliver on all the important features, with a great user experience.
Well, Freshsales has only gotten even more feature packed, just today announcing their latest addition to the platform, Freshsales Sales Campaigns. This new feature provides sales teams with what Freshsales is calling "smart functionalities," enabling agents to start meaningful conversations with their customers and improve the effectiveness of their email campaigns.
Introducing New Sales Campaigns
Freshsales already helps your business gain a deep understanding of every aspect and piece of the sales process, with features like AI-based lead scoring, built-in phone and email, visual sales pipelines, activity capture and powerful reporting tools. And just back in 2017, Freshsales even updated their platform with Intelligent Workflows, allowing agents to setup and run virtually any sales process through a series of workflow automations.
But today, Freshsales has introduced their new Sales Campaigns feature to help businesses turn their marketing emails into closed sales. Freshsales explains that "with over 200 billion emails sent every day, 44% of millennials are likely to disengage with brands on account of spam." This in turn has a negative impact not only on your sales cycle, but also on the brand, decreasing value and engagement as well as increasing customer acquisition costs.
So Freshsales wanted a way to empower businesses to turn more emails into closed deals, instead of just tossed in the trash. To do this, Sales Campaigns acts based on data from directly inside your existing CRM platform. According to their announcement, this enables users to choose between a "classic time-based campaign, or a smart activity based-campaign." What's a smart activity based-campaign you might ask? Well, this is what a boring, simple, classic sales campaign looks like: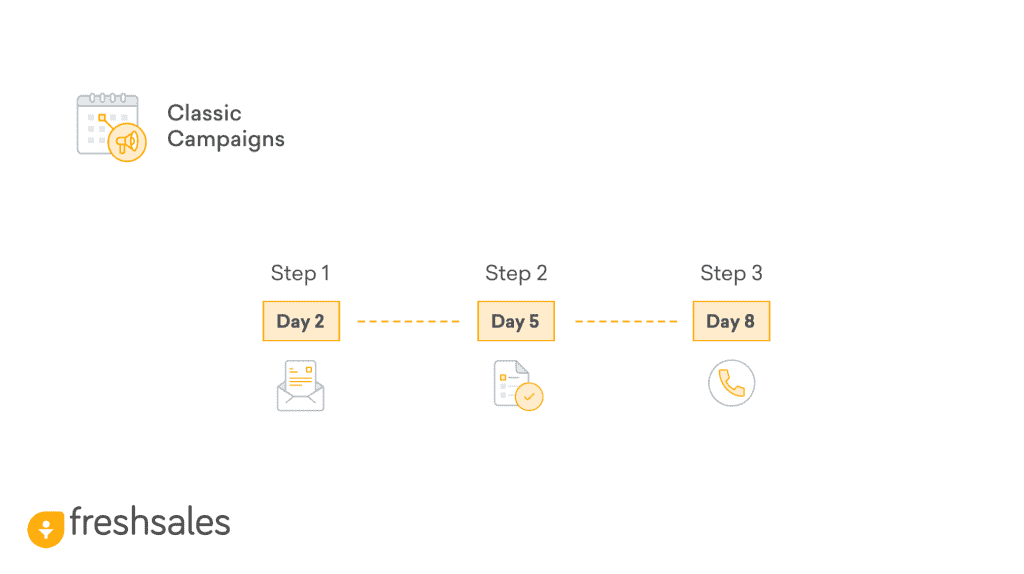 And now compare that to a new Smart Campaign, which provides agents with different options based on where the customer is in their journey: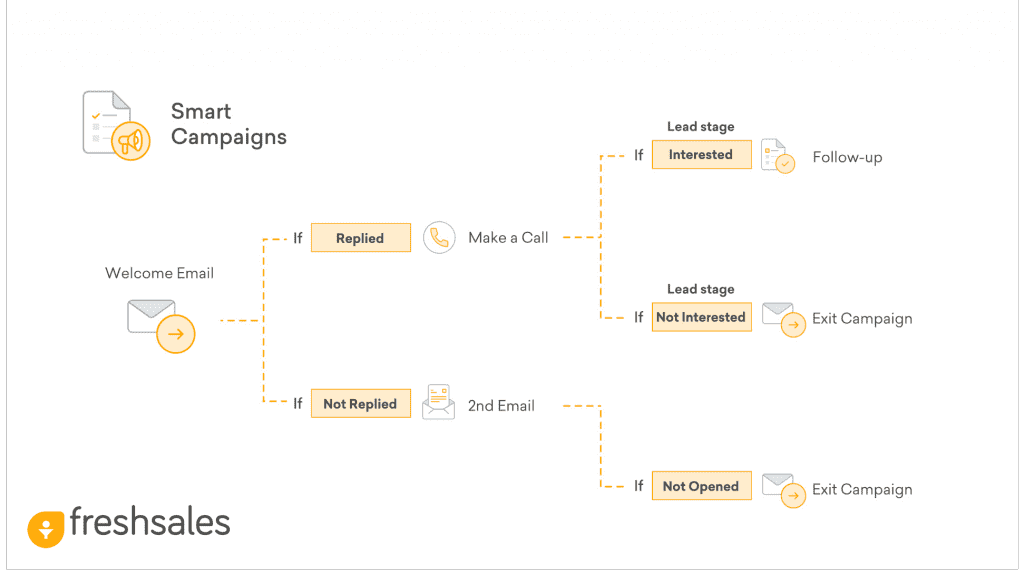 Freshsales further explains that these Smart activity-based campaigns enable agents to:
Add or eject prospects based on their intent, and where they are in your sales funnel at that moment of contact.
Start smart conversations based on customer activity inside your product or website.
Track all email or engagement metrics inside the CRM.
With deep insight into the context of each prospect, where they are in the sales pipeline, or where they are interacting with your website, agents can provide the exact information that the prospect is looking for at that very moment. This overall enables your business to provide the best customer experience possible, with a personalized touch -- major trends that we hope every business is taking advantage of.
Successful Emails are Critical
Email is still an incredibly popular method of interacting with potential prospects and clients. In this day and age, it's probably the closest interaction your business will have prospects, aside from sales themselves. But in this day and age, it's also incredibly common for users to filter out advertising or marketing emails as soon as they see them. As Freshsales noted, this just means your business is flushing money down the toilet if these emails are going unseen.
Freshsales recognizes that your business needs a way for their emails to stand out amongst the crowd, and that when utilized properly, emails can actually be an incredibly effective channel.
"With billions of emails being sent each day, the only way you're going to stand out in that clutter is if you send the right email with the right message at the right time to the right person. Sales Campaigns in Freshsales helps you do that." said Srivatsan Venkatesan, Head of Product, Freshsales. "Think of it like a personal assistant to schedule your email campaigns and calls, set up appointments, and streamline hands-offs between SDRs and AEs."
So not only is Freshsales aiming to make your sales process and marketing efforts more successful, they are also staying true to their roots of simple, easy to use features. According to Freshsales themselves, your business can leverage Sales Campaign to:
Identify potential customers, develop a database of prospects, systematically communicate and drive meaningful conversions.
Effectively nurture relationships with your prospects at every stage of the sales funnel and through every step of the buyer's journey.
Create customized product onboarding email sequences and enable your users to hit the ground running.
Stay engaged with your customers using consistent, targeted emails and establish real, valuable, long-term relationships.
Deliver maximum value to existing customers and fast-track revenue growth with intelligent and well-timed upsell email campaigns..
Make email campaigns your ally in maximizing your current customers' revenue potential by up-selling and cross-selling to them.
The Bottom Line
Freshsales continues to push out new features and innovations that aim to simplify your life in anyway possible. Their latest Sales Campaigns feature does just that, while enabling your business to better utilize emails much more effectively. It seems that Freshsales is looking to stay ahead of the curve when it comes to the major customer experience trends we expect to see in 2018.
Freshsales is making their new Sales Campaigns feature available immediately, and is even offering a 30 day free trail for users to test drive before they buy.