Canned responses, or macros, are a helpdesk feature that allow support departments to improve performance and efficiency by – depending on vendor claims – varying orders of magnitude. (Fifty percent? Sixty? Why not a thousand?) Hyperbolic claims aside, canned responses are included on modern helpdesks for good reasons.
Canned responses save support agents keystrokes on each ticket – saving time, sparing typos, and ensuring consistency in brand voice with a few clicks. They also preserve mental bandwidth: agents spend their attention on the substance of tickets instead of how to phrase responses with the appropriate tone. Also, canned responses aren't auto-replies – agents can customize them as needed before sending, allowing for personal touches to improve customer satisfaction. (This is recommended standard practice for all but the most banal support requests.)
The quality of customer support holds powerful influence in customers' perceptions of a brand. The right canned responses can provide a baseline of consistency in ticket resolution speed and quality. But how, then, does one write a canned response?
Don't worry – we've got you covered. Normally you'd need to write your own – with the exception of the handful of built-in responses some helpdesks provide – but we've put together a list of responses for common support issues that you can customize for your own brand voice.
1. We Hear You
It's customary to offer some general acknowledgement that their support issue has been received. Some companies accomplish this with an auto-reply, but this is an opportunity to distinguish your brand with a personal first impression. Most helpdesk canned responses allow dynamic placeholders for certain contact information such as name and organization. The agent can customize it further to make it specific to the individual ticket.

2. Information Request
Many helpdesks provide the tools for companies to build customer self-service knowledge bases. This can cut down on ticket volume by letting customers find answers on their own. However, if answers aren't easily found, a customer might create a ticket anyway. The support agent can link to the relevant knowledge base article in their reply; canned responses such as these can be duplicated for the most common support issues.

3. Finding a Relevant Expert
If addressing a ticket in real-time, or to introduce another agent to the ticket conversation, a canned response addressing the need for outside perspective lets the customer know the company is looking for the best person to resolve their complaint. The message isn't meaningless; in general, people are more understanding with a transparent process than when they're left in the dark.

4. Forgot Username/Password
We've all forgotten login credentials at some point. Your website might have tools for visitors to resolve this themselves, but if they experience persistent difficulty, they might prefer contacting a person directly. Your reply will likely depend on your security protocol; this frequently involves a security question.

5. Refund Accept
A dissatisfied customer wanting their money back is bound to happen eventually. If their request fits within your refund policy, it's best to keep your message short and positive. You may have lost the sale, but you need not lose the customer. Even if you do, you can at least spare your brand a few irate social media posts.

6. Refund Denial
You can't please 'em all. When a customer's refund request doesn't fall within your refund policy and you simply can't bend the rules for them, you'll have to stand your ground. They're going to leave unhappy either way, but it's best to soften the blow with sympathetic phrasing and, if possible, with a one-time promotion or credit targeted to their complaint.

7. Return Policy
Modern customers expect return policies that are simple, quick, and favorable. (It really only applies to merchandise, and likely coincides with the refund policy.) Many companies offer free shipping on returns and allow customers to print shipping labels specific to their purchase. A canned response for returns would likely include clear instructions on how to do this.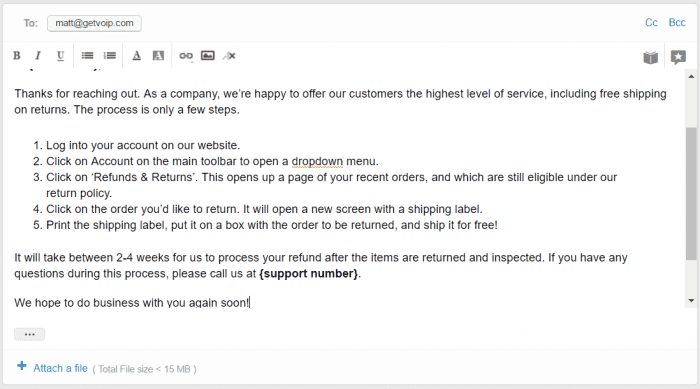 8. Privacy Policy
Customers like to know how their data is secured and whether it's shared. If data isn't shared with third parties, this response can be quite short. If data is shared, the customer can be reminded of your privacy policy, and the consent they were obligated to give when they began using your service. Your reply can remind them of this while offering a way out -- no one wants to feel their data is being held hostage.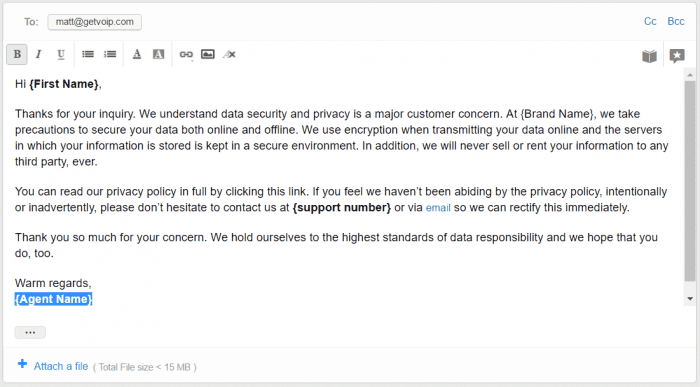 9. Ticket Update
In a perfect world, support issues would be resolved in a day or two at most. But sometimes persistent tickets linger far longer. It's better to keep your customers notified that effort remains underway towards resolving their issues -- even if nothing tangible has been gained. Most customers would rather a company proactively update them on progress rather than feeling obligated to ask.

10. Admitting a Mistake
No one's perfect, and neither are your support agents. The agent should admit fault, apologize, correct themselves, and then move on. The mistake may undermine their credibility in that particular ticket, but it's the best way out of a bad situation.

It's tough to build a comprehensive set of helpdesk canned responses before facing the actual tickets. Agents can make the most from canned responses by adjusting them to fit individual tickets and customer personalities. As the front line of your support department, agents likely know best which issues, in which categories, require a canned response. Their experience will be invaluable when expanding this essential helpdesk feature.
Screenshots in this article were taken using Happyfox and Freshdesk.
If you're in the market for a helpdesk with robust canned response features, check out our helpful helpdesk comparison guide for provider overviews, user reviews and software comparisons.