Insightly
just announced
they're releasing new enterprise-grade CRM dashboards and Insight Cards directed towards mid-sized businesses. These mid-sized businesses can now receive powerful, AI-backed dashboards right out of the box, encouraging better CRM adoption rates.
Insightly has been establishing a foothold in the mid-sized business market for some time now. Incorporating AI into its solution makes it much easier for mid-sized businesses to compete with larger enterprises by offering users significant metrics like "Win Rates" and "Average Sales Price".
It also allows mid-sized businesses to visualize customizable data that fits their specific needs. Sales and marketing managers, collaborators, and business executives can all take advantage of more up-to-date sales pipelines and leaderboards to increase the odds of completing meaningful sales. Let's take an even closer look at what these dashboards and Insight Cards offer mid-sized businesses.
CRM Dashboard Features
Insightly works differently from other sales CRM software solutions in that they use a "metadata-driven architecture which allows for the dynamic rendering of the CRM's user interface," giving customers a more personalized experience every time they open Insightly.
Most CRM providers offer one-dimensional sales solutions for customers that aren't guaranteed to fit within every business' sales process. This often leaves sales and marketing agents in a tough position where they know they need to use their CRM software in order for it to work correctly, but in reality, it restricts them from following standard protocol leading to low adoption rates and increased skepticism.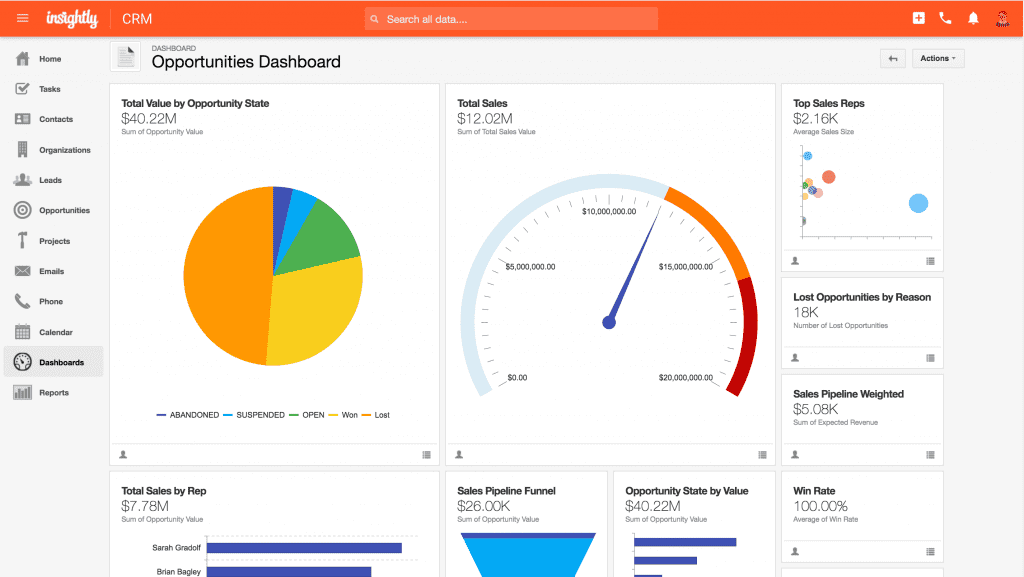 Instead, Insightly lets customers connect the dots more naturally through the use of data-driven analytics that lay out each customer's relationship to the business in a visually appealing and customizable way. By introducing AI to the platform, businesses can obtain a more complete picture of the customer, while treating each customer as if they're the only customer.
Insightly also says their dashboards "can display more than 80 preconfigured reports, dashboards and Insight Cards filtered by role, industry, customer profile and other attributes, and presented in context using a Blade Interface." These preconfigured reports allow mid-sized businesses who don't have the time to develop their own customer reports to choose from a wide range that will best fit their needs.
Finally, their dashboards use a drag-and-drop interface, which make it much easier for businesses to create and customize multiple reports in ways that puts the data they need the most front and center within minutes. This eliminates the need for an IT team that only larger businesses and enterprises can afford.
Insight Cards
Insight Cards are Insightly's way of displaying information like the weather, time, and duplicate entries like widgets. Mid-sized businesses can now have access to Insight Cards so they can create a more visually appealing dashboard that displays whatever information they want in a way so that only what they really need to know is right there.
They will allow businesses to visualize operational and customer data directly within Insightly, eliminating the necessity to go back and forth between programs or even between dashboards. The emphasis on user experience is important because agents need to have the ability to manage their tools in ways that give them the opportunity to offer quality customer experiences every single time.

With AI offering the most up-to-date customer data around the clock along with complete customer profiles, agents can stay on top of their customers while evaluating the sales pipeline in order to figure out ways to speed things along and get the customer or lead to commit to a sale.
Having the most up-to-date customer data is an absolute essential because without it, reports and forecasts could change the way a business handles their leads in ways that might not be so beneficial. Insight Cards are a simple way of having everything front and center to increase user experience for medium-sized businesses looking to compete with larger businesses and enterprises.
The Final Word
We believe this is a great move for Insightly. 2018 is predicted to be the year AI becomes a major player in the CRM industry. CRM software providers like Salesforce, Microsoft, SAP, Zendesk, and Zoho are all beginning to implement AI into their CRM solutions.
AI offers companies significant customer insights based on customer data that typically reveals patterns in customer behavior that might not be obvious to agents at a surface level. Bringing them to the spotlight via customizable, enterprise-grade dashboards and Insight Cards gives agents the necessary tools they need to ensure positive, personalized customer experiences are given to every single customer.
Taking advantage of AI allows Insightly to expand and secure their position in the mid-sized business world, offering businesses tools to compete with larger businesses and enterprises. This, along with Insightly's user-friendly interface, makes it easy for businesses to become competitive at a significantly lower cost.
No IT teams are needed for businesses to take advantage of Insightly's CRM software. It takes advantage of easy-to-use tools such as click-and-drag features instead of requiring coding, which continues to ensure mid-sized businesses have a chance to succeed.
Having a scalable platform that businesses of any size can take advantage of is a great business strategy. Insightly clearly prioritizes user experience, so there's no need to assume they're simply adding more features for the sake of adding more features. Expanding to the mid-sized business field further proves that their desire to make businesses competitive hasn't gone anywhere.