A customer relationship management system (CRM) is one of the most valuable tools any business can have in its software arsenal. But since it's so widely used, that means there is an overwhelming number of options to choose from. Pipedrive and Hubspot are some of the most popular names in the CRM industry.
In this article, we'll show you everything you need to know about the tools to make an informed decision before you purchase one of them. From their features to integrations and more, we'll cover the following sections:
Pipedrive vs. Hubspot: an Overview
HubSpot is a leading CRM platform that provides support to help businesses grow more efficiently. The tool offers marketing, sales, service, and website management. Pipedrive is a CRM developed with salespeople in mind. The tool is focused on bringing together the necessary tools and data to help salespeople focus on the fundamentals needed to advance deals through their pipelines.

Each tool serves the same general purpose of helping teams close sales deals, but Hubspot and Pipedrive go about executing this in different ways. Here's a breakdown of some of the areas in which the two CRMs differ:

Pipedrive is primarily designed for sales teams, whereas Hubspot serves both sales teams and marketers.
Hubspot offers a free plan while Pipedrive does not.
Pipedrive offers a sales academy with tutorials and videos and Hubspot provides a thorough blog for its training purposes.
Hubspot offers more integrations than Pipedrive.
Hubspot caters more toward larger businesses whereas Pipedrive is focused more on small businesses and individuals.
Before we dive in, here's a general overview of what to expect from Hubspot and Pipedrive, including user reviews:


Hubspot
Pipedrive
Starting Price
Hubspot offers a handful of products free of charge
$12.50/user/month, billed annually
Free Trial
Yes
Yes
Top Features
- Deal pipeline
- Custom properties
- Sales force automation
- Deal management
- Contact and organization management
- Activities management
Pros
- Hubspot offers a great mobile app for iOS and Android
- It's easy to automate nearly everything
- Hubspot offers a thorough integration for nearly every functionality
-Pipedrive offers a sleek interface
- It's really easy to generate marketing campaigns
- One of the only CRMs on the market that allows you to map the salesperson's process seamlessly
Cons
- Their in-CRM email has room for improvement
- There is not a lot of room to customize the UI
- Reporting could be more robust
- There should be a middle ground for pricing in between Advanced and Pro
- Pipedrive could use more frequent updates
- Mail management is difficult on the mobile app
Who is Each Best For?
Mid-size and large businesses
Freelancers, small businesses, and non-profits
Pipedrive vs Hubspot: Features
Here's a breakdown of the features you can expect from Hubspot:
Hubspot Features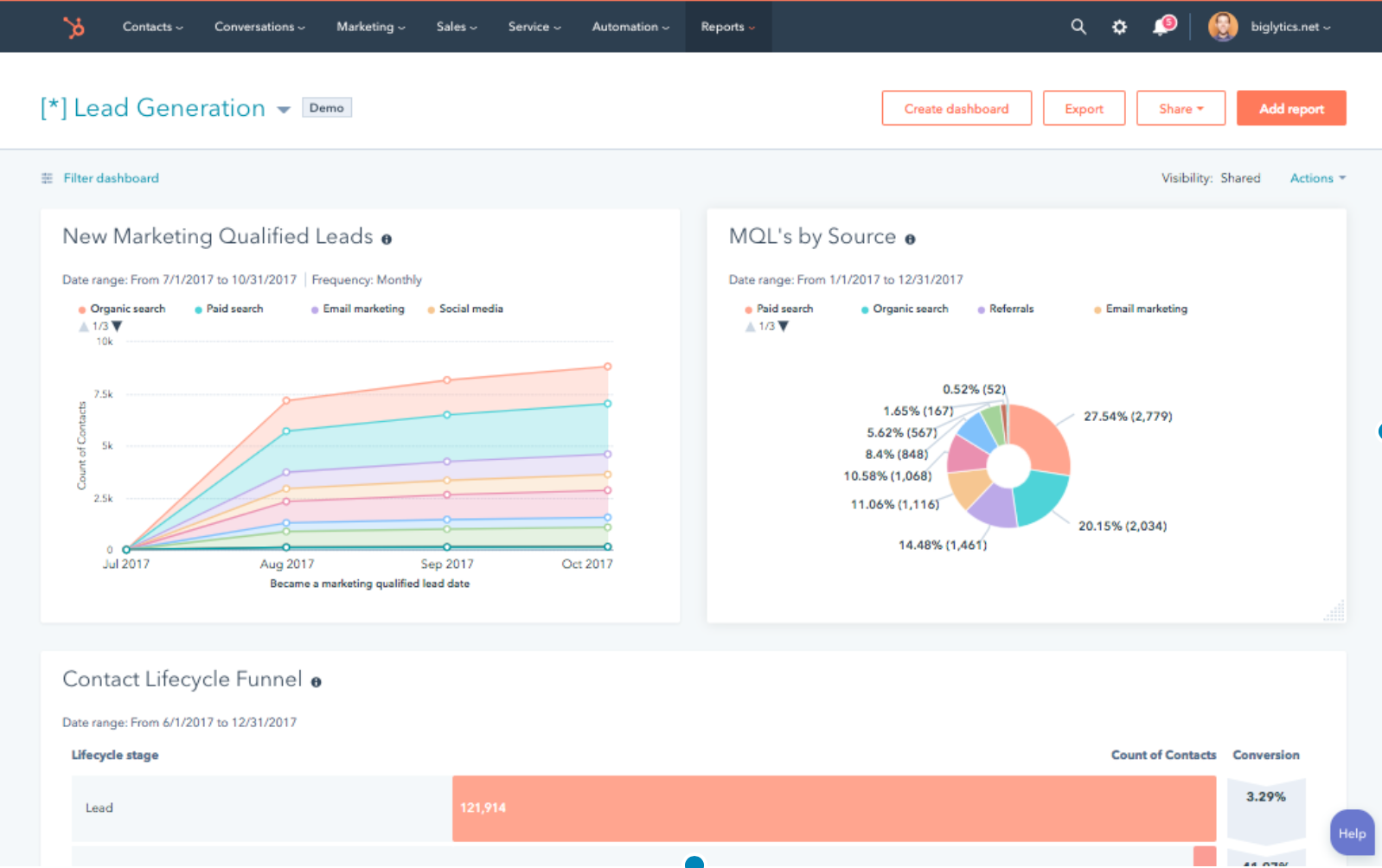 List segmentation — Hubspot CRM allows you to create lists of contacts in your database based on the specific criteria you select. These contacts can be grouped based on things such as lead score, interactions with emails, last activity, and more. Performing customer segmentation on these lists will allow you to build customized experiences for leads, prospects, and customers.
Email automation — Users can send bulk customized emails straight from Hubspot's platform. With this feature, you can even analyze important metrics like bounce, open, and click-through rates. These various pieces of data can be broken out by different types of emails. You can utilize Hubspot's email tracking functionality once the messages are sent out.
Email templates — Build templates for customer emails right within Hubspot. You can tweak the templates every time you use them so emails are personalized to each of your individual customers. You can expect email integrations with Gmail, Mailchimp, and Outlook.
Dashboards — Hubspot offers its users thorough reporting on the buying cycle, customers, and customer interactions. Dashboards can be emailed out to users and edited for specific date selections. That way, customer and prospect data is easy for your sales team to refer back to.
Documents tool — With this feature, users can build a library of content for sales and marketing purposes and add links to this content in customer emails. You can even get instant alerts when customers read your content.
Pipedrive Features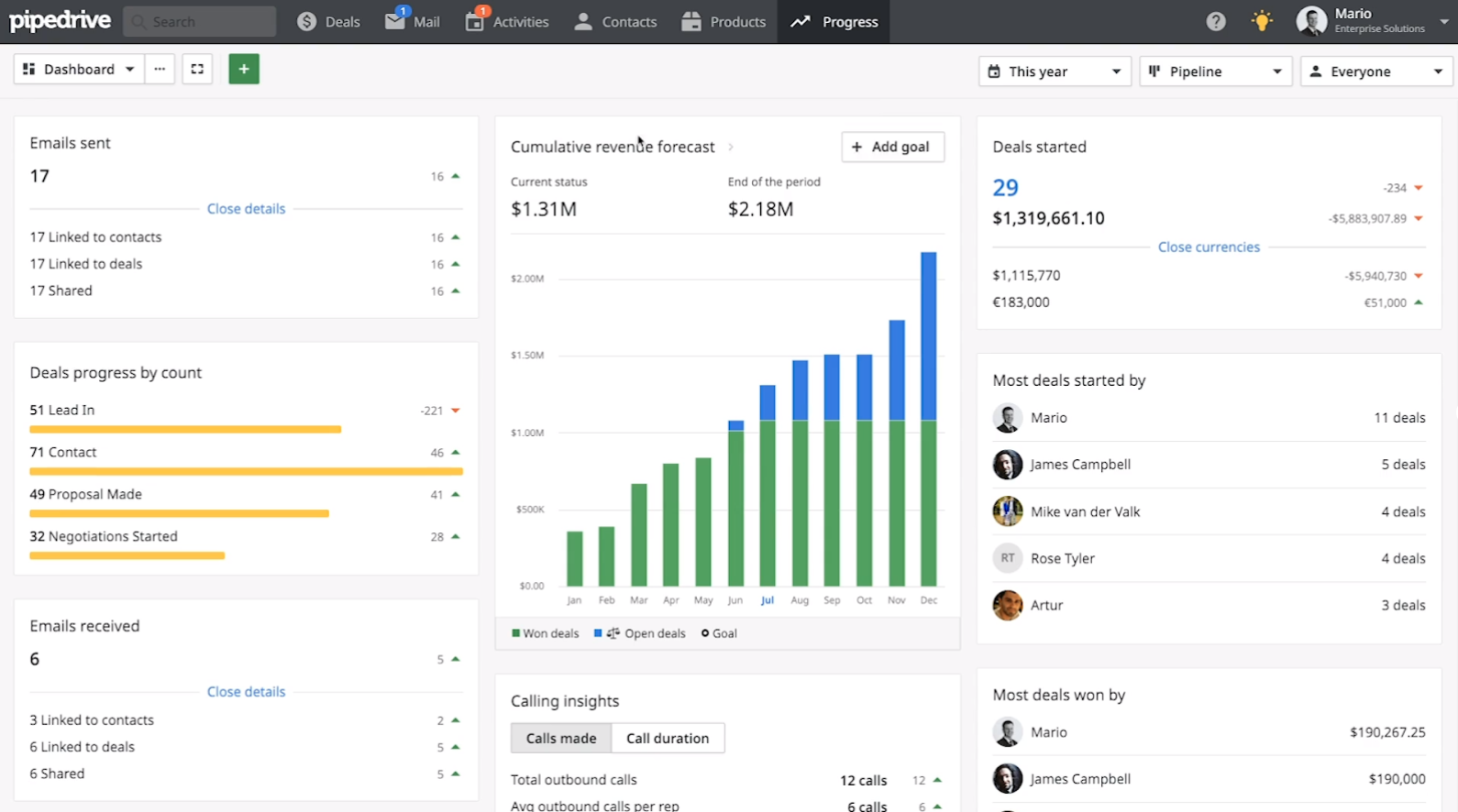 Lead and deal management — This feature allows you to get more leads, turn conversations into customers, and grow revenue at your own pace. You can manage those leads and seals with unlimited and customizable sales pipelines. Users can also pool leads into one specific inbox in order to keep the sales pipeline clean and uncluttered.
Track communications — Keep tabs on your call, email and contact history with this feature. Track everyone that you've contacted with Pipedrive's unlimited database of contacts and organizations. You can also manage all conversations from specific inboxes and have whichever emails you want linked to specific deals and contacts.
Security center — This feature gives you full transparency on how your business data is being used. It specifically offers a security dashboard, user access/device logs, rules and alerts, and security management tips. These features and more will ensure your data is protected.
Automation – Pipedrive offers sales automation powered by artificial intelligence. Within this feature, you can leverage the tool's Sales Assistant. It acts as a mentor that can boost your team's performance with personalized tips and report graphs.
Insights and reports — This feature offers customizable reports and interactive dashboards of your sales team's performance. You can filter, group, and oversee results within the reports and track KPIs in your dashboards.
Pipeline Management
A pipeline is the life force of a sales team. So, it's vital that the CRM you select has a thorough pipeline management feature. Luckily, Pipedrive and Hubspot both offer thorough sales pipeline management. Here's a look at what each CRM has to offer in that area.
Hubspot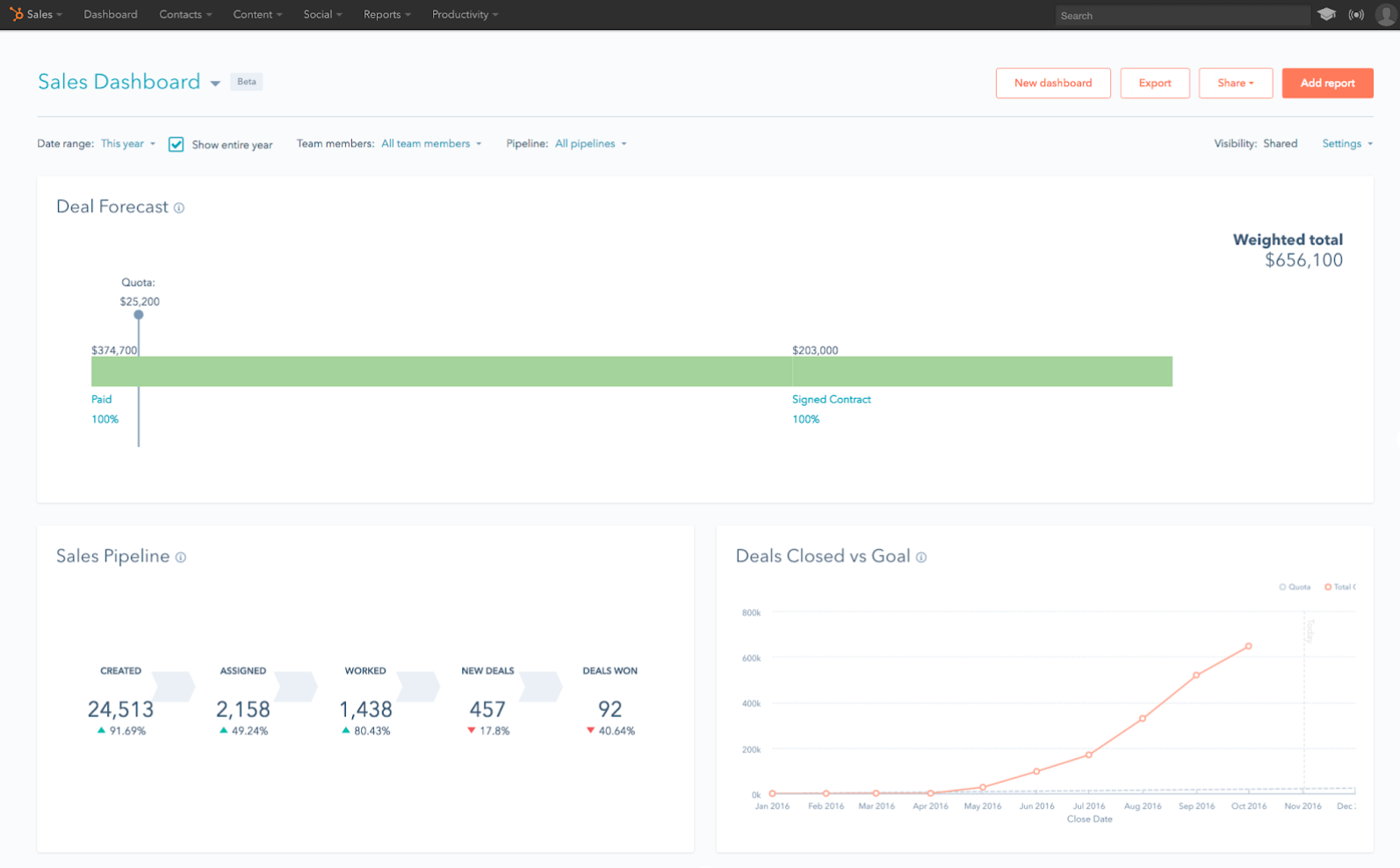 Hubspot provides its users with sales pipeline management software to ensure none of your deals ever slip through the cracks. You can add deals into the pipeline with a single click. Customize your pipeline to match your sales process.
You can add, edit, and delete deal stages and properties within the pipeline. Hubspot offers a drag-and-drop functionality so you can take control of your pipeline with ease. Track progress and diagnose the health of your pipeline with Hubspot's sales dashboard.
Pipedrive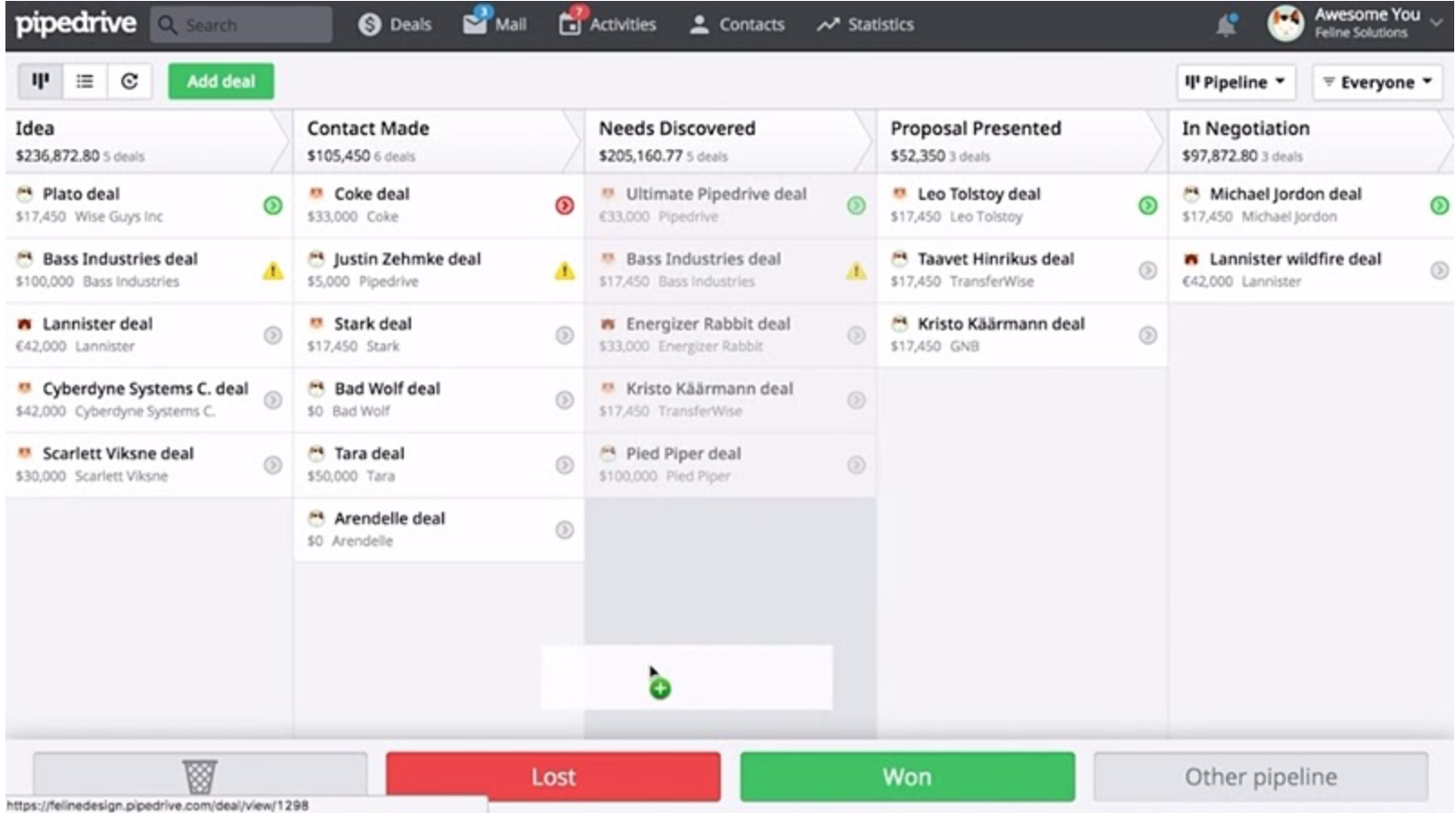 Pipedrive's pipeline management allows users to gain total visibility into your pipeline. The pipeline itself is the primary view, which then prompts users to take action on the next steps for ongoing deals. It's organized by sales stage so your team can clearly understand current priorities.
You can easily find stats you're looking for through relevant filters that give you access to a personalized analysis of your pipeline. This feature is customized at every level and makes sure there are no restrictions for users.
Integrations
As CRM is the crux of your customer communications, thorough integrations are key. By seamlessly connecting your platform to the other software solutions you use on a daily basis, your team will have easy access to customer information whenever you need it. Both Hubspot and Pipedrive offer a great number of integrations, so here's a look at how they stack up against one another. If you can't find the integration you need, Zapier can help you connect the tools you desire.
Hubspot
Hubspot offers more than 500 integrations. The CRM offers an app marketplace in which integrations are broken down by need and by the following categories —marketing, sales, customer service, productivity, and finance. Each of these categories is broken down even further into various subcategories. You can also search for the app you need, too. Basically, if you want to integrate it, Hubspot will likely offer it.
Pipedrive
Pipedrive offers nearly 300 integrations. You can easily enhance the CRM tool with a one-click installation. Similarly to Hubspot, Pipedrive offers an app marketplace broken down into various categories. The CRM breaks down their apps by categories like trending apps, new apps, or categories like phone solutions, email marketing, and lead generation.
Both solutions offer an impressive number of integrations. But as Hubspot integrates with nearly twice as many applications as Pipedrive, Hubspot comes out on top here.
User Experience
You won't be able to reap the benefits of your CRM if you select one with a poor user experience. Here's a breakdown of what to expect for ease of use from Hubspot and Pipedrive.
Hubspot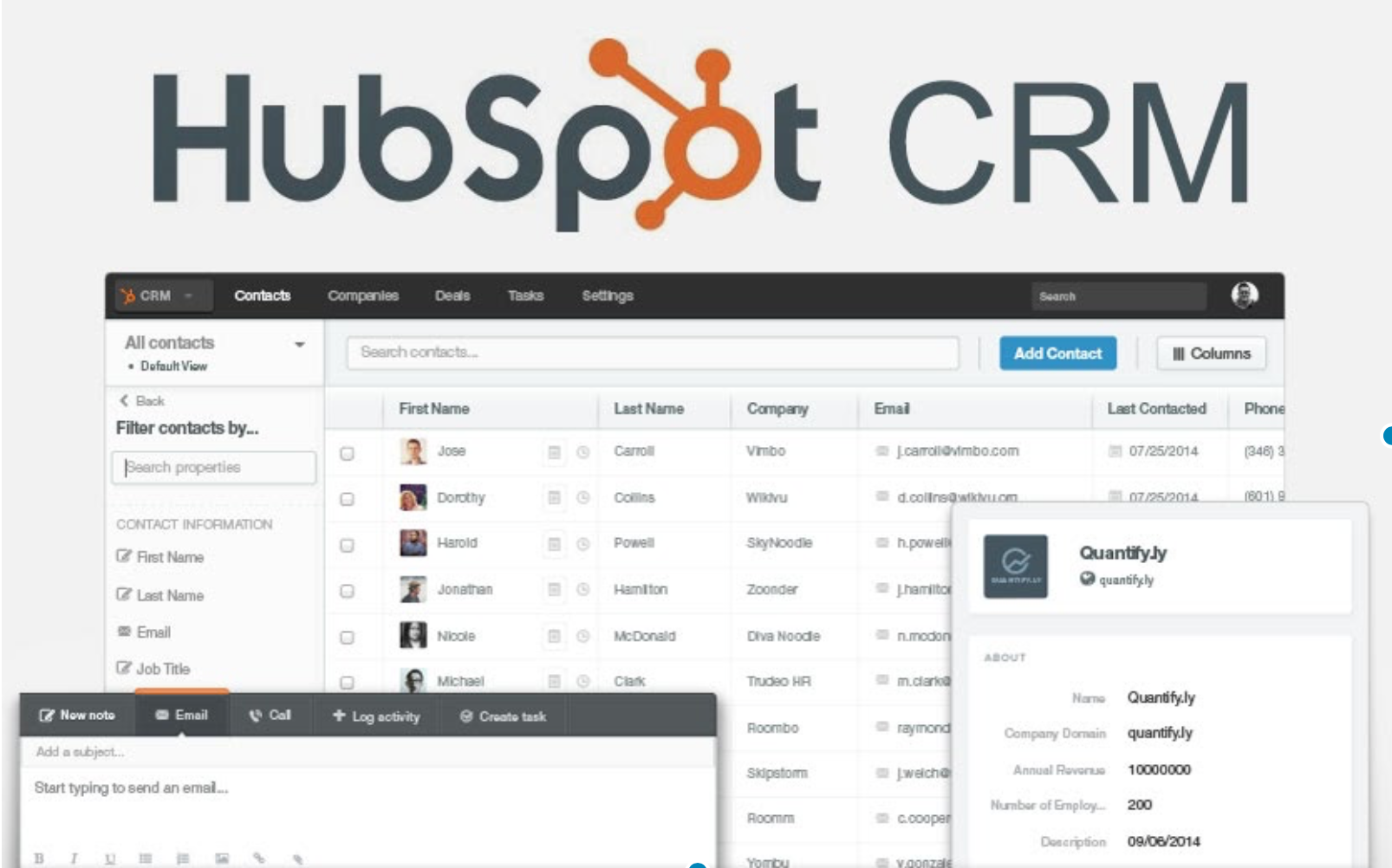 Hubspot is known for its stellar user experience. The CRM platform got to that point from a rather unusual strategy — drunk user testing. As Search Software Quality reported, Hubspot's former UX designer Austin Knight was inspired by a YouTube tutorial called "The User is Drunk." The video's creator stated that a user interface should be so simple that a drunk person can navigate it with ease.
Knight subsequently hired a "drunk" consultant to give feedback on the Hubspot user experience. Knight received feedback such as the homepage was too busy and it was hard to find the product sections. He took all this feedback to heart and put them to action. Hubspot then saw conversation rates go up 22% and exit rates go down 18%.
Pipedrive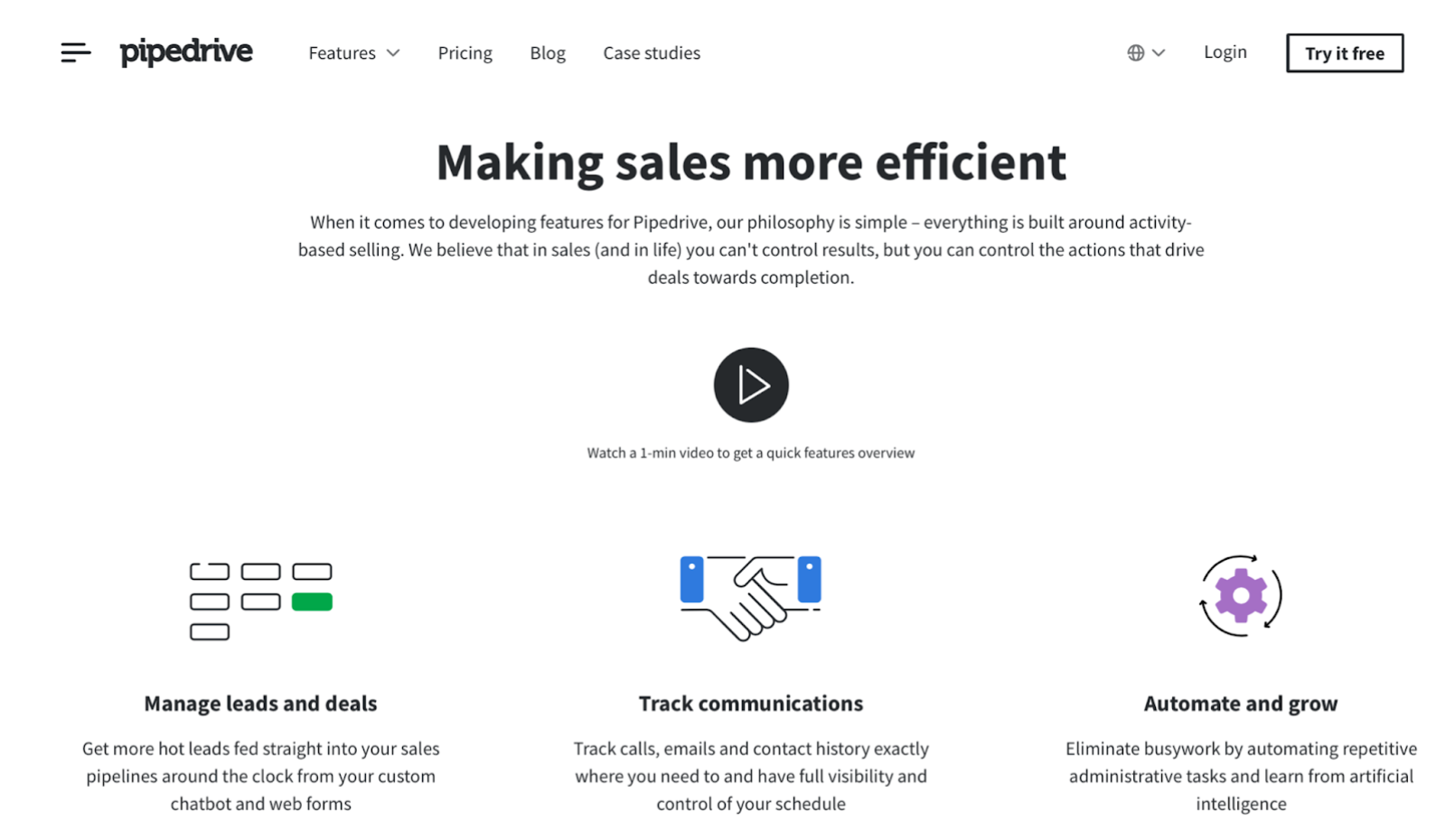 In 2020, Pipedrive was awarded the "Easiest to Use" CRM by The Blueprint. The company cited Pipedrive's seamless user experience, a wide variety of tools, and fair pricing structure in this decision.
Craig Borowski, Managing Editor of The Blueprint, specifically pointed out that Pipedrive has an incredibly streamlined and intuitive UI. While this is an impressive honor, Hubspot has undoubtedly set the standard with its drunk user test. Because of that, Hubspot definitely comes out on top for this one.
Customer Support
Even the best CRM software has its issues. So, you want to make sure the solution you go with has a capable support team. Here's some insight into Pipedrive and Hubspot's support teams, pulled from actual user reviews.
Hubspot
Their support is great and they're always looking to improve
The support team is also very helpful and take effort n researching your query before presenting a solution
They have an amazing support staff that cares about your success
Hubspot's support team is top-notch
Their customer support is outstanding
Pipedrive
Support is excellent and consistently provides solid advice within seconds of requesting help…
The solutions provided by Pipedrive's customer service have been outstanding.
I love their support team — they are super fast, follow up, and very cheery.
Support is awful! They simply cannot solve your problems and will be bouncing back between engineering and support all the time.
...technical support is not very professional.
A user's experience with a support team is ultimately subjective. If a customer has one bad experience with a software support team, that can completely dampen their view on the solution for good. While both Hubspot and Pipedrive have their share of positive customer support reviews, Hubspot's are overwhelmingly glowing, whereas Pipedrive has some negative reviews. Hubspot ultimately comes out on top here.
Pricing
Here's a look at the pricing breakdowns for both Pipedrive and Hubspot.
Hubspot Sales Hub


Starter
Professional
Enterprise
Price
Starts at $45/month for a minimum of 2 paid users
Starts at $450/month for a minimum of 5 paid users
Starts at $1,200/month for a minimum of 10 paid users
Top Features
- Deal pipeline
- Live chat
- Goals
- Reporting dashboard
- Simple automation
- Everything in the previous plan
- Sales analytics
- 1:1 video creation
- Signature forecasting
- Everything in the previous plans
- Object customization
- Playbooks
- Advanced permissions
- Call transcription
Hubspot offers additional products, so be sure to check out their pricing page to learn more.

Pipedrive


Essential
Advanced
Professional
Enterprise
Price
Starting at $12.50/user/month, billed annually
Starting at $24.90/user/month, billed annually
Starting at $49.90/user/month, billed annually
Starting at $99/user/month, billed annually
Top Features
- Deal management
- Contact and organization management
- Activities management
- Everything from the previous plan
- Email sync
- Workflow automation
- Products catalog
- Everything from the previous plans
- Security center
- Team goals
- Insights with custom fields
- Everything from the previous plans
- Custom onboarding
- Custom support
Pipedrive vs Hubspot: Who Comes Out on Top?
Pipedrive and Hubspot are both great options for CRMs, as each has its own pros and cons. Hubspot gets top marks nearly across the board for things like customer support and user-friendliness. But their price makes the solution unattainable for smaller business needs.
Pipedrive doesn't have quite the same reputation that Hubspot does, but it is much more affordable than its competitor. Ultimately, Hubspot is the best choice. But Pipedrive isn't a bad second-place option.
Pipedrive and Hubspot Alternatives
If Pipedrive or Hubspot isn't the right choice for you, that's okay. There are plenty of other options out there to choose from. Here are a few other options to consider.
Salesforce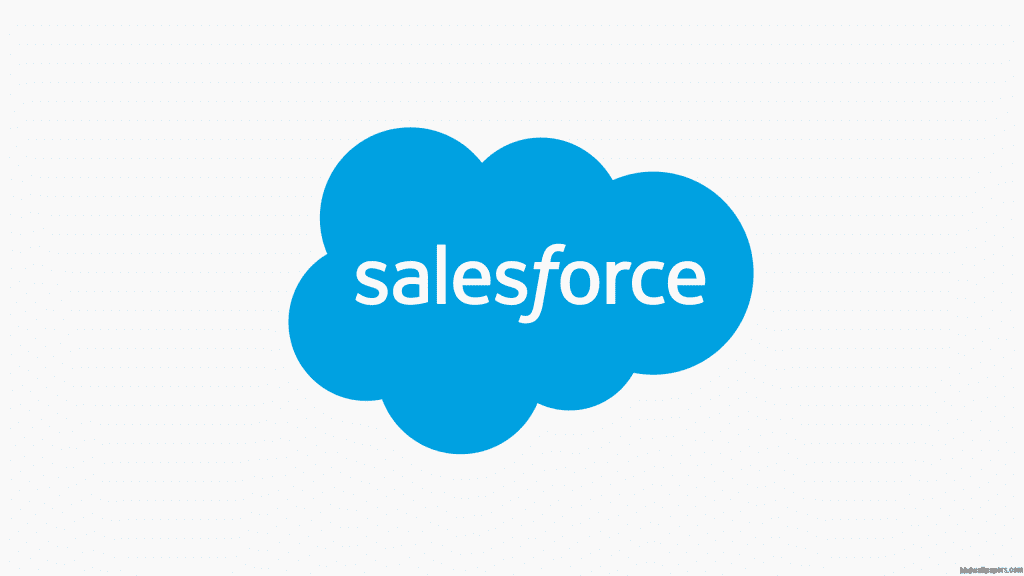 Salesforce is designed to bring companies and customers together through their integrated CRM platform, Sales Cloud. This platform has features that can help your sales team grow accounts, find customers, and close deals quicker.
Top features include account and contact management that offers a complete view of customers, lead management, lead scoring, and sales forecasting. Similarly to Pipedrive and Hubspot, Salesforce also offers pipeline management. The CRM ensures it can help you keep pipelines full so that deals are closed faster.
ActiveCampaign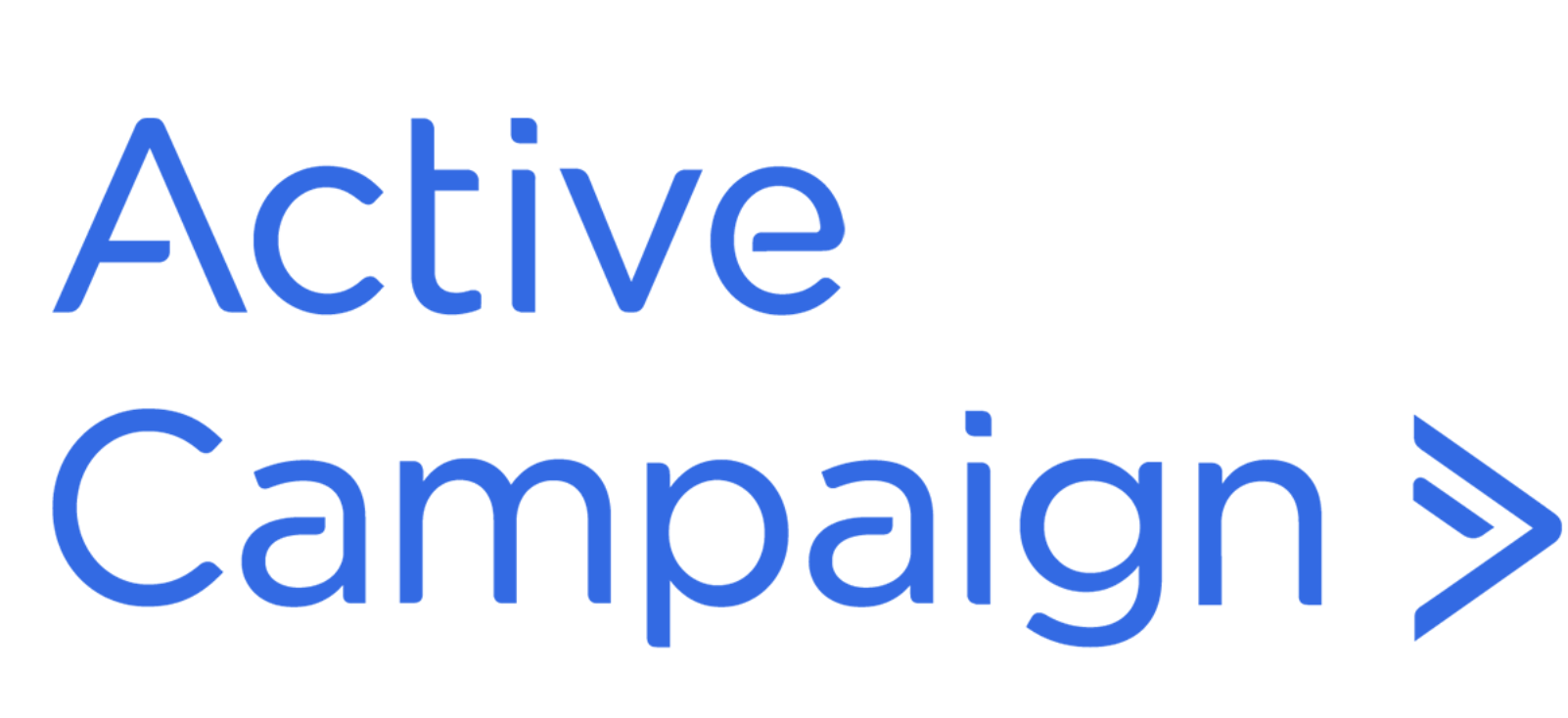 ActiveCampaign offers a CRM called Deals, which is an add-on to its Plus plan, Professional Plan, and Enterprise plan. Like Hubspot and Pipedrive, a large focus of ActiveCampaign's tool is sales and marketing automation. Deals is broken up into three parts — pipelines, stages, and deals. Automation comes into play for each of these parts. Users can automate deal creation and ensure they're automatically distributed to specific team members based on deal value.
Zoho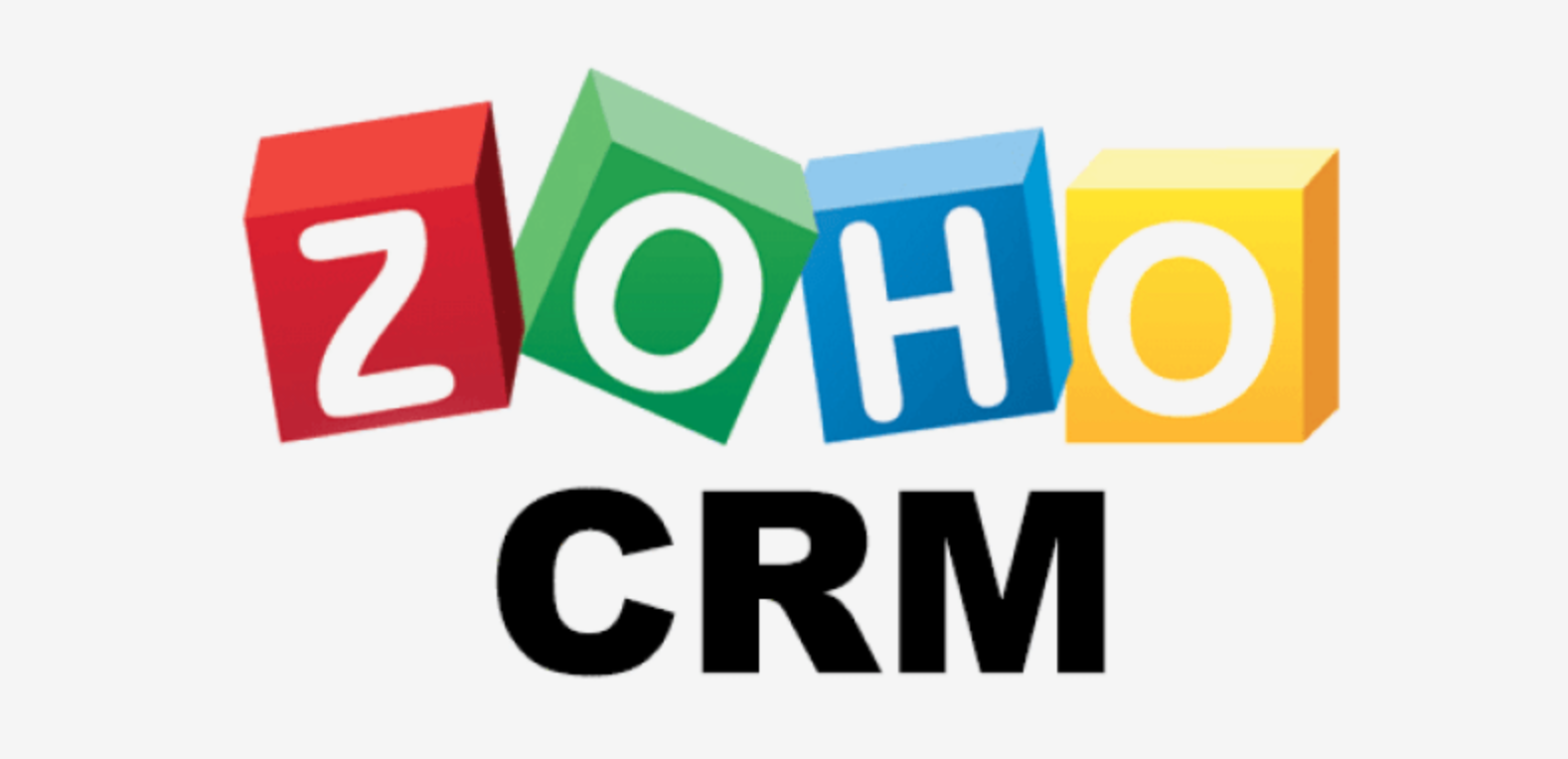 Zoho CRM empowers users to build everlasting relationships with their customers. The tool is a unified platform that allows you to manage your end-to-end customer lifecycle staying in control of the sales cycle.
Like Hubspot, Zoho utilizes marketing tactics to attract more prospects. The CRM gives you the ability to connect with prospects and customers through targeted email campaigns. Users can select from pre-built templates to make those campaigns more successful. Once the campaign has been sent out, businesses can measure their success through real-time analytics.