Software as a Service, otherwise known as SaaS, is a broad term for software that is deployed using a web browser and internet connection. On-premise solutions are hosted in-house with additional hardware and usually supported by a third-party vendor. Unlike this deployment model that requires users to purchase a specific license, cloud-based tools are purchased on a subscription basis and incur a monthly or yearly charge.
Both software types have their perks. For example, cloud-based products offer seamless mobile deployment and freedom from bulky equipment. Meanwhile, that same equipment serves on-premise users guaranteed data protection during disasters and downfalls. There is no universal solution that will appeal to all businesses, but several telling factors can help determine the best software application for you.
SaaS vs. On-Premise: Major Differences to Consider

For managers to understand the full scope of their software needs, they need to consider more than cost. The ever-changing modern workplace comes with a younger, more tech-savvy and diverse generation of workers. Note not only the change's impact on your budget, but also on staff responsibilities, trust, and convenience.
1. Cost
Maintenance and support fees can add up when handled separately, so subscriptions simplify payment. Many SaaS products, especially cloud-based ones, tend to bundle fees for licensing and support together. This leaves the user only paying one monthly or yearly price upfront.
As long as the bills are paid, licenses automatically remain up-to-date and secure. For that reason, trial periods can be a crucial factor when considering software.
Since cloud-based providers promote free or discounted trial periods with a click, executives can easily install and evaluate the software against the backdrop of their additional IT infrastructure. Cloud-based plans are easier to cancel, since on-premise installation means that a plan can't be fully canceled until a company representative visits the building and removes the physical hardware. Depending on the size and budget of the business, IT might not have a dedicated staff at all – in which case, managers need the data to be managed by the provider instead of hiring a new employee.
On-premise software relies heavily on an IT staff's skills – which can prove advantageous in the right hands, or damaging in others – but this software hinders the likelihood that it will be tested first. When tests are available, usually with CDs, the number of users able to test the product is limited, which can lead to uninformed decision-making for teams with varying needs.
Consider which products a team needs, billing preferences, and the amount of physical space that would be needed to store onsite servers and other equipment. To effectively perform a cost analysis for cloud-based SaaS vs. on-premise deployment, managers should consider the initial cost, the price of implementation (or installation), and year-over-year maintenance fees. Those unsure about free trial periods should reach out to the provider as most will agree upon request.
2. Compliance & Security
Convenience aside, on-premise software comes with undeniable security benefits. Since cloud-based SaaS solutions don't provide back-end visibility to the user, managers should first consider their overall IT capabilities and needs. For example, cloud models are ideal for a small startup working with a one-person IT team or a budget that can't accommodate additional in-house servers.
Data security and ownership is another crucial factor. Both models charge hosting fees for large amounts of data, but fees also guarantee accessibility application security updates. These might include features like encryption and multiple logins for administrators and team leaders to prevent potential insider threats, such as a disgruntled former IT staffer.
By implementing a two-pronged approach and using multifactor identification tools, leaders can always check to confirm the identity of its team members and secure their logins. This protects vulnerable data from internal threats. According to a recent cybersecurity study by Verizon, 43% of breach victims were small and medium businesses, and about 34% of data breaches involved internal actors. To most effectively combat that staggering number, managers should always have a firm grasp of their user lifecycle and team management structure, as well as knowledge of team administrators and their permissions.
Cloud updates are usually presented as quick downloads, while on-premise support involves an appointment with a provider IT representative. The cloud update is fast, convenient, and doesn't disturb workflow. An in-person appointment enables employees to ask questions directly or prompt customizations that only that representative can perform.
Knowing your pre-established system is important for context, as many companies have security compliance rules in place to prohibit third-party hosting, ruling out on-premises solutions altogether.
Consider your Contingency Plan
Establishing, implementing, and testing disaster recovery solutions is another crucial step for any executive, especially for those with limited budgets or fewer resources. In the event of a breach or other emergency, however, having a resilient business continuity plan in place may be the only thing that keeps a company afloat.
Consider disaster recovery advantages and disadvantages for each software deployment model. As companies make the move to hybrid and multi-cloud networks for data storage, private data centers become less common. On-site servers remain under your control with on-premise software, which keeps the data private within the company, yet still accessible without internet access. However, using on-premise software alone means data loss is more likely to occur in the event of a disaster.
Using a cloud computing model also comes with benefits and concerns. In addition to easy data accessibility when needed, cloud services perform routine automatic data backups as often as every 15 to 30 minutes. Users will have to trust the third-party host to keep their company data secure and private, and none of the data is accessible without an internet connection.
3. Workforce Mobility
The need for efficient and streamlined remote work has never been more relevant, and enabling staff to complete their tasks from home can dramatically improve morale and company culture.
According to a joint study by FlexJobs and Global Workplace Analytics, remote work grew 7.9% just between 2016 and 2017, reaching 44% growth over the last five years. Common tools like Monday, Asana, and Slack, which have become workplace norms for chat and collaboration features, only enforce this trend as more employees are expected to work from home and perform tasks on the go.
Remote work SaaS software is a key player in fostering a healthier and more diverse workplace. With a greater dependence on technology, especially for younger workers, work-from-home tools allow improved consideration for staff regarding mental health and a flexible work schedule (two major factors Gen Z considers when applying for jobs). SaaS vs. on-premise provides more immediate remote access across devices and platforms, ensuring streamlined efficiency and speed.
Better yet, employees can easily customize their own preferences for their personal devices, changing things like notification preferences and automating processes for smooth communication across departments, time zones, etc. These features unite both clients and departments alike when teams are spread across multiple locations.
4. Support & Maintenance
Cloud-based products require users to complete a few simple steps: choosing the package, creating a user/team login, and installing it to a computer. On-premise software is deployed with in-house IT installation, which is a longer and more costly process when considering the labor hours required to connect to larger teams and their devices.
On-site installation also presents an issue with remote work, since the hardware must be accessed at the company location and often requires IT personnel to be physically present for software patches and routine (monthly or quarterly) updates. The elongated on-premise installation process requires additional IT planning that may interrupt normal operations. '
On-premise vs SaaS installation is further complicated by offices with multiple locations in need of synchronization. For that reason, smaller teams and those dependent on remote work may have no choice but to use a cloud-based solution. Those eager to receive an in-person tutorial or meet their IT representative should aim to install over the weekend or before or after operating hours, so they obtain all necessary knowledge without interrupting business.
5. Scalability, Upgrades & Customization
On-premise implementation is a much slower process when compared to cloud-based SaaS, which leverages ready-made platforms that have already been tested by the SaaS providers. On-premises customization is flexible, since skilled IT workers can help coordinate team needs at setup and afterward, minimizing vendor involvement.
While multi-tenant SaaS products offer customization, to a degree, sending data over the internet complicates integrations with existing enterprise software and can slow down the transfer. Conversely, in-house data is moved quickly with on-premise tools and can even be transferred to other server-connected computers without the internet.
In the case of scalability, a team is limited only by the size, labor skills, and availability of its IT department. Some teams require in-depth customization, which may take hours to install and update across platforms and physical machines. Every poorly-planned hour of on-premise installation eats into daily operations and budgets, so it's crucial to plan ahead and try to implement changes on weekends or arrange IT staff to meet during off-hours.
Installation should be factored into quarterly budget planning to guarantee that even when software misfires or needs sudden updates, businesses don't need to cease operations entirely. Instead, tech issues can be addressed as needed without creating budget problems or wasting internal resources.
The same can be said for decisions made during operation: if a manager decides to upgrade their software package to include new features or expand to new devices, IT expertise should always be available to help without prohibiting productivity.
As enterprises grow, cloud SaaS solutions are easily scaled up or down with little time or effort, minimizing resources wasted. On-premise updates may still be performed by vendor representatives in many cases, but require long-term planning and commitments. Therefore, it's important to consider how much control you want your IT staff to have over the data, and how many types of programs you'll need to customize heavily or scale for growth.
Harnessing the Competitive Landscape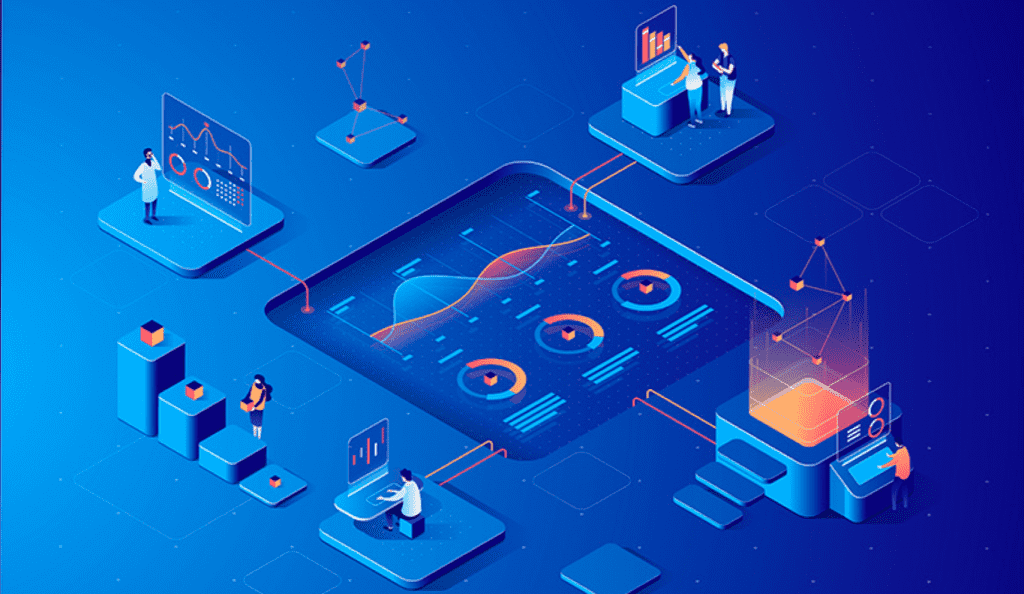 More often than not, the mere act of testing new software products puts leaders at an advantage. Familiarizing oneself with SaaS deployment naturally leads to a wider understanding of what's possible and a willingness to try new software without fear for financial loss. By observing the competitive landscape of software infrastructure preferred by industry and team size, proactive managers can also gather information on the tools favored by competitors and improve on those tactics.
Preliminary testing is helpful when starting out with new industries or unfamiliar tasks. Looking at competitor preferences can provide baseline knowledge and help determine the necessary tools and features to keep up with a competitive edge.
Saas Vs. On-Premise Comes Down to Size, Skill & Storage
Many factors might spur the need for a change in software, from natural business growth over time to overreliance on outdated equipment or full servers. Performing a cost analysis for different on-premise and SaaS vendors can help illustrate a well-rounded picture of the features offered and for how much, determining what kind of software to test and which types of available tools are appropriate for the team structure. Deployment choices might be affected by the size and culture of the organization, but often the budget and regulatory constraints are more heavily valued.
Depending on the importance of the data stored, managers need to consider the nature of their integration requirements and control over customizations, including team security measures to protect from in-house threats. They also need to predict for changes to occur in the scope of the overall modern workforce, factoring in things like remote work, mobile deployment, and preference for budgetary management and planning payments. From startups to large enterprises, managers think about how trust factors into each software type, and who they rely on to manage the system appropriately and keep data safe in the changing digital environment. If your IT department is smaller or less skilled, it might be advantageous to instead trust SaaS vs on-premise support and remove liability altogether.
With the state of growth in SaaS popularity, especially among younger audiences, businesses need to consider the advantages and disadvantages for each deployment model – not just for installation and implementation, but for the potential system lifecycle as a whole. Only by determining your personal preferences and those of your team, gathering a well-rounded picture of your overall industry and individual business needs, and comparing the features of each model will you know what works best.