There's a significant learning curve for businesses that use CRM software. They often come with tons of features and integrations that often go unnoticed, or are simply never taken advantage of because there's already so much information coming in.
However, social media integrations should be prioritized for businesses looking to make the most out of their CRM software. Social media, and the audience it comes with, is full of endless potential for businesses of all shapes and sizes. 
We're going to break down why social media integrations are important, what kinds of integrations to look for if your business hasn't yet transitioned to CRM software, and how to use them effectively for those that do use CRM software. Social CRM is another option businesses can use, but we need to understand what the social side of CRM is first. Let's dive in!
Some Statistics to Acquaint Yourself With
Now that we know how many people are on social media, it would be helpful to learn what we're all actually doing on social media. Many of us believe that all people want to do is check our statuses, tweet, become Instagram models and food bloggers, and pray our snapchats go viral.
Social media has been popular for some time now, and it's only getting bigger. Over a billion people use Facebook worldwide, and according to this chart, the total number of social media users (Facebook, Twitter, Instagram, Snapchat, etc.) will be over 2.5 billion by 2018.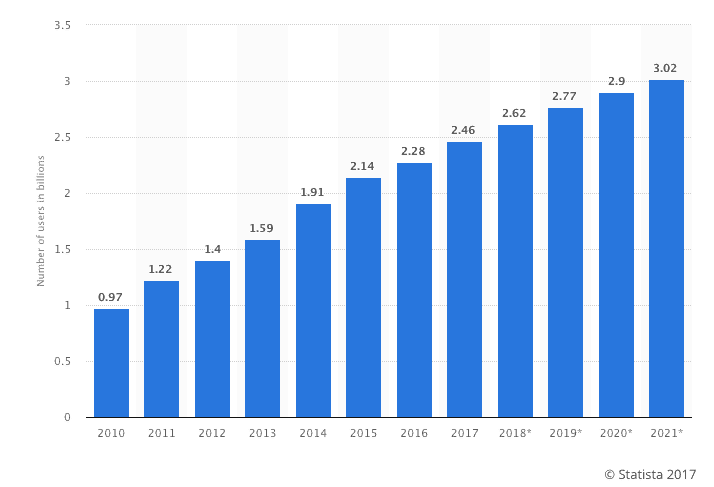 Kind of a big deal, considering many businesses are still moving too slow to tap into this world of seemingly-endless potential customers. There are tons of people on social media ready-and-willing to use social media to buy products and services.
Businesses need to take advantage of this, but what exactly should they look for? If they're already using CRM software, they're gathering tons of customer data that can be very beneficial, but also daunting to manage if left unchecked.
So who actually uses social media to contact businesses?
According to this report by HBR...
17% of people older than 55 prefer social media over the telephone for service

.

People under 35 spend almost four hours per day on social media, and more of that time is being spent engaging with brands

.

McKinsey's analysis shows that 30% of social media users prefer social care to phoning customer service

.

Nearly half of people earning more than $200k per year prefer social media over live interactions for customer service

.
The number of hours younger people spend on social media shouldn't come as a shock to anyone, unless you were expecting it to be more, but the fact that they are engaging with brands is encouraging.
Customers might have high demands, but that's their right.
Lithium
outlines the significance of quick response times quite nicely:
53% who expect a brand to respond to their Tweet demand that response comes in less than an hour, according to the Lithium-commissioned study by Millward Brown Digital

.

That number jumps to 72% when they have complaints

.
We're pointing out the obvious here, but paying attention to your customers pays off. Social media makes it easier to forget or ignore the smaller issues customers might have, but their voice is just as big as those with much bigger problems. Answer inquiries promptly. The cost of bad customer experiences is staggering to say the least.
The Benefits of Timely Responses
That same Lithium study also concluded...
34 percent are likely to buy more from that company

.

43 percent are likely to encourage friends and family to buy their products

.

38 percent are more receptive to their advertisements

.

42 percent are willing to praise or recommend the brand through social media

.
We can't stress it enough, but the key to quality customer support lies in how quickly and how effectively your business addresses problems your customers have.
What Integrations Do You Need?
Twitter: Twitter doesn't have nearly as many users as Facebook, but tons of businesses and journalists use Twitter specifically for news updates, either announcing their own or following the competition's. It's short-and-sweet nature makes it a great tool for businesses to use to connect to their customers directly with quick responses.
23% of millennials follow a brand on Twitter
Instagram: Instagram, like Pinterest, is another social media site based entirely on posting pictures. The visual nature of Instagram is trending, and the platform offers brands a way to advertise their products. Post templates are available for free that allows users to create an image showcasing your business in the best possible light. After the Facebook and Instagram merger, both platforms have grown significantly in size, allowing your business to be even more accessible through Facebook and Instagram messages.
According to Wordstream, In March 2017, over 120 million Instagrammers visited a website, got directions, called, emailed, or direct messaged to learn about a business based on an Instagram ad.
Facebook: With over one billion users subscribed to Facebook, you'd be silly to not take advantage of such a huge market. People of all ages use Facebook. There are no character limits, it's easy to use, and it's simple for businesses to create their own business pages.
39% like or follow brands to receive a special offer, and 12% do so because a friend recommended it.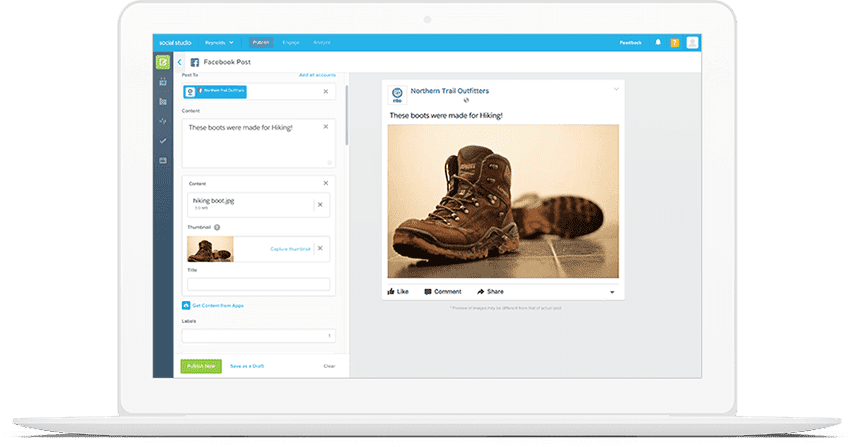 LinkedIn: LinkedIn has a much more professional vibe than Twitter; if you've ever really used Twitter, you know how bizarre its users can be. Your business can count on obtaining quality leads and and useful customer data with a LinkedIn scraper because the platform is catered specifically for businesses and job seekers.
71% of professionals feel that LinkedIn is a credible source for professional content.
Pinterest: Pinterest is a digital scrapbook that continues to gain popularity as the years go by in professional and personal settings. On the surface, it's another avenue to generate customers; however, when used effectively, Pinterest can leave a lasting impression on leads and customers by taking advantage of visual marketing strategies, like using pictures to humanize your business. Schedule pins with the links to your pictures that bring users to your business' website.
Of the survey respondents who have actively used Pinterest in the past 6 months, 96% reported they use Pinterest to research and gather information. Ninety-three percent reported that they use Pinterest to plan for purchases, and another 87% reported Pinterest engagement has helped them decide what to purchase.
Google Plus: Google Plus is like Facebook, but it puts more of an emphasis on SEO and search traffic volume. It integrates with Gmail, YouTube, Maps, and much more to make your marketing strategy more successful. Businesses can create their own business pages and add contacts to circles which helps target and segment your customers.
Even though most Google+ users are inactive, 212 million profiles are alive and active, says Searchenginepeople.
Using Social Media Integrations Effectively
It's not enough to only have a Facebook, Twitter, and LinkedIn account. When these accounts are combined with CRM software, they will all become powerful tools to generate important customer data that will lead to increased sales and customers. Keep these ideas in mind when you start to increase your presence on social media:
1. Listen and Respond to Feedback
Whether the feedback is positive or negative, it's good practice to respond to as many, if not all, of your customers as possible. Doing so will show them that you're committed to their concerns, and will show potential leads that your business prioritizes customer support. If your business uses customer experience surveys, it will make them stronger too.
2. Reward Your Committed Customers
If you start to remember some of your customers by name on social media, that is a very good sign. They're taking time out of their day to come in contact with you, which relieves you of your duty to chase leads. Show your appreciation to your most helpful customers by offering rewards like discounts.
3. Use Keywords and Triggers on Targeted Customers
CRM software comes with features like custom triggers, which are notifications that tell your business when there is a potential lead showing any level of interest in your company. Use these triggers and target your audience to focus your attention quality leads and other important matters pertaining to customer support.
4. Actively Engage with Your Customers
If you see that your customers are reaching out to you, make your presence known. You're not just talking to the person who initially reached out; you're speaking to the rest of the world; you're showing everyone how you interact with your customers. Acknowledge your customers by sharing their posts with the rest of your followers. The more you engage your customers and leads, the more likely your business will acquire useful data that can be used to turn them into repeat customers. Social media can also help eliminate the need for helpdesk software, which simplifies and automates customer support systems.
5. Gather As Much Data As Possible
Take advantage of everything CRM software has to offer! There's so much data your business can gather from social media, like what people like, follow, share, what they post, certain demographics like age, hometown, career -- the list goes on and on. Use CRM software to manage all this data to make targeting and segmenting your customers easier in the future.
Why is This So Important?
Social media integrations matter when purchasing CRM software because they're a unique, personal way for businesses to interact with their customers, generate new leads, and implement quality customer support almost simultaneously. There is a right and wrong way to handle social customer service, and it's necessary to understand the differences. 
After gathering and organizing significant customer data, businesses can use it to target and customers at an individual level.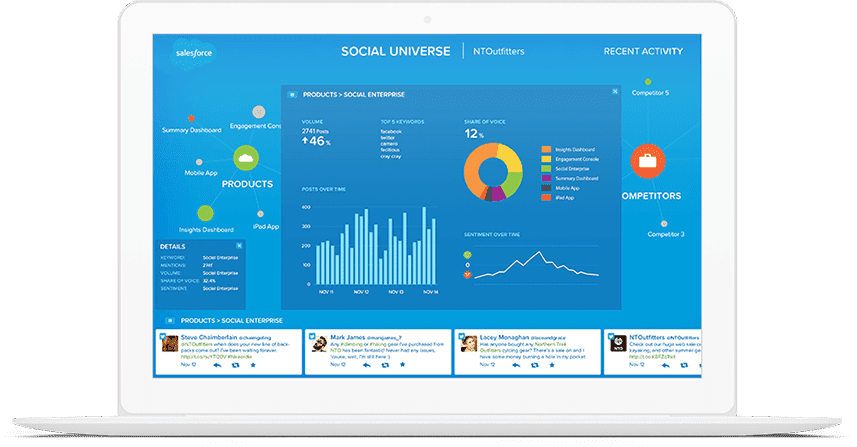 Here's an example: Brian is a huge baseball fan. He wants to go to the World Series this year to fulfill his life-long wish of seeing at least one game in person, but he's worried about the cost of the World Series admission ticket, the cost of a hotel for the weekend -- which will be expensive because people from all over the country are following suit and local hotels are well aware of these things -- and on top of it all, round-trip airfare.  
Now let's pretend you're the manager of the hotel, and you want someone to book a room. You can set triggers on social media for keywords relating to baseball. Brian just happens to be a huge craft beer fan, and has already looked up local bars to watch the rest of the games at.
If the name of that bar is a keyword that triggers a notification, your CRM software could automatically send Brian an email explaining happy hour deals, an extensive beer list, and perhaps discounts for those staying at your hotel, it won't guarantee Brian books the room for the weekend, but it could tip the odds in your favor.
Brian could live on the opposite side of the country and you could go your whole life never knowing if he's a customer or not, but one trigger that came from a Facebook post about the bar could change that. When done on a much larger scale, it won't matter if Brian books the room or not because there will be thousands of other opportunities.
The Final Word
It's clear that social media is going nowhere; in fact, it's only getting bigger, and it's going to become an integral part of our lives as business owners and customers.  
When integrated with CRM software, social media will improve your business' ability to generate leads, manage customer data, maintain positive relationships with repeat customers, and turn your customers into a community. In fact, social media integrations are one of our top 10 features every modern marketing CRM must have because this can be automated. 
However, social media integrations matter when purchasing CRM software because social media allows your business to go beyond the typical professional relationship by connecting with customers on a more personal level, ensuring better services and customer experiences.