If you're new to the world of CRM software, you probably understand how daunting it is to get a firm grasp of what direction the powerful business software is going in. Even if you're an experienced business owner who's familiar with CRM software, or an expert who follows all the latest trends, it's hard to sum up what's happening and what should be paid attention too.
After going through countless reports, blogs, business software websites, provider pages, and our own blog, we've compiled our own report determining the state of CRM software in 2018. We hope to show you helpful numbers regarding market growth and adoption rates, current market leaders, challenges businesses are facing, and CRM trends.
CRM Adoption Rates
CRM software is notorious for being too difficult to use, while not always offering enough features to make the start-up trouble worth while. The overall number of businesses looking to adopt CRM software is increasing significantly, but there are still many more holdouts than we'd expect. You can see that in the chart below: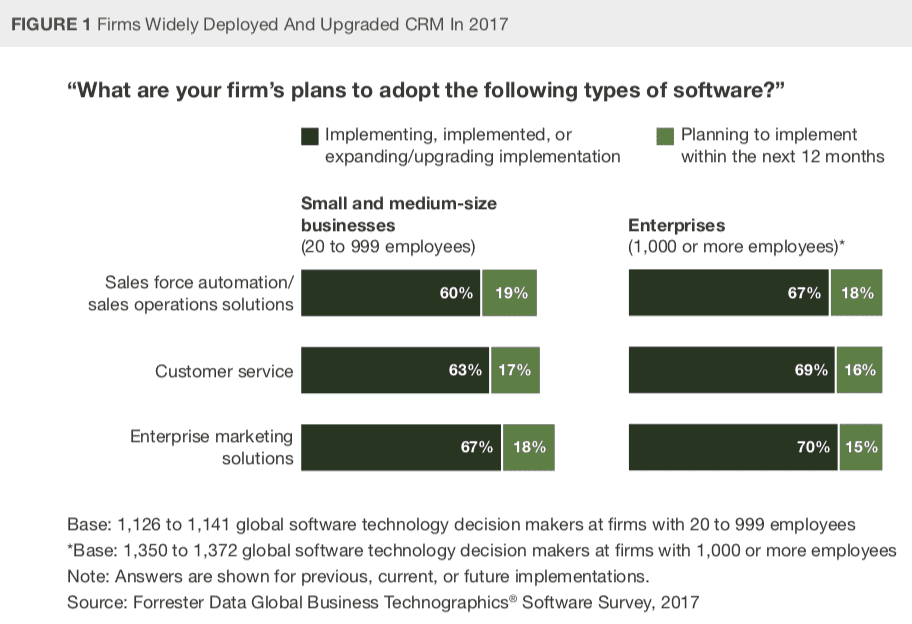 The numbers appear to be the same regardless of the size of the business, which goes to show that CRM software has a place everywhere. With more businesses looking to implement CRM software into their future business plans, it can be argued that CRM software is an essential for businesses of all sizes if they want to remain competitive in today's trust economy.
Businesses are also shifting towards Cloud-based CRM software at a much more rapid pace. According to
a Software Advice study
, 88% of CRMs were on-premise systems in 2008. Today, 87% of CRM systems are now powered by the Cloud. This shift is significant because businesses who didn't have the money to set up a proper on-premise system are no longer held back from the lack of funding.
There are seven major fields CRM software works with: Finance and insurance; pharma and biotech; nonprofits; healthcare; high-tech manufacturing; PR, media, and entertainment; and retail and wholesale. Each field requires features including omnichannel capabilities, customer support, team collaboration, partner management, project timelines.
With Cloud-based CRM software being more readily available and desired by businesses today, these features can all be included without businesses having to worry about managing them on their own on-premise system.
How the Market's Growing
With CRM adoption rates continuing to increase, and with providers prioritizing cloud-based services over on-premise to encourage more businesses of all sizes to adopt CRM software, it goes without saying that the market is steadily increasing as well.
Here, we're going to let the numbers speak for themselves in terms of how the market is actually growing.
"CRM market potential is projected to be $82B by 2025 and growing at 12% annually" (
Seeking Alpha
).
This number alone is impressive and very attainable considering Salesforce recently announced they're looking to achieve $60 billion in revenue by the year 2034. Seeking Alpha goes on to say, "If the current 12% annual growth rate for the entire CRM market continued until 2034, the CRM market potential would be $228 billion."
IDC also released
their own report
(Sponsored by Salesforce) on how AI will impact the CRM market. To sum the numbers up: AI will play a significant role in the CRM market by increasing jobs and revenue.
"IDC calculates that AI associated with CRM activities will boost global business revenue from the beginning of 2017 to the end of 2021 by $1.1 trillion."

"Net-new jobs associated with this revenue could, if respondent opinions bear out, reach more than 800,000 by 2021 in direct jobs, and 2 million if you add in indirect and induced jobs. This is a net-positive figure in that it includes an estimate of jobs lost to automation from AI."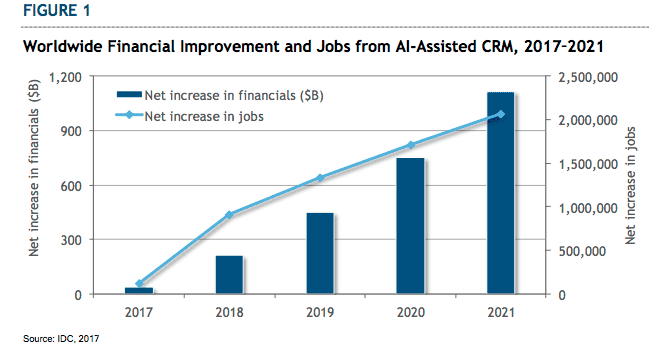 Ultimately, with AI on the cusp of completely changing the way CRM functions, businesses are already looking to jump on the bandwagon, pushing the market to invest in machine learning technologies for deeper customer insights that improve customer experience.
This push allows Salesforce to make their bold revenue goals for the future. Salesforce is like the Walmart of the CRM world, except even more of a leader. Whatever they do, whatever technologies they invest in, other providers will follow suit to stay relevant.
CRM Leaders in 2018
CRM software is an extremely broad subject that keeps getting broader the more businesses realize they can use the software to their advantage.
Automations and customer experience are two major trends that are pushing the industry forward. Gartner breaks down providers in two categories: Sales Force Automations (SFAs) and Customer Engagement.
Sales Force Automations

are simply sales automation applications businesses employ to help manage contacts, orders, opportunities, sales forecasts, leads, and dashboards. These automations are becoming more powerful through the use of AI, so SFA leaders will either be implementing AI already or are preparing to within the next few years.

Customer Engagement

ensures the customer is being prioritized throughout the entire sales process and afterward as well. This can range from ensuring features and applications are easy to use and navigate, providing customers with knowledge bases either on their website or on social media, or sending automated follow-up emails.
To form a better understanding of how the market currently stands, we'll take a closer look at two Magic Quadrant reports from Gartner. These market breakdowns offer deep insight into the current SFA and Customer Engagement leaders in 2017, and exactly why they were ahead of the pack. This helps us gain a strong indication of who and what is performing well, and what the market currently looks like.
SFA Leaders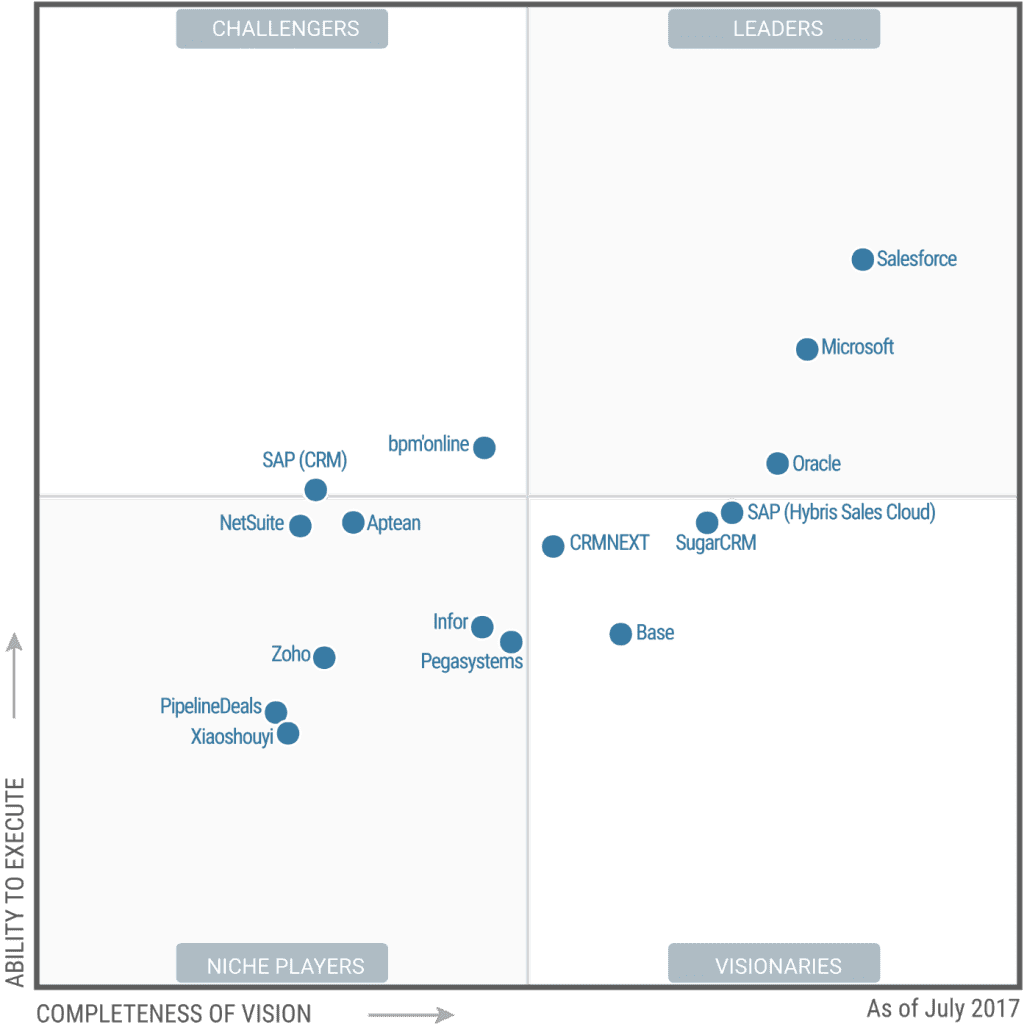 Salesforce was considered an SFA leader because of its Sales Cloud functionality and improvements on that functionality. In 2016, Salesforce launched its AI-powered, predictive analytics software Einstein. AI, as you'll see later on, is playing a major role in the CRM world, so Salesforce being ahead of the game positions them as a leader.
Microsoft was also a leader because of its deep understanding of the market. Microsoft offers its users advanced customization options, which helps to personalize every individual's experience. This in turn promotes a positive customer experience because agents can now use tools catered specifically to their needs.
Oracle was the third leader in SFA because "Oracle has the deepest set of native core and near-core SFA capabilities of the leading SFA vendors in this Magic Quadrant." Customers also say that the functionality of Oracle's mobile and predictive analytics software is very high, which is significant because user experience is just as important as customer experience.
Customer Engagement Leaders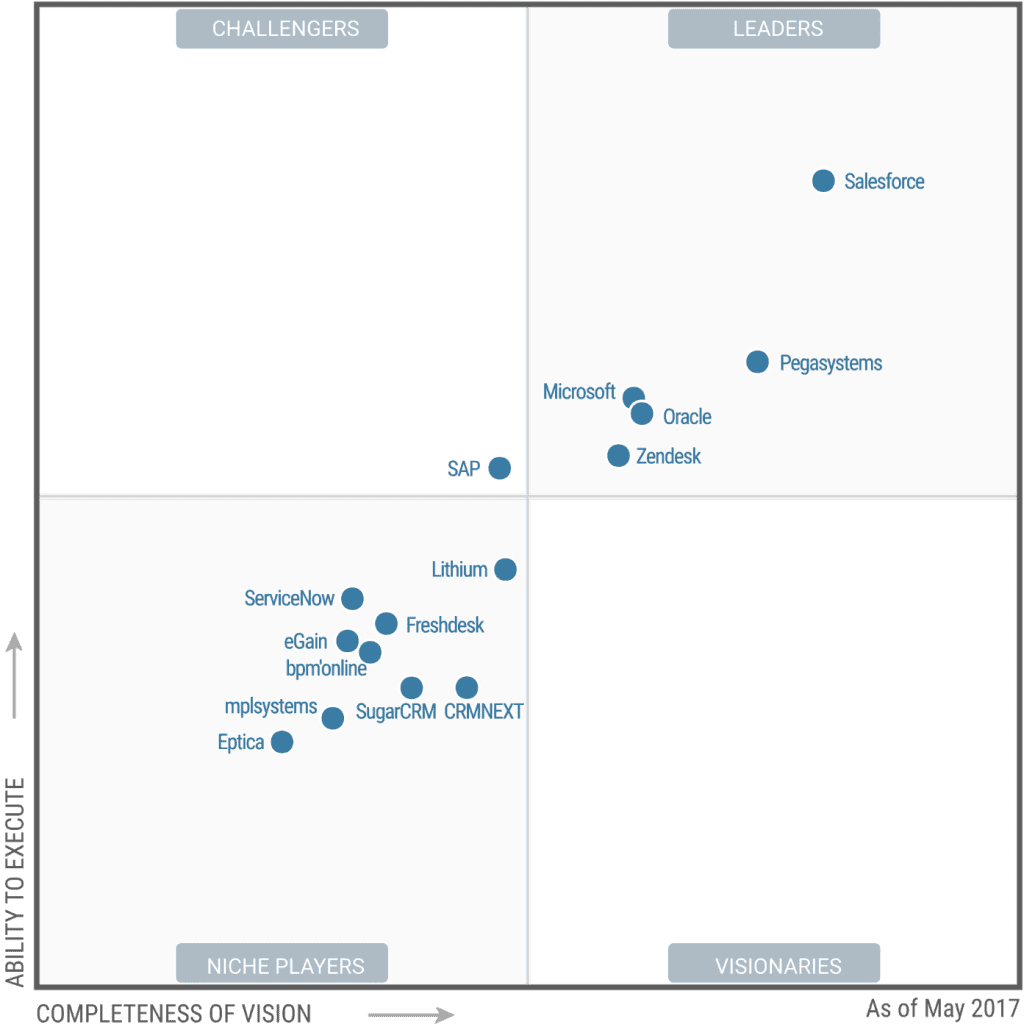 Salesforce, again, was the top dog in customer engagement. Gartner considered them a leader in 2017 because Salesforce offers multiple Cloud solutions, like the Sales Cloud, Marketing Cloud, and App Cloud to users. They also have a strong base that doesn't just see them as a CRM provider but as an advisor on key software innovations.
Pegasystems was another leader because of its scalable services for businesses of all sizes in varying industries like banking and healthcare. They also offer cloud-based, on-premise, mobile, and web services to make sure each user receives an experience that will cater to their specific needs.
Microsoft was considered a leader because its customer service software is now used as an independent module within their CRM software. They also offer on-premise and cloud-based services, but Microsoft has the advantage of being more widely known -- over 1 billion people use Microsoft. They also added Unified Service Desk to their software, which brings with third-party providers of telephony, chat, and video services.
Oracle also has a large base, but what stands out to Gartner is the fact that they're implementing AI into their customer engagement strategy. Oracle is also one of the most scalable solutions in the industry, which makes them a serious Microsoft/Salesforce competitor. It is also easy to set up and doesn't require an IT team.
Zendesk is the only provider who focused primarily on small businesses, but their customer support solutions can also be implemented by businesses with over 100 employees. They take advantage of an intuitive interface, user-friendly integrations, AI, and an SaaS structure making it applicable overseas as well.
The Takeaway
These two major trends absolutely go hand in hand, as one of the best ways to improve customer engagement is by implementing automations. These automation allow agents to spend less time on mundane tasks, and more time assisting callers. These trends are so critical that we have already begun to see industry leaders like Salesforce offer AI-backed features like Einstein, which helps improve customer experience by handling these routine tasks for agents.
In the future, we will only continue to see these trends become the standard, with automations working their way into the foundation of every CRM platform, and Customer Engagement becoming a high priority for every business, not just the largest players.
And CRM absolutely isn't going away any time soon. According to Gartner's "Magic Quadrant for CRM and Customer Experience Implementation Services, Worldwide":
"By 2020, the CRM application software market will overtake the data management market, thus becoming the largest of all software markets. For many service providers, this means that the CX and CRM portion of their digital practices is already the largest practice and will continue to outpace others."
Again, this shows that focusing on the customer experience is not just a trend, but an entirely new way of doing business. Prioritizing the customer will always be the goal, and new trends and features like machine learning software will all be catered to ensuring the customer has the best, personalized experience every single time. We expect these providers to continue to lead the way into 2018.
CRM Challenges for Businesses and Providers
CRM software is entering a new age in 2018 in terms of powerful features providers can offer users, but just because you can lead a horse to water doesn't mean you can make it drink. Many businesses are still reluctant to adopt CRM software for many reasons.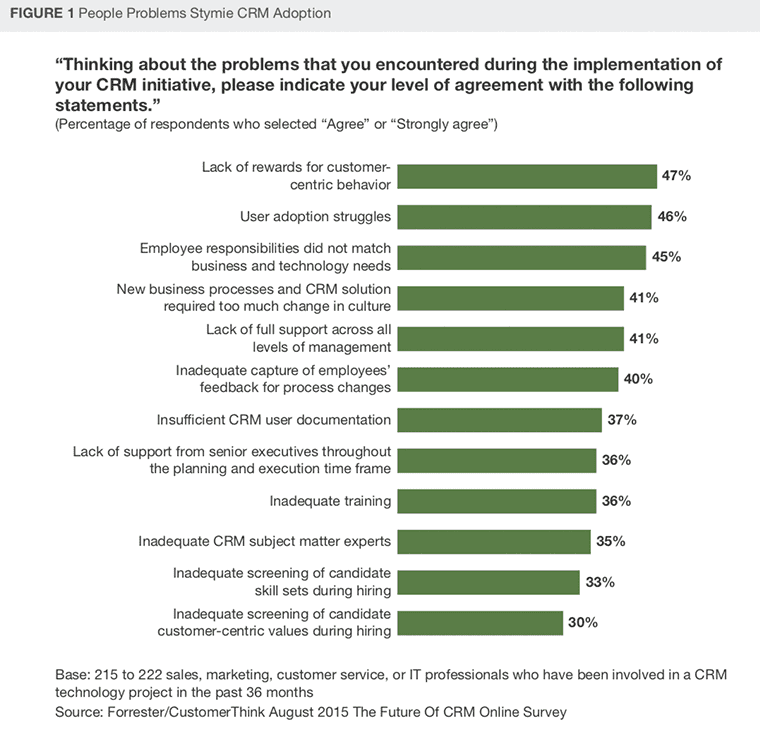 Here, you can see what causes businesses problems when they first adopt CRM software. Even the lowest percentages are still a significant number of businesses who have some problem implementing CRM software.
"The organization failed to reward exemplary customer service," being the number one issue in this chart is also telling. Gamification has been a business trend for a while now and CRM providers are still slow to offer features that would reward CRM users.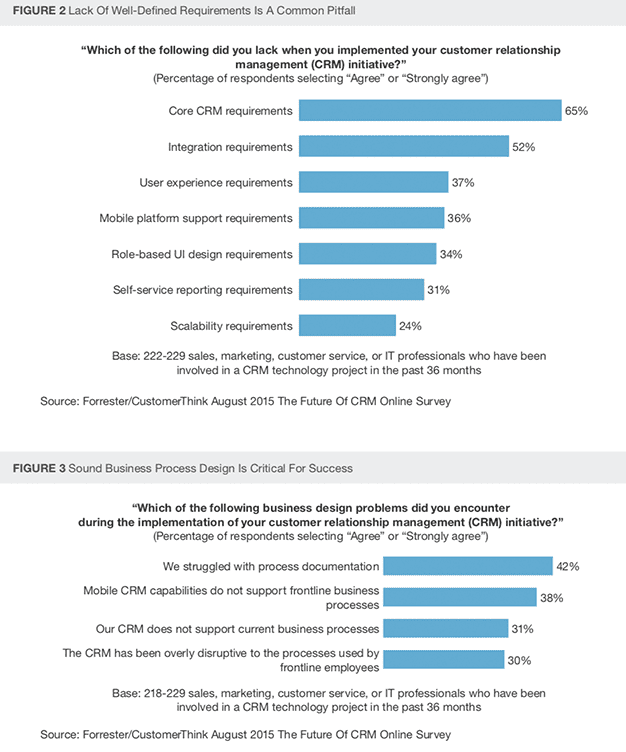 These two charts show that CRM users are still struggling to figure out the most basic features, or aren't being offered enough features to help improve customer and user experience. These are major issues that need to be addressed if CRM software is going to be the new norm for businesses of all sizes.
The first chart in particular is alarming because many CRM software providers -- especially those that are catered to SMBs -- offer large integration bundles, mobility features, social media tracking, self-service features, and easy-to-use design tools.
What these numbers tells us is this: CRM software providers aren't doing enough to either showcase the features they offer on their website or providers are limiting the number of features they provide in order to keep their prices low.
The numbers in the bottom chart suggest that those CRM providers who do include those features on paper are not making them user-friendly, which will inevitably keep CRM adoption rates low if they're not addressed sooner.
CRM Software and AI
AI is by far the most significant trend of 2018, and goes hand-in-hand with both the automation and customer experience trends we have mentioned already. CRM software providers are looking to implement AI into their software to improve a number of key features that will ultimately make CRM software an extremely powerful tool that businesses will be lining up to use.
The features AI significantly improves are as follows: Automations, sales forecasts, customer service, customer journeys, and virtual assistants. Let's quickly look at how each feature benefits from AI.
1. Automations
With AI, CRM software can implement more powerful automations that continue to take time-consuming tasks out of the business' hands in order to prioritize the much more important tasks throughout the day.
According to "Five Key Trends for 2018 That Shape How Companies Drive Relationship and Revenue":
"In 2018, CRM users will use AI to improve efficiencies and deliver better experiences. Marketers will monitor customer journeys and proactively engage at points of opportunity. Sales will identify high-quality leads, mine the most useful relationships within firms, and pinpoint the right contacts and sales collateral for buyers. AI will also help sales with product bundling and discounting to maximize revenue per contract. Customer service teams will use agents' next-best actions or better route customers, classify cases, and optimize schedules."
Automations across all departments in businesses will benefit from AI enhancements that CRM will start offering to its users. The fact that all kinds of teams can use CRM software suggests that AI will be the new norm when it comes to CRM software.
2. Sales Forecasts
AI helps analyze all the data your CRM software collects that would take years and an entire team to sort through in order to come up with accurate forecasts in very short notice -- in some cases, almost instantly.
The importance of sales forecasts is incredibly high. If you're projecting high revenues, and you decide to make heavy investments to ensure those numbers are guaranteed, but the forecast is actually wrong because there wasn't enough data gathered, your business could lose a significant amount of money.
AI not only ensures you have accurate numbers, but also keeps this collection of data out of your hands, which allows you to prioritize your important customers' needs. Doing this will build a solid foundation of dependable customers that will help generate more revenue long term, which, ultimately, is the goal.
3. Customer Service
Customer service is a significant part of a business because they're the team that will be working directly with customers the most. It's inevitable that mistakes will be made along the way; however, the larger your business gets, the more likely it will be for you to mismanage helpdesk tickets.
AI will come into play by handling these things automatically. The same automations that will help benefit sales and marketing teams will also be used to improve the customer experience from a support perspective. AI will help manage multiple tickets simultaneously while responding to customer inquiries that could be resolved quickly and easily through self-service options. We'll get into those more later.
AI will also handle reporting which will help show your business how exactly customers are being helped, which methods worked best, resolution time, how many customers are being left to their own devices, and which ones require the attention of an agent.
4. Customer Journeys
Because AI can track patterns in spending and previous interactions with businesses that would be easily missed by people, AI will help determine what agents should do with their clients in terms of how to go about the sales process, and what they can do afterwards.
AI can help build in-depth customer reports that take a lot of information from social media, which might not be gathered by CRM software. For example, if a customer is looking for a hotel room, and social media suggests the customer is a partier, an agent could offer them a hotel in the area that is within walking distance to the bars so they don't have to worry about drinking and driving or even ordering a cab.
Without AI, this can still be done, but do agents have the time to do this? With AI, it's done automatically based on data gathered by CRM software and could suggest the room instantly without taking an agent away from their more important work.
5. Chatbots and Virtual Assistants
Chatbots and virtual assistants require customer data in order to handle simple solutions, but the technologies aren't living up to their fullest potential. However, AI, and its powerful data collection and interpretation software, will help to drastically improve chatbots and virtual assistants to the point where customers will actually consider using them instead of closing them out almost immediately upon visiting a website.
AI will help chatbots and virtual assistants in more technical ways by providing answers to more complex questions that would normally require some sort of manual data entry. For example, some chatbots require an agent to be on call in case there's not enough information to provide a customer with an adequate answer.
Virtual assistants are good for simple tasks, like asking for the weather, but having a virtual assistant schedule meetings and make phone calls for you while your in a meeting will soon be a norm.
Overall…
AI is still in the beginning stages of taking over the CRM software world, but companies are already planning on implementing AI into their operating strategies while some CRM providers are looking to incorporate AI into their solutions in the near future to meet this demand.
AI-backed CRM software will also do wonders for the world economy, despite the significant number of job losses that will inevitably occur in the process. This chart suggests that there will still be a net gain in terms of jobs gained thanks to AI, along with about a million other benefits over the course of five years: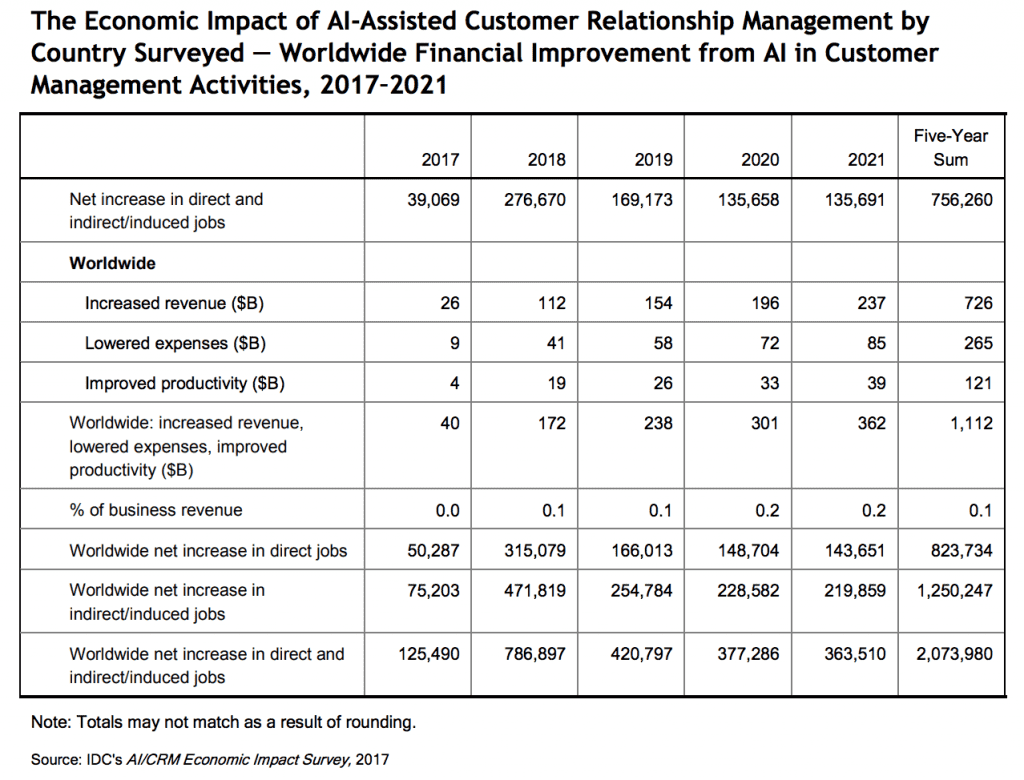 All across the board, AI will benefit businesses worldwide. The fact that in five years there will be a worldwide net increase in direct and indirect/induced jobs of a little over 2 million indicates, if the numbers actually transfer over to the real world, that the end of the world will not happen because of the relationship between AI and CRM software. If anything, shift your fears towards the robot-building company Boston Dynamics; those are the guys we should be worried about.
Key CRM Trends in 2018
There are still some issues with CRM software that need to be worked out before it becomes a business norm. Thankfully, the direction CRM software is heading in implies that providers are looking to improve user experience, which will naturally improve the customer experience. They're doing this through a number of ways that we'll address now.
1. Omnichannel Solutions
Omnichannel marketing and customer support is a significant trend in 2018 because customers naturally gain a better experience by incorporating the way they like to do business with other channels.
Having a multichannel solution is an imperative in today's business world. Aside from AI, customer experience is the biggest trend in the CRM world because offering a good customer experience typically translates to a dedicated base and repeat customers spreading positive messages through social media.
Here's a chart that breaks down what businesses plan on using omnichannel solutions for going into 2018: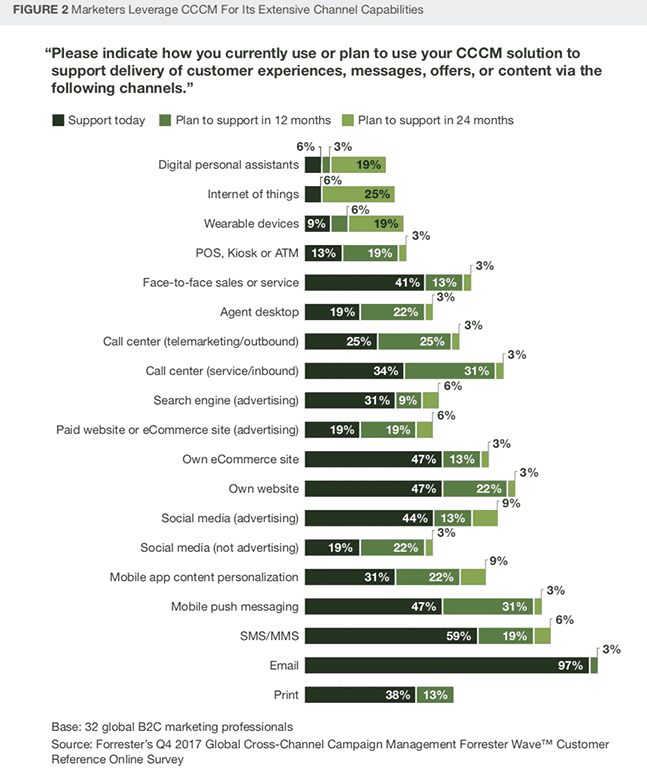 What CRM software should be doing in response to these numbers is to provide clearly to businesses that their CRM software offers these solutions -- if, of course, they actually offer these kinds of solutions.
The problem may CRM providers have is that they're not very good at relaying what they actually offer to the public. It's hard to find these numbers outside of reports that cost tens of thousands of dollars. By focusing on these channels, providers can help businesses offer their customers a better customer experience by emphasizing an omnichannel experience.
2. Self-service
Customers will always think they know more than the business who hires professionals in their field to handle problems that inevitably arise. It's just the nature of the beast. What's changing in 2018, however, is that businesses are running with that idea to turn self-service into a powerful customer support channel for those that don't have time or interest in talking to the professionals.
Businesses now can offer customers AI-backed chatbots that are much smarter than the chatbots we're all accustomed to -- the ones with the terrible, generic responses that are often inaccurate and unhelpful. They can offer more personalized responses to customers based on previous history with the company that will cater to their specific needs.
Businesses also help customers handle their own issues through social media, where customers can get together and form tight-knit communities centered around helping each other that would, of course, be moderated by the business' support agents. This new approach is becoming much more mainstream, which we'll get into now.
3. Social CRM
Social CRM software works similarly to regular CRM software, except there is more of an emphasis in gathering customer data through social media -- as the name suggests. Social CRM will help boost marketing, customer support, and sales campaigns in a variety of ways.
Social media is an omnichannel experience in and of itself, meaning that social media can allow potential customers to interact with a business in a variety of ways at the same time. A great example would be a company creating a post on Facebook, Instagram, and Twitter, all of which have links to the website, a phone number and email in the bios, and comments open to the public. That alone gives customers seven ways of reaching out.
Social CRM's focus on social media also gives CRM software a different channel of data that in many ways can be more accurate, given the personal nature of social media and how willing people are to share their feelings to everyone who follows them. We expect to see CRM providers implementing key social CRM features in 2018 to further develop customer profiles.
The Final Word
Overall, 2018 will be seen as the start of something new for CRM software. The market is continuing to rise along with the implementation of AI, which will make CRM software a much smarter solution for businesses interested in improving customer experience, generating sales, and acquiring better forecasts for better business plans.
There are still some challenges CRM software providers are faced with, like providing users with a better user experience. Many businesses still find it difficult to get their employees to switch to CRM software. Some of them believe the software just adds to the list of tasks that employees are already dealing with.
Some of the challenges are out of the provider's hands, though. Many businesses claim that not everyone is jumping on the CRM software bandwagon, meaning there are some who have to use it and some who feel like they don't. Businesses need to do more to commit to the software, which can be done through gamification or dedicated training.
However, with AI being the biggest business trend of 2018, CRM providers are expecting businesses to implement CRM software at a much higher rate due to the ease of use it would offer sales, marketing, and support teams. AI will improve user and customer experience significantly, which will encourage agents in every department to adopt CRM software more readily.
The other big trend that's continuing to play a significant role in the world of CRM software is customer experience. The other trends, like omnichannel experience, automations, and self-service options all provide customers and businesses the tools they need to ensure the customer is always being prioritized, either through personalized interactions or more simplified user experiences.
We can confidently tell you that CRM software will be a norm in the business world from this point on -- regardless of how big or small your business is. Not everyone has switched over from spreadsheets and other outdated software to CRM yet, but the numbers suggest that majority of the holdouts are simply just finding ways to implement the software into their business plan.