Right now, there are a total 6829 marketing technology solutions available.
There is definitely no shortage of tools in the digital marketing space as it is expected to grow at about 16% per year during the period 2017-2021. This growth is largely caused by new tools and technologies that are continually introduced. The last thing you need is to make an easily-avoidable marketing mistake because you don't have the right tools.
Why should you care about lesser-known tools?
Chances are, you already have a tool for most of your digital marketing.
When you selected these tools, it probably was tempting to go for the mainstream product and you might have ended up with MailChimp, Buffer, Hubspot, and the likes.
Don't get me wrong, there's nothing wrong with these well-known tools… But for every one of these mainstream products, there are 10's if not 100's smaller, lesser-known tools worth checking.
Lesser-known tools typically have one or more of the following advantages over mainstream tools:
More intimate customer support

More willingness to collaborate on specific requirements and find an appropriate solution

Better value for money
On the other side, some lesser-known tools could be less reputable too. To check its reputation, these are the things we do before buying a tool:
Check off-site reviews on sites such as

Capterra

,

G2Crowd

or

GetApp

.

Check Domain Authority and Spam Score, via

Moz Open Site Explorer

.

Contact their support: this gives you a feeling of responsiveness and quality of support.
Since a digital marketer's job covers a wide range of tasks and topics, we've tried to come up with a list of tools that cover each and every one of them (You can also look at our list of the 25 best Slackbots to improve your marketing for even more tools). These range from Lead Generation and Conversion Rate Optimization (CRO) to social and email marketing or even the more technical Search Engine Optimization (SEO).
JetOctopus is a powerful crawler and SEO tool that will make your website technically flawless without hiring a technical SEO expert. Let it crawl your website (at a fast speed of over 200 pages per second), and it will provide you with a list of issues that need your immediate attention. The comprehensive tool offers information on titles, meta descriptions, indexed pages, redirects, and more.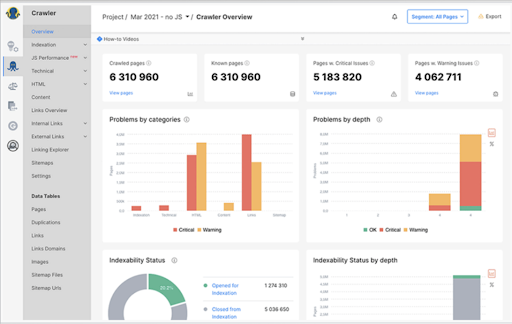 Everything that would take a dedicated expert or an expensive SEO package is now included in one intuitive dashboard. The tool has a user-friendly UI and the report shared is problem-oriented. Once the crawl is complete, you'll get a list of the items that need to be fixed.If you're looking for an excellent addition to your existing SEO toolstack or an effective platform to keep your technical SEO (and off-page activities such as guest posts) in check, JetOctopus is worth checking out.
2.
OptiMonk (Retargeting/Lead Generation)
OptiMonk is a powerful onsite retargeting tool, which claims to recover up to 15% of abandoning website visitors. Recovering a visitor could be turning them into a subscriber or even a sale.
With Optimonk you can promote special offers or gather email addresses, Facebook Messenger subscribers or even customer feedback, but it also enables to reduce your cart abandonment rate, increase your cart value and facilitate social sharing.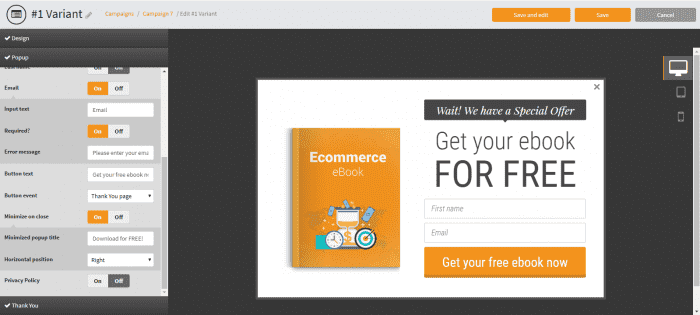 What makes them unique is their approach to onsite retargeting. They empower users to build custom messages based on the prospect's behavior to retarget with the most relevant offers as possible.
They focus on the power of personalization to have the best possible chance to convert a prospect into a customer. In comparison to other services, you can get more than a simple popup to show. OptiMonk keeps in mind that none of the visitors will behave in an equal way on a website.
Therefore, they offer targeting options which allow personalizing the message instead of broadcasting the same to the entire audience. In this way, you can hit the right audience at the right time with the most relevant message and as a result, increase conversions.
By targeting small- and medium-sized e-commerce businesses, they offer a cost-effective solution which involves individual, e-commerce related functions, such as cart content monitor or source based targeting. To make it work quick and easy, they have special OptiMonk plugins for the most popular e-commerce platforms.
3. Triggerbee (Retargeting/Lead Generation)
An alternative to Optimonk, is Triggerbee.
Triggerbee is a marketing and sales automation platform that makes it easy for small businesses to make better decisions based on data. You'll be able to see who's visiting your website and engage visitors, prospects, and customers in real-time based on their demographics and interests.
Thanks to the data you collect about your visitors, you can use Trigerbee's Widgets to seamlessly continue an email conversation with a prospect on your website, or show offers to visitors with a specific behavior.
If you integrate Pipedrive and Mailchimp, your contact records will automatically be updated on-the-fly and you'll make sure you provide actionable information about your prospects your team can use to prepare ultra-specific sales calls and marketing campaigns.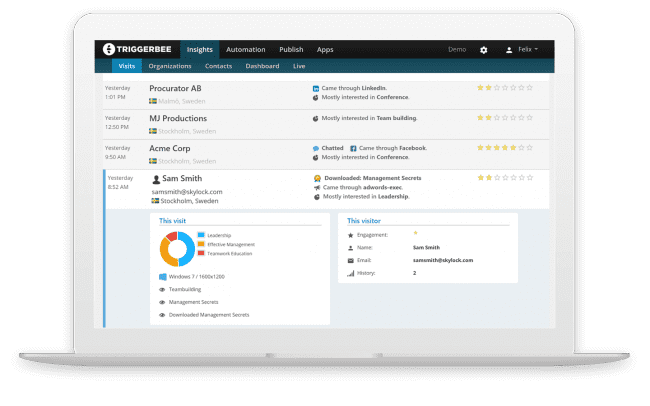 4. Funnel (Marketing Analytics)
Funnel is a marketing analytics tool that collects data from all advertising platforms and allows marketers to send and visualize this data anywhere. The first tool of its kind, Funnel enables marketers to gain real-time, intelligent analysis across their entire marketing spend.
Currently, in order to gather data from all marketing sources, most markers must manually download CSV files from different data sources and manually map this data in spreadsheets.
For example, when a business uses 10 marketing platforms, has 5 different markets, all of a sudden they have 50 CSV files they need to fetch and map with sales data just to get an idea of how the historical performance has been.
Not ideal, is it?
Still, most companies are doing this because they don't know that there is a better way. Funnel replaces this process with software that is always up to date, more detailed and less prone to error.
What makes Funnel so strong is the ability to get data from over 300 sources.
5. CanIRank (SEO Marketing)
How many times have you looked at data and wondered, how do we take this to the next level?
Plenty of SEO tools provide data on rankings, links, or keywords. CanIRank takes it a step further by recommending specific actionable opportunities you can take to rank better.
Depending on your website's needs, the suggestions might include opportunities to earn links, new content ideas to write about, or on-page optimizations to improve your existing rankings.
For every opportunity, you can choose to get instructions for completing it yourself or delegate to CanIRank's team of marketing professionals throughout the US and Europe.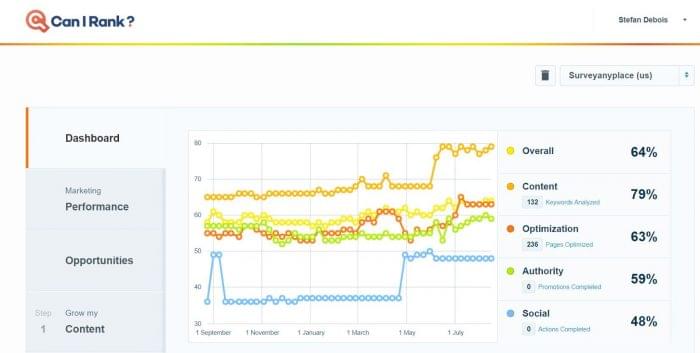 6. Social Status (Social Media Analytics)
Social Status
 is a specialized social media analytics and reporting tool which provides in-depth analytics for Facebook, Instagram, Instagram Stories, LinkedIn, Twitter and YouTube. You can track all your pages and ad accounts in one place and generate beautiful reports for clients in PDF, PowerPoint or Google Slides. Data can also be exported to CSV. Agencies can customize Social Status reports for individual clients and
white-label the reports
making it perfect for automating all
social media reporting
.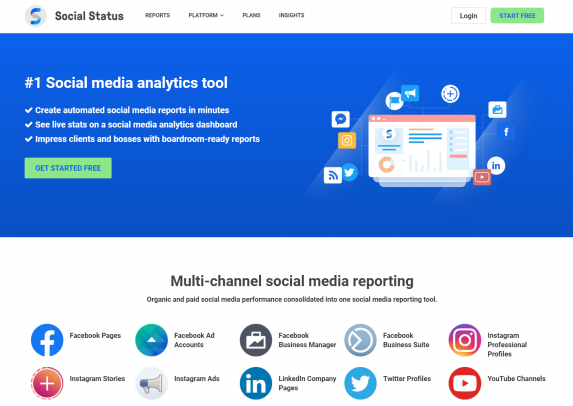 Other functionalities include:
Compare and benchmark your profiles against any competitors
Track and report on your influencer marketing campaigns
Track and report on your paid social campaigns
7. Quintly (Social Media Marketing)
Quintly is a web-based social media analytics platform that helps users track and benchmark their performance against competitors'. In this way, users can steadily optimize their social media strategy. Using social media is also a great way for businesses to start implementing an omnichannel marketing strategy, which will be a significant trend going foward.
In order to optimize your social media performance, you should not only look at your own page's performance, but also at how your competitors do on the social web. Taking a look at best-practice examples can be extremely valuable. With Quintly this competitive social media benchmarking information comes to you without any work on your part.
Just add the pages or profiles you would like to track and compare, and they do the rest.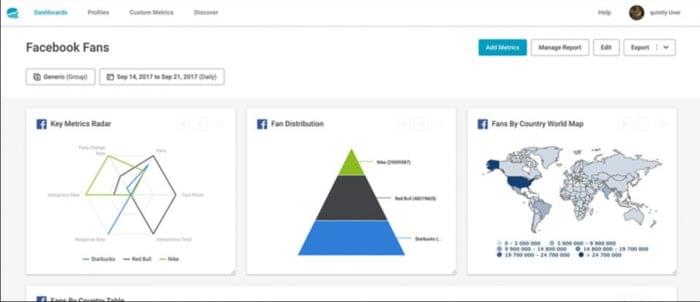 8. Juicer.io (Social Media Marketing)
Adding social media feeds to your website used to mean a bunch of ugly iFrames that don't match your website style and break mobile responsiveness.
But with Juicer.io you can add a single aggregated feed of all your social media posts (or only specific hashtags), perfectly integrated and styled to match your website.
Juicer.io is notably less expensive than it's competition, for example, better-known competitor Tint charges $600/month to do what Juicer does. Juicer is free for up to 2 social media accounts and its most expensive package sits at 99$/month for 15 accounts.
9. SE Ranking (SEO Marketing)
SE Ranking is a cloud-based platform for SEO and online marketing professionals that provides a complete set of tools for site audits, competitor analysis, website ranking, keyword suggestion and grouping, backlink monitoring, automated professional reporting, and much more.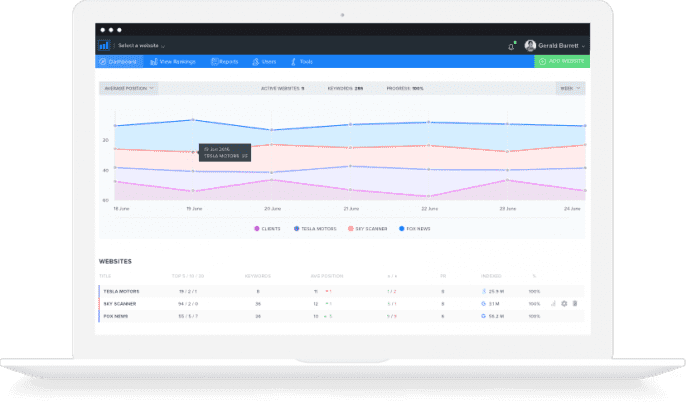 As a smaller company, they try to respond to all the feedback and suggestions as well as to stay ahead of their main competitors: Moz (SEO Moz Rank Checker), Agency Analytics, Raven Tools, Searchmetrics, Webceo, and other rank tracking software.
They offer 100% up-to-date and highly demanded functionality so that they can offer the most useful features for analytics, marketing, and SEO strategy improvements.
10. Cordial (Email Marketing)
Cordial is a next-generation email marketing software and messaging platform built on real-time data.
They help you, digital marketers, leverage data to create timely, personalized experiences for customers across different channels.
Instead of relying on multiple technologies and messaging providers, Cordial enables brands to simplify their processes by consolidating promotional, triggered, transactional, and lifecycle messaging to create unified brand experiences that make the customer the center of every interaction.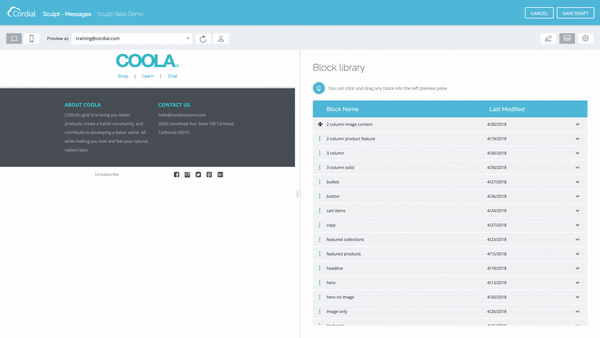 11. Iconosquare (Social Media Marketing)
Iconosquare is an all-one-one Facebook and Instagram analytics platform, which gives you insights into your social media metrics. It schedules and automatically posts content and allows you to manage your social community from one place.
If your brand has an important community on Instagram, Facebook or both, Iconosquare will increase your return from these platforms and save time with the following functionalities:
In-depth analytics: audience growth, reach, engagement

Planning your feed, including carousels and even stories

Tracking competitor's activity and benchmark it against your own performance as well as moderating comments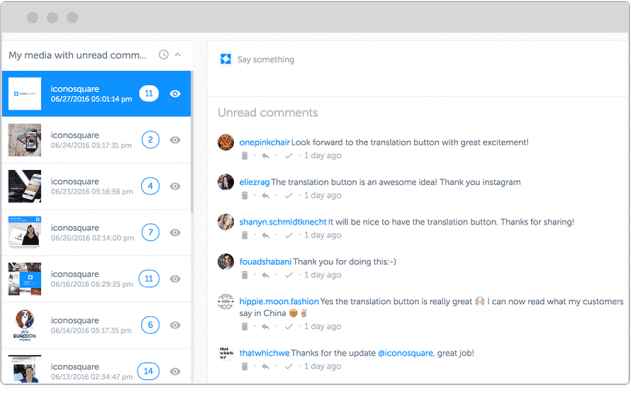 Iconosquare also has a cool free tool called Instant Instagram Audit, allowing you to have your Instagram account checked and receive personalized recommendations to improve it.
12. Social Animal (Content Marketing)
When it comes to content research, the more information you have, the better.
With sophisticated data analysis techniques, Social Animal gives you deep insights into how a given keyword has historically performed. Because they track millions of keywords, you get practically useful information like when might be a good time to publish, which title and article lengths have maximum impact, among other things.
They allow you to compare articles. Just because two articles got shared a lot doesn't mean that they have a lot in common – other than the main keyword that is. Compare two articles and see what common and unique keywords they feature. See what other topics they cover in combination with the main keyword.
Headlines are super important, but since content is king, what it is made up of matters a lot, too. Everywhere in Social Animal, you can see how the whole system attaches a lot of importance to keywords that articles are made up of. Clicking on a keyword will start a search for articles that feature it.
13. Loomly (Social Media Marketing)
Loomly is a social media calendar tool that is simple, user-friendly and powerful. It helps micro-influencers and social media managers manage content on their social media platforms.
Unlike most solutions on the market, that focus on helping their users schedule pre-existing content to their social accounts, Loomly actually assists our customers along the entire content publishing process and create posts from scratch with post ideas, an asset library, optimization tips, mockups, approval workflows, automated scheduling features, and advanced analytics.
Loomly has a plan for everyone -- from entrepreneurs and influencers to startups, SMBs, non-profits, freelancers, agencies, or even larger enterprise teams.
In terms of pricing, Loomly tends to be a bit more affordable than the competition. In particular, when you need to add more than one team member collaborating on your social media content Loomly becomes a very cost-efficient option.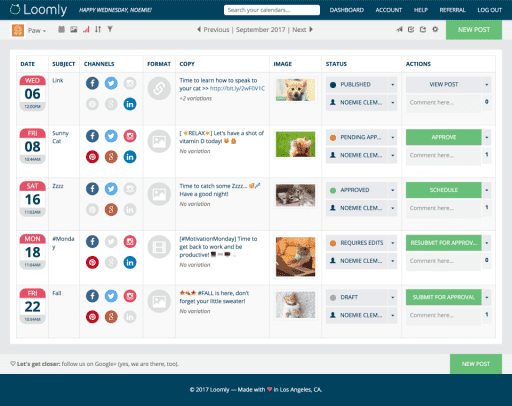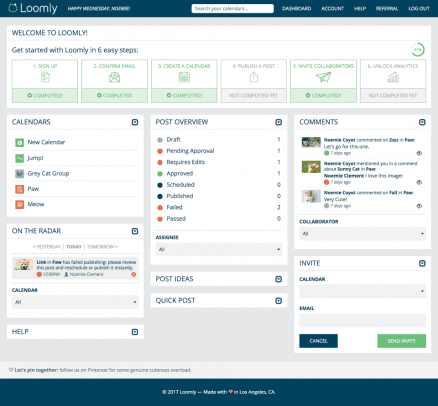 14. PDF Pro (Digital Marketing)
PDFs seems a bit of a necessary evil, sooner or later you'll find yourself needing to convert a word file into a PDF or vice versa.
PDF Pro offers a total of 22 tools that help you convert, edit and share PDF files whenever and wherever you need to. The entire product has been designed to be extremely simple to use for beginner and advanced PDF users alike.
They offer free goodies to teachers and students and they have free options for converting PDFs to Word as well, in addition to an array of features that make it a more robust free option than the competition. They allow you to export up to 3 free files per month, for more frequent users there are different subscription plans.
PDFs are easy to share so they're an ideal way to provide and present information digitally. From creating multimedia presentations, eBooks, and Whitepapers to creating templates - PDFs make marketing tasks simple. And the results look good because PDF is compatible with nearly every hardware and software combination you can dream up.

15. Acquire (Lead Generation)
We've all have good and bad experiences with online brands continuously, yet it seems they could have done so much more to boost engagement with their customers for sales and support. Especially, as overtime, businesses have become the ones fighting for customers in the online space.
Acquire is the first communication platform to innovate beyond traditional text chat widgets and connect customers and companies through our multi-channel platforms including live chat, video call, co-browsing, and AI chat messenger.
It is adopted in Sales, Support & Customer Support teams in global leading brands, across the entire customer journey from engagement, acquiring, retention and support.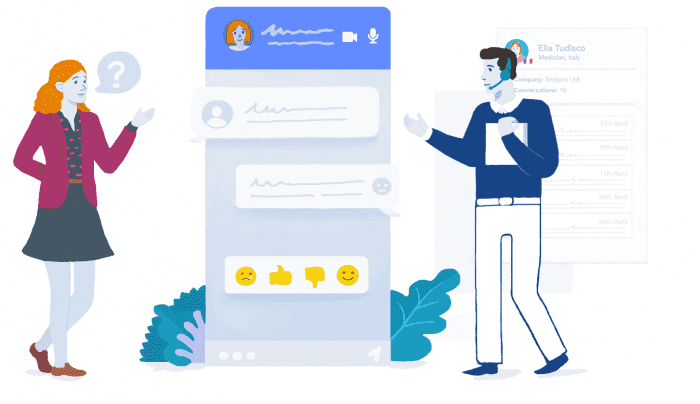 Have you ever thought about using scholarships to generate new leads and win new business? This tactic is not new as many SEOs have been using it to get backlinks, but that's now a thing of the past as scholarships have more uses than ever before.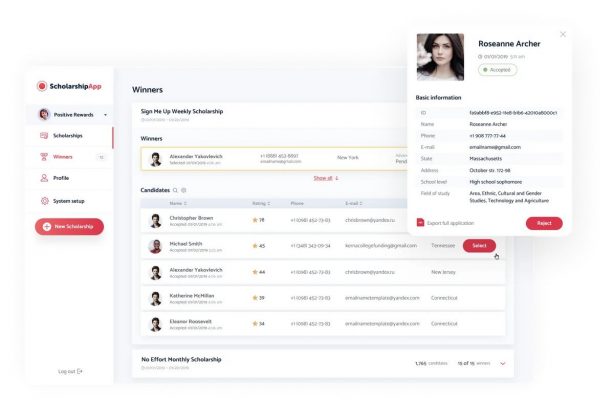 Besides helping a student in need, ScholarshipApp lets you analyze the success of your scholarship campaigns. It takes 15 minutes to set up a new scholarship, complete with the requirements and a full application form. Once done, you get your own page where students apply and new applicants come through your dashboard.
As applications roll in, you can analyze the performance of your campaign in the same way you would analyze a PPC or Facebook ad campaign. You can see the total applicant numbers, the impressions, the conversion rate (viewed vs. applied) and much more.
Calendesk is an efficient online booking system that allows you to increase revenues, but also makes it easier to manage your team. Due to its benefits, it may seem complicated to use and requires specialized skills to create. However, as the Calendesk case shows, launching a visit booking system on a website does not involve secret knowledge. You don't need to be a programmer to create a website and a virtual calendar on your own.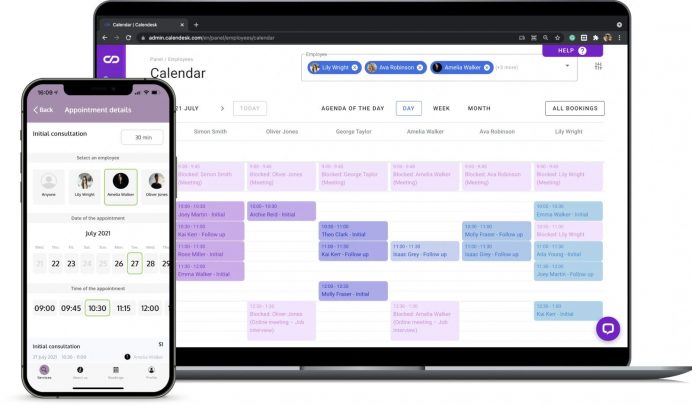 The automated booking system with payments responds to the needs of both you and your customers. Thanks to Calendesk, each employee will have an appointment assigned to him by means of a color, and changes in the calendar will be much easier - just one click and you will not be doing everything manually as before.
With Calendesk, you will also improve communication with the recipients of your services. It is possible because the platform has a built-in system for sending the newsletter and push notifications. Thanks to this, you can easily collect e-mail addresses of current and potential customers and build a mailing database.
18. NapoleonCat (Social media management)
NapoleonCat is a comprehensive social media management tool with an emphasis on customer service. Thanks to Social Inbox, i.e. such a "social inbox", people supporting social profiles can reply to all comments, messages and opinions from many social platforms from one place: Facebook, Messenger, Instagram, Twitter, LinkedIn, YouTube and Google My Business. NapoleonCat offers various solutions related to
running multiple profiles in social media
. Its services are addressed to smaller and larger companies, agencies and social media specialists, but also bloggers and influencers to whom a special offer is dedicated.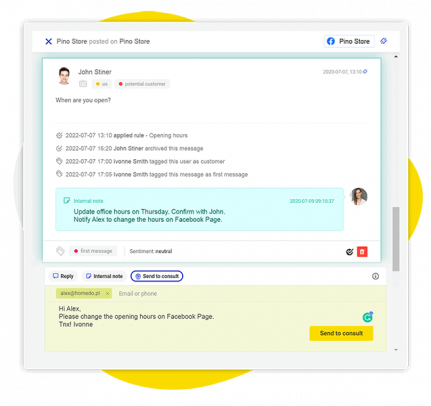 Other features offered by NapoleonCat include:
Automatic moderation of organic and paid content,
Publication and planning of posts,
Social media analytics,
Reporting the results of work on social profiles,
Dashboards for influencers.
Media monitoring is one of the most important activities any serious marketing team can do. Doing it manually is not an option, so tools like Mediatoolkit can save a great deal of time and money. With this one tool, you can monitor more than 100 different online sources for mentions of your own brand - or your competitors.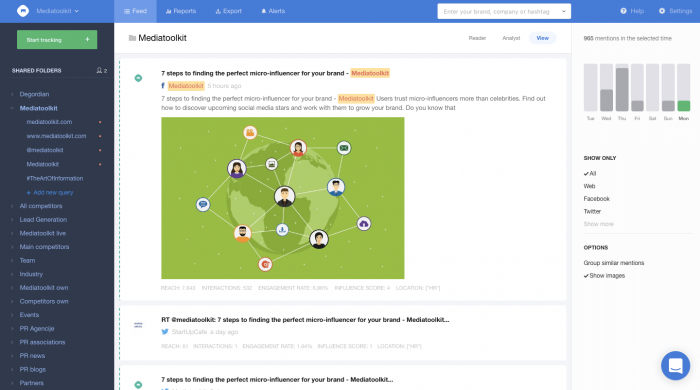 Mediatoolkit lets you monitor:
websites
forums
social media networks (Twitter, Facebook, LinkedIn...)
blogs
all types of comments
With real-time alerts, you'll never be stuck in a PR crisis. If you don't use English - no worries. Mediatoolkit is available in a variety of languages, so you'll never be left hanging. It's competitively priced and comes with advanced search features and reports that both in-house teams and agencies will benefit from.
20. YouEngage (Quizzes, Surveys and more)
This one tool packs a mighty punch and offers a variety of marketing solutions that convert visitors into customers. Intended for marketers both in-house and within agencies, YouEngage offers these products:
quizzes
surveys
calculators
assessments
online polls
and much more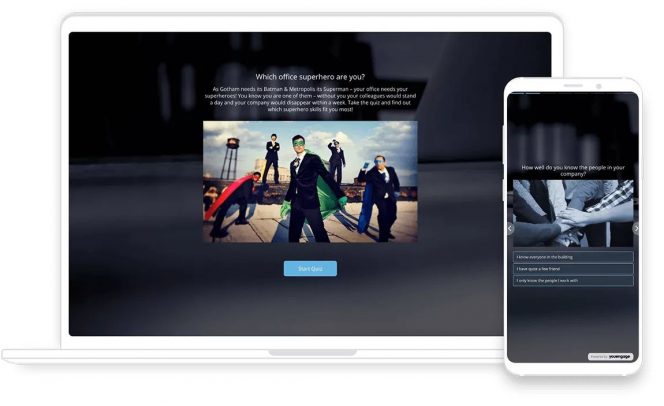 It's every marketer's dream come true because you don't just capture leads - you get to engage them throughout the sales funnel. For each of the content types, there are a variety of templates that you can use so you don't start from scratch. And if you want to start with a blank plate, the editor is super intuitive and easy to use.
As part of the offer, YouEngage also offers live engagement during video meetings and presentations, through polls, Q&As, quizzes and more. If you want to make your next meeting or webinar a hit, this is a neat trick to use.
21. Planable (for content collaboration)
Planable is a social media content collaboration platform used by over 5,000 marketing teams at brands like Jaguar Land Rover, Viber, and World Food Program. Build with teams in mind, Planable provides marketers a better way to create, plan, schedule, and approve content for multiple social media accounts.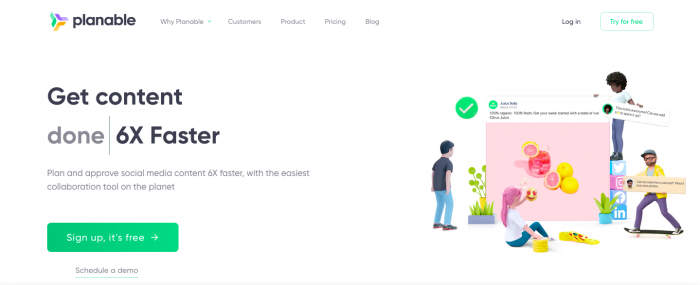 What differentiates Planable from other social media management tools is its collaboration-centric approach. Regardless of the size of your team, in Planable you can establish your own feedback and approval process with 4 different types of approval levels: none, optional, required, multi-level. This way you can prevent unfinished posts from being published and avoid any last-minute surprises.
22. Jasper (formerly known as Jarvis)
We can say that high-performing content is an essential part of today's digital marketing strategy. While coming up and writing for new content regularly can be such a backbreaking and time-consuming task, there's one AI-powered tool that can help marketers create "artificially" on-brand and on-point digital content within seconds: Jasper (formerly known as Jarvis). With tons of templates, this tool can produce engaging text for your social media updates, blog posts, product description, email subject lines, even video ads script outlines.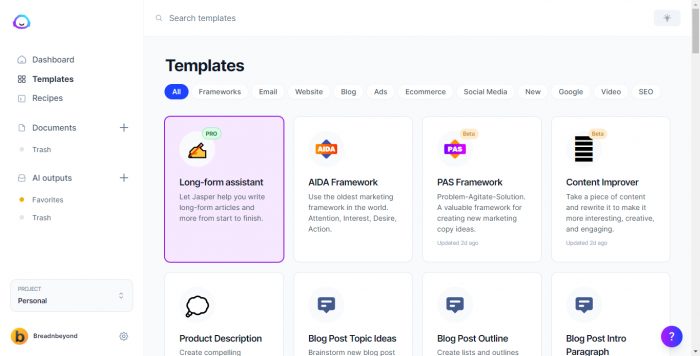 Even though it's powered by AI, Jasper allows you to set the writing tone, so you can still create personalized content that truly engages your audience across channels. When your digital marketing team constantly creates new content, this tool can save hours of your time without harming the quality of the content itself. Of course, you might make some edits to make sure everything is written to your standards and fit the brand tone, but Jasper can certainly help speed up the process.
Agility CMS empowers  marketing teams to take charge of content management instead of having to rely on developers. With page management, SEO authority, and accessible marketing integrations, Agility CMS is one of the top contenders for a marketing-friendly website.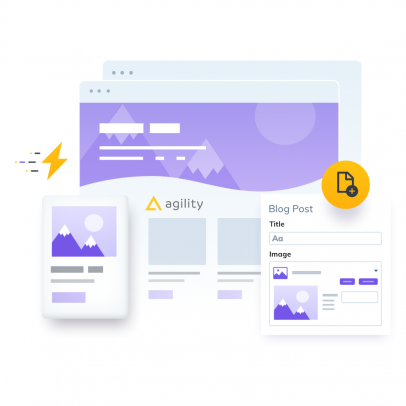 The cloud-based tool that offers powerful personalization tools and an extremely easy-to-use interface that helps not only companies but also brands by keeping the user experience consistent. Although smaller than alternatives such as Drupal and WordPress, Agility CMS was recently listed as a leader for the 2022 Headless CMS G2 report!
HockeyStack is a no-code and cookieless SaaS analytics tool that unifies your marketing, product, revenue, and sales data to answer questions that require data from multiple departments, such as "How much revenue did a certain blog series bring us?" "What is the activation rate of users from Facebook Ads?" "What is the average contract value of sales that our whitepaper generated?" or "Do users that affiliates bring churn faster than users that marketing brings?."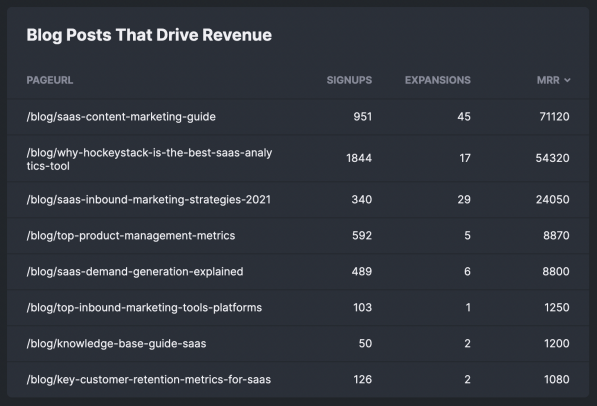 With HockeyStack, you can build custom dashboards, get a step-by-step user journey, and create funnels, goals, and surveys. No setup, no code.
Userpilot is the leading product adoption platform helping 600+ product teams worldwide onboard, engage, and retain their users.It has multiple functionalities that help with product growth such as:
User onboarding flows
Customer retention measures that reduce churn
In-app messaging and marketing
Self-service support features such as in-app resource centers and tooltips
Userpilot also has built-in analytics to track key metrics like feature engagement or NPS scores and help you uncover account expansion opportunities.
Scribe is a browser extension and desktop application that allows users to streamline and standardize the knowledge-sharing process. Click "Record," complete a process, and then Scribe automatically creates a how-to guide for you, complete with written step-by-step instructions and screenshots highlighting your clicks.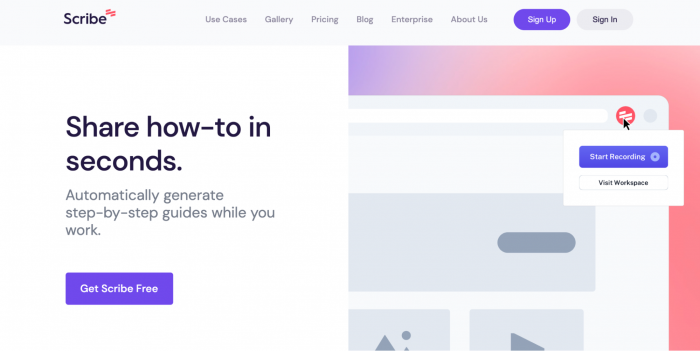 Scribes can easily be shared with teammates via link or within your team's shared workspace. They can also be sent externally to customers or clients, or embedded in your CMS or knowledge base. The product is free with some limited features, or $29/month for pro licenses.
No matter if you do marketing for your own business or have a list of clients you work with, reports always come in handy. Creating reports manually from tools like Google Analytics, Ahrefs, SEMRush, Google Data Studio, or your social media channels can be a proper chore. Especially if you have an agency with lots of clients, it can turn into hours of work every week.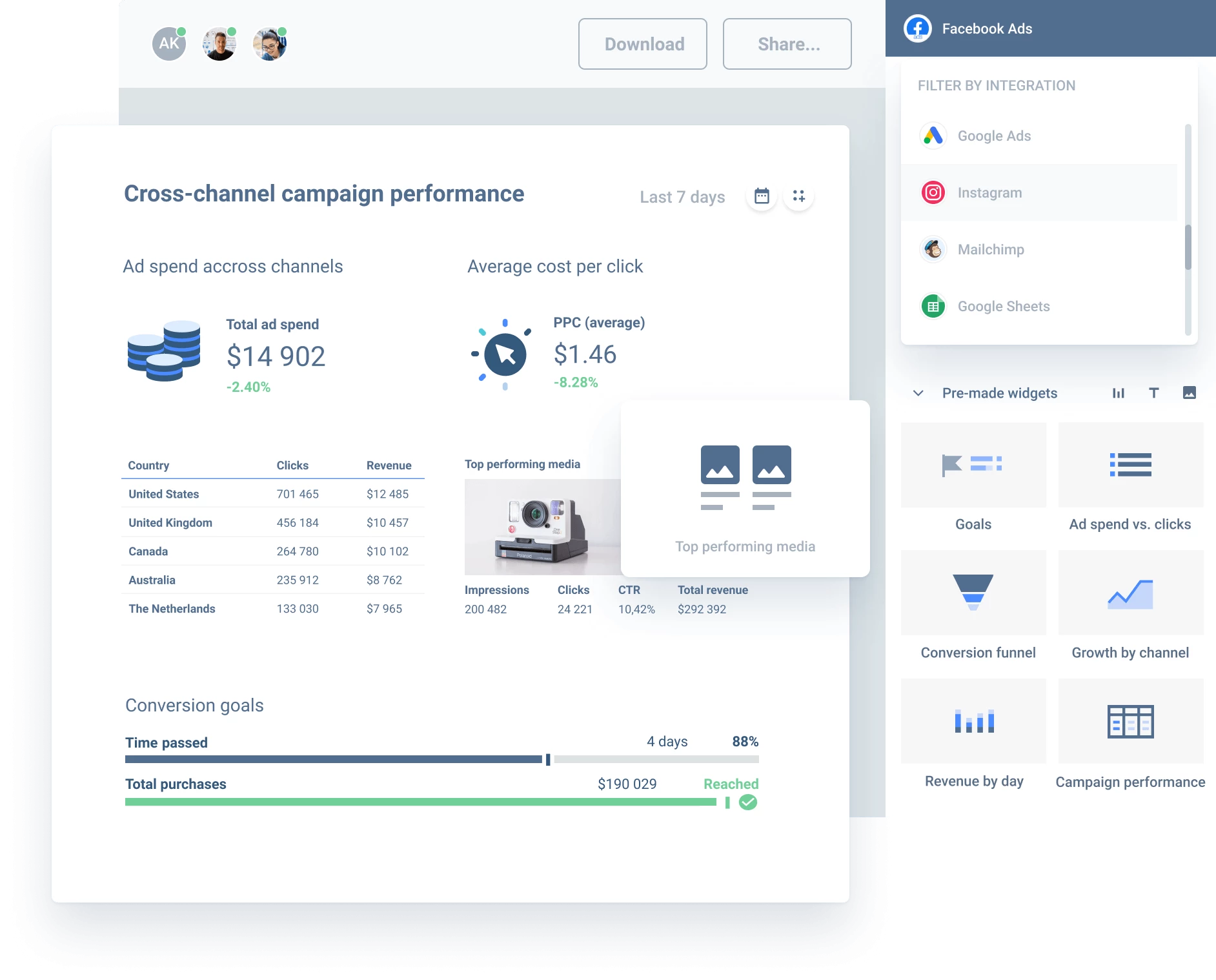 Whatagraph does the heavy lifting for you by allowing you to create reports within a few clicks. Just connect your different data sources and click on a template to get started. In a matter of minutes, you can create beautiful reports for your manager or your clients.
28. Sotrender (Social Media Analytics)
Sotrender is one of the top social media analytics & reporting tools where you can easily snoop on your organic and paid performance on key social media channels like Facebook, Instagram, Twitter and YouTube. All the data is stored in one place and presented on readable, color-coded charts - you don't even have to be a pro to figure them out. As a marketer, you'll also love their high-speed reports, ready within a coffee break time!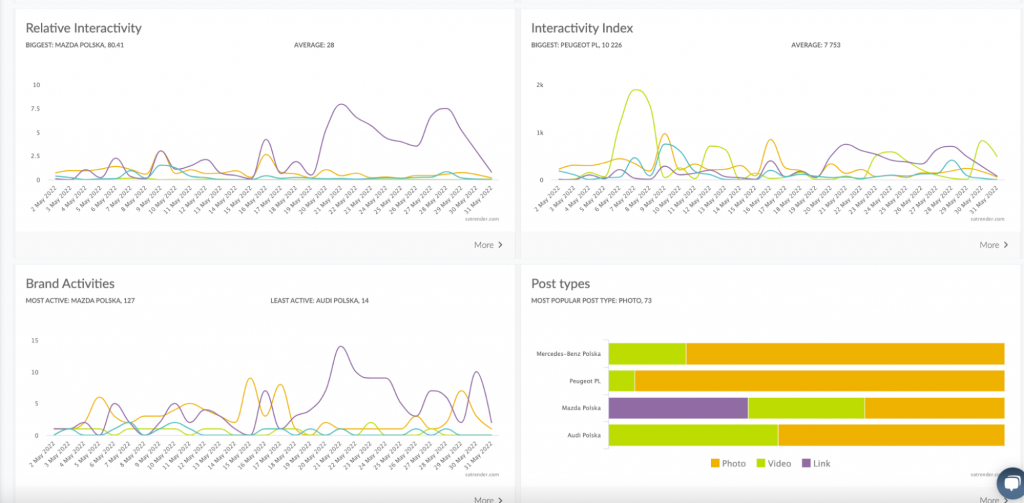 Here are some of Sotrender's key advantages:
Track all crucial KPIs for a number of social media profiles.

Take advantage of unique metrics like Interactivity Index, comment sentiment or audience share.

Create comparison groups, analyze your competitors' activities and generate comparison reports.

Analyze key campaign metrics like CPC, CPM, CPR.

Compare average advertising expenses with your competitors, with regard to different campaign types.

Generate comprehensive, visually appealing reports within 1 minute.
Review grower is a leading reputation management and reputation marketing platform. With ReviewGrower, you'll automatically get more 5-star reviews, market them on social media, increase conversions by embedding them on your website, and be protected from negative reviews. Supercharge your customer acquisition strategy by converting more buyers through reviews.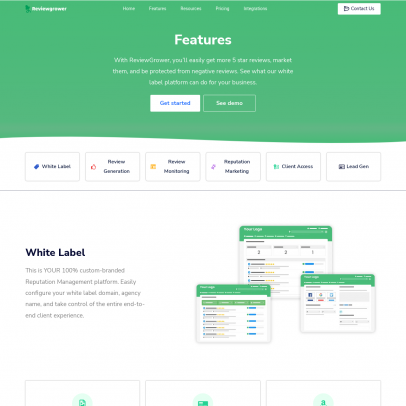 What makes them unique is they are head and shoulders less expensive than their competition and they really listen to their customers. In just the last 90 days they've released 45 customer feature requests.
In Conclusion
This list could go on and on. There are at least a dozen alternatives for every major digital marketing tool. These tools might even play a role in improving your marketing automation software that you already have in place. We're not saying you should use all of these lesser-known tools, but definitely give those tools you currently lack in your marketing arsenal a try.
About the author
Stefan Debois is the founder and CEO of Survey Anyplace, an online software tool to create engaging surveys, quizzes, and assessments. Besides kitesurfing, Stefan is passionate about the use of technology to build professional relationships with people, at scale.