Depending on how you slice it, HubSpot is either a leading inbound marketing software company, or the leading inbound marketing software company. Since its start in 2006, HubSpot has become the leader by market share in the marketing automation software space. They're still growing fast; HubSpot's revenue by the end of 2016 was up 49% over the previous year's, and their number of clients grew by 28% to over 23,000 customers.
But maybe the HubSpot solutions -- HubSpot Marketing, Sales, and CRM -- just aren't doing it for you. Maybe you want a more powerful sales solution, marketing functionality that better fits your use case, or a combined platform with more flexible onboarding or more affordable pricing. Happily, there are plenty of solutions out there. We did the work and curated a shortlist of the top 10 HubSpot alternatives that can better suit your marketing and sales goals.
Happy hunting!
Pipedrive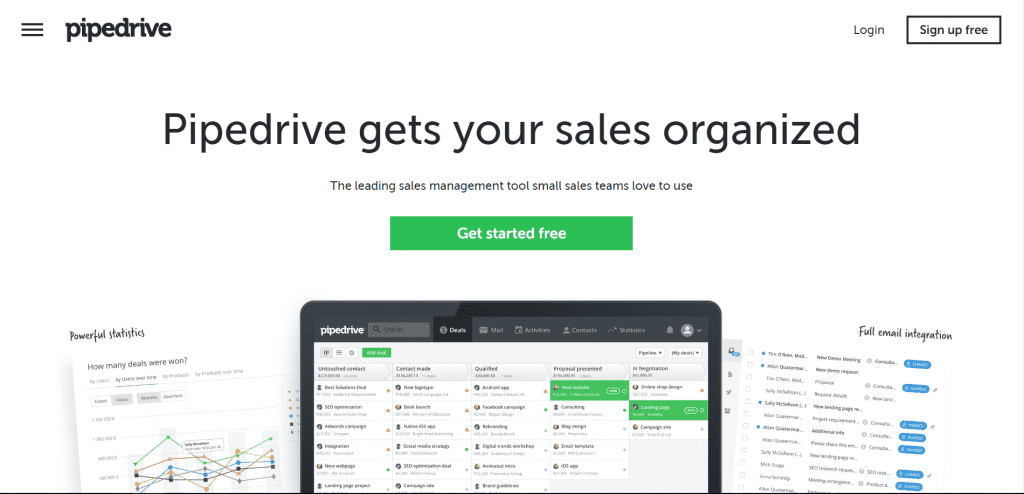 Pipedrive
is a New York-based sales automation platform that we recently reviewed in a
head-to-head comparison
against another sales solution. Our findings? Pipedrive works hard to provide robust functionality for conventional CRM and sales automation. It offers two-way email sync, multiple custom pipelines, custom notifications, sales reporting and forecasting, a mobile app, and data backups.
Pipedrive offers useful pipeline management tools including visual, drag-and-drop pipelines, custom stages, custom views, forecasting, pipeline-specific reports, data 'rotting' (which informs you when deals are going stagnant), and multiple products for precise, weighted forecasting. All deal details can be accessed from the pipelines themselves, meaning sales reps are only a few clicks away from the information and functions they need. Pipedrive allows data import from a wide array of other CRMs, including HubSpot. It also integrates with a number of popular third party services for collaboration, communication, tracking, and automation.
Price Range:
Pipedrive subscriptions begin at $10/user/month, billed annually. It offers three tiers -- Silver, Gold and Platinum -- which increase in price and functionality.
Best For:
Companies whose sales teams mix inside sales with face-to-face meetings.

A sales process that requires customization of pipeline stages or multiple pipelines.
Nutshell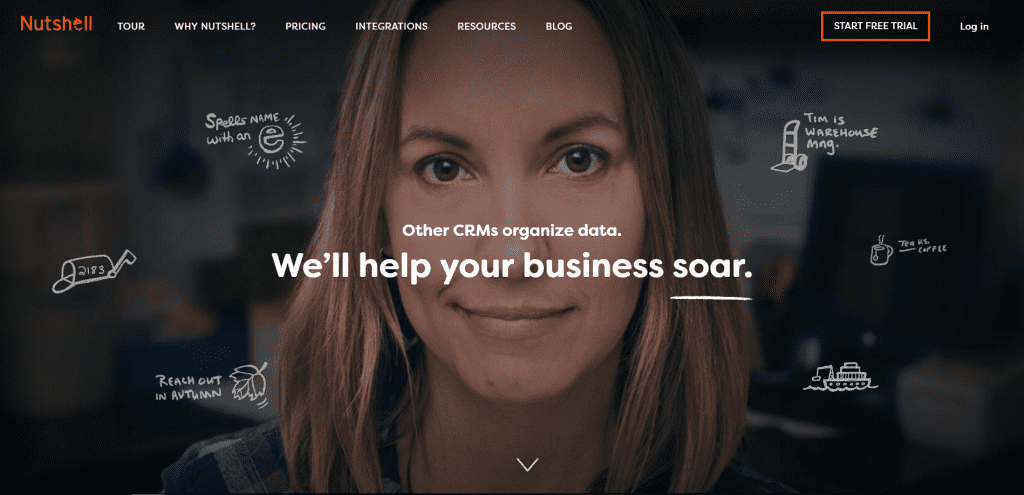 Nutshell
is an intuitive, affordable, and effective CRM that's known as much for its customer support as its contact management, pipeline management, sales process automation, and collaboration tools. Nutshell offers free data importing assistance -- moving contact lists from one CRM to another is easier with a technical expert -- and it can sync phone contacts, collect leads from websites, scan business cards using its mobile app, and enrich contact profiles using public data. It syncs with web calendars, sends notifications for upcoming tasks, and can make, record, and log phone calls with one click.
Users can tag colleagues in team communications and receive mobile alerts from team members. The CRM produces filterable sales reports on sales performance, team productivity, forecasts, lead volume, lost deals, the sales funnel and more -- depending on your subscription, that is (the mid-level Pro plan offers advanced reports). The visual reports can be saved as charts for presentation. Nutshell integrates with a variety of well-known third-party apps for social media management, helpdesk ticketing, email marketing, collaboration, automation, and more.
Price Range:
Nutshell subscriptions start at $19/user/month, billed annually. They offer Starter, Pro and Pro+ plans; most features become available in the Pro plan while the Pro+ offers ongoing guidance and priority support.
Best For:
Quick visualization of deals statuses and sales tracking against quotas.

Companies that value ongoing, helpful interaction with the vendor for implementation advice, and customer support.
Insightly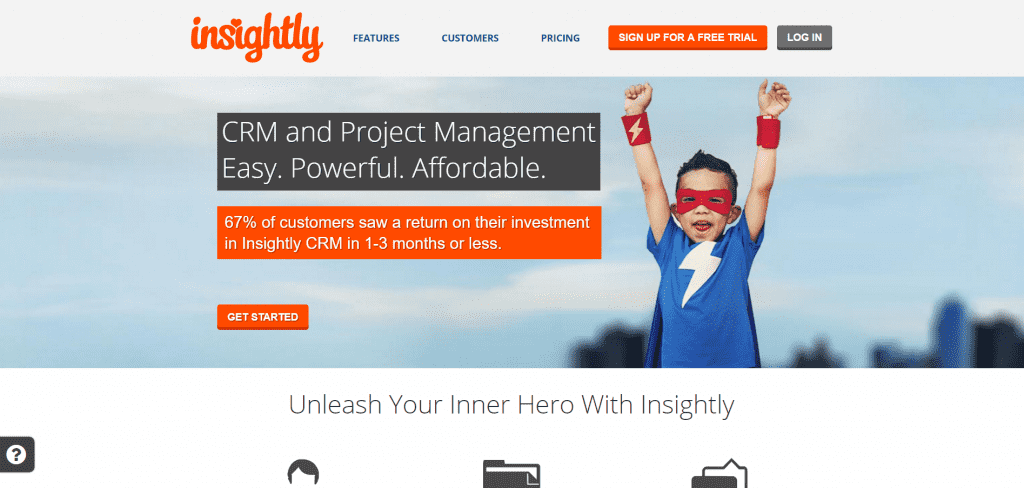 Insightly
offers an affordable CRM with effective contact, lead, opportunity, and project management. They've recently rolled out updates that allow the solution to detect contacts' social media profiles. Insightly logs forwarded emails using an account-specific email string; these emails are included in contact, lead, opportunity, and project timelines that also include notes, comments, and tasks. Insightly offers a great deal of customization for workflow automation: users can configure record updates, task creation and assignment, triggered emails and so forth, using nearly any criteria to produce any outcome.
Insightly offers default configurable reports for sales opportunities and activities with basic graphs. At higher subscriptions, advanced reports allow creation of custom, tabular reports with logic filters to narrow report criteria. Insightly offers a mobile app for iOS and Android. The CRM integrates with a number of useful third-party services for accounting, customer service, data migration, email marketing, productivity, reporting, and more. Insightly is user-friendly enough to produce value for CRM newbies, but configurable enough to be powerful in the hands of experienced users.
Price Range:
Insightly offers a free version for two users; their paid subscriptions begin at $12/user/month. While the Enterprise plan offers custom scaling for large companies, their best value plan is the Professional plan (the second highest tier) .
Best For:
Highly customizable workflow automations to reduce administrative work.

A sales process based around segmented bulk emails.
Agile CRM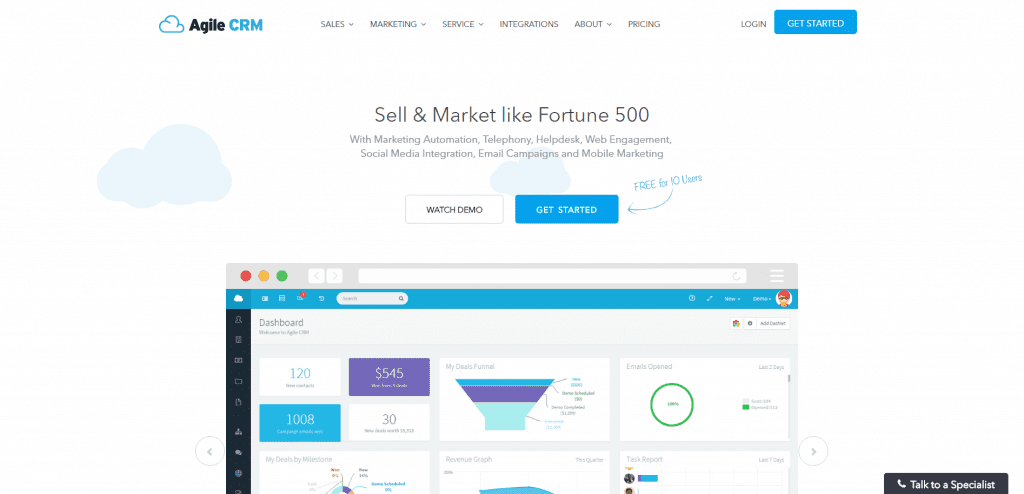 Agile CRM
is an affordable CRM that offers a little bit of everything: sales automation, marketing automation, and customer support features that become available at escalating subscription tiers. Agile provides contact management, deal tracking, telephony, schedule management, project management, and game-like features to keep users engaged. Aimed at small and growing businesses, Agile offers potentially steep discounts for customers willing to commit to a two-year subscription -- something most competing solutions don't offer.
Agile provides a wide range of features at low cost: its first paid subscription includes two-way email integration, two-way telephony, custom deal tracks, milestones and data fields, email campaigns and templates, a landing page builder, branded emails, marketing automation, and social monitoring. Agile also integrates with major social networks, helpdesks, VoIP providers, accounting software, ecommerce platforms, and content management systems. Businesses that are looking to expand functionality for sales, marketing, and support simultaneously ought to give Agile a try.
Price Range:
Agile CRM offers a free version for up to 10 users. Its paid subscriptions start at $9.99/user/month, billed annually. Its three paid tiers add customer support features an integration library.
Best For:
Companies looking for an all-in-one solution for marketing, sales, and customer support.

A full-featured solution with very competitive pricing on two-year contracts.
ActiveCampaign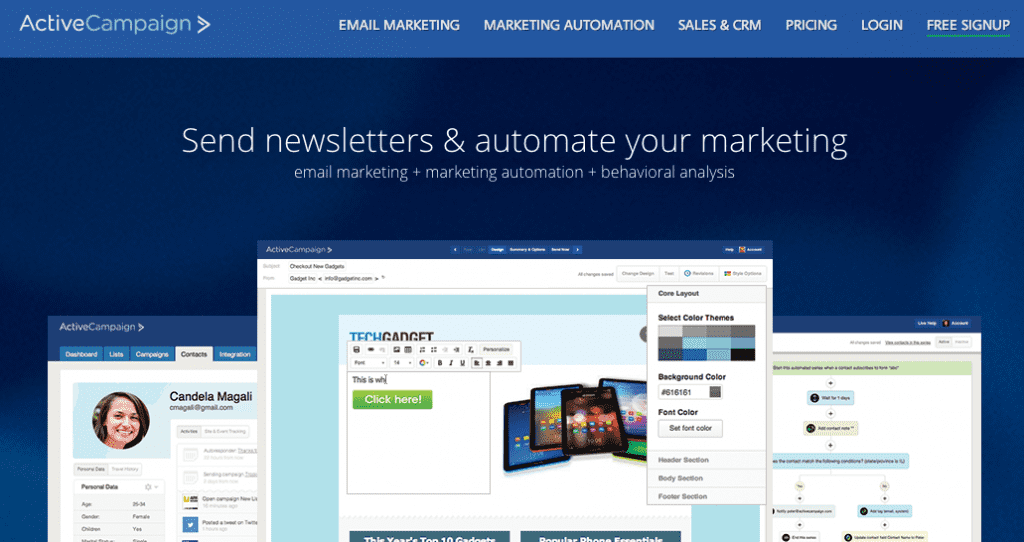 ActiveCampaign
is principally a marketing solution. Email marketing and automation are available on its most basic plan, but its second tier subscription provides a CRM with sales automation. Users whose marketing needs are limited to mass emails and newsletters would be satisfied with the Lite plan; advanced features like lead scoring, custom user permissions, custom branding, SMS marketing, and site messaging become available later. Successive tiers expand usage restrictions and increase the number of users.
ActiveCampaign offers a visual, drag-and-drop campaign builder that lets marketers set triggers and conditions for marketing activities. The solution can automatically retrieve contacts from CRMs, ecommerce platforms, and customer service solutions as well as offer real-time social media reactions to marketing campaigns, incorporate dynamic content, and apply user-defined parameters for logical segmentation. ActiveCampaign tracks email recipient behavior to provide insight into email template performance for accurate split testing. In addition, the solution can be tailored to the needs of sales, marketing, and customer success teams, or a vertical like bloggers, agencies, ecommerce, SaaS, and higher education.
Price Range:
ActiveCampaign offers highly flexible pricing on its four subscription tiers according to your number of contacts (adjustable in intervals of 500). At 500 contacts (the smallest number permitted), the Lite plan begins at $9/month. An annual subscription adds a 15% discount, which makes it $7.65/month.
Best For:
Companies whose sales funnel benefits from a highly-specific, automated email marketing.

Companies looking to branch out into email marketing with one-on-one training.
GetResponse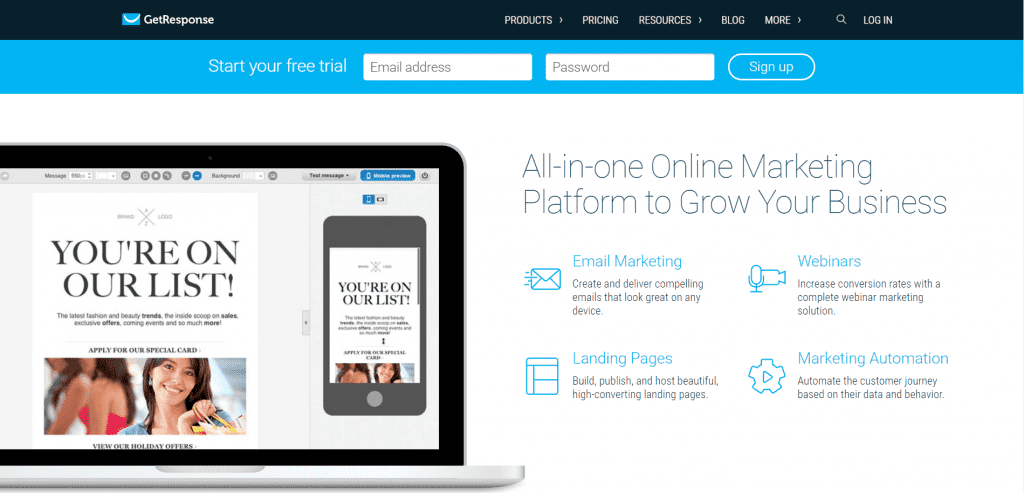 GetResponse
is a potent marketing solution that offers email marketing, custom landing pages, autoresponders, webinars, automation, and ecommerce/CRM integration. Its subscriptions are geared towards various experience levels and use cases. For beginners, it offers email marketing tools, basic landing pages and workflow automation. For growth-focused marketers and SMBs, the next subscription tier includes advanced landing pages, webinars, lead scoring, and ecommerce tools such as web event tracking and abandoned carts. The next successive tiers offer advanced marketing tools and expanded usage.
GetResponse provides web form templates tailored for various online touchpoints, like newsletter signups, order forms, free downloads, feedback forms and others. These templates come with customization and optimization tools, custom fields, one-click color matching, and a variety of apps. GetResponse integrates with a variety of CRMs, social networks, content management systems, ecommerce platforms and related business apps. While GetResponse doesn't import contacts directly from HubSpot, it integrates with PieSync, which enables automatic two-way contacts sync. Businesses concerned about reliability and security should consider the Enterprise plan, which provides dedicated infrastructure and an IP address.
Price Range:
GetResponse offers pricing based on contact list size at pre-set intervals as small as 1,000. The lowest-priced subscription possible is $15/month, with discounts of 18% and 30% available for annual and two-year subscriptions, respectively.
Best For:
Companies looking to expand their digital marketing outreach to include automated email campaigns and invitational webinars.

Ecommerce retailers or SaaS with marketers experienced in digital marketing tools.
Marketo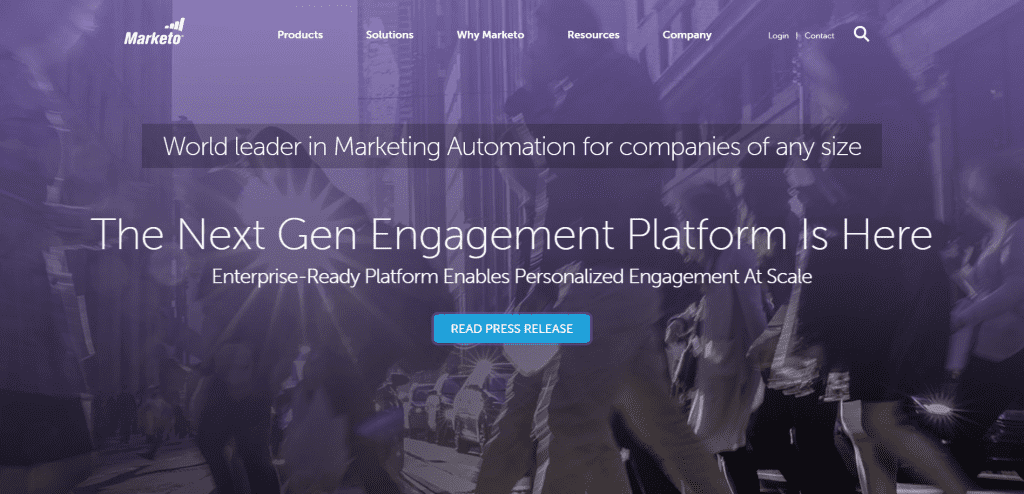 Marketo
is one of the big players in the digital marketing space. They were listed as a Leader in Gartner's 2017 Magic Quadrant for Digital Marketing Hubs and recognized for their capabilities in multichannel communications (benefiting an
omnichannel
strategy), personalization and ad targeting for both B2B and B2C use cases. Marketo offers subscription to 'bundles' of functionality. Their core product, Lead Management, offers four subscription tiers with escalating features while the others -- Email Marketing, Consumer Marketing, Customer Base Marketing and Mobile Marketing -- offer a single set of features.
Marketo's Lead Management bundle offers considerably refined marketing functionality from lead scoring, segmenting and nurturing, to emails, landing pages and webforms. In addition it offers split testing, CRM integration, search engine optimization, campaign dashboards, and reports in its Basic plan. Higher level plans add digital ads, predictive content, campaign analysis, revenue modeling, success path analysis, advanced reports, and more. Marketo is priced as a top-tier marketing solution, simply because it is. This is an option for businesses whose campaign goals aren't met by HubSpot's product and are willing to pay for a better one.
Price Range:
Marketo offers custom sales quotes based on your number of contacts for select service bundles. Its core Lead Management bundle offers four subscription tiers while auxiliary bundles offer a single package of features. Contact Marketo directly for a sales quote.
Best For:
SMBs and large businesses alike with clear marketing goals, campaign strategies and refined needs.

Engaged marketing teams that would benefit from Marketo's highly active user community for campaign insights and technical knowledge.
Pardot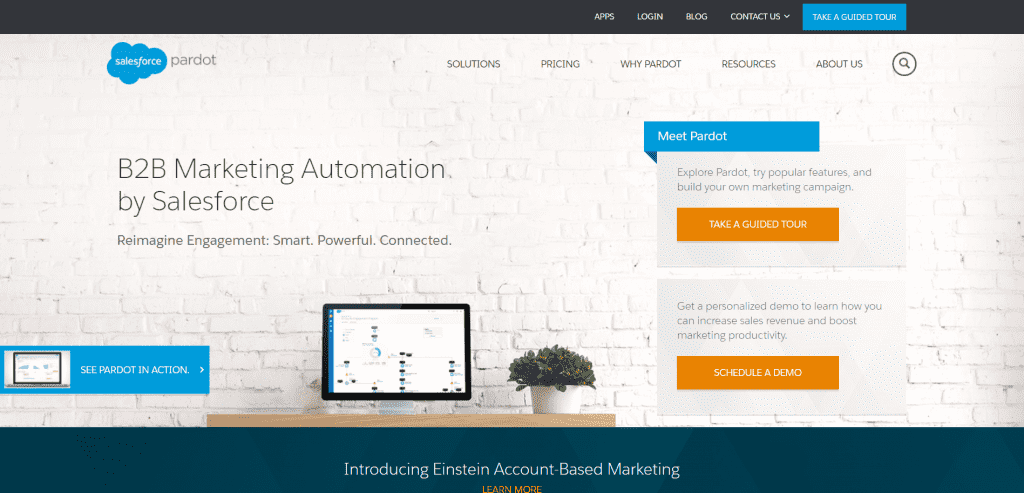 Pardot
was acquired by ExactTarget in 2012, which was then acquired by Salesforce in 2013. Suffice to say, Pardot's integration with the Salesforce CRM is quite good. Like Marketo, Gartner considers Salesforce a leader among digital marketing solutions. Pardot stands on its own as a credible solution for B2C and B2B marketing with real-time prospect activity updates (if a prospect visits a certain web page, for example), relatively easy customization, and strengths in analytics.
In its Basic plan, Pardot offers its take on essential marketing tools for SMBs, including email marketing, prospect tracking, lead nurturing, scoring and grading, ROI reporting, webforms, and landing pages. Its next plans expand functionality to include split testing, dynamic content, an integrated marketing calendar, API access, and social profiles. Pardot integrates with third-party webmail servers, social networks, event planners, VoIP providers, content management systems, and automation tools. While phone support doesn't become available until its highest level plan, Pardot is well regarded for its customer support, so it still acquits itself well through more impersonal channels.
Price Range:
Pardot offers three subscription tiers on its main product starting at $1,000/month for 10,000 contacts. Add-ons (B2B Marketing Analytics, Salesforce Engage) are available at additional rates.
Best For:
SMBs and large companies alike willing to spend for close integration with the Salesforce network of products.

Businesses that place a premium on customer support, onboarding and regular training for their marketing solution.
Infusionsoft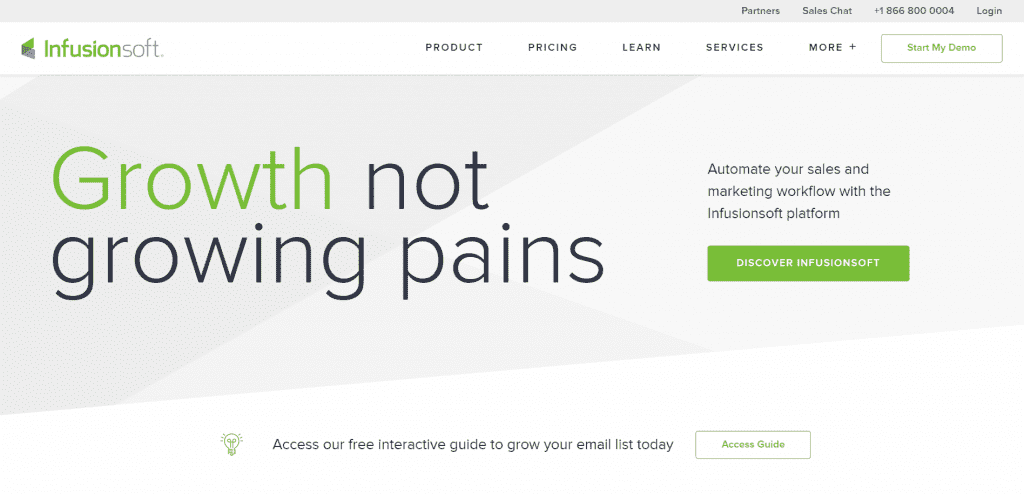 Infusionsoft
provides a combined marketing and sales platform geared especially for small businesses -- in other words, playing squarely to HubSpot's audience. (In fact, we compared the two solutions in our
Infusionsoft vs. HubSpot
review.) Infusionsoft offers an attractive visual campaign builder, email marketing automation, custom landing pages, email and website tracking, split testing, reporting and analytics and so forth. It's a highly regarded solution for SMBs and has fueled the company's growth; Infusionsoft was included in the Inc. 5000's fastest growing companies a rare eight consecutive years.
Infusionsoft offers a library of paid and free integrations and marketing assets, such as landing page, email and web form templates that help extend the solution into a variety of verticals. Depending on the subscription, Infusionsoft contains built-in ecommerce tools which incorporate the online storefront into its sales and marketing automation processes. In addition to its customization tools, Infusionsoft provides ample capability to streamline contact, lead, opportunity, task, schedule and sales process management. It provides built-in reports for marketing, sales, order and billing, and CRM activity; its Kickstart onboarding packages (which are a required purchase) help flatten the learning curve for Infusionsoft newcomers and marketing neophytes alike.
Price Range:
Infusionsoft offers four subscription tiers; the fourth tier, Deluxe, offers two variations -- sales automation and ecommerce -- and the fifth tier, Complete, combines them. Pricing starts at $99 -- the Starter plan -- for a single user. All subscriptions are billed annually. New customers are required to purchase an onboarding Kickstart package which starts at $999.
Best For:
Small businesses seeking guided onboarding for a powerful solution tailored to their use case.

Companies looking for seamless marketing and sales integration for combined online and offline activity.
Ontraport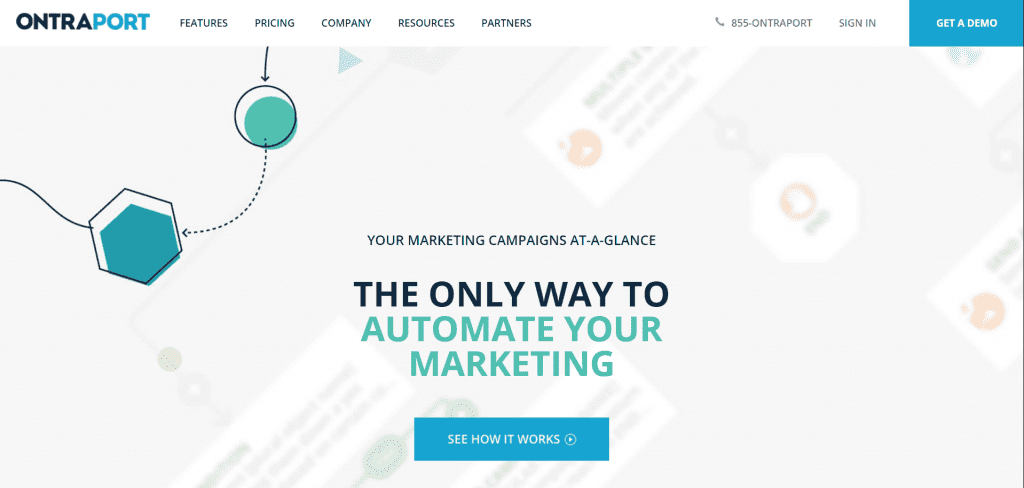 Ontraport
is another combined marketing and sales solution; much like Infusionsoft, they're geared strictly towards SMBs with a small team of users. (We compared the two in our
Ontraport vs. Infusionsoft
article.) Ontraport enables users to automate customer interactions using Sequences; this includes email marketing automation, SMS automation and even direct mail campaign automation, which sends personalized, handwritten postcards to customers and prospects. These automations can be set up according to various segmentation criteria within the solution, like demographic and firmographic traits or lead score.
Ontraport can also track visitor and email recipient behavior for more accurate split testing and optimizations of marketing assets. Ontraport provides an in-app marketplace where users can acquire paid and free creative assets, notably landing page, email or postcard design templates. The solution also includes automated lead score routing based on user-defined criteria and score thresholds; customization touches every part of the product, including its ecommerce tools, which offer shopping card management, custom order and upsell forms, CRM sync and online payment processing. Integrations include ecommerce tools, membership platforms, social networks, accounting apps and helpdesks. With a 90-day money back guarantee, which is exceedingly rare (and maybe unique these days), Ontraport is a strong alternative to HubSpot and worth a try.
Price Range:
Ontraport offers three subscription tiers starting at $79/month for a single user. Ontraport offers add-ons for additional contacts, email messages and users for monthly fees. After 90 days, customers are eligible to sign an annual contract and receive an 18% discount.
Best For:
Companies (or solo entrepreneurs) that want to stand out from their competitors with personalized direct mail campaigns.

Businesses that are willing to forego in-depth onboarding to get a powerful product at a low price.
Looking to a few other HubSpot alternatives? Check out our list of marketing software and sales automation solutions.