Call volume, trends and historical call data
Instant collaboration, group chats, and video sharing

Integrates with popular cloud-based applications
Voice, point-to-point video, messaging and more

Team messaging with file sharing and more
Equipped with AI and advanced analytics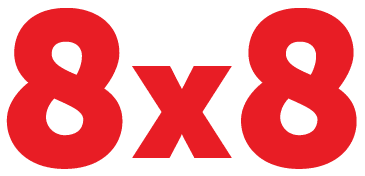 Automated attendant and call queuing
Unlimited toll-free, international calling

Automatic failover to off-site numbers
Conference bridges, virtual fax & visual conferencing

Collaboration capabilities and file sharing suite
Call, text, video/audio conference, team rooms, fax & more

Pair AI coaching with Salesforce data
UberConference for easy video conferencing
What is Enterprise VoIP?
Enterprise VoIP is a system of communications used by medium and large businesses to

communication using voice over internet protocol technology. VoIP allows these organizations to cut the costs of their communications channels drastically.

Currently, most enterprise-level businesses have migrated from traditional public switched telephone networks (PSTN) to voice over internet protocol (VoIP) systems. VoIP systems stand out because using the internet opens up business communications possibilities that far eclipse what's available through traditional phone service.

VoIP service providers have enterprise-level plans that allow businesses to open up contact centers. This is a means of cutting costs since outsourcing to traditional contact centers is prohibitive from a budgetary perspective. With a VoIP-powered contact center, features like call recording, monitoring, interactive voice response (IVR), and call routing are all available at a fraction of the cost of these features in a non-VoIP system.

Enterprise VoIP also opens up possibilities for businesses when it comes to hardware. Since most VoIP software runs on a variety of platforms such as PC and mobile devices, it's easy to find calling solutions for agents. Some hosted VoIP services even have software that will allow callers to dial leads from an internet browser or via a smartphone app for iOS or Android.

In addition to the calling capabilities, enterprise VoIP allows for unified communications (UC) options that assist in a company's collaboration efforts. Many enterprise VoIP providers enable users to access an all-in-one user experience that incorporates audio and video conferencing, webinar creation, chat, and corporate SMS. Sales teams reach out to each other in a standard text-based chat and convert the chat session into a video call or conference with the click of a on-screen button.

This form of unified communications is beneficial for those teams in large-scale enterprise environments because it brings disparately located teams closer together. While standard calling helps these sorts of groups to collaborate, having video conferences between teams in regions like NA and APAC will make each team member feel like they are in the same room with their colleagues. Many of these solutions have features like screen and file sharing functionality, so all needed info will be conveyed effectively.

VoIP is available for any size of business, but enterprise VoIP differs significantly from a VoIP solution that might be used for a smaller organization. For example, while lower plans will provide some functionality for small businesses to conference, these are typically limited to a certain number of attendees. With enterprise VoIP, the attendee counts are usually much higher, which is useful for an organization with larger team structures.
Essential Features of an Enterprise VoIP System
Compared to landline systems, enterprise VoIP is a very versatile system of communication that allows for some genuinely competitive features. With a good internet connection, phone calls made on a VoIP phone system tend to be significantly clearer than calls using PSTN solutions. Here are a few other advanced features that many enterprise end-users consider critical.
Auto Attendants: As a phone solution, auto attendants, which are also called virtual receptionists, are systems used to route calls to the appropriate agent. Auto attendants will play hold music while customers wait.
Interactive Voice Response (IVR): An IVR call management system is designed to route customers more effectively than an automated attendant and some IVR solutions will handle a customer's needs without the need of a specialist. These register number inputs and are used to administer customer satisfaction surveys.
Video and Audio Conferencing: Conference calls aren't limited to VoIP, but since enterprise depends on meetings, it's essential to understand that organizations can only video conference using a VoIP business phone system. Also, VoIP isn't limited to specific conferencing devices; anyone with a computer or smart device can watch a video conference or listen in to an audio one and experience full calling features.
Mobile App Support: Non-VoIP solutions are bound to desk phones and intercoms, which is why enterprise customers are meeting their business needs with VoIP. With VoIP, smartphones in the Android and iOS ecosystems have access to standard calling over the net and UC tools. Other mobile devices like tablets are also usable with enterprise VoIP solutions.
Local Unlimited Calling: For every level of business, unlimited domestic calling is a significant selling point of VoIP. All service providers provide local calling with the subscription, and some even offer free calling to phone numbers in Canada as well.
Call Analytics: Most business VoIP systems also include some dashboard and analytics functionality. Managers use the provider's portal to determine the effectiveness of the communications solution by reviewing stats like call uptime and how often specific calling features are being used by agents and salespeople. Most providers provide analytics of quality of service (QoS), which measures call quality.
Local Numbers: Enterprise-level customers almost always do business in foreign markets, and VoIP provides some unique benefits when it comes to the generation of local numbers. With VoIP, inbound calls are received from anywhere, and dialers call in using toll-free numbers that are created by the provider to reach a business overseas. This helps the company avoid creating local call centers.
On-Premise Vs. Cloud-Based Vs. Hybrid
There are a few options for enterprise-level clients that are looking for the best VoIP system for their

outbound and inbound calling efforts. Most VoIP systems run using some form of a private branch exchange (PBX). PBX is a server that connects the internet calls to the PSTN network. Each phone jacks into the internet where the PBX device converts the audio data into a data packet, which is then transmitted to the destination.

PBX devices are either on-premise or hosted, or there can be a mix of the two solutions. Here's how each works.
On-Premise PBX
An on-premise PBX system, which is sometimes called an IP-PBX system, is useful for business

owners that have a computer room and an existing IT team. This system has its own server that executes the connections. On-premise PBX is also a great tool for those businesses that want a higher degree of customizability; IT teams will perform upgrades and maintenance for the system as needed.

The end-user doesn't have to interface with a provider with an IP-PBX; they have their own unified communications structure and extra features will be implemented when the need arises. With many phone lines, some clients install a primary rate interface (PRI), which will allow a business to make up to 23 calls on a single line for the sake of efficiency. Individual desks will have extensions with a PRI.

Whereas the providers have to integrate CRM solutions, like Salesforce and Zoho, into their hosted PBX software, the process is less restrictive and executable in-house when using an on-premise model.
Cloud-Based (Hosted) PBX
Enterprise clients have to manage far less of the daily processes of their communications solutions

with hosted PBX solutions. These types of business VoIP systems are also feature-rich because the providers are always upgrading their service to meet the needs of their clients. A cloud PBX system is very scalable; customers will contact the company to upgrade (or downgrade) their service based on business needs and the number of users.

The benefits of cloud computing are a significant selling point for this type of PBX system since this is a cloud-based service offering. There are multiple servers supporting business operations, which means that the service has a redundant structure that's less vulnerable to server outages than on-premise PBX. Companies avoid this expense and also save on the need for having dedicated server rooms.

Finally, cloud PBX is installed using software on hardware phones or as a softphone option. The software is also usable in web browsers.
Hybrid PBX
One of the most noteworthy features of a hybrid PBX business phone service is the fact that the hardware will have both Ethernet and telephone jacks. This is included because a hybrid system will connect via both PSTN trunks and SIP credentials. This is very useful for enterprise clients that have legacy phone systems but want to also bring in some of the unified communication functionality of a true PBX system.
When it's Time to Upgrade to Enterprise
Determining the best time to upgrade to an enterprise-level business VoIP solution is challenging. Fortunately, most providers for hosted solutions make the actual upgrade process very simple with responsive customer support. Here are some criteria that will help an organization make the decision to upgrade their business VoIP service.
There's a Need for More Robust Web Conferencing
Freemium conference calling solutions from Microsoft and Google are great for small businesses, but

as teams scale upwards in size, a more powerful solution is often needed. Enterprise-level conference calls have higher capacities so that even large teams can collaborate using video and audio conferencing.

Also, compared to the free and low-cost conference calling solutions, enterprise VoIP conference calling has a weightier set of features. With this kind of software, the ability to schedule meetings via UCaaS software is available. Presenters will be able to use screen sharing features, measure audience engagement, and file share during the meeting.

Providers even allow for higher file capacities with their web conferencing software for enterprise clients. This will allow for apps and software to be storable on the cloud so that attendees will have access.
The Organization is Opening a Contact Center
Previously, the call center industry was fueled by clients that didn't have the capacity to run their call centers and thus had to outsource. Today, enterprise VoIP plans for many service providers are designed to provide business-tier contact center functionality.

Here are a few call center features that are available through VoIP.
Call Monitoring: This is a coaching and customer experience tool that can help a call center become successful. Managers can listen in on a call without the customer hearing and determine if compliance, customer service, and agent performance rules are being followed.
Call Recording: This is a feature that is useful for organizations that are trying to minimize compliance risk and for those that work in healthcare industries that require substantial recordkeeping. Data retention varies from provider to provider, so organizations have to find the one that best fits their needs.
Call Barge-In and Call Whispering: These are tools that allow a manager or supervisor to directly interact with the customer or the agent on outgoing and incoming calls. They help ensure that the customer service experience is up to company expectations.
Inbound and Outbound Call Volumes are Increasing
For those businesses with a preexisting call center structure that is experiencing increased call volumes, enterprise VoIP makes it very easy to accommodate changes in scale. These organizations will either opt to manually upgrade their PBX system if they have a hardware option or contact customer support for a hosted PBX solution. Customer support adds extra lines remotely, which is very cost-effective because the new upgrades will be rolled into an increased subscription price.
Benefits of Enterprise Unified Communications
Unified communications solutions that are available from the best VoIP providers will increase

efficiency, boost collaboration, and increase the engagement of stakeholders. For example, automatic meeting recording is a tool that's available in numerous VoIP plans. Those that missed a meeting and those that want to review what happened should use this tool. This allows team members to stay abreast of what's been developing in the organization.

Global team collaboration is also bolstered with UC. In large companies, it's common for teams to be based in various global locations, which will make collaboration difficult with traditional PSTN phone lines. With VoIP UC, there are usually whole suites of solutions that will help bridge the gap. Some providers even have a single point of access solution that will allow chatting, web conferencing, text messaging, and internet calls to be made from a single platform.

One of the chief drawbacks of low-cost or free web conferencing software is that it's often limited when it comes to the number of attendees that can be present. With enterprise-grade UC solutions, conferencing and even webinars will have unlimited meeting capacity so that teams with a more substantial sizing will be able to meet. This ensures that communications channels are always available, which is invaluable for those teams that are in different regions.

Most UC solutions that come with enterprise VoIP solutions have some degree of mobile app compatibility. Executives aren't always available at their desks, and when one is out in the world meeting clients or working from home, they have the ability to attend meetings from smartphones or tablets. These applications even have "set status" features to let colleagues know if the team member is available for a conference or a chat.

Many organizations embrace the call center as a useful means of reaching their customers, but not every customer wants to be reached via their phone number. For this reason, many service providers are offering broader reach into other communication channels. For example, agents can use some UC solutions to reach out to leads on email or text, and more than one enterprise-grade software solution provides live chat functionality for websites. This technology is adept at catching potential leads as they research a brand and propelling them through the sales funnel.

Traditional PSTN phone line functionality like voicemail, caller ID, and faxing is also easily accomplished using enterprise VoIP. Many providers also provide extra functionality that will deliver utility for end-users. Voicemail is transcribed to email for some plans, and VoIP internet faxing will receive faxes, even if the sender is sending from a standard machine.