Customer relationship management software (CRM) provides a multitude of benefits for users in any department. This software can help manage your interactions, flag hot leads, automate business processes, and more. Because of its diverse set of benefits, CRM software isn't going away anytime soon.
If you have yet to implement a CRM into your software stack, now's the time. In this article, we'll discuss everything you need to know about the state of CRMs. We'll cover the following sections:
CRM in 2021
CRM Predictions for the Future
CRM Adoption Rates
CRM Market Leaders
CRM Challenges in the Upcoming Years
CRM Software in 2021
Going into 2020, the state of CRM software was in a good place. As CRM.org states, Mobile CRM was on the rise in 2019, reaching a market cap of $15 billion. Personal CRMs have also been on the rise, along with vendors looking to fill various niche markets.
When the coronavirus pandemic hit in 2020, CRM software continued to prove itself to be a valuable piece of software. As reported by Forbes, here are some specific benefits of using a CRM during the COVID-19 crisis.
Reduce missed opportunities — CRMs should integrate with your website's forms. That means that when a website visitor leaves their information on your website, it will be automatically fed into your CRM. With the majority of the workforce operating remotely, it's easy for things to fall through the cracks. This ensures that they won't.
Automate reminders — Your company is likely still working remotely and will be for the majority of 2021. Because of the lack of in-person interactions, communication is more challenging for the foreseeable future.
Users can create workflows that automate reminders and alerts for all employees. That way, communications can be sent out automatically and nothing important will be forgotten.
Stay in touch with customers — In-person meetings are typically at the heart of sales interactions. But thanks to the pandemic, those are not happening much anymore. But as your CRM tool will allow you to send out bulk emails and campaigns, you can always stay in touch with your customers. You can even customize them to offer your clients a personalized experience.
integrations allow you to boost your productivity — Your CRM system should integrate with your calendar, email, and office system. Collaboration and productivity are a little more challenging when you're not working side-by-side with your team every day. These integrations ensure you won't miss a beat.
CRM Predictions for the Future
As CRM technology has proven itself to be a valuable asset to any technology stack, we can expect the software to continue to have a bright future. Here's a look at what to expect
CRM Growth and Predictions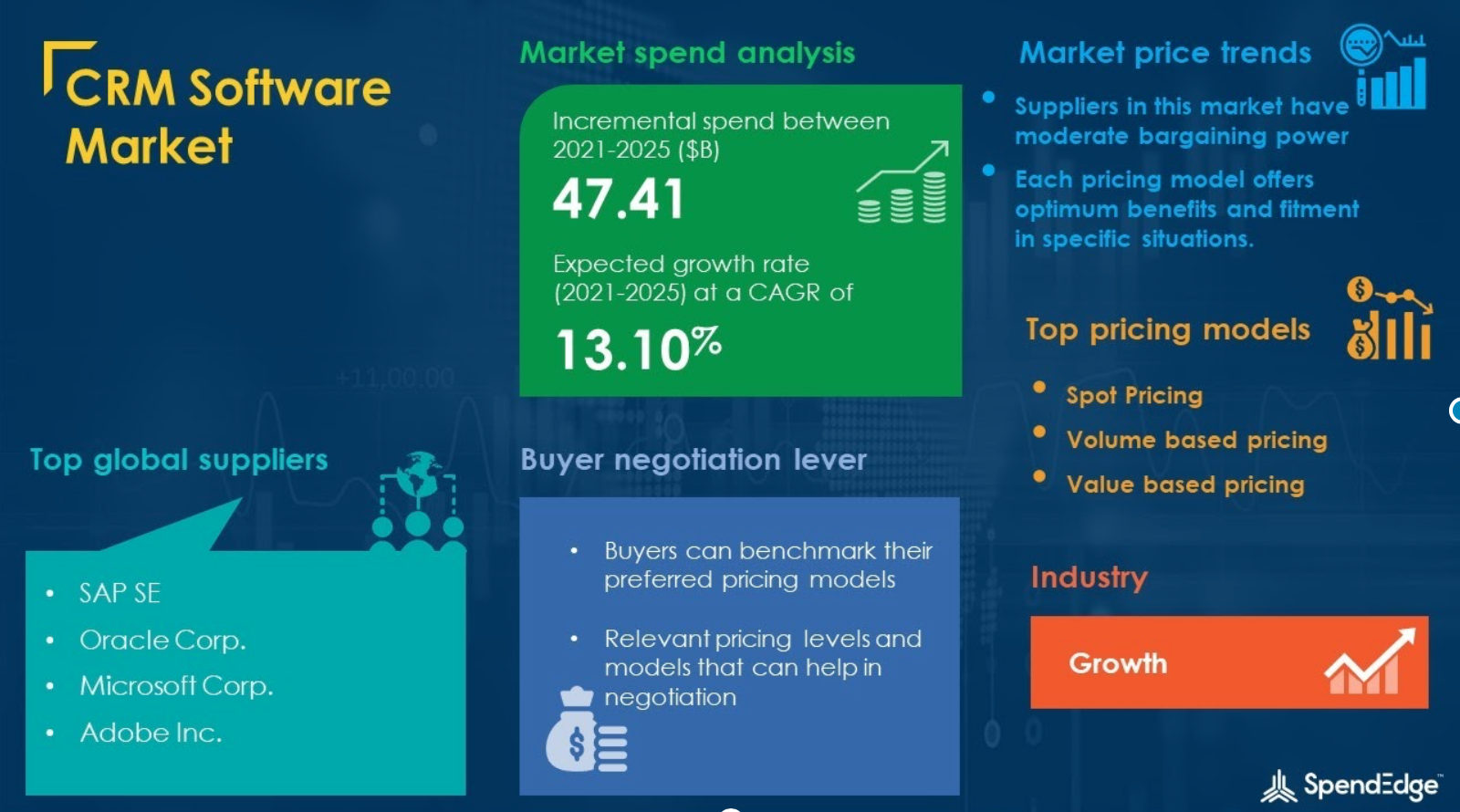 Globe Newswire predicts that the global CRM market is poised to reach about $113.46 billion by the end of 2027. While the global market will see significant growth as a whole, North America is currently projected to see more significant growth, making it the dominant market. As of 2019, the CRM market in North America was valued at $15.84 billion.
Experts expect it will grow at a quick pace in the coming years. That is likely thanks to some of the major CRMs headquartered in the US. That includes HubSpot (located in Massachusetts), Salesforce (located in California), Microsoft (located in Washington), and Oracle (located in California). These CRM providers, along with many others in the US, have seen major growth over the last few years and are expected to continue to grow.
Globe Newswire also states that the European market will see growth thanks to the presence of several major vendors in countries such as Germany, the UK, and France. Some of those CRM vendors include SAP SE (located in Germany) and Teamgate.com (located in the United Kingdom).
CRM Trends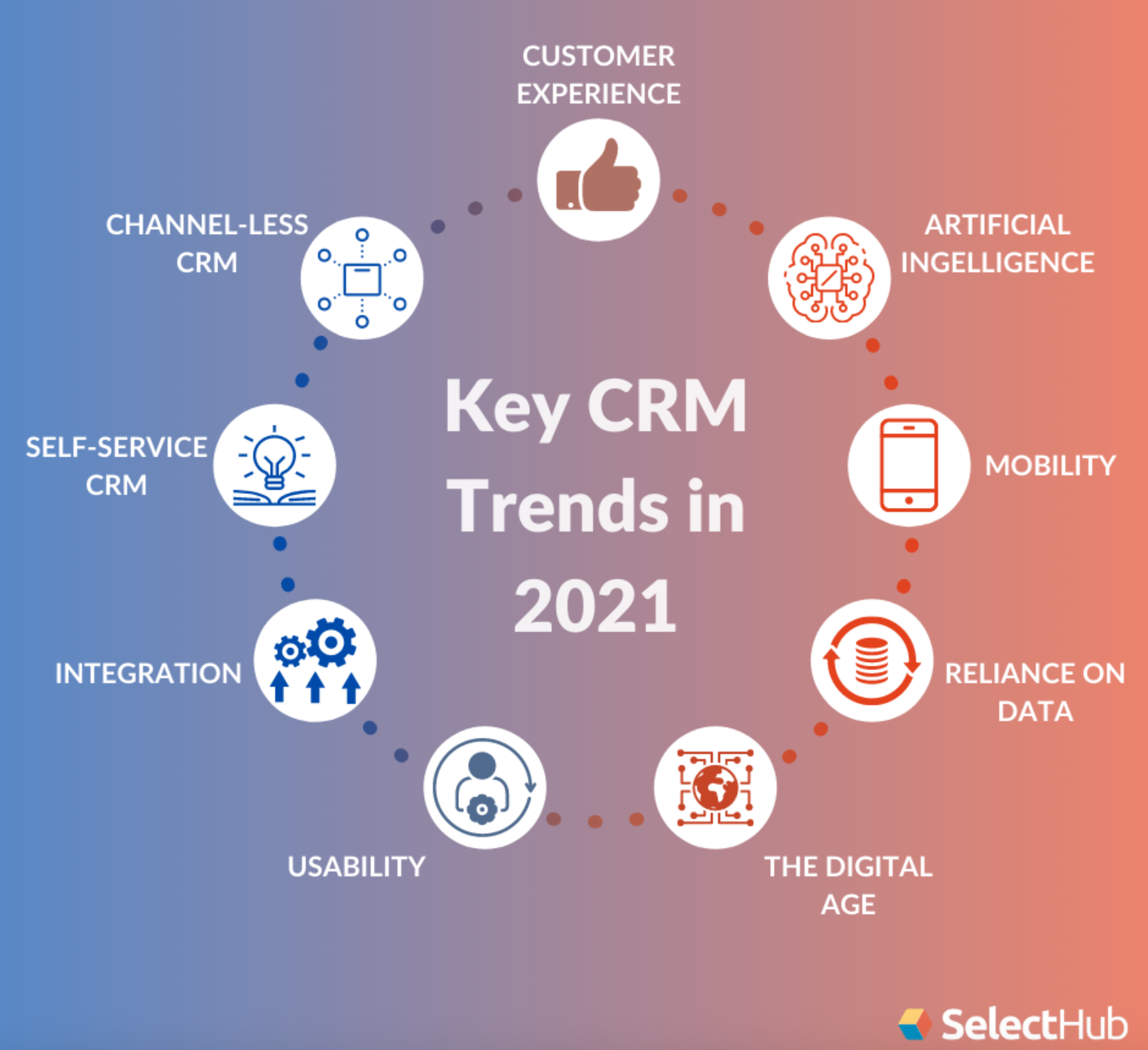 AI-infused CRM systems — A CRM system lives and dies by the quality of its data, and artificial intelligence can help to improve the quality of your data. As Finances Online reports, AI can enhance your system's capability to pull forecasts out of your data. In turn, that will help to provide you with real-time insights into your customers' behavior.
You'll be able to identify patterns that can help you to accelerate sales deals. PieSync estimates that AI-infused CRM can help to boost business revenue by $1.1. trillion by the end of 2021. That just cements the value of combining the two technologies.
CRMs will use voice technology — Salesforce became a trailblazer by investing in the Einstein Voice Assistant. SAP ended up following suit. These major CRM vendors implemented this technology because the adoption of voice technology has been on the rise over the past few years. As eMarketer states, 128 million Americans have used voice assistants monthly as of 2020.
More vendors are appearing to back the usage of this technology. As Finances Online reports, both Microsoft and Salesforce have provided funding to Tact.ai, a company that owns smart voice assistant technology for B2B enterprises. Experts in the industry expect that CRM platforms will roll voice technology in with AI and machine learning.
AR/VR in CRM — The immersive reality of AR and VR allows companies to change the way they engage with their customers. By integrating with this technology, CRMs can offer their customers more advanced tools for marketing campaigns and sales. By integrating with this technology, CRMs can offer their customers more advanced tools for eCommerce, retail, and SaaS marketing campaigns and sales. AR software can also help to provide real-time information that employees can utilize on a daily basis.
Business process automation — PieSync reports that major CRMs like HubSpot, Salesforce, and ActiveCampaign, have begun to prioritize automation in both product and marketing in recent years. More CRM vendors are likely to follow. That's because automation can offer benefits such as utilizing bots to close out less complex customer support tickets and initiate email workflows.
CRM mobility — SelectHub states that mobility has always been a major component of sales activities. The COVID-19 pandemic has highlighted this since workforces are now scattered around the globe for the foreseeable future. That's why many companies train their teams and create a job aid on how to use CRM software more efficiently.
Mobile CRMs mean that employees will be able to access these tools at any time. They also offer strong features in general, such as intuitive interfaces and solid security features.

CRM Adoption Rates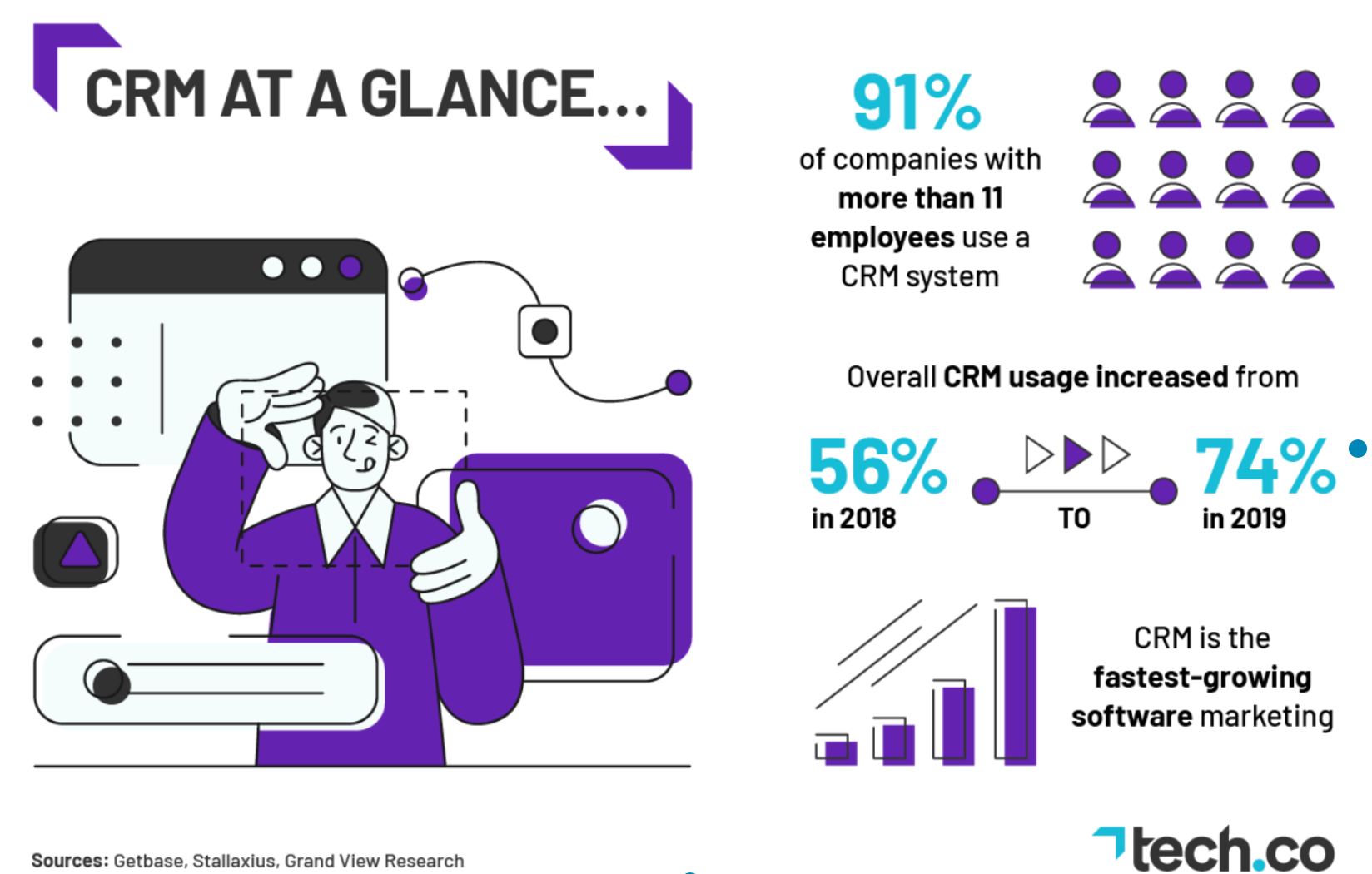 CRM.org states that CRM technology is the fastest-growing software on the market. Take into account the fact that the CRM market was only worth about $23.14 billion in 2015. The market has seen tremendous growth and, as previously stated, is projected to continue to see massive growth over the next few years.
Many multi vendor eCommerce platforms choose to use CRM.So it should be no surprise that more and more companies are adopting CRMs. Just take the surge in usage between 2018 and 2019. Tech.co reported that the number jumped from 56% to 74% in just one year. The site also shared that 91% of companies with more than 11 employees use CRM solutions on a regular basis.
Part of that amazing growth is due to the fact that CRM software has become more affordable than it was in the past. These tools used to be rather expensive, meaning that enterprise companies used to be the only ones that could afford them. But the rise of vendors on the market means that it is accessible to more businesses. The COVID-19 pandemic has also proven the importance of a robust tool like a CRM, which has helped to boost adoption rates.
CRM Market Leaders
Each year, Gartner Research releases a market research report on CRM leaders and the state of the market as a whole. This study, called the Magic Quadrant, gives a birds-eye view of how the top CRM platforms in the market are performing.
Gartner uses a strict set of criteria in order to judge each vendor on its ability to execute and completeness of vision. Based on that, each CRM provider is placed in one of four quadrants — challengers, leaders, niche players, and visionaries.
Gartner releases multiple Magic Quadrants related to CRMs. One is CRM for Lead Management. Gartner defines that category of software as platforms that facilitate a business's inbound and outbound customer acquisition, online and offline.
The analyst firm also releases a Magic Quadrant for CRM Customer Engagement Center (CEC). Gartner defines this technology as customer service and support applications that enable agents to engage customers through their preferred communication channels.
As Cloud Management Insider stated, the common perception of CRM suite has changed significantly. It now includes tools with lead management functionality, more embedded AI/analytics for lead scoring, and increased account-based marketing requirements.
Users can also expect increased personalized B2B experience via web-based data, and increased interest in scalable data storage. The CRM Lead Management Magic Quadrant measures tools that perform these functionalities.
Gartner ranked Adobe, Oracle, Salesforce, and Creatio as its leaders for CRM Lead Management. That means the firm considers these vendors' solutions to have both completeness of vision and a strong ability to execute. These vendors created Oracle CX Sales, Salesforce Pardot, Oracle Eloqua, and Marketing Creatio respectively.
CRM Customer Engagement Center (CEC) tools measure things more from the customer engagement side of things. These tools are typically used by customer service teams. But as we previously stated, CRMs can be used by teams in any department.
These solutions should offer an omnichannel experience so that customers are engaged across various channels, along with unifying customer data. That will ultimately give your customers the best experience possible.
The 2020 CRM Customer Engagement Center (CEC) Magic Quadrant listed Salesforce, Pegasystems, ServiceNow, Microsoft, Zendesk, and Oracle as leaders in the market for 2020. These vendors made Salesforce Service Cloud, Pega Customer Service, ServiceNow Customer Service Management, Microsoft Dynamics 365 Customer Service, Zendesk Support Suite, and Oracle CX Service respectively.
These reports show that CRM software is rapidly evolving. New solutions have been created in recent years to fit the specific needs of individual teams and businesses. As the technology continues to advance, users can expect more CRM solutions to hit the market in coming years.
Challenges for CRM Users
Despite its many benefits, CRM software has its challenges, just like any solution. For one, CRM usage can be difficult for certain industries. As Enterprise Digitalization writes, certain industries like insurance and financial services are heavily regulated. That's because of the strict regulation around their customers' data, such as the HIPPA regulation.
So if a customer was chatting with an agent in the CRM solution, certain customer information would have to be blocked. These interactions also call for authentication purposes. That could take away from the quality of the customer interaction.
These industries have had processes like these set for years, meaning that they are unlikely to change. With that in mind, those industries won't be able to keep up with how quickly the technology evolves. That means that certain industries will undoubtedly fall behind.
CRM marketers also face their own unique set of challenges, such as the following:
Organizing data — CRMs offer an overwhelming amount of data. Sometimes, that makes it hard for marketers to know how to make sense of it all. But if you don't make sense of all the information at your fingertips, your marketing will suffer because of it.
Growing subscribers — As Econsultancy states, CRM marketers sometimes focus too low down the funnel. Doing that could cause your subscriber base to suffer.
Keeping up with customer behaviors — Your customers' behavior is constantly changing. CRM marketers sometimes are guilty of focusing too much on previous trends than what those customers are projected to do in the future. That might cost you those customers' loyalty in the future.
The Bottom Line: CRM Software is an Asset to Any Business
If your business doesn't currently use a CRM solution, there's no reason to wait. These tools offer a multitude of benefits that can help unify your departments under one distinct platform. The next step is finding the particular CRM that works for your business.
Consider the features you need and your specific use case. Take a look at this article to see if small business CRM vs enterprise CRM is the best option for you.