Zoho offers a unique software suite that allows you to run your entire small business. The company was founded in 1996 under the name AdventNet. Their customer relationship management (CRM) software was the first tool they came out with, followed by the releases of their Projects, Creator, and Sheets platforms. Zoho Docs and Meeting came after that.
In 2009, AdventNet officially changed its name to Zoho Corporation after its online suite. Since 2009, the software company has continued to grow on a positive trajectory. In 2017, they released a suite of more than 40 applications called Zoho One. Just a couple of years later in 2020, Zoho has more than 50 million customers.
In this article, we are going to focus on Zoho's flagship product — its CRM system. We'll discuss the various plans, add-ons you can choose from, and most importantly, which plan is the best for you as a small business owner. This article will cover the following sections:
Basic Pricing Plans
Zoho CRM Pricing
Zoho offers five options for its CRM pricing tier. Their free edition is designed for smaller businesses just getting off the ground. But the four paid options offer a plethora of features that are useful for any business.
Each of Zoho's plans offers a flexible free trial to test out the platform and the option to be charged monthly or annually. Zoho CRM also allows you to cancel or switch plans at any time with no consequence. This is an advantage to businesses that may see themselves scaling up sometime in the near future.
| | | | | | |
| --- | --- | --- | --- | --- | --- |
| | Free Edition | Standard Edition | Professional Edition | Enterprise Edition | Ultimate Edition |
| Price | Completely free of charge | $14/user/month, billed annually | $23/user/month, billed annually | $40/user/month, billed annually | $52/user/month, billed annually |
| Top Features | 3 free users, Leads, Documents, Mobile app for iOS and Android | Everything in the previous plan, Scoring rules, Workflows and workflow rules, Multiple pipelines, Mass email, Custom dashboard | Everything in the previous plans, SalesSignals, Blueprint, Web-to-Case forms, Validation Rules, Inventory Management | Everything in the previous plans, Zia AI, Command Center, Canvas, Multi-user portals, Advanced customization options, Mobile SDK and MDM | Everything in the previous plans, Advanced BI bundled with Zoho Analytics, Enhanced feature limits, 30-day trial |
Zoho CRM Plus Pricing
Zoho CRM Plus rolls a large number of functionalities into one platform. You can expect social media, marketing, project management, and more. It's designed to serve companies of all sizes and industries. Zoho CRM Plus offers a 30-day free trial without a credit card required.
| | |
| --- | --- |
| | CRM Plus |
| Pricing | $57/user/month, billed annually |
| Top Features | Sales force automation, Product customization, Automation and process management, Prediction and artificial intelligence, Reports, Analytics and measurement |
Zoho Bigin Pricing
Bigin is Zoho's CRM designed with small businesses in mind. It gives those businesses a new way to look at customer pipelines so that businesses can easily move their conversations forward. There are no forced contracts or credit cards required to sign up for Bigin.
| | | |
| --- | --- | --- |
| | Free | Express |
| Pricing | Completely free of charge | $7/user/month, billed annually |
| Features | Single users, 500 records, Single pipeline, 3 workflows, 1 webform | Everything in the previous plan, 50,000 records, Multiple pipelines, 25 workflows, 5 webforms |
Zoho CRM Plus — What's the Difference?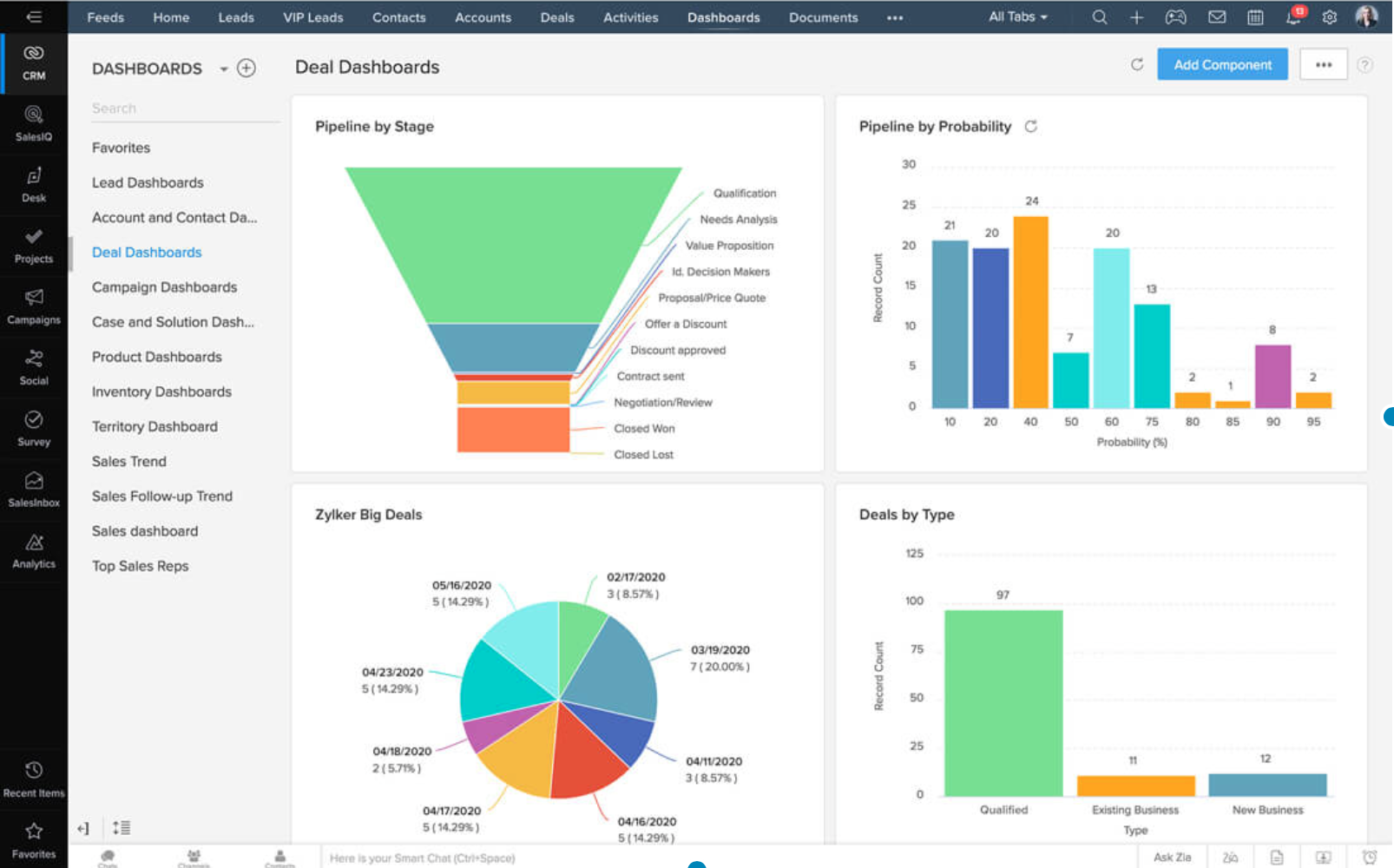 Zoho CRM software allows its users to build everlasting customer relationships. With this platform, you can convert more leads, engage with customers, and grow revenue. It's a completely unified solution that allows you to manage the end-to-end customer lifecycle.
Zoho CRM Plus, on the other hand, acts as a unified customer experience platform. Its purpose is to help users deliver an outstanding experience to every customer across each stage of their lifecycle, converting them into brand advocates. This tool manages the customer experience across multiple channels while unifying all customer-facing teams in your business.
Zoho CRM offers the features users need to conquer every stage of the customer journey. Features like deal contact and account management allow you to automate routine tasks so your sales team can build long-lasting relationships with clients. You can also generate new leads and manage them throughout the funnel with lead management, mass email marketing, A/B testing, and customer segmentation. Businesses can also take advantage of Zoho's built-in help desk, meaningful insights, and ability to automate processes and rules.
Zoho CRM Plus goes a step beyond the sales-centric features that the basic CRM offers. That's because this platform is more focused on the customer journey as a whole, as opposed to just the initial relationship developed in the initial sales process. CRM Plus offers features that are perfect for any customer-facing team, no matter what department they are within your company.
This solution offers features that put customers at the center of everything your business does. This includes the use of Zoho's patented AI assistant Zia to predict business trends, suggest the best times to contact a customer, provide intelligent business dashboards, and more. CRM plus also allows you to take help closer to your customers through the use of a knowledge base, the ability to raise tickets, and chat directly with customer support agents.
Zoho Bigin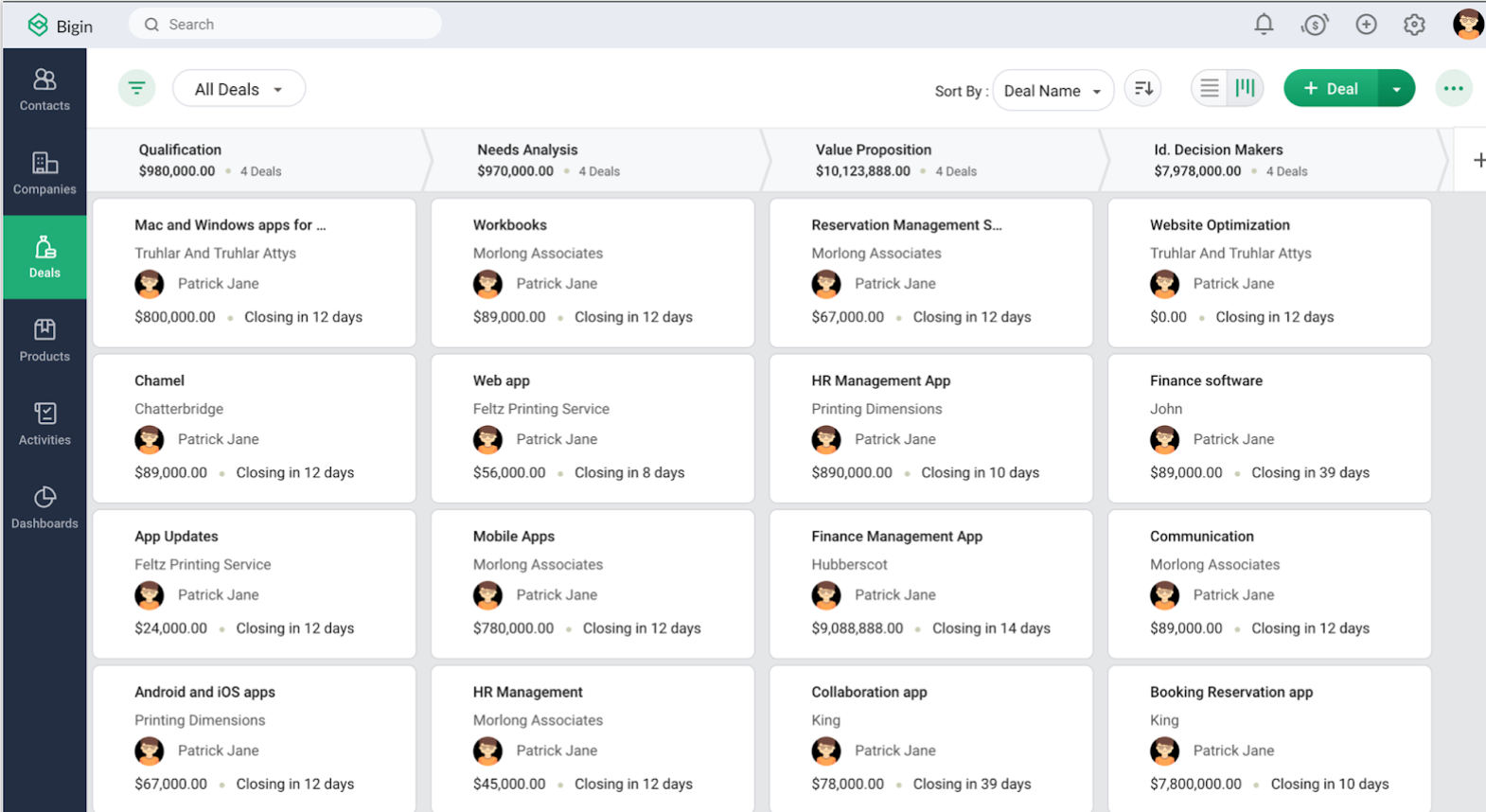 If Zoho CRM or Zoho CRM Plus doesn't fit your business needs, Zoho Bigin might be the choice for you. The previous two CRMs include extensive features that can be used to improve customer relationships.
But because of the breadth of features offered, those platforms may be too expensive for smaller businesses. Bigin offers a more limited feature set for businesses that don't have the need for a load of technical features. Because of that, it comes at a much cheaper cost.
Bigin offers two separate plans. The free version is ideal for individual freelancers. Because it is only available for one user, the rest of its offering is fairly limited. This plan only has 250 records per batch, 5 custom list views per module, a maximum of 50 records in list view, and just 1 pipeline.
Express, Bigin's other option, is still a pretty simple offering but offers more than the Free plan. Express offers an unlimited amount of users, starting at $7/user/month. This plan offers 50,000 records, with the option to purchase additional ones. Users can also leverage 5 tags per record, 10,000 records per batch, 2 free backups per month, custom and unique fields, and more.
It is important to note that each plan offers add-ons. Users can purchase 10,000 additional records for $1/month (billed annually), 5 GB of additional file storage for $4/month (billed annually), and one-time data backup for $5.
Those add-ons will likely be necessary for users who select the Free plan, as that option comes with its share of limitations. While the Express plan offers an adequate feature set for small businesses with 10 users or under, those add-ons are a nice bonus.
Which is the best Zoho CRM plan?
For a small business trying out a CRM for the first time, Bigin Express is the way to go. Sure, each plan offers a free trial — but those will only last for so long. When it comes to trying out a new type of software for the first time, you don't want to spend too much money until you know how you like the tool.
But, you will also want to make sure you have enough features at hand to get the job done. At $7/user with a respectable feature set, Bigin Express offers that to its users.
But if your business sees itself scaling in the near future, your team may very well outgrow Bigin Express. If that's the case, Zoho CRM's Standard plan is a good option to switch to. It is twice the price of Bigin Express but offers some more advanced features.
Users can take advantage of deeper sales force automation, email notifications, and reporting. But until a small business reaches the point that they require these more advanced features, they will easily be able to manage customer relationships with Zoho Bigin Express.
Zoho Alternatives
Zoho might not be the CRM for you, and that's okay. Here's a look at some options to consider.
| | | | | | |
| --- | --- | --- | --- | --- | --- |
| | Hubspot | Zendesk | Salesforce | Copper | Pipedrive |
| Starting Price | Hubspot offers a free plan | $19/user/month, billed annually | $25/user/month, billed annually | $25/user/month, billed annually | $12.50/user/month, billed annually |
| Top Features | Live chat, Email tracking and notifications, Meeting scheduling, Reporting dashboard, Deal pipeline | Email integration, Click-to-dial, Mobile CRM, Apps and integrations, Sales pipeline | Sales data, Opportunity Management, Account and contact management, File sync and share, Reports and dashboards | 2,500 contacts, G Suite integration, Project management, Single Sign-On, Sales forecasting | Deal management, Contact and organization management, Activities management, Pipelines, Email inbox |
Here's a further look at each option.
Hubspot

Hubspot is a leader in the CRM space. It is designed to help businesses grow better. The sales platform offers the tools and integrations that businesses need for marketing, sales, content management and customer service purposes. By using Hubspot, any business can close more deals, deepen relationships, and management pipelines.
Within Hubspot's Sales Hub, users can take advantage of sales engagement tools, quote functionality, reporting, analytics, and more. Businesses can also integrate their tool with any of the 500 third-party software solutions in Hubspot's App Marketplace.
Zendesk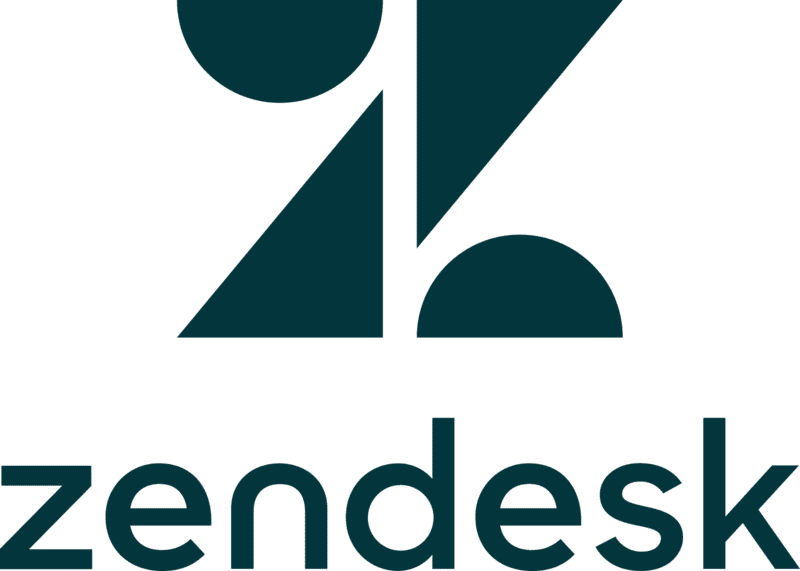 Zendesk offers sales and support products in order to better improve customer relationships. It's customizable enough to work for any business size ranging from small business to enterprise. This tool enhances productivity, processes, and pipeline visibility for sales teams of any size.
Zendesk's CRM Sell is designed to keep your sales reps selling. The tool removes friction from deal updates so your team can always access, analyze, and collaborate on all relevant deal data. Simply put, Sell lets you turn conversations into conversions. The CRM does this by giving your team access to integrated tools that provide the full context of your customer account. That way, they can capitalize on all opportunities.

Salesforce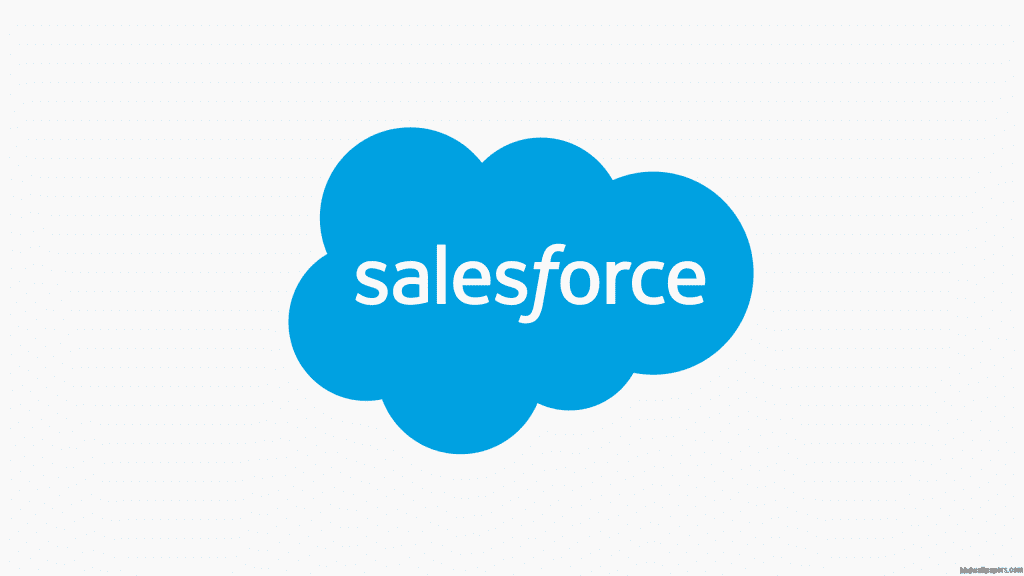 Salesforce brings companies and customers together. The website boasts that its tool Sales Cloud is the #1 growth platform for digital sales. It allows users to manage leads more effectively, monitor pipelines accurately, simplify marketing automation tasks, and close deals quicker.
With Sales Cloud, you can achieve sales success from anywhere because it helps users monitor business health in real-time and quickly pivot go-to-market. Sales Cloud makes sure you can get a faster return on investment by eliminating your team's guesswork. This CRM lets you see how to increase sales rep productivity and grow revenue through data-driven selling.

Copper

Copper CRM understands the fact that customer relationships are the lifeblood of your business, so this app is designed to help teams build relationships that help drive revenue. Copper boasts that their tool has zero learning curve and zero data entry — it's a tool that your team will love.
G2 ranked Copper #1 in payback, meaning that it helps businesses receive a quick return on investment. That's because the tool can be up and running within a matter of days. With Copper, you can nail business processes, and take advantage of featured integrations that can benefit your team.

Pipedrive

Pipedrive was developed from the point of view of a salesperson. It was inspired by methods proven to be successful by experienced sales teams. That allows sales reps to focus on learning and repeating effective processes so they can close deals. Pipedrive's signature sales approach is designed to help teams sell more with less manual work.
The CRM enables users to achieve this by helping users focus on actions to help them get to the finish line, like the ability to schedule calls and emails. By leveraging this tool the right way, sales teams should see a 28% increase in closed deals.

Who is Zoho CRM Best For?
Ultimately, Zoho is a great choice for small businesses at varying stages of growth. Zoho Bigin is a great option for a small business just starting to accumulate customers. As the website says, this CRM is a great option for moving beyond spreadsheets or replacing legacy sales tools.
As Hubspot writes, Zoho is the best CRM solution for small businesses looking for an affordable all-in-one tool. It's especially useful for businesses without a dedicated IT department, as it's easy to deploy and maintain. For businesses that find themselves moving out either of these phases, Zoho CRM Plus is a great tool to fit their needs and enable them to continually close deals. Simply put, there's a Zoho CRM option for any small business.
Conclusion: You Can't Go Wrong With Zoho
Zoho has something for everyone. It's an affordable tool that offers a decent amount of features, even at the most basic level. It's easy to deploy and highly customizable. A small business can benefit from implementing any of the CRMs that Zoho has to offer.
Frequently asked questions
If you buy online, you can purchase add-ons, upgrade support plans, and change the cadence of your payment from monthly to yearly.
This refers to anyone who has access to your company's Zoho accounts. 
Yes! Contact payments@zohocorp.com to do so.
Zoho CRM offers 100,000 records across all modules. Every entry you make in the CRM is referred to as a record. So that means you can enter up to 100,000 records across all modules. 
No. Zoho CRM offers a 15-day free trial for all four of its plans. Each of these plans allows for 3 users. If you require more than that, you will need to upgrade to the paid plan.