Project management tools are a great way to delegate daily tasks to your team, along with keeping a close eye on all parts of ongoing projects. But the question is, which project management tool should you select? Monday.com and Asana are two of the leaders in the market, making them two strong contenders.
In this article, we'll offer a thorough comparison of each tool in order to help you make an informed decision. We'll cover features, ease of use, pricing, and integrations so you can accurately judge if Monday.com or Asana is the right project management system for you. Here's a quick overview of Monday.com vs. Asana.


Monday.com
Asana
Top Features
- Boards and columns
- Checklists
- Automation
- Project templates Custom reports
- Project tags
Pricing
Paid plans range from $8/user/month to a quote-based system
Paid plans range from $10.99/user/month to a quote-based system
Pros
Built-in time tracking, multiple views for boards, and Gantt charts
Offers a variety of integration, customizable dashboards, and project prioritization
Cons
The user interface can be slow, moving tasks could be easier, and the navigation system for workspaces could be more user friendly
The software platform has a bit of a learning curve, tasks can only be assigned to one person, and no time tracking
Asana

Asana was founded by Facebook co-founder Dustin Moskovitz and former Google and Facebook engineer Justin Rosenstein in 2008. The pair left Facebook to start the project management tool and it was launched for free out of beta in November 2011. The tool quickly became massively successful.
During its first few years on the market, Asana received funding from impressive investors such as Sean Parker, Mark Zuckerberg, and Tony Hsieh. As of 2020, Asana boasts more than 1.3 million users. Asana has customers such as IBM, AB-InBev, eBay, and Overstock. The upward trajectory has not stopped for the project management solution, as they filed for direct listing with IPO plans in August 2020.
Monday.com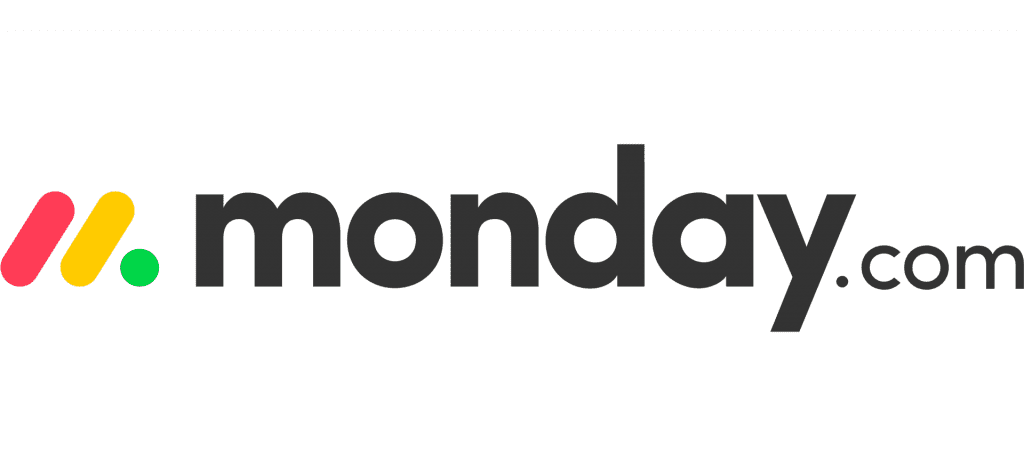 Monday.com was created in 2010 as an internal tool for web developer Wix. In 2012, the solution left Wix to become a separate company called daPulse. The tool quickly became successful, gaining an impressive amount of funding over its first few years. In 2017, the tool's name was eventually changed to Monday.com
As the product boasts on its website, the platform has pretty impressive clients such as Uber, Adobe, Universal, and Costco. As of 2019, the tool has more than 80,000 organizations as customers. In 2020, Monday.com won the Webby Award for Productivity in the category Apps, Mobile & Voice
Monday.com vs. Asana: Features

Monday.com and Asana both offer typical project management features you should expect out of the box and unique functionalities that set them apart. Here's what you can expect from each solution.
Task Management — This feature is used to create, assign, and monitor tasks that are given to employees. This feature is at the heart of project management tools. This allows project managers to keep tabs on every moving piece of ongoing projects.
Software admins have the ability to assign tasks to employees, add deadlines, and post comments for those involved in the task.
Asana — This tool offers task management that ensures you're able to track tasks from beginning to end. You can even add subtasks and dependencies to make sure projects get done on time.
Monday.com — Monday.com ensures that you can plan, manage, and track all of your team's tasks. You can drag and drop tasks, prioritize them, and track how long it takes for your team to carry out each assignment.
Workflows — Project management tools offer workflows in order to define how tasks should be completed in each phase of a project. A workflow is customizable in order to adapt to meet each team's specific needs. It should also provide logic to account for project constraints.
Asana — Asana provides workflow management that can help users build and track processes throughout each project. They allow you to decide how and when to communicate, streamline regular tasks, and define team responsibilities.
Monday.com — This tool helps its teams define workflows so that they're on top of all tasks and deadlines. Monday.com allows you to see a real-time overview of your projects in order to see where things stand, collaborate on every step, and resolve team dependencies with a timeline view.
Collaboration — A project management software solution is designed to make team collaboration and team management easier. These solutions typically offer this feature out of the box so that you're not having to use a third-party collaboration tool.
Asana — Asana makes good collaboration a priority. With this tool, you can plan projects, coordinate work, communicate effectively, and align on shared goals so that all necessary parties are on the same page. That way, company goals can easily be achieved.
Monday.com — Monday.com believes that a project is only as strong as the people behind it, and the tool was created with that in mind. You can collaborate in-context, leverage centralized communication and file sharing, and search for everything right within the platform.
Project scheduling — This feature includes project milestones and deadlines that establish when each phase of a project should be completed. You should be able to expect the ability to assign due dates to your individual task. Milestones can also be defined depending on dependencies between tasks.
Asana — Asana allows you to create a project schedule or timeline. You can plan out everything that needs to be completed before the final deadline in order to ensure your work will be easier.
Monday.com — Monday.com offers a thorough scheduling feature. This tool allows you to see aspects of your project such as deliverables, resources, requirements, and more.
Project visualization — A project management solution should offer you complete visualization so you can see every aspect of each project from a bird's eye view. You should also be able to drill down to the most granular of project levels, down to specifics of one individual task. Admins should also have the power to adjust the overall visualization.
Asana — Asana offers three ways to view a project. You can utilize its calendar, timeline, or Kanban board functionality. You can toggle between these views depending on what better suits the project that you are currently working on.
Monday.com — Monday.com offers an intuitive Gantt Chart option. You can create your board, add tasks and team members, and automate your process. It gives you a bird's eye view that allows you to track your team's progress and communicate with ease.
Resource management — This allows teams the ability to allocate resources across their various projects and activities. Resource management is especially valuable in project management tools, as it makes sure that your team's projects don't run over budget.
Asana — Asana launched their tool Workload in 2019, which can help with resource management. The solution gives you a centralized view of your team's capacity, meaning that it will be easier to create a resource management plan for your project.
Monday.com — This solution provides a template for its users. That way, you can quickly create a resource management plan that doesn't take up too much time so that you can concentrate on the bigger picture.
Document management — Odds are that your project will require some important accompanying documents in order to share project plans with the necessary parties. Your project management solution should offer features that will help you to securely manage these files.
Asana — Asana makes sure its users can share files and store sensitive documents within the platform through its various integrations. You can directly attach files in various documents from your Google drive straight to project tasks.
Monday.com — You can upload files to Monday.com straight to the Updates section, the status box, or the File Column. That way, everyone working on the project will be able to access the documents from the same location.
Asana vs. Monday.com: Ease of Use
A project management software solution can have a repertoire of powerful features, but they will ultimately mean nothing if the tool isn't easy to use. Here's a breakdown of the ease of use for both Asana and Monday.com
Asana
Asana offers easy-to-use side navigation with icons and labels that help you to find the exact part of the platform you are looking for. If you manage to get lost within the platform, you can even go back to the beginning with the clearly marked "Home" button. On the Home screen, you can see a helpful overview of upcoming tasks and deadlines.
Here are some mentions of Asana's user interface from its G2 reviews:
The free version's flexible features make it easy to use
Asana has a very clean and friendly interface, making it easy to use for any team member.
It is simple, easy to use, clean, and organized.
Asana is so easy to use, you can set it up the way you want.
Monday.com
According to Zapier, Monday.com's user interface is a little harder to master. The solution's default home page shows your inbox, project plans, and dashboards. But things get a little more complicated when it comes to side navigation. It only shows display icons, with sometimes difficult to understand titles. One such example is "Boltswitch," which enables you to switch between different boards.
Here are some mentions of Monday.com's user interface from its G2 reviews:
It is easy to pick up how to use new functions to reduce the time required for project work.
The interface is great, easy to use and pleasant.
The user interface is pleasing visually.
There are ways to get the data but not directly onto the base board, and that limits the usefulness of the product
Asana vs. Monday.com: Pricing
Here's a breakdown of what you can expect for pricing between the two platforms.
Asana


Basic Plan
Premium Plan
Business Plan
Enterprise Plan
Price
Completely free
$10.99/user/month, billed annually
$24.99/user/month, billed annually
Available on a quote-based structure
Features
- Unlimited tasks
- Unlimited projects
- Unlimited messages
- Unlimited activity log
- Unlimited file storage
- Timeline
- Dashboards
- Advanced search and reporting
- Custom fields
- Unlimited free guests
- Portfolios
- Goals
- Workload
- Custom rules builder
- Forms branching and customization
- SAML
- User provisioning and de-provisioning
- Data export and deletion
- Block native integrations
- Attachment controls
Monday.com


Basic Plan
Standard Plan
Pro Plan
Enterprise Plan
Price
$8/user/month, billed annually
$10/user/month, billed annually
$16/user/month, billed annually
Available on a quote-based structure
Features
- Unlimited boards
- 200+ templates
- Over 20 column types
- Unlimited free viewers
- iOS and Android apps
- Timeline and Gantt views
- Calendar view
- Guest access
- 250 Automation actions a month
- 250 Integration actions a month

- Private boards
- Chart view
- Time tracking
- Formula column
- 25,000 Automation actions a month
- 25,000 Integration actions a month

- Enterprise-scale automations and integrations
- Enterprise-scale security and governance
- Advanced reporting and analytics
- Multi-level permissions
- Tailored onboarding
Who comes out on top: Asana is the all-around winner when it comes to getting the most bang for your buck. As it offers both a free plan and one better-suited for large businesses, it has something for every type of team.
While its paid plans are more expensive than Monday.com's are, Asana offers more impressive features in those premium plans. So if you decide to pay the extra money for. the paid plans, you'll absolutely get your money's worth.
Asana vs. Monday.com: Integrations
As Asana and Monday.com are both major project management tools, they each boast an impressive amount of integrations. In fact, many of their integrations overlap with one another.
Below, we will provide a preview of some integrations you can expect in each solution. Please note that some integrations are available out-of-the-box while others are only accessible by using a third-party tool to integrate each software.
| | | |
| --- | --- | --- |
| | Asana | Monday.com |
| Microsoft Teams | ✓ | ✓ |
| Salesforce | ✓ | ✓ |
| Slack | ✓ | ✓ |
| Gmail | ✓ | ✓ |
| Outlook | ✓ | ✓ (But only with a Microsoft 365 Business Premium license) |
| Dropbox | ✓ | ✓ |
| Zoom | ✓ | ✓ |
| Excel | ✓ | ✓ |
| Vimeo | ✓ | ✓ |
| Zapier | ✓ | ✓ |
| Twilio | ✓ | ✓ |
| Jira | ✓ | ✓ |
| Pipedrive | ✓ | ✓ |
| Figma | ✓ | ✓ |
| Instagantt | ✓ | X |
| Everhour | ✓ | ✓ |
| Miro | ✓ | ✓ |
| Woocommerce | ✓ | ✓ |
| Stripe | ✓ | ✓ |
Asana vs. Monday.com: The Bottom Line
Asana and Monday.com are both popular project management tools for a reason. Each offers its own benefits with impressive features and affordable pricing plans. Both Asana and Monday.com will be able to get the job down and ensure you remain productive and organized throughout the duration of all your team's projects.
Asana is a great option for larger teams looking to manage complex projects. It boasts impressive features that centralize all information in one place, along with more advanced features like portfolios and workload allow you to accurately allocate resources. That means the tool can act as an internal knowledge base for your ongoing projects.
Monday.com is a great option for either small businesses or solo employees looking to use a project management solution more as a to-do list than a system to track and manage projects.
When it comes to deciding between the two options, a great route to take would be to check out verified user reviews of each tool and decide what works best for your business purposes. You can also take a look at alternatives such as Trello or Atlassian.
But when it comes to the best project management software, our money is on Asana. If you're looking to learn more about project management as a whole, be sure to take a look at our article on the state of project management.