With remote work continuing to be on the rise, it's important to stay connected to your team and make sure everyone remains on top of their necessary projects. To do that, you'll want to find a project management and team collaboration software solution. However, these tools are a dime a dozen, so it's important to pick the one that is best for you. Trello is one of the best options you could ask for.
Trello simplifies managing and tracking project processes The Kanban board app does this by providing users a bird's eye view of employee assignments, deadlines, and workflows. It's designed to help teams of any size move forward in their projects and overall business.
The tool is highly customizable, which allows you to expand your boards with more features as your team grows. These features allow you to manage meetings, projects, events, and more. Users can set up their boards and customize workflows quickly for anything they need. It's a simple way to help your team succeed.
In this article, we'll cover the following sections:
What is Trello?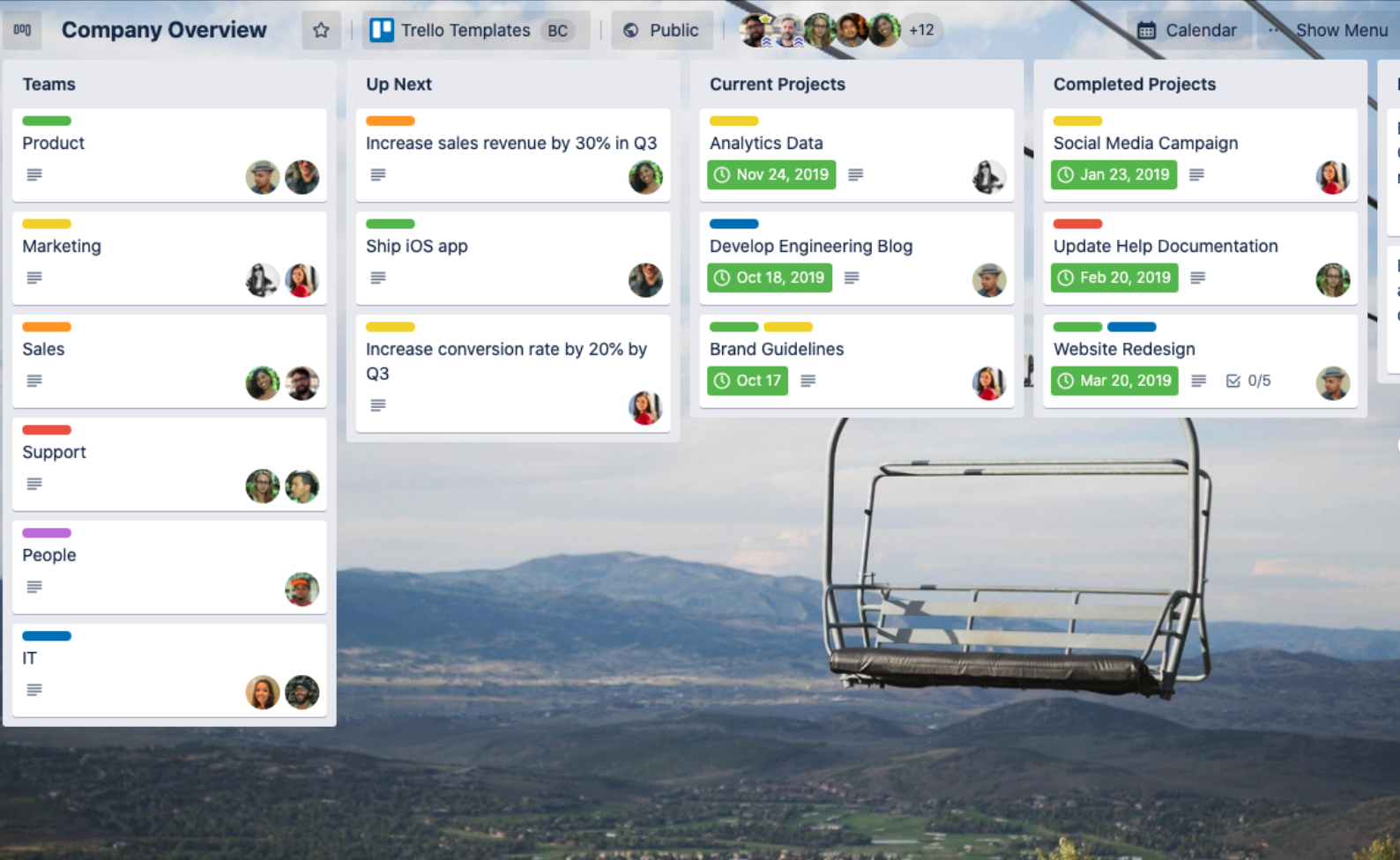 Trello is a visual collaboration tool that enables teams to have a shared perspective on any project. The project management tool offers boards, lists, and cards so users can prioritize anything they need in a flexible and fun way. Trello boasts more than a million users, including prominent brands like Google, Fender, and Costco.
Trello was released at a TechCrunch event in 2011 by founder Joel Spolsky. Following that event, Wired Magazine referred to Trello as "One of the 7 Coolest Startups You Haven't Heard of Yet." Once it hit the scene, Trello quickly exploded in popularity.
In 2014, the project management solution company earned more than $10.3 million. Also in 2014, the tool was acquired by software development and collaboration company Atlassian. By October of 2019, Trello announced it had more than 50 million users.
As Wired writes, Trello has gained such a huge level of popularity in the last decade because it's not a tool that companies have to use, but that they want to use. That's an unusual quality for a business-facing application, as that kind of devotion is usually reserved for consumer-based applications like Instagram. That kind of success is truly hard to find.
Trello Features
Trello is known for how user-friendly and simple it is, but there's more to the team collaboration tool than meets the eye. The software boasts plenty of advanced features that can provide endless benefits to its Trello account users. Here's a look at everything Trello has to offer.
Cards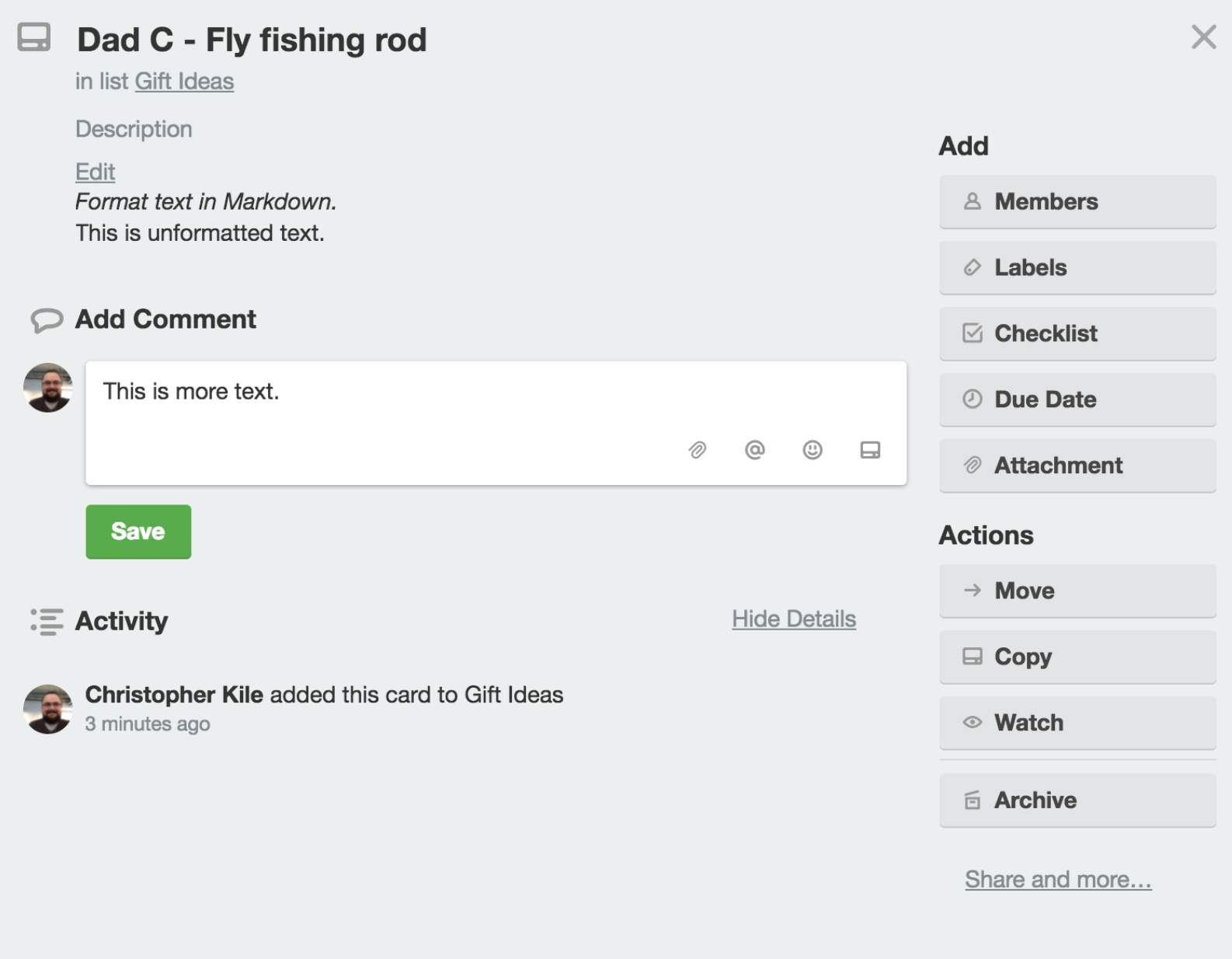 Trello is known for its cards, which is the basic building block of its functionality. Usually, one card represents one task. Users can organize projects on boards that are arranged as a series of lists.
Every board has cards attached to it. These cards are how Trello users can keep track of specific tasks and sub-tasks they need to get done. You can even add stickers and emojis to cards. Since cards are so important to Trello, they come with their own set of sub-features.
Card Descriptions — Click "Edit the description" and input specific information about your card, such as directions or website links.
Comments and Activity — Comments can be added to cards so you can easily collaborate and communicate with team members. Simply add their name after typing the @ symbol to notify them of a comment.
Card Back — You can flip around the cards to see their descriptions, comments and activity. This also gives users the ability to add members, checklists, and due dates to tasks.
Labels — Users can add labels to cards to better organize them by properties such as teams or subjects. These labels are completely customizable and can be color-coded.
Card Repeater — This feature allows users to automate the creation of cards for tasks that repeat themselves every day or week, for example.
Checklist — Every Trello card can come with a checklist so you can further break down projects into as many details as you need.
A card can be as complex or as simple as you want, depending on how detailed you want your tasks to be. Thanks to the endless customization options, they make for a great foundation of any successful project.
Power-Ups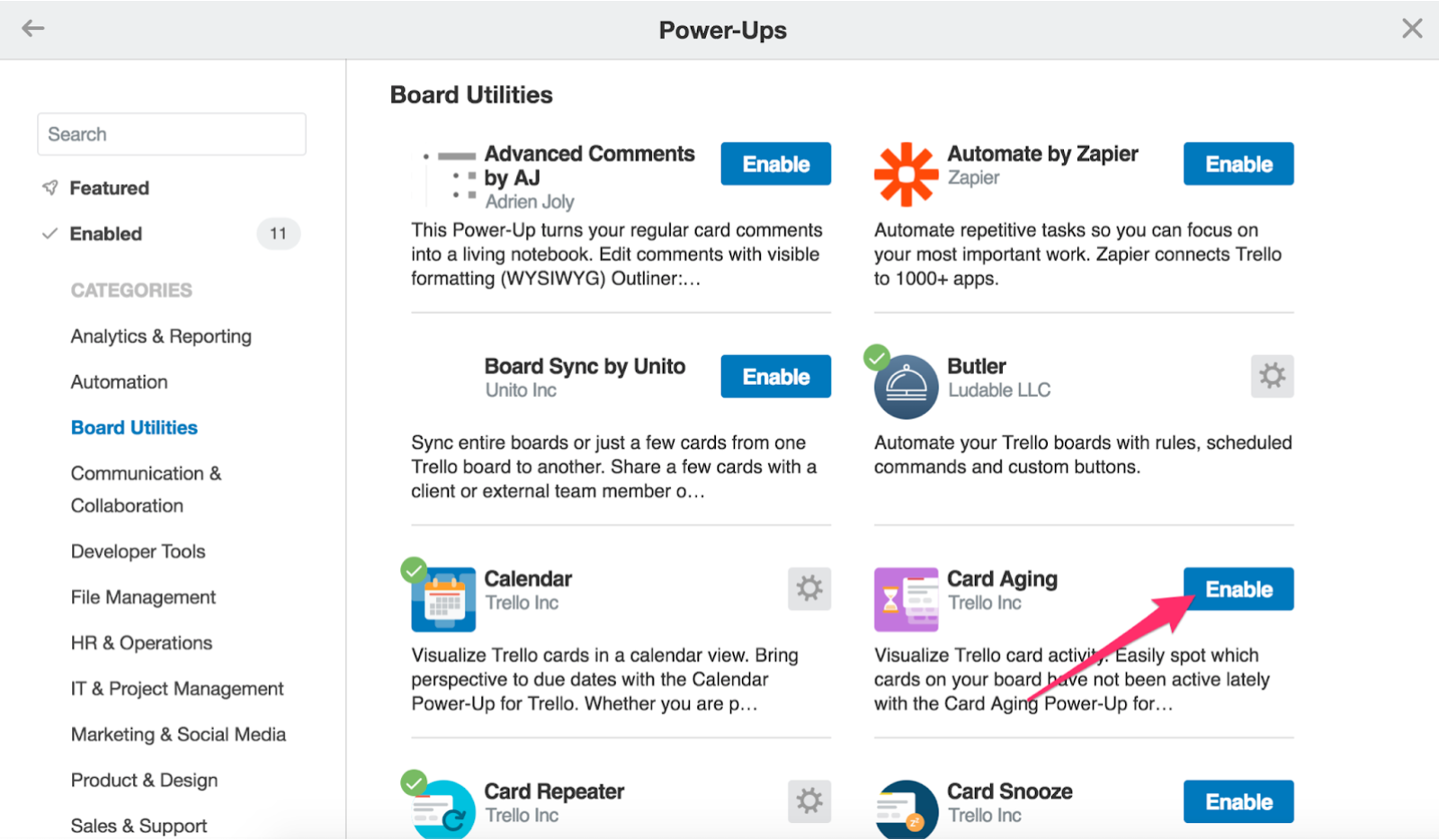 These bring additional functionalities and integrations to your Trello boards. This includes:
Calendars — By integrating your calendar of choice, you'll be able to see your due. dates in a calendar view
Google Drive — This allows you to gain quick access to file attachments from the back of your card. You can also do this with Box and Dropbox. Similarly, Trello integrates with Microsoft Onedrive.
Custom fields — Trello enables users to add customization to fields to cards so you can access structured information like costs, phone numbers, and more. This will be visible on both the front and the back of the card.
Butler Automation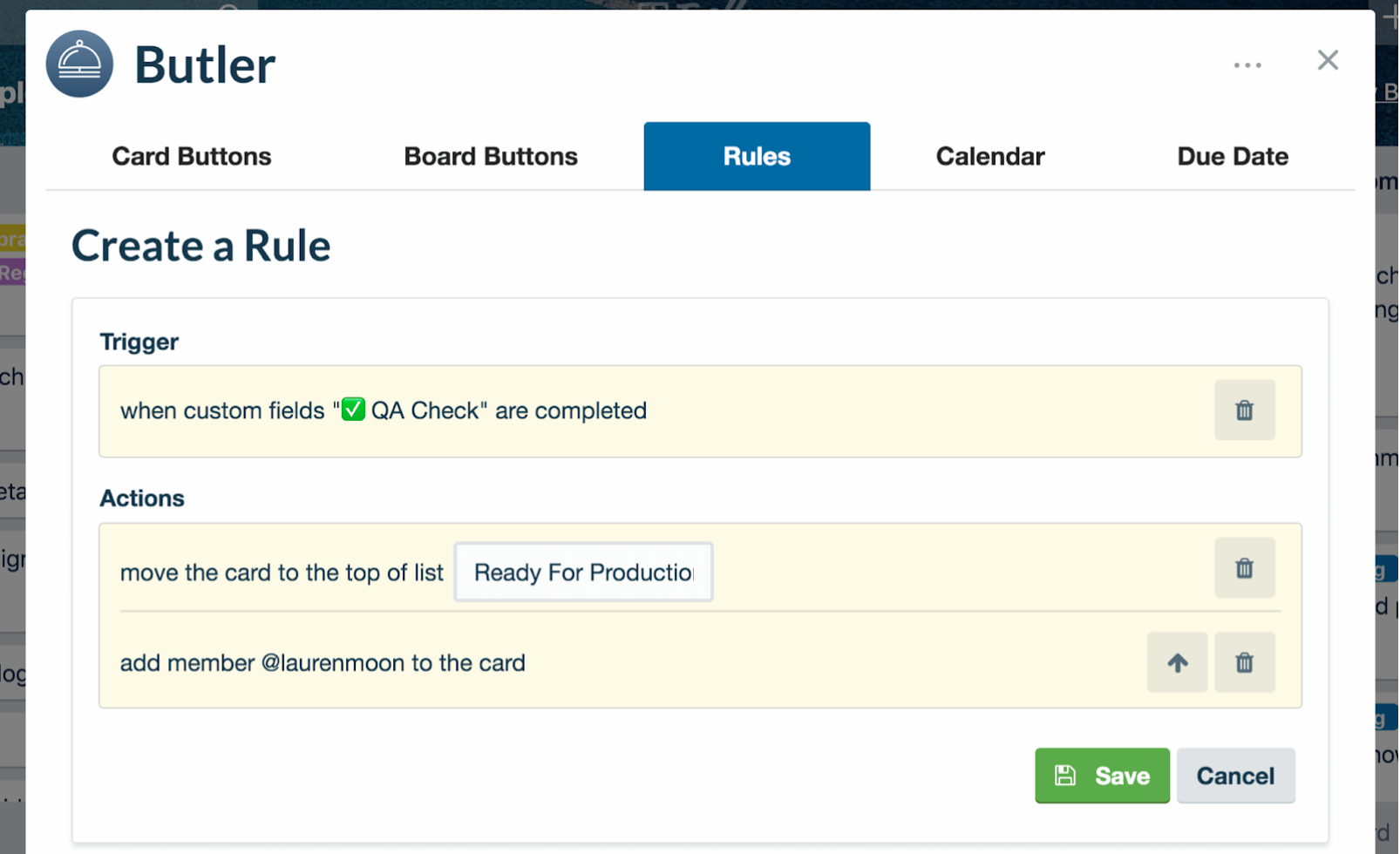 Butler allows users to set up automations, rules, and commands within Trello boards. That way, you can cut down on repetitive work. This doesn't require any advanced coding skills, meaning that it's easy for anyone to implement it. You simply need to click on the Butler icon in your Trello board menu and begin giving it automations to create, such as rules, buttons, due dates, and calendars.
Chrome Extension
Google Chrome offers an extension that allows users to seamlessly toggle between your browser and the platform. It allows you to easily turn whichever webpage you're on into a Trello card.
Keyboard Shortcuts
As Trello is all about making your life easier, it offers a number of keyboard shortcuts to save you time, such as:
B — Access Board Menu
N — Add a new card to a list
Q — See only your cards
F — Filter through your boards and cards
D — Clicking this button while on a card will allow you to add a due date
C — Archive a card
Space Bar — Assign yourself to a card
The Trello User Experience
Trello is known for its incredibly easy user experience. It's meant to mimic a large white board your business may have previously used in place of a project management tool. You can see every task organized in categories of to-do, doing, and done. The tasks within each category are shown as cards because they are meant to represent sticky notes you may have put on a whiteboard.
UX Planet calls Trello's Kanban-style addictive, specifically because it mimics the idea of moving sticky notes around on a whiteboard as you might do in real life. Because of that, the idea of adding cards to a Trello board feels very natural.
But if you don't want to take our word for it, here are some reviews from verified Trello users on how impressive the Kanban board's user experience is:
The application has a fairly complete design and allows us to maintain a remarkable user experience, no matter where we are connected at the moment.
What I loved, and that I still do, about Trello is that its user experience is just easy and does not need any experience to use.
The user experience is really good and it is something that won't distract you when you are working.
It was a clean user experience as far as dragging and dropping cards into different statuses.
Simple user interface and awesome user experience — you can organize your projects in a simple way and always have your project overview a click away.
Simply put, Trello's ease of use completely works in its favor. A project management tool should be as simple as possible so members of your team are encouraged to use it. Trello has a minimal learning curve, meaning that onboarding your team will be a quick and easy process.
Trello Integrations
Trello is known for its power-ups, which include third-party integrations. These plugins turn Trello into a completely customizable tool that fits your specific needs. You can toggle to the menu on the right side of the screen and enable the integration of your choice. That will allow you to bring the tool right into your Trello board.
While some integrations are automatically included as power-ups, it's important to note that the two terms are not interchangeable. Some Trello power-ups simply just allow users to bring additional features to their boards.
Trello offers more than 100 integrations for its users. But it's important to note that not all of these integrations are offered out-of-the-box with Trello. You may need to use Zapier as the way you connect your third-party platform to Trello.
Here is a look at what people who use Trello have to say about integrations from its user reviews:
Integrations with existing services that we are already using (ex. Google Drive) is a great advantage for all the members of the team.
...it feels a little limited with integrations. Some of the imports have to be done through Zapier which is helpful but I wish there was more of an integrated solution.
Many of the integrations that Trello offers to work with have compatibility issues with browsers like Safari.
Trello's integration functionality generally garners mixed reviews from its users. If you are looking for a vast set of integrations out-of-the-box, Trello isn't the project management tool for you. But if your team doesn't require too many integrations, Trello should serve you just fine.
Trello Pricing
Here's a quick overview of Trello's pricing plans
| | | | |
| --- | --- | --- | --- |
| | Free | Business Class | Enterprise |
| Price | Completely free of charge | $10/user/month, billed annually | Contact sales for a quote |
| Overview | For individuals and teams looking to be more productive. | For teams that need to track multiple projects and visualize work in a variety of ways. Best for teams up to 100. | For companies that need to connect work across teams and enhance org-wide controls, security, and support. Ideal for orgs 100+. |
| Top Features | Unlimited cards, Unlimited members, Up to 10 boards, 1 Power-up per board, 50 automated commands/month | Everything in the previous plan, Unlimited boards, Unlimited Power-ups, Dashboard view, Custom backgrounds | Everything in the previous plans, Organization-wide permissions, Organization-visible boards, Public board management, Multi-board guests |
As shown above, Trello has a really impressive free plan. Most teams will be more than fine with everything that the free version has to offer. Project management tools like Trello tend to be used by a specific team, as opposed to a communications tool like Slack that is typically adopted by an entire company. Because of that, most teams won't need to advance beyond Trello's free plan. It offers up to 10 boards, which should be more than enough for most teams.
The biggest downfall of this plan is the fact that it only comes with one Power-up per board. Trello's Power-Ups offer increased functionality to any board. If that's something your team really values in a solution, it may be worth it to level up to the Essential plan. While it costs a minimum of $10/user, it offers more comprehensive features that will undoubtedly serve large teams.
Who is Trello Best For?
Trello is popular for a reason, but that doesn't mean it's the right tool for every team. Here are a few use cases in which your team might benefit from Trello.
Smaller teams — Trello has plans designed for teams of any size, but it's best suited for small businesses. Trello is intentionally a lightweight tool, and that makes it really easy for users to learn. But larger teams might be looking for more advanced project management features, such as time-tracking. Trello doesn't offer that feature. So, smaller teams that don't require as many features will benefit more.
Short-term projects — Every project can benefit from a project management tool, but Trello is best for projects with a quicker turnaround. The longer a project goes on, the more cards you will likely add to the Trello board. Too many cards mean that tasks might get lost in the shuffle, which is the last thing your team needs during a project.
Individual freelancers — Trello essentially functions as a to-do list. As people tend to utilize to-do lists on a personal basis, Trello is a great replacement for physical lists. It's a great option for freelancers looking for task management on a personal and professional level.
Trello Alternatives
Trello is a great project management tool, but it might not be the right one for your business — and that's okay. Here are some of the top alternatives to consider, broken down by top features and pricing.
Asana

The tool is designed to help teams connect and collaborate on any project remotely. Users can choose project views that best suit their project type, whether it is a small project or a large, strategic initiative. It is focused on visually mapping out projects so companies manage their objectives, ranging from digital transformation to product launches and marketing campaigns.
Asana Pricing
| | | | | |
| --- | --- | --- | --- | --- |
| | Basic Plan | Premium Plan | Business Plan | Enterprise Plan |
| Price | Completely free | $10.99/user/month, billed annually | $24.99/user/month, billed annually | Available on a quote-based structure |
| Features | Unlimited tasks, Unlimited projects, Unlimited activity log, Unlimited file storage | Timeline, Dashboards, Advanced search and reporting, Unlimited free guests | Portfolios, Workload, Custom rules builder, Forms branching and ability to customize | User provisioning and de-provisioning, Data export and deletion, Block native integrations, Attachment controls |
Monday.com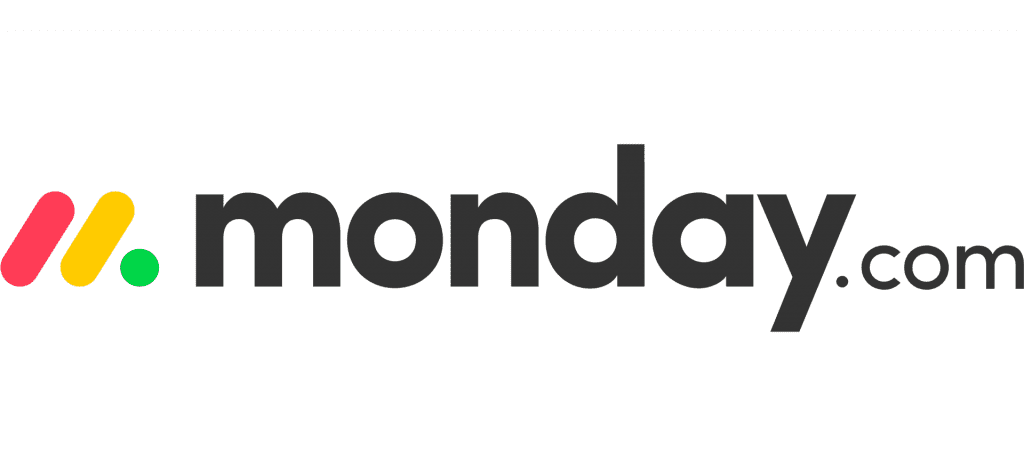 Monday.com lets teams create workflow apps in minutes to run their work. It is fully customizable and enables teams to centralize communication and teamwork. It adapts to quickly changing needs so that teams are free from grunt work. Teams can manage everything in one workspace so that delivering your best work is easy as possible.
Monday.com Pricing
| | | | | |
| --- | --- | --- | --- | --- |
| | Basic Plan | Standard Plan | Pro Plan | Enterprise Plan |
| Price | $8/user/month, billed annually | $10/user/month, billed annually | $16/user/month, billed annually | Available on a quote-based structure |
| Features | Unlimited boards, 200+ templates, Over 20 column types, iOS and Android apps | Timeline and Gantt views, Calendar view, 250 Automation actions a month, 250 Integration actions a month | Chart view, Time tracking, Formula column, 25,000 Automation actions a month, 25,000 Integration actions a month | Enterprise-scale automation and add-ons, Enterprise-scale security and governance, Advanced reporting and real-time analytics, Multi-level permissions |
Jira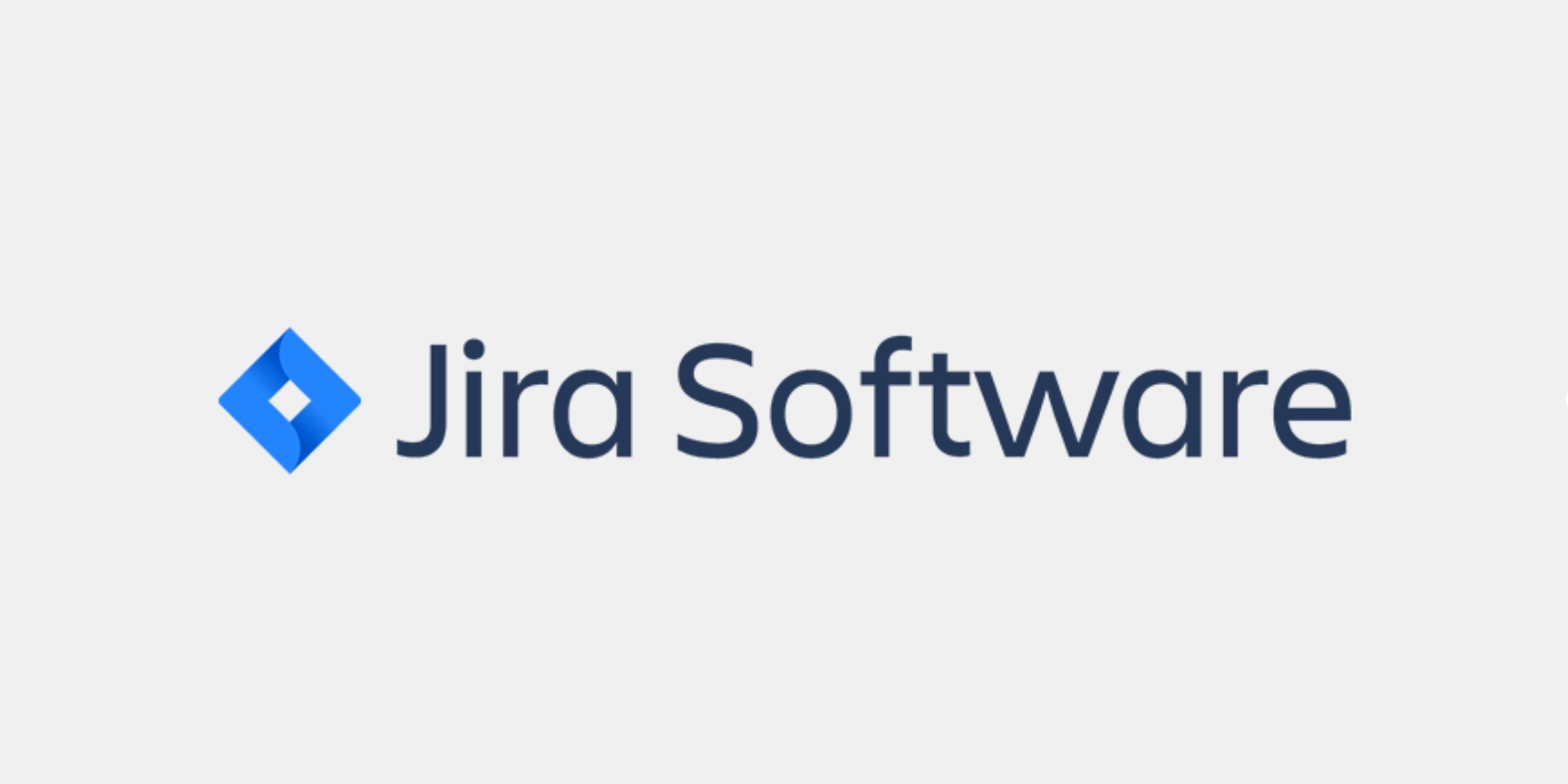 Jira is a project management tool designed for agile teams developing software because it's designed to ensure that every member of your team can plan, track, and release great products. Users can plan every step of the process by planning out sprints and distributing tasks so your team can create the best possible product. Jira users can also leverage the tool to create a self-service knowledge base for users as well.
Jira Pricing
| | | | | |
| --- | --- | --- | --- | --- |
| | Free | Standard | Premium | Enterprise |
| Plan | Free | $7 user/month | $14 user/month | Available on a quote-based structure |
| Features | 10 users, One site limit, Scrum and Kanban boards, Agile reporting | 10,000 users, Project roles, Advanced permissions, Anonymous access | Capacity planning, Project archiving, Admin insights, Release tracks | Centralize per-user licensing, 99.95% guaranteed uptime SLA, Unlimited sites, 24/7 enterprise customer support |
Basecamp

Basecamp is designed to help users stay completely on top of all moving parts of their projects. This is possible by allowing teams to stay on the same page by keeping all necessary information organized and shareable in order to make data-driven decisions. All in all, it helps users prioritize meaningful work and cut out wasted time.
Basecamp Pricing
| | | |
| --- | --- | --- |
| | Basecamp Personal | Basecamp Business |
| Pricing | Completely free | $99/month |
| Unlimited | 3 projects, 20 users, 1GB of storage space | Unlimited projects, unlimited users, 500GB storage space, Team projects, Project templates |
Clickup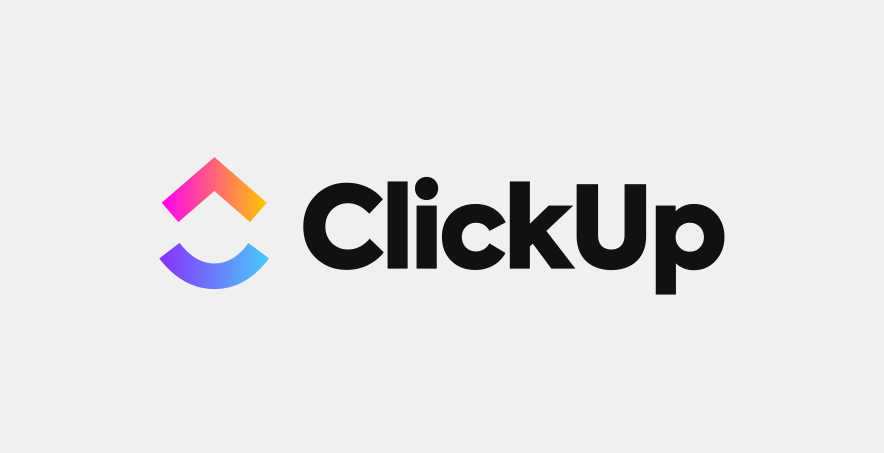 Clickup was designed to replace multiple apps under one platform. It's fully customizable for teams in any kind of organization. The tool provides project management, docs, reminders, goals, calendars, and even an inbox. ClickUp boasts more than 100 features in order to help teams complete all necessary daily tasks.
ClickUp Pricing
| | | |
| --- | --- | --- |
| | Free | Unlimited |
| Pricing | Completely free | $5/user/month, billed annually |
| Unlimited | 100MB storage, Unlimited tasks, Unlimited members, Two-factor authentication | Unlimited storage, Unlimited list view, board view, and calendar views, Gantt chart views, Unlimited dashboards |
The Final Verdict
Here's a quick look at the tool's pros and cons pulled from Trello reviews.
Pros
Cons
- The panels, the channels as well as multiple modules are helpful for operating projects
- The best part about it is that you can add your team members to the card as task owner and assign dependencies and due dates.
- Trello has given me a solid fluency in the activities to be performed, as I've been able to get the flow of work accomplished through the job.
- Its simplicity of use and flexibility are its greatest strengths — you can set up a project in seconds
- Limited configuration and integration choices are available in the free edition
- Inside Trello, you don't have enough visibility to check productivity and be predictive of how much work your team could deliver in a certain amount of time.
- Trello does not integrate in the best way with digital platforms.
- Trello does sometimes lack native support for specific functionality and the card layout doesn't support columnar displays.
There's no denying that Trello is an impressive tool, but it's is not all-encompassing when it comes to project management. Trello is great when it comes to high-level road mapping for projects. But when it comes to more granular and advanced planning, you might be better served to look elsewhere. Trello is essentially a digital to-do list, so your team will be best served to treat it like so.
Frequently asked questions
Yes! Trello's mobile app for iPhones and Androids offers online sync. That means that any work you do without an internet connection will automatically sync once you reconnect to WiFi. However, it's important to note that the web version of the tool doesn't support that.
Yes. You can see where your board currently resides by clicking next to its name. Once you do click on it, you can select where you'd like to move it to. 
Yes. The project management tool is committed to compliance with the General Data Protection Regulation (GDPR).
When you create a board, select "Private" as the visibility option. The tool also gives you the flexibility to decide who has access to your content and who does not. You can even create a Workspace on which you are the only member. 
Yes! You can do this within Trello Business Class and Enterprise paid plans. When you create a board, select board menu, and then more, and then click on make template. This will work as long as you're the board admin.
Trello Gold is a badge that allows passionate Trello users to promote the platform while receiving perks such as an such as an increased limit of 3 Power-Ups per board, 200 command runs per month, 250MB on the per-file attachment limit.