Your team's projects have multiple moving pieces that you need to stay on top of. ClickUp is a project management tool that can help. It offers its users highly flexible customizations that allows users to plan, organize, and collaborate all on the same platform.
Because of this, the platform is one of the leaders in the project management space. We'll cover everything you need to know about the software with the following sections:
What is ClickUp?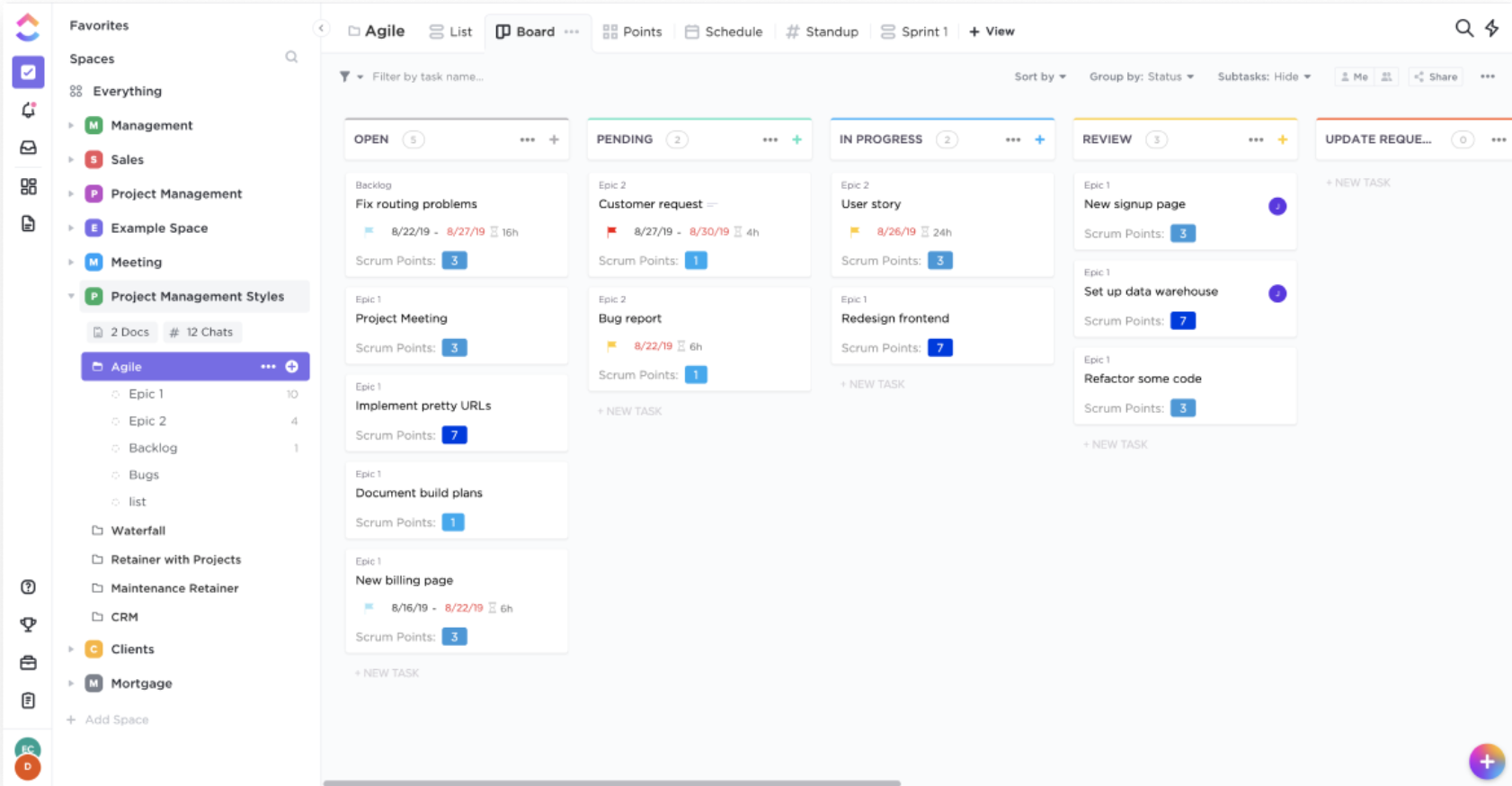 This software is a cloud-based collaboration and project management tool that's easy for workspaces of all sizes and industries to use. It provides multiple functionalities under one platform and as such, it is designed to replace several solutions. It offers docs, kanban boards, subtask and task management, reminders, goals, two-factor authentication, SSO, calendars, and even an inbox.
As it does have such a wide breadth of functionality, you're able to choose what features you want and hide everything else. Ensure your projects are streamlined, organize tasks and make quick changes, schedule your time, connect with the tools you use on a daily basis, and tailor your platform so that it's the perfect fit for your unique business needs.
The tool prides itself on being the favorite project management app for more than 100,000 companies. These include the likes of Google, Airbnb, Uber, and Nike.
ClickUp Features
Given the fact that the tool is designed to replace multiple solutions, it offers a wide range of functionalities. That means you can expect a more diverse set of new features than your typical project management solution. Here's a brief look at everything this software has to offer.
Custom statuses — This software gives you the ability to customize your workflow with statuses to fit the specific needs of each individual project your team is working on. The tool gives you the option to use preselected statuses or you can create your own. Custom statuses can be used to indicate whatever you like, and the predefined statuses can simply notify the appropriate parties when a task is completed or in progress.
Checklist templates — You can create and re-use templates that help you manage your processes. These templates can be used to create checklists to keep all of your tasks organized. You can even set recurring checklists for projects as well. ClickUp offers multiple types of checklists including:
Nesting — These checklists contain sub-items.
Assignable — Assign tasks within the checklist to team members.
Drag-and-drop — This type of checklist enables you to drag and drop checklist items.
Multiple assignees — Some tasks require more than one assignee. This tool allows you to assign multiple team members to one task. You can turn off this feature when it's not necessary for the particular project at hand.
Task dependencies — Dependencies let the other members on your project know when a task they are waiting on is complete. This software offers multiple dependency options such as:
Waiting on — This will show that a task shouldn't be started until the previous one has been complete.
Blocking — Use this dependency to prevent another task from being started until one is finished.
Link To — You can link tasks so assigned can toggle between them to ensure all parties have visibility into relevant work
Unblock — When a task is unblocked, you'll receive a notification that you can start yours.
Agile board view — The tool offers an Agile board view that allows you to view every single task on your team on one board. You can view your work in whichever way best fits your needs.
People sidebar & me mode — This software offers a people sidebar to give you the power to instantly select whose tasks are shown in your current view. You can view just your own tasks, everyone's, or a certain view of people. The everyone view is the default mode for this feature.
Time tracking — The platform allows you to track time, set estimates, add notes, and view reports of your time from anywhere. This feature is available on any device and allows you to start time from any device and jump in-between tasks with their global timer. Add time retroactively or create entries by date range with manual time tracking.
Gantt chart — The Gantt chart view allows you to set due dates, manage dependencies, and prioritize anything into an elegant project timeline. You can organize, watch progress, and discover the critical path to success for your project's completion. This will allow you to collaborate with your team in real-time.
Team reporting — This feature gives you a full birds-eye view of what's going on with your projects. You can check out time estimates to see how long tasks take your team members, see what's being worked on, and who's behind or ahead. With this data, you can gain valuable insight into your team's performance.
Scheduling — The scheduling functionality allows you to manage your time more effectively and stay on track towards your goals. You can estimate time needs and expectations. Schedule your time however works best for you, including calendars, Gantt charts, timeline, or workload view.
Filter and search tasks — The platform enables you to filter through all the tasks in your projects so you can drill down to the information you need. You can search for tasks by name as well.
Google Calendar sync — With this sync, you can see changes made in ClickUp within your Google Calendar as events. This way, you can manage your team's schedule more closely.
Custom fields — With custom fields, you can create whatever you need and use those fields as much as you'd like. That way you can track everything and focus on what's important to your project.
Instant and live collaboration — This feature allows you to know when other people are typing and even enables you to edit documents with each other in real-time. Everything updates instantly for every party collaborating with one another, making this an invaluable feature for remote teams.
Slash Commands — This feature enables you to turn every field into an action center and increase productivity by a (reported) average of 27%. You can manage tasks without even having to look at the screen, since /Slash Commands mean you don't need a mouse or screen.
ClickUp Pricing and Plans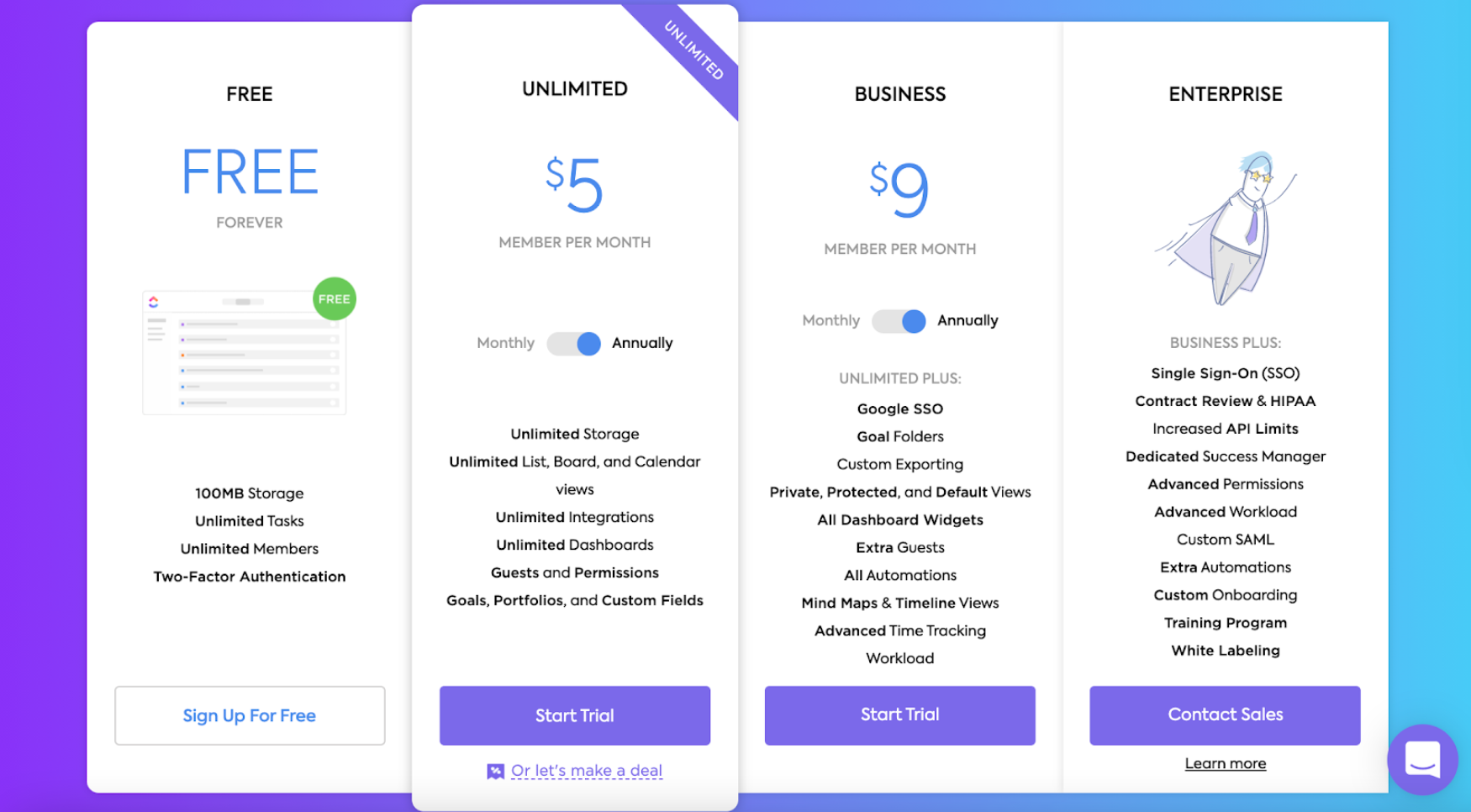 As this tool offers multiple user-friendly solutions, each pricing plan offers a thorough set of features broken down into different categories, such as usage, essentials, integrations, support, security, and advanced features. Here's a breakdown of what project managers can expect.

| | | | | |
| --- | --- | --- | --- | --- |
| | Free Forever Plan | Unlimited Plan | Business Plan | Enterprise Plan |
| Pricing | Free | $5/user/month, billed annually | $9/user/month, billed annually | Reach out for a quote tailored to your specific business needs |
| Features | Goals (100 uses), 100 automations per month, real-time collaboration, dependencies, 50+ native integrations, such as Slack, Dropbox, Microsoft Teams, and Zapier, time tracking, 10 uses for milestones | Unlimited users, custom fields, edit permissions, portfolios, goals, reporting, delegate reminders, cloud storage | Mind maps, dashboards, time in status, publicly share everything, Google single sign-on, custom task IDs, custom exporting | Custom capacity & additional groups, white labeling, priority support, dedicated customer success manager, custom roles, custom permissions, Tableau web connector |
| Best for: | Freelancers or individuals looking to stay organized | Small to mid-size teams looking to manage projects of moderate size. | Larger teams needing to manage complex projects. | The enterprise plan is good for teams who work with contract reviews, legal reviews, and are looking for advanced security |
ClickUp Alternatives
ClickUp has plenty of competition in the project management field. If you're not convinced that's the tool for you, consider these alternatives. We'll breakdown each option by pricing and features, and how they stack up against ClickUp.
ClickUp Alternatives — Pricing
Here's a breakdown of each pricing plan for alternatives.


Pricing
Asana
Basic - Free forever
Premium - $10.99/user/month, billed annually
Business - $24.99/user/month, billed annually
Enterprise - Based on a quote structure
Trello
Free - No charge
Business Class - $10/user/month, billed annually
Enterprise - Based on a quote structure
Monday.com
Individual - Free forever
Basic - $8/user/month
Standard - $10/user/month
Pro - $16/user/month
Enterprise - Based on a quote structure
Jira
Free - No charge
Standard - $7/user/month
Premium - $14/user/month
Enterprise - Based on a quote structure
Zoho Projects
Free - No charge
Premium - $4/user/month
Enterprise - $9/user/month
Wrike
Free - No charge
Professional - $9.80/user/month
Business - $24.80/user/month
Enterprise - Based on a quote structure
NiftyPM
Starter - $39/month, billed annually
Pro - $79/month, billed annually
Business - $124/month, billed annually
Enterprise - Based on a quote structure
Basecamp
Personal - No charge
Business - $99/month flat
ClickUp Alternatives — Features
Here's a breakdown of how ClickUp's features compare to those of its competitors.
Asana vs. ClickUp — ClickUp's free plan is a little more limiting than Asana's is. Asana offers unlimited tasks, projects, messages, activity logs, and unlimited storage with the capacity for up to 15 teammates to collaborate. ClickUp offers unlimited tasks in its free plan, but its other comparable features don't quite stack up to Asana's free plan. But when it comes to the features in its paid plans, Asana goes in a little deeper with specific project management features.
Trello vs ClickUp — ClickUp's free plan is far more thorough than Trello's free plan. ClickUp's next two pricing plans are both cheaper than Trello's singular mid-tier plan. That means ClickUp users can leverage twice as many features and pay less than they would for Trello's Business Class plan.
Monday.com vs ClickUp — Each of Monday.com's plans is a little more focused than ClickUp's are. Each of Monday.com's plans offers an overview stating who each specific plan is best for and the features offered to support that. The features that are included in ClickUp's plans are not quite as focused.
Jira vs ClickUp — ClickUp edges out Jira when it comes to both pricing and features. The plans that ClickUp offers are just cheaper in general than Jira's plans are. Jira is geared more towards teams in software development, meaning that its features are geared toward that purpose as well. ClickUp's features are more applicable to teams in any industry.
Zoho Projects vs ClickUp — Zoho Projects' individual pricing plans are a little more limited than ClickUp's plans are. For example, ClickUp's free pricing plan allows users to leverage 5 spaces, whereas Zoho Projects' free plan only allows for 2. ClickUp also offers 100MB of file storage in its free plan and Zoho Projects' plan. Ultimately, ClickUp edges out Zoho Projects when it comes to pricing and features.
Wrike vs ClickUp — ClickUp has the edge on Wrike, especially when it comes to pricing. Wrike's pricing plans as far more expensive than ClickUp's are. Wrike's mid-tier plans are far more expensive than ClickUp's are. Wrike has good basic project management features, but not impressive enough to warrant the expensive price.
NiftyPM vs ClickUp — NiftyPM's various packages are offered at a flat monthly rate, with the option to be billed annually. So the more seats you have for each plan, the less expensive each of them will be. That will make it a much more affordable option than ClickUp. But if you only need a few seats, this plan will prove to be too expensive.
Basecamp vs ClickUp — Basecamp offers a free plan with very limited features, making ClickUp's free plan undoubtedly the superior option. Basecamp's alternative option is offered at a flat rate, just like Basecamp's plans. That makes it worthwhile for a larger team looking for a no-frills project management tool. But if you want a little more variety in your feature set, ClickUp is the way to go.
The Bottom Line: ClickUp is a Solid Project Management Software Choice
If your team is looking for an affordable project management solution with a wealth of features, ClickUp is a great option. As we outlined, it even edged out the offerings of many of its competitors. But if ClickUp doesn't fit your needs, there are plenty of other great tools on the market. If you want to learn a little more about some of the top ClickUp alternatives, take a look at our Monday.com vs Asana comparison.